The Canadian entertainment industry can boast of a few brilliant actors and actresses, many of whom have gone on to became international stars, some of which include Ryan Reynolds, Ryan Gosling, Rachel McAdams, Cobie Smulders and many more. One more name that has joined the ranks of popular faces in Hollywood who are of Canadian nationality is Athena Karkanis.
The actress, who began her career as an actress in 1996, has appeared in several projects onscreen and behind the screen, as a voice actress. Her voice acting has earned an extensive list of credits in video games, voicing several characters in some of the notable video games around.
Despite over 20 years in the industry, Athena is not relenting in her climb to the summit of the profession. Here is a look at the career of the talented actress and her life in general.
Athena Karkanis Background
A brief look at the background of Athena shows a woman who has led an interesting life. Athena Karkanis was born on the 7th of September 1981 in Lethbridge, Alberta in Canada. Having completed high school like several of her peers, she headed to college for her higher education, studying political science at McGill University in Montreal, Quebec. Perhaps at the suggestions of her parents or counselors, Athena was poised to attend law school after graduation but instead chose to pursue her passion for acting instead.
Her career began in 1996 with voice appearances on the animated television show, Stickin' Around. She voiced different characters on the show, performing in seven episodes between 1996 and 1998.
Athena had a slow start to her career; following the end of her involvement with Stickin' Around in 1998, Athena did not have any credit to her name until 2003, either as an onscreen actress or a voice actress. In 2003, she had a voice role as an Educated Guess Announcer on Chappelle's Show. This was followed by another voice role in the video game, World of Warcraft.
Athena Karkanis got her first onscreen role in 2005 when she played Tamara Corday in the television show, 1-800-Missing, appearing in one episode of the show. Like a metaphorical floodgate, her appearance on the show opened the doors to several other roles in different shows and films. However, she has mostly appeared on television, starring in shows like Covert Affairs, Funs, The Border, Almost Heroes, Supernatural, The Expanse, Suits, House of Cards and Manifest. In Film, she can boast of appearances in box office hits like two appearances in the Saw horror franchise, for Saw IV and Saw VI. Other films include The Barrens, Spark, Survival of the Dead, and a couple more.
Athena Karkanis has also expressed the talent in video games, some of which include popular names like Diablo III, Star Wars: The Old Republic, and Far Cry Primal.
Body Measurements
Athena Karkanis is of Greek-Egyptian origin which is pretty evident in her physical appearance. Athena is a beautiful woman with an exotic look that never fails to stun. She is taller than the average female height, standing at a height of 5 feet and 7 inches. She also has a lean body with an admirable weight of 57kg.
Her body measurements, which include her chest, waist, and hip sizes, are measured at 33-24-33 inches respectively. Other notable features include black eyes and dark brown hair.
Other Interesting Facts to Know About Her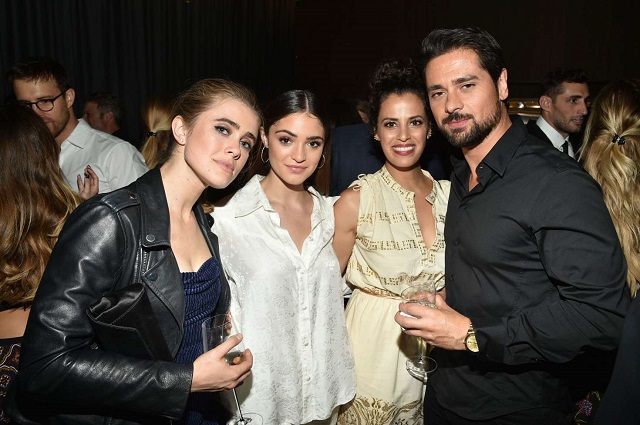 She Is Not Married
As someone who has been in the industry for quite long, it is surprising to find that Athena Karkanis is single and has never been married. She has also never been a public relationship either. Having mentioned earlier how extremely attractive the actress is, it is one of the most fascinating facts about the actress.
She Is A Scream Queen
To those who might not be familiar with the term, Scream Queen is a name given to an actor or actress who has appeared in multiple horror movies and Athena Karkanis fits that profile. She has starred in several of them, including her appearances in the Saw movies. She has also appeared in Survival of the Dead and Repo! The Genetic Opera.
See Also: Who is Chandra West? Here's Everything To Know About The Canadian Actress
She Has A Modest Net Worth
With over 20 years in the industry, appearing in over 80 films, television shows, and video games has helped Athena Karkanis to a net worth of $1 million. Considering she was bound for law school before she turned to Acting, we can say it has been a pretty great decision thus far.