The internet is a platform that can help just about anyone with the talent to excel. It is no respecter of persons and age. It only respects talent and the likes of ASMR Darling has made it to the top ladder through her dexterity in ASMR content. For the uninitiated, ASMR stands for Autonomous Sensory Meridian Response. This simply describes a tingly feeling that some people experience from their head downward, helping them to relax.
Such feelings are usually brought on by different sensations including sounds and touch, and ASMR Darling specializes in producing this relaxing and therapeutic content. Through her videos, she has helped the majority of her audience to relax or fall asleep. She has also helped others deal with anxieties and depression. This has earned her massive followership on YouTube. It has also led to a huge bank account.
Unveiling the Personality Behind ASMR Darling
Although she is popularly known as ASMR Darling, the YouTuber's real first name is actually Taylor. She is yet to reveal her last name and this is due to fears for her safety. Darling has been subjected to stalking as well as doxxing, a situation in which someone researches and publicizes personal identifying information about a particular person online most often in a bid to harass them. She, therefore, guards her last name jealously and one cannot really blame her for that
Away from that, ASMR Darling was born on May 14, 1997, in the U.S. state of Florida. She hails from a family of five and has two siblings – a sister and a brother, Jeffy, whom she often features in her YouTube videos. Darling falls among the many young Americans who had an amazing experience while growing up. She was passionate and actively involved in everything sports including soccer, tennis, volleyball, and flag football. She also took part in the performing arts and was named homecoming queen in her freshman year of high school. Despite all these exploits, Darling barely knew of the talent which would one day make her one of the most followed personalities on YouTube.
Personal Experience with ASMR and YouTube Stardom
There are different versions as regards Darling's first ASMR experience but what remains a fact is that it all started while she was still in high school. According to some reports, Darling experienced a tingly sensation for the first time when her classmate was drawing a picture. The tingling sensation was brought on by the hand movements and sounds of the soft scratching of the crayon. The young girl at that time had no name for what was happening to her but only knew that it felt wonderful.
Another account has it that the American YouTube star first came in contact with ASMR in her bid to find a solution to her sleeplessness. Whichever one it was, one thing that is for sure is that Darling created her eponymous YouTube channel on December 10, 2014. She started by making and posting random videos and only posted her first ASMR video, ASMR Whispered Bubbly Makeup Roleplay, in 2016. This category of content proved to be a big hit with the YouTube community and Darling continued in that direction.
She produced videos of her touching the microphone with a makeup brush, making noises with sticky tapes, lighting matches, tapping a desk, pouring water, or simply whispering. All these helped her followers to deal with issues such as anxieties, insomnia, and depression, and her fame spread like wildfire. Today, ASMR Darling runs one of the most popular YouTube channels in the world. Her channel has about 2.48 million subscribers and her content has been viewed more than half a billion times. She has also been interviewed by several notable media houses including the New York Times and USA Today.
How Much Has She Accumulated From Her Online Activities?
With over two million subscribers and 500 million views on her ASMR channel, Darling is not only one of the first female ASMR YouTubers to receive more than a million subscribers, but also among the top female YouTubers with the most viewed video. All these statistics do not come empty-handed as they represent a veritable source of income for the Florida native. Thanks to the monetization policy of sites such as YouTube, ASMR Darling earns an estimated $68, 900 monthly, and $827,300 annually from her channel.
Another lucrative source of income for ASMR Darling is advertising revenue. Several brands pay her to advertise their products in her videos. Others have also contracted her to feature in campaigns for them. For instance, in 2018, Lush Cosmetics employed Darling as well as some other ASMR YouTubers to participate in a night-time routine clip. During the video, Darling reproduced several soothing sounds through the use of different Lush products. It is not exactly known how much the campaign paid Darling but Wired.co.uk estimates that she makes as much as $1000 per day in advertising revenue.
See Also:  Breaking Down Trisha Paytas Net Worth And The Truth About Her Love Relationships
Finally, Darling also earns quite big from the online store she named 'ASMR Darling Store'. The online store deals on clothing items like T-shirts as well as other gifts and merchandise. All these have resulted in an estimated net worth of $1 million for the YouTube personality. Certainly not bad for someone still in her early-20s.
Coping with Boyfriend Drama
The famous YouTube star was previously in a relationship with a guy simply identified as Matthew. Things, however, went awry between them and they broke up around 2016/2017. Following the split, Darling got her act together and moved on with her life. Matthew, however, refused to do the same and instead used the passwords that she had shared with him to hack into her YouTube channel. He posted some creepy videos. He also deleted some vlogs where she had discussed his abusive tendencies.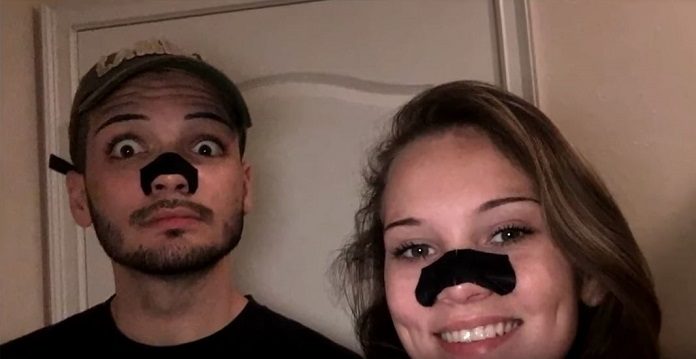 Matthew's actions left a small disaster in its wake and Darling was forced to do damage control. She released messages on her Instagram and Twitter accounts on the 11th of May 2017 during which she let her fans in on what was going on. She also unveiled the story behind the whole controversy and apologized for any problems that the post had done. Darling also went ahead to challenge her ex online. She however subsequently deleted the angry tweets that she exchanged with him.
Since then, the lady has become somewhat gun shy and has not delved in any other confirmed romance. She is rather focused on consolidating her online success. Amidst the coronavirus pandemic of 2020, Darling dropped a clip aimed at helping followers cope with the anxieties associated with the period. The video featured sounds of mask rustling, repeated washing of hands as well as a narrator's soothing voice debunking myths commonly associated with the virus. The clip was first posted in March 2020 and has been viewed over a million times since then.