Not too long ago, Ashley Youle (sometimes written as 'Ashley Yule') was just an Australian vet nurse, working in an obscure town. But, she is now a famous celebrity, many thanks to the Discovery Channel's reality TV series, Gold Rush. In the series, Ashley stars as the girlfriend to Parker Schnabel, grandson to the millionaire gold miner John Schnabel.
Parker Schnabel is an inheritor of his grandfather's gold mining business. So, he had money to spend on Ashley. But, along the line, the love birds experienced a break-up. So, since Gold Rush is a reality series, as soon as there was a problem with their love affair, Ashley also disappeared from the show. After all, she was just a girlfriend.
However, if you asked Ashley Youle the best that she got out of being Schnabel's girlfriend, she'd most likely tell you it is fame which, of course, has attracted fortune also. It was her association with Parker that gave her the opportunity to star in the series.
Who Is Ashley Youle?
Facts and figures about Ashley Youle are scanty. Surely, this is likely because she came from another country, not to the USA. It could also be because she has only appeared in one TV show so far. Again, Ashley's tendency to keep much of her life private has not helped matters either.
As a result of the above reasons, even Ashley's birth year is in contention. While some sources claim that Ashley Youle was born in 1995, others cite 1994. However, all sources are unanimous about her birthday which is the 6th of March. However, there are no controversies about her birthplace which is Cowes, Victoria, Australia where she was born to Deb Youle (mother) and Stephen Youle (father).
Back in Australia, Ashley's parents are just ordinary people. It is well reported that her parents own a small computer repair store named Waterfront Computers there in their hometown of Cowes. She has an elder brother named Jaymie Yule who is a professional football athlete in Australia.
Although Ashley is Australian, she has since acquired the American nationality. Her ethnicity is white Caucasian.
Career
As already hinted, Ashley Youle is a certified veterinary nurse. Prior to her appearance on Gold Rush, she worked with a veterinary service back in Australia. As a veterinary nurse, Ashley is reported to be a voluntary member of the Worldwide Veterinary.
Also, apart from working as a veterinary nurse, Ashley Youle is also a talented dancer. She is even reported to be a member of a choreography outfit named Street Dance Studios which is based in Melbourne, Australia.
Then, after meeting her American boyfriend Parker Schnabel, Ashley has met fame on the American soil by featuring in the Discovery Channel's TV series Gold Rush. Although many people consider her TV career a short-lived one, she ended up making the best of her appearances in over 25 episodes of the show.
Following her break up with her boyfriend – Parker Schnabel, Ashley Youle is no longer appearing on the reality show. So, people are asking after her whereabouts.
Where Is Ashley Youle Now After Gold Rush?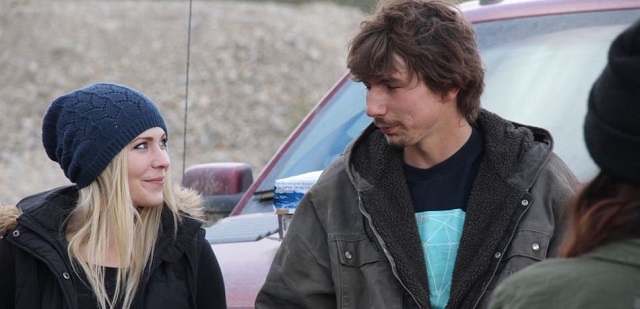 It was in March 2018 at the end of season 8 of Gold Rush that Parker Schnabel announced that he and Ashley Youle had called it quits. Before then, fans enjoyed having Ashley around because of the viewing relieve she gives against the dusty environment of the gold mines in the show. But, Parker Schnabel went on to save the day by publicly admitting the break-up was his fault. He even revealed that, while around, Ashley helped to improve his normally bad mood with her effervescent personality.
Also read: 20 TV Couples Who Brought Scripted Love To Reality
Back then, Youle enjoyed much trust: although she and Parker had not been dating for too long, she worked in the gold room out there at Parker's Klondike mining site. In that position, Ashley was handling millions of dollars of gold every day. And some people are wondering if the breakup had anything to do with betraying this trust on the part of Ashley Youle. But, Schnabel said no. He says rather that he was paying more attention to business than to his romance with the Australian beauty.
That settled, the question remains, "where is Ashley Youle right now?" We tried answering this question through her social media pages, but even on social media, she is also missing in action. Well, we think she is trying to put herself together after what must have been a horrifying experience of having to separate from her loving millionaire boyfriend. Also, she may have gone back to doing veterinary nursing or dancing pop back in Australia.