Ashley Graham is the plus-sized model who was the subject of the ad content censorship controversy between over-the-top TV network ABC and the clothing giant Lane Bryant in 2010. Lane Bryant had accused ABC of refusing to air its commercial showcasing a new lingerie line named Cacique on the hit show Dancing With The Stars, insinuating that ABC was discriminating against their model Ashley all because she was plus-sized.
Although ABC denied the accusation, calling it a publicity gimmick, the accusations and counter-accusations that transpired ended up being an incident that shot Ashley into the limelight. Here, you will get all you need to know about the model.
Ashley Graham Bio
The model was born on October 30, 1987. Her exact city of birth is not known to us but she is said to have moved with her family to Lincoln Nebraska when she was in the 8th grade. Raised in the Cornhusker State, Ashley attended Scott Middle School in Lincoln before proceeding to Lincoln-West High School from where she graduated in 2005.
Ashley Graham must be familiar with overcoming difficulties in her life. From her earliest days, she had always wanted to be a model but her chubby body was not accepted in the Industry at the time. Her father even suggested to her almost teasingly to undergo weight-loss programs to enable her to actualize her dream of becoming a model. She, however, received all the encouragement she needed from her mother Linda Graham.
Eventually, she went ahead to carve a niche for herself in the industry and led the way for other plus-sized ladies who wanted to become models. But then, that was not her first time of overcoming a major setback in her life. In school, she had serious learning difficulties as she was diagnosed with dyslexia and attention deficit disorder (ADD) quite early in life.
Ashley Graham Net Worth
In spite of so many setbacks on her career path, Ashley Graham has succeeded in building one of the most impressive modeling careers you can find in the industry. She makes her money purely from modeling-related businesses. For instance, she gets paid for appearing on magazines and for representing clothing lines. She also appears regularly on TV shows telling her unique story to encourage other people who may be experiencing the same or similar setbacks as she has had. She even wrote a book titled A New Model: What Beauty, Confidence, And Power Really Look Like. It is from all these sources that the model has amassed a net worth of over $10 million as widely reported.
Who Is Ashley Graham's Husband?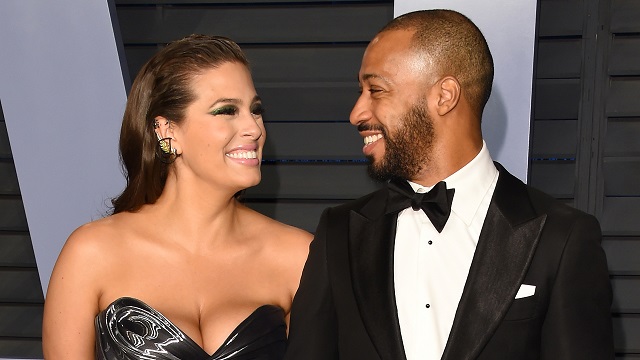 Over the centuries, our society has built stereotypes for everything including for relative values like a woman's beauty and acceptability. One of such stereotypes which seems to align beauty with slim bodies only is what Ashley Graham has challenged successfully in her career. But how successfully has she done that in her marital life as well? How much love has she been able to find in spite of societal reservations for her body type? Let's see.
To start with, the size 16 model is happily married to a Black American videographer named Justin Ervin. Ashley met Justin in church sometime in 2009. Their courtship was uniquely characterized by a video diary which they kept together from the beginning of their relationship. 'The Justin and Ashley Show', as the video diary has come to be fondly referred to in some sections of the media, was meant to enable them easily relive the moments of their courtship. By recording the diary also, Justin proved that his career as a videographer was not wasted. In a certain interview, Ashley gushed over Justin, describing him as 'amazing' and making oblique reference to his creativity as a person. So there is no doubt that the video diary idea was one of the things that endeared him to her.
Barely a year after the couple had been dating, Justin proposed to Ashley with a golden ring. The couple was sitting down together in Justin's base in Brooklyn recording an episode of the Justin and Ashley show when all of a sudden, the videographer reached into his pocket to bring out the ring which Ashley accepted instantly.
But, just like her education and her career,  Ashley Graham's marital life began to experience a major setback from the very onset. The setback did not emanate from the couple themselves but from racial discrimination due to Ashley's family. Ashley is a Caucasian with English and German roots while Justin is a black American. So, Ashley's family were vehemently opposed to the idea of her marrying a black. However, this could not stop the couple. Their wedding took place later in the year.
SEE ALSO: Leyna Bloom – Biography, Family, Facts About The Model
Weight, Height, and Other Body Measurements
Ashley Graham stands at a height of 5 feet 9 1/2 inches and has a listed weight of 169 lb. With her body measurement as 42-31.5-46, her dress size is 16 (US), 48 (EU), and 20 (UK). Her hair and eye color are brown.

Fact Check: We strive for accuracy and fairness. If you see something that needs updating,