When thinking about female models, the image that flashes through our minds is usually of a super-thin woman with taut abs and a chiseled bone structure that can cut glass. However, in recent years, there has been a move towards diversity and better representation of women, so the modeling industry has had to adjust their size standards to accommodate more women of considerable size. Ashley Alexiss is one of such models who are making it possible for plus-sized women to feel represented by the fashion industry. As an accomplished model, she has worked with numerous brands and has been photographed by several reputable magazines such as Playboy, Maxim, and Elle.
The gorgeous woman has also built a flourishing career as a television personality. Ashley stars in the reality television series, Fix My Mom, which airs on the Oxygen Network. It features mothers and daughters who are trying to work on their relationship and make things better before it spirals out of control. In addition, Ashley owns a company of her own that makes and sells all kinds of merchandise. She is very popular on social media, particularly Instagram where she has gained about 1.8 million followers.
Ashley Alexiss Bio
The plus-size model was born on November 25, 1990, in Boston, Massachusetts. She is the daughter of Velvet Smith but nothing is known about her father and it appears that he was not present in her life. Ashley attended Northeast Regional Metropolitan High School, after which she enrolled at Kaplan University to study Communications. She later returned to the school to pursue her MBA degree.
Her career took off in 2006 just before she left high school. Ashley Alexiss began to partake in school pageants and other local beauty competitions. In the beginning, she faced a lot of rejection and criticism because of her body, but Ashley refused to give in to their shallowness and kept chasing after her modeling aspirations. Things began turning around for her when she was featured on the covers Exposure 101's Calendar for 2010. This brought much-needed exposure her way.
That same year, Ashley came third in Playboy's Miss Social Contest. The following year, Top Models Weekly named her their Model of the Week. She was also among the top 15 finalists for 2011's Playboy Intimates. Her photographs were published in Playboy South Africa's Girl Next Door issue. Her appearances in Playboy helped push her into the spotlight. Since then, Ashley has been featured in several magazines such as RG Magazine, Sexy Skin Magazine, American Honey, New England Hip Hop, and Maxim amongst others.
Thanks to her successful modeling career as well as her social media fame, Ashley Alexiss has been able to secure endorsement deals with several companies. Some of the brands that she serves as an ambassador include Single Eyewear, Starwear Bikinis, and Pink Lipstick Lingerie. The curvy beauty has also appeared in a number of music videos for artists like Andrew Bees, Erick Emmanuel, Yeshua Alexander, and Thirteen Yards to Victory.
1. She raises awareness for breast cancer
Ashley Alexiss lost her grandmother to breast cancer years ago, so she decided to launch a campaign called Cleavage for the CURE which helps raise funds to fund research for the cure of breast cancer.
2. She is off the relationship market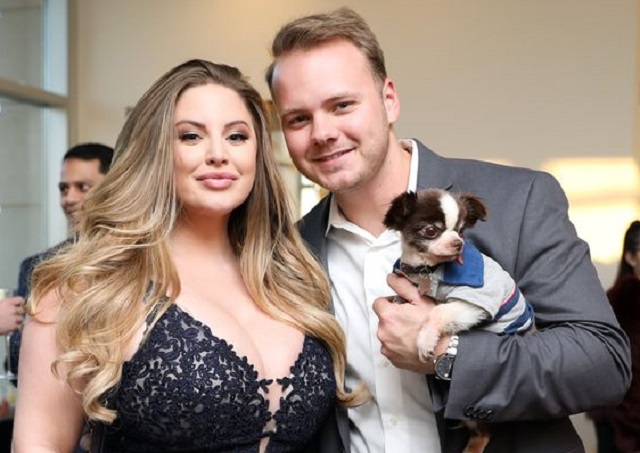 The blonde model is married to Travis Yohe. Ashley and Travis met in 2011 on a parasailing trip with Fury Key West. They became the best of friends and began dating shortly after. They got engaged on December 14, 2006, while their marriage took place on September 8, 2018.
3. Ashley Alexiss has had body modification surgery
When she was 21, Ashley decided to get her breasts done but the doctor ended up giving her a bigger size than what she originally wanted. This led to some complications so she went under the knife again years later for a breast reduction procedure.
4. She has her own swimwear line
In 2014, Ashley launched her own swimwear brand called Alexiss Swimwear, which makes bikinis and bathing suits tailored for plus-size women. The company is still flourishing.
See Also: Laneya Grace – Biography, Life Achievements, and Family of The Model
5. She is a trained dancer
Asides from her modeling career, Ashley Alexiss has other passions and she has taken professional classes to improve them. She has studied opera acting, film, and dance including genres like hip hop, tap, and jazz.
6. The model has $1 Million In net worth
Ashley is estimated to have a net value of over $1 million which she acquired through her modeling, acting, and entrepreneurial efforts.