Intrepid, adventurous and highly motivated, Asha Rangappa is an American lawyer, senior lecturer and former FBI agent who is revered for her achievements across different fields of endeavor. She has been an FBI agent who wowed authorities with her counterintelligence investigations skills and has also excelled in the academia having been a lecturer for a long time.
Asha is respected for her deep knowledge of security matters. She has become a legal and national security analyst for CNN and has written extensively for different papers and magazine including The Wall Street Journal, The New York Times, The Washington Post and even the The Atlantic, winning loads of accolades for her work.
Asha Rangappa Bio & Age
Asha Rangappa was born on the 15th of November. 1974. The lawyer and lecturer was born in Hampton, a popular city in the US state of Virginia. Her full birth name has been revealed to be Renuka Asha Rangappa.
Even though she is an American woman, Asha also has Indian roots. This is because she was born to Indian parents. Her father, Jai Rangappa and her mother, Vinaya Rangappa were both born in India but migrated to the US after the Hart–Celler Act of 1965 which allowed immigrants with special skills to gain entry into the States. Since Asha's father, Jai Rangappa was a doctor, the act allowed him to easily migrate to the US where the family now lives. Asha Rangappa has an elder sister identified as Menaca, with whom she grew up in Virginia.
Details of the school where Asha had her elementary education is not quite known, however, we know that she attended the Kecoughtan High School located in Hampton, Virginia. When she graduated from there, she proceeded to attend the Woodrow Wilson School of Public and International Affairs at Princeton University from where she graduated cum laude with a degree in Latin American Studies in 1996.
After she graduated from Woodrow Wilson School of Public and International Affairs at Princeton University, Asha won a Fulbright scholarship to study constitutional reform in Bogotá, Colombia for one year. Upon the completion of her studies in constitutional reform, she returned to America in 1997 and proceeded to attend Yale Law School. She eventually graduated with a law degree in 2000.
Career Achievements
In 2000, after getting her law degree, Asha Rangappa secured a job as the law clerk to the Honorable Juan R. Torruella. She worked in this position for almost one year before quit to join the FBI in September 2001. Asha had applied to the FBI while she was still in law school but did not hear from them. However, after the 9/11 attacks on the Twin Towers in 2001, more FBI agents were needed and she was called for training.
Asha's hopes of becoming an FBI agent was nearly crushed shortly after she started her training, as she was involved in a car accident and suffered contusions of the ribs. However, just one month after the horrific accident, she resiliently reported to the FBI Academy and took part in the very rigorous training procedures.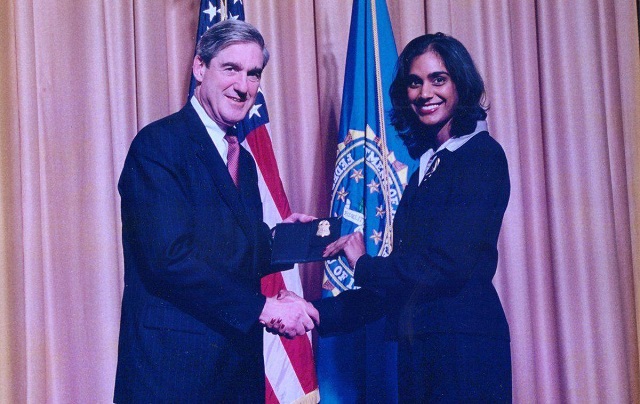 When she finished her training at the FBI Academy, Asha moved to the city of New York and started work as an FBI special agent. She showed due diligence on the job and went on to become the very first Indian-American to specialize in counterintelligence investigations for the FBI.
Asha spent only three years with the FBI before she quit in 2005. That same year, she became the Assistant Dean of Admissions at the Yale Law School, her alma mater. A very smart woman, she went on to get promoted to the position of Associate Dean just two years later. She also became the Director of Admissions at the Jackson Institute for Global Affairs. In addition to her work at Yale Law School, Asha has also taught National Security Law at other higher institutions Of learning including Wesleyan University, University of New Haven and Yale University.
Apart from being a lecturer, Asha is also a writer. In fact, she has written and published several op-eds in different papers and magazines which include The Wall Street Journal, The Atlantic, The New York Times as well as The Washington Post among many others.
In addition to this, she has appeared on different TV networls to talk about national security. She has been on BBC, NPR and CNN. She is, in fact, the national security analyst for CNN at the moment.
Read Also: Lisa-Storie Avenatti – Bio, Family, Facts About Michael Avenatti's Ex-Wife
Is She Married To A Husband?
Asha Rangappa used to be a married woman but is now a divorcee. The lawyer and lecturer was married to a man whose identity is still a topic of debate today. Some reports have claimed that her ex-husband is Andrew Dodd, a man who happens to be another FBI agent. However, this has not been proven yet, mainly because Asha has never revealed his name or talked about what he does for a living.
While her marriage lasted, she had two children with her husband. According to sources, she was married for as many as 7 years before she got divorced. Following her split from her husband, she now lives in Hamden, a town in Connecticut, with her kids.