Anya Taylor Joy is an American-born actress who made her professional acting debut as Philippa Collins-Davidson in the crime drama TV series, Endeavour, in 2014. She duly earned the appellation of a scream queen because of her wonderful depiction of characters in horror films.
Since the inception of her acting career, the immensely talented and beautiful star has played diverse roles in several movies and TV series. She has further been able to win many accolades for her unique acting prowess within the short time she has been in the movie industry.
Having earned global fame and recognition with her talent, Anya is rated as one of the fast-rising stars in the film industry. In addition to her acting, she is also a model who is under contract with Storm Model Management. More so, she is a terrific dancer, who has been professionally trained in ballet. The multi-faceted actress can equally play many musical instruments, including the ukulele and electric guitar efficiently.
Interesting Revelations About Anya Taylor Joy's Family and Origins
The comely Argentine-British actress was born Anya Josephine Marie Taylor Joy on April 16th, 1996 in the beautiful American city of Miami, Florida. She is the sixth and last child of her parents whose names are not known. Her father is, however, known to be Scottish-Argentinian while her mother is English of South African and Spanish descent.
Anya's mother worked in photography and interior design while her father is a retired international banker. Following his resignation as a banker, he ventured into motorboat racing where he is reportedly doing well.
Soon after the birth of the actress, her family moved to Argentina. They later relocated to London, England when she was six years old because of the political unrest in Argentina, as her father did not want his children to grow in a tense environment. Anya Taylor Joy was fluent in Spanish when she moved to London but she later became conversant in English at the age of eight.
How She Started Her Acting Career
Since her childhood, Anya Taylor Joy had always harbored the dream of becoming an actress. Things, however, did not go smoothly for her in the beginning as she suffered from depression in her teenage years, a result of her being bullied at school.
Anya later threatened to quit school but fortune soon smiled her way as she launched a modeling career when she was 16. She was able to do so after she was scouted by Sarah Doukas, the founder of Storm Model Management while walking down the street of South West London with her dog Khala.
Doukas gave Anya her business card and asked her to come to her office the next day with her parents and the rest became history.
Afterward, Anya Taylor Joy signed on the dotted line with Storm Model Management and that swiftly marked the beginning of her modeling career. Following a photoshoot with Downton Abbey actors, the young girl became acquainted with actor Alan Leech who linked her up with a film agent that helped her launch her acting career.
Two years after launching her modeling career, the protean actress got her professional acting career going in 2014 when she played the role of Philippa Collins-Davidson in the TV series, Endeavour.
Anya Taylor Joy's acting career breakthrough, however, came in the following year when she delineated the character of Thomasin in Robert Eggers' award-winning horror movie, The Witch, starring alongside actors Ralph Ineson and Kate Dickie in her big-screen debut. Her outstanding portrayal of the Thomasin character earned her several awards and nominations, including a BloodGuts UK Horror Award, an Empire Award, and a Fangoria Chainsaw Award.
Following her critically and commercially acclaimed performance in The Witch, she showed her versatility through the lead roles she played in TV films such as Viking Quest, Morgan, and Barry.
Anya once again took the film industry by storm with her lead role of Casey Cooke in the 2016 M. Shyamalan award-winning horror thriller movie, Split. In the next year, she was cast in two films and one TV series; appearing as Lily in Thoroughbreds, Allie in Marrowbone, and Petronella Brandt in two episodes of The Miniaturist.
Later in 2019, she had six back-to-back releases, playing Casey Cooke in Glass, and Wife in Hozier: Dinner & Diatribes. Next, she played Marla Brenner in Playmobil: The Movie, followed by an appearance in the drama TV series, The Dark Crystal: Age of Resistance. Her two other releases for the year were Radioactive and Peaky Blinders.
Although the previous year seemed to be a very busy year for Anya Taylor Joy, 2020 proved to be quite an eventful one for the actress who has already starred in four movies; Emma, The New Mutants, Last Night in Soho, and Here Are the Young Men. She is also scheduled to appear in four upcoming movies and TV series; Weetzie Bat, The Sea Change, The Northman, and The Queen's Gambit.
Who is Anya Taylor Joy Dating?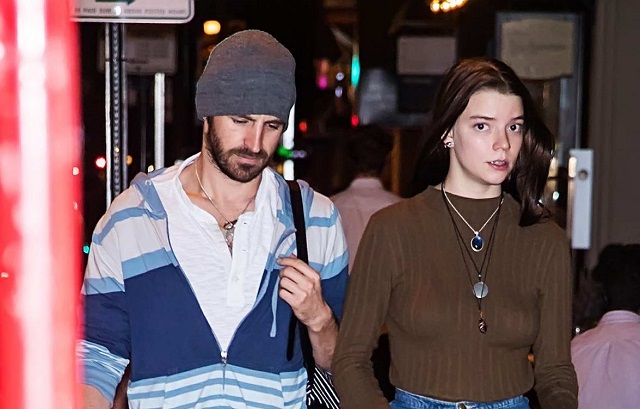 Anya Taylor Joy is meticulous in releasing information about her love life to the public as she has successfully kept away the details of her past affairs from the media. She has, however, been in a romantic relationship with Irish actor, filmmaker, author, and model Eoin Macken since 2015. It is alleged that the duo got engaged in 2017, as Anya has been seen flaunting her engagement ring for some years now.
The Witch actress is, however, yet to disclose to her fans when the handsome beefcake, who is thirteen years older than she is, proposed to her, as well as their future plans. In one of his Instagram posts, Macken professed that Anya Taylor Joy is his adventure buddy; that he is going to keep her very close as she makes his life better.