If world fashion had a visible zenith, sitting atop that pinnacle would be Anna Wintour. Elegant, forward-thinking, and super-creative, very few people have held sway over the creative direction of an entire industry the way Anna has. Easily one of the most stylish women in contemporary times, Anna is a British-American journalist and fashion influencer who has been editor-in-chief of Vogue since 1988.
Known for her trademark pageboy bob haircut, as well as her dark Chanel sunglasses, Anna has had a front-row seat at over 3,000 fashion shows and boasts a personal annual clothing budget believed to be around $200,000. Her influential role in Vogue has successfully established her as an important figure in the fashion world. She is also the artistic director for Condé Nast, an American mass media company that owns Vogue, The New Yorker, GQ, Glamour, Architectural Digest, Vanity Fair, Pitchfork, and Wired.
Anna Wintour Was Born Into a Media Family
Anna Wintour was born on the 3rd day of November 1949 in Hampstead, an area of London, the capital of England. It was in England that she was raised but also holds American citizenship.
Her father Charles Wintour, was the editor of the London Evening Standard for two decades. Her mother Eleanor "Nonie" Trego Baker was an American whose father was a Law professor.  Anna's parents later divorced in 1979, when she was about 30 years. Anna grew up with four siblings; three brothers identified as Patrick Wintour, James Wintour, and Gerald Wintour, and a sister named Nora Wintour. Sadly, her brother Gerald died in an accident when he was a kid while her other brother, Patrick is the diplomatic editor of The Guardian.
Growing up, Anna Wintour attended the independent North London Collegiate School. According to reports, while she was still in school, she constantly rebelled against the institution's dress code by frequently lifting the hemlines of her skirts. When she was just 14 years old, she took an immense interest in fashion after taking inspiration from the different pop stars and models she saw on TV. Soon afterward, she began to rock her signature pageboy bob haircut.
She Has Worked for Many Fashion Magazines
Anna Wintour's first job was at the Biba boutique, a popular fashion store. She got the job with her father's influence. She soon started taking fashion classes and training at Harrods, a departmental store. After a while, she got a job at Oz, a controversial magazine at the time, where she began to learn a lot about magazine production.
In 1970, Anna started her fashion journalism career when she was hired by Harper's & Queen to work as one of its first editorial assistants. After some time, she moved to New York with her boyfriend at the time identified as Jon Bradshaw, who happened to be a freelance journalist.
In 1975, after moving to New York, she joined Harper's Bazaar, a popular women's fashion magazine as a junior fashion editor, however, she was fired after just 9 months because of her rather rebellious but innovative shoots. She was not jobless for too long though as months later, she landed another job as a fashion editor, at Viva, a women's adult magazine. In 1980, after Viva shut down, Anna landed another job as a fashion editor at Savvy, a newly formed women's magazine.
Just one year later, she landed another job with New York, a bi-weekly fashion magazine where she worked as a fashion editor. It was while she was at the New York magazine that she finally began to attract very serious attention after she started putting out the revolutionary fashion spreads and photo-shoots she had been putting together for years.
Read Also: Anna Kooiman – Bio, Husband, Age, Where Is She, Is She Back To FOX?
Her November 1988 Cover for Vogue Changed The Trajectory of The Company
In 1983, Anna finally began to work for Vogue as the magazine's first creative director. She introduced some changes that raised eyebrows and soon progressed through the ranks to become the editor of the UK edition of the magazine in 1985. In 1988, she became the editor-in-chief of the magazine.
Under her leadership, she has made some revolutionary changes which have been variously hailed around the world. The first issue of the magazine under her creative control was the November 1988 issue which featured the then 19-year-old Michaela Bercu in a $50 faded jean and a $10,000 worth bejeweled jacket. This was a departure from previous issues covered by models in elegant gowns with tons of makeup and major jewelry.
Under her watch, the magazine renewed its focus on fashion, and in no time, Vogue's subscriber count was spiking up. Advertising revenue went up and more importantly, Vogue established itself as the preeminent trendsetter and fashion epistle around the world.
Beyond Wealth Anna Wintour Wields Industry Power
In her time in the fashion industry, Anna has amassed more than wealth, she is America's premier trendsetter and her influence is such that she is one of the most talked-about fashion icons in contemporary times. She was honored as Dame Commander of the Order of the British Empire by Queen Elizabeth II in a ceremony at Buckingham Palace for her contributions to fashion.
As Artistic director and global content advisor for Condé Nast, she gets to drive the creative thrust of magazines like The New Yorker, GQ, Glamour, Architectural Digest, Vanity Fair, Pitchfork, and Wired. According to reports, Anna makes a massive $2 million annually as the editor-in-chief of Vogue magazine and is now worth about $35 million.
She Is a Force Masked In a Steely Demeanor 
Everyone who has worked closely with her agrees that her work ethic and demanding personality is perhaps unrivaled in the industry. Her eccentricity and quirkiness add up to make her such an immensely creative mind.
Nicknamed "Nuclear Wintour", Anna's presence around Vogue is intimidating, you would need to walk for a mile to get to her table once you get into her office, intended to feel you with a sense of reverence and awe. She is known to make difficult demands of her workers, some of which can sound bizarre. At Vogue, it is a known taboo for junior workers to start up a conversation with her, you know better than to walk into the elevator with her. She has also built a reputation as a snub who makes sure she seats far away from other fashion editors at shows.
Despite the dread and trepidation, Anna elicits ideas from people around her, she has been known to be supportive of young designers and stylists who she thinks are good enough for her recommendation.
Anna Was Married To David Shaffer
She was married to David Shaffer, an American Professor of Child Psychiatry. They got married in 1984 and had two children together; a daughter called Bee Shaffer and a son called Charles Shaffer. Sadly, Anna and David's marriage crashed and they divorced in 1999. Some reports claimed that the marriage crashed after Anna had an extra-marital affair with Shelby Bryan, an American investor. However, this has not been confirmed.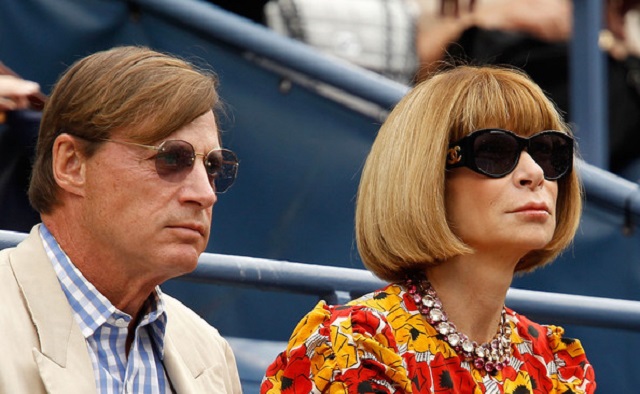 Wintour lives in New York City with Shelby Bryan. It is believed that they got married in 2004. Bryan is a regular guest at most of Vogues' New York shows. He has also been credited with having a calming influence on Anna.