Talk about the most classy and elegant women in society and one name that would most definitely top the list would be Anna Wintour. Described as one of the most stylish women in contemporary times, Anna Wintour is a British-American journalist and fashion influencer who is known for having an eye for flashy and classy fashion trends. She is now an easily recognizable face in the fashion world with her trademark pageboy bob haircut as well as her dark sunglasses which is always seen on her face.
Anna Wintour works as the editor-in-chief of the very prestigious Vogue magazine, a post which she has held since 1988. In this role, she has successfully established herself as an important figure in the fashion world. She is also the artistic director for Condé Nast, an American mass media company. We have gathered some facts about her for your reading pleasure. Continue to see more about her.
Who is Anna Wintour and How Old is She?
Anna Wintour was born on the 3rd day of November 1949 in Hampstead, an area of London, the capital of England. It was in England that she was raised with the rest of her family, and went to school. Clearly a British citizen, Anna also holds American citizenship.
The journalist was born into an interesting family; her father was Charles Wintour, a British newspaper editor who was quite influential in his day. Her mother has been identified as Eleanor "Nonie" Trego Baker. Anna's parents later divorced in 1979, when she was about 30 years. Anna grew up with four siblings; three brothers identified as Patrick Wintour, James Wintour, and Gerald Wintour, and a sister named Nora Wintour. Sadly, her brother, Gerald died in an accident when he was a kid while her other brother, Patrick now works as a journalist. On his part, James has worked in London local government and Nora has worked in four international non-governmental organizations.
Growing up, Anna Wintour attended the independent North London Collegiate School. According to reports, while she was still in school, she constantly rebelled against the institution's dress code by frequently lifting the hemlines of her skirts. This was when she started developing her now-famous fashion sense.
When she was just 14 years old, she took an immense interest in fashion after taking inspiration from the different pop stars and models she on TV. Soon afterward, she began to rock her signature pageboy bob haircut.
Career
Anna Wintour's first job was at Biba boutique, a popular fashion store. She got the job with her father's influence. She soon started taking fashion classes and training at Harrods, a departmental store. After a while, she got a job at Oz, a controversial magazine at the time, where she began to learn a lot about magazine production.
In 1970, Anna effectivity kick-started her fashion journalism career when she was hired by Harper's & Queen to work as one of its first editorial assistants. After some time, she moved to New York with her boyfriend at the time identified as Jon Bradshaw, who happened to be a freelance journalist.
In 1975, after moving to New York, she joined Harper's Bazaar, a popular women's fashion magazine as a junior fashion editor, however, she was fired after just 9 months because if her rather rebellious but innovative shoots. She was not jobless for too long though as months later, she landed another job as a fashion editor, at Viva, a women's adult magazine. In 1980, after Viva shut down, Anna landed another job as a fashion editor at Savvy, a newly formed women's magazine.
Just one year later, she landed another job with New York, a bi-weekly fashion magazine where she worked as a fashion editor. It was while she was at the New York magazine that she finally began to attract very serious attention after she started putting out the revolutionary fashion spreads and photoshoots she had been putting together for years.
Finally, in 1983, Anna finally began to work for Vogue as the magazine's first creative director. She introduced some changes that raised eyebrows and soon progressed through the ranks to become the editor of the UK edition of the magazine in 1985. In 1988, she became the editor-in-chief of the magazine.
Under her leadership, she has made some revolutionary changes which have been variously hailed around the world. She is also known for being very hard on her staff and this has earned her the nickname "Nuclear Wintour". Today, she has become one of the most influential women in the fashion world and lives up to the bidding with her very classy dress sense and stylish hair.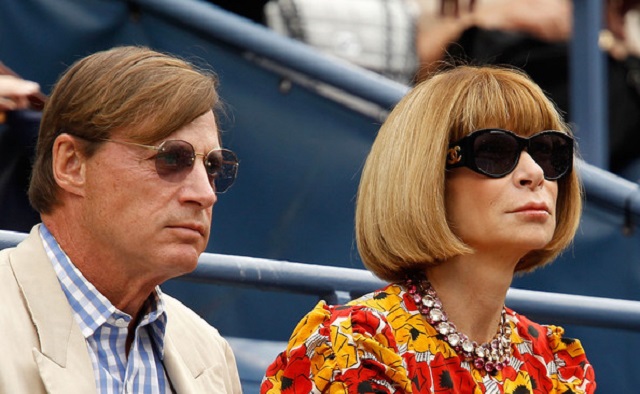 Anna Wintour's Husband, Children
Anna Wintour was married to David Shaffer, an American Professor of Child Psychiatry. They got married in 1984 and had two children together; a daughter called Bee Shaffer and a son called Charles Shaffer. Sadly, Anna and David's marriage crashed and they divorced in 1999. Some reports claimed that the marriage crashed after Anna had an extra-marital affair with Shelby Bryan, an American investor. However, this has not been confirmed.
She would later get married to Shelby Bryan. The couple tied the knot as husband and wife in 2004 and have remained together ever since. There is no report that they have kids together.
Read Also: Anna Kooiman – Bio, Husband, Age, Where Is She, Is She Back To FOX?
Net Worth
Without the shadow of a doubt, Anna Wintour is a wealthy woman. She has had a very illustrious career in fashion journalism and has worked with different fashion magazines over the years, exerting her influence and becoming one of the most talked-about fashion icons in contemporary times. Apparently, she has been able to rake in a ton of money in the process.

According to reports, Anna makes a massive $2 million annually as the editor-in-chief of Vogue magazine and is now worth about $35 million.

Fact Check: We strive for accuracy and fairness. If you see something that needs updating,