There are many paths to success with many demanding its own sacrifices. Some journeys are easier than others, while some take years of academic study and professional experience, like journalism. As a journalist, Anna Kooiman has made the necessary journey and she currently sits at the top of her profession with a resume that boasts of national broadcasting networks like Network Ten and Fox News. Anna Kooiman is primarily known as a News anchor and host of shows like Fox & Friends.
Over the years, her hard work paid off and Anna built an impressive career many would be envious of. It is not surprising that people to be curious about her; as a journalist and a successful person, there is a lot to learn about Anna Kooiman and we take a look at some of them below.
Biography & Age
Your birthplace is an important factor in your chances of success and Anna Kooiman was lucky to have been born in Charlotte, North Carolina. She was born to Susan Kooiman and Wally Kooiman on the 7th of February 1984, she was also raised in her birth town, Charlotte where her parents own a business.
Anna, who is of Dutch descent, spent her early life living the American dream – attending high school at Myers Park High School and going to college at the University of North Carolina, Wilmington. She graduated from high school in 2002 and university in 2005.
Growing up, Anna was very dedicated to physical fitness and sports, a trait that has remained part of her life till date. She played softball in high school and has run four marathons and completed multiple triathlons as an adult.
Career
Most careers usually begin after the completion of education but Anna Kooiman's began while she was still in college. She began working for Fox Sports as a reporter in 2004. After graduation, she joined WWAY in 2005, taking on more responsibilities as an anchor, video journalist, and reporter.
The early days of Anna Kooiman's career saw her work for different broadcasting companies all over the country. After two years at WWAY, she moved to Ohio where she worked for WNWO as an anchor and a reporter. Her time at WNWO was significant due to the fact that she was the franchise reporter working with US Marshals and helped them catch over 100 fugitives, a huge accomplishment in her career as a budding journalist.
In 2008, her time at WNWO came to an end and she joined WCCB where she worked as a host, reporter, and anchor for one of the station's entertainment shows, Fox News Rising. It was her time on the show that eventually led her to join the national broadcasting network, Fox News.
She joined Fox News in 2011 and worked there till 2016. She worked in different capacities as a New York-based correspondent and also as the host of the weekend version of the popular Fox & Friends. She also hosted shows like the All American New Year and political events like the GOP primary debate in Detroit.
Her departure from Fox News in 2016 was to Network Ten in Australia where she has been serving as a substitute anchor and a panelist on different shows for the network.
Where Is She Now? Is She Back to FOX?
After spending years working for Fox, Anna Kooiman announced her relocation to Australia in 2016. She made the move with her husband who is originally from the country.
As part of her move to the new country, she has been working for an Australian broadcasting company, Network Ten. However, whilst she is not necessarily back working for Fox News, she has been making appearances as a substitute anchor on one of the shows of News Corp, who is the parent company of Fox News.
See Also: Who is Charles Payne Of Fox News?
Who Is The Husband?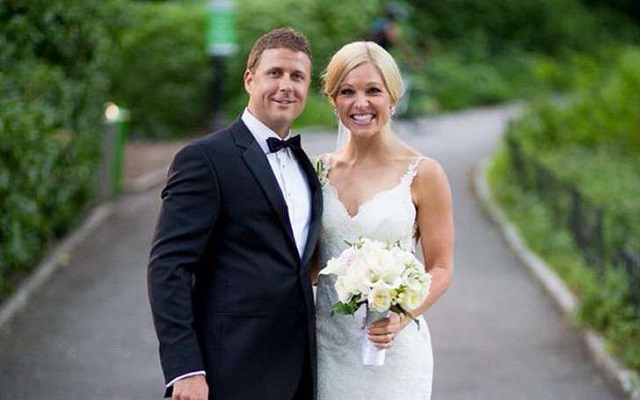 Anna Kooiman got engaged to her long-term boyfriend, Tim Stuckey on the 8th of February, 2015. Like a majority of celebrities in the modern world who no longer have to depend on tabloids to share their good news to the world, Anna Kooiman took to social media to announce the engagement to her fans.
The couple got married in the same year on the 31st of July in New York City, specifically in Manhattan at Central Park Loeb Boathouse.