Today, Anna Kendrick is one of the most recognizable faces in Hollywood, but it hasn't always been so. She toiled in obscurity for about a decade before she broke into the consciousness of mainstream audiences in America and beyond. With each new credit she adds to her professional resume, Anna distinguishes herself as one of the brightest and most versatile performers in the business. She has shown her brilliance in various genres from comedies to dramas and musicals, but it wasn't until recently that Anna Kendrick's net worth began to catch up with her talent.
Whether she's in a supporting role or leading the show, Anna always manages to put in an awe-inspiring performance that you can't help but love. She is deeply committed to her craft as a singer and actress, which is one of the reasons she is loved and admired by fans everywhere. The list of movies, TV series, and theatre productions that Anna has appeared in runs long; however, her most notable performances include Mike & Dave Need Wedding Dates, Up in the Air, Twilight, Pitch Perfect, Into the Woods, High Society, End of Watch, Scott Pilgrim vs. the World, and 50/50. Let's take a look at Anna Kendrick's net worth and how she made her money.
Anna Kendrick's Net Worth, Is She Rich?
Although Anna has been a successful actress for a very long time, it wasn't until recently that she began pulling in large cheques for her appearances. For some reason, the industry refused to pay her generously for the effort she was putting in even though it was obvious to anyone that she was a remarkable actress.
Back in 2013, Anna Kendrick's net worth placed her on the list of lowest-paid popular actresses in tinsel town. However, things have turned around nicely for her.
As of 2019, the net worth of the actress is estimated to be around $14 million, so Anna Kendrick definitely qualifies as rich.
How Did She Make Her Money?
The star of A Simple Favour has come a long way since her debut film appearance in Camp (2007). Anna makes most of her money from her acting career. Her highest-paid movie to date is the Pitch Perfect series, and it also happens to be one of her most commercially successful movies to date. The salary she earned for the original movie was not communicated, but she took home $2.8 million for Pitch Perfect 2, reprising her role as Beca Mitchell. The actress got a huge raise to star in Pitch Perfect 3, earning $6 million for her appearance in the critically acclaimed musical comedy.
Anna Kendrick's net worth has also been helped by her appearances in the Twilight series, in which she nicked a supporting role as Bella's best girl pal, Jessica Stanley. The five movies in the franchise reaped a combined $3 billion at the global box office. In addition, Anna made some serious bucks from her role in the drama Up in the Air, which saw her star alongside George Clooney. She also earned BAFTA, Academy Award, Screen Actors Guild Award, and Golden Globe nominations for her performance. Her most recent feature was in the movie A Simple Favour, alongside Blake Lively, and they were both well-compensated for their work.
See Also: What Is Teri Hatcher's Net Worth And The Main Reason She Is Famous?
How Anna Kendrick Spends Her Money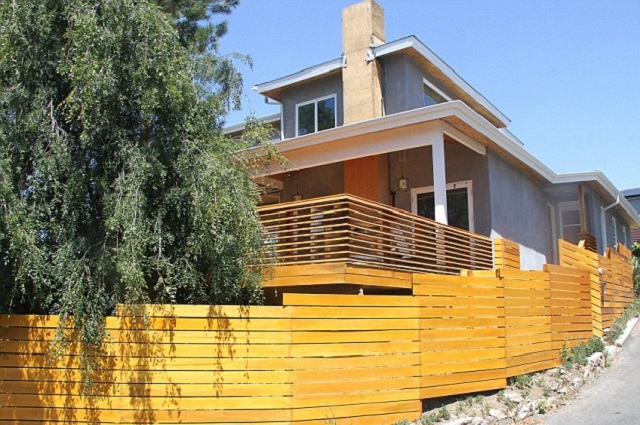 Truth be told, Anna isn't really a big spender. She does enjoy the finer things in life like expensive clothes and jewelry, wonderful vacations, and flying in private jets, but she tries to be moderate with her expenses.
Her most expensive purchase to date remains Hollywood Hills home that she bought a while back for a little over $1 million. The two-story house has three bedrooms, just as many bathrooms, a huge balcony, an outdoor deck and fireplace, a giant walk-in closet, and a really spacious garage. Anna's house is not as lavish or luxurious as some of her counterparts, but it serves her needs just fine.
If you're looking to see Anna Kendrick's net worth reflected in her lifestyle, you would probably be disappointed because she leads a modest life. She drives a regular car and rarely ever goes overboard with her purchases. It is no wonder that most people see her as down-to-earth and relatable. The coming years are set to be even better for Anna's career as she is already booked to feature in a number of movies. These projects will no doubt increase her net worth substantially.