Beautiful in appearance and deeds, Anna Faris has developed decades of versatility as a producer, model, actress, comedian, author, and podcaster. The beautiful American is also an occasional singer, but she is best known for her role in the horror-comedy film Scary Movie. Anna's voice in productions like Alvin and the Chipmunks: The Road Chip also played a role in the successes she has been enjoying.
While Anna is busy with her career, her personal life has remained a subject of public interest. She has had a couple of marriages, the most significant being her marriage to Chris Pratt. But since it ended, she has moved on, and on the path to a new marital life with Michael Barrett.
Dissecting Anna Faris' Love Life with Michael Barrett
The marital fallout between Anna and Pratt got the actress wondering about the purpose of marriage. She admitted this in an episode of Dax Shepard's Armchair Expert podcast, where she questioned the essence of marriage. Anna believes that the only benefit one could get from getting married is earning people's respect.
Nonetheless, Anna Faris did not give up love. She returned to the dating scene in September 2017. She met Michael Barrett, a cinematographer during the filming of Overboard. Michael, who understandably, is not as famous as Anna, has been in the industry since the 90s. He has more than 45 cinematography credits to his name, including Ted, Kiss Kiss Bang Bang About Last Night, and Bobby.
He also has an extensive resume in television. His credits include the police procedurals, CSI: Crime Scene Investigation and CSI: Miami. In drama, his credits include Close to Home and Blood & Oil. Michael also has a couple of award nominations to his name, including three nominations from the American Society of Cinematographers.
Despite the considerable interest in Anna's life due to her fame, she and Michael managed to keep their love life private. That is, until February 2020, when she confirmed that they got engaged. She confirmed their engagement on The Late Late Show to James Corden.
Since announcing the engagement, Anna Faris and Michael Barrett have gone right back to living a quiet life. With the exceptions of anecdotes shared on the podcast, Unqualified, the couple, like the rest of the world, have been behind closed doors. They are biding their time together in lieu of the coronavirus pandemic.
Anna Continues to Thrive Professionally Post-Chris
Some people lose their professional trajectory after a divorce. After all, the end of a marriage is no small emotional turbulence. But Anna Faris, while dealing with all of it, has continued to push on professionally. Since she completed her divorce from Chris Pratt, she has appeared in a movie, Overboard. Her Overboard film was a global success, grossing more than $91.2 million worldwide. She also appeared on two TV shows, Gay of Thrones and The Joel McHale Show with Joel McHale. In both shows, she appeared as a guest star in one episode.
She also continued her appearance on her long-running show, Mom, increasing her total episode appearances to more than 150 episodes. Anna Faris also released her first book, Unqualified. The book, a memoir, was a success, commercially and critically. It featured in Amazon's Top 20 Blockbuster Books of Autumn.
A Look At Her Eight Years Marriage with Chris Pratt
Before she got married to Chris Pratt, Anna Faris was married to the actor, Ben Indra. They met on the set of the 1999 indie film Lovers Lane. They got married in June 2004, but their marriage only lasted for about three years. In 2007, the two divorced, citing irreconcilable differences. They finalized their divorce after Anna paid Indra $900,000.
Not long after Anna finalized her divorce with Indra, she met another actor, Chris Pratt. The two met in Los Angeles at a table read for the film Take Me Home Tonight. They started dating around mid-2008, and a year later, they became husband and wife after they tied the knot on July 9, 2009, in Bali, Indonesia. The couple eloped after to the Asian country after attending a friend's wedding.
Unfortunately, the beautiful journey of Chris and Anna's relationship had a somber ending. Almost a decade after they got hitched, Anna and Pratt announced their plans to get divorced. The news broke on August 6, 2017, and they filed for divorce on December 1, 2018. Almost a year after, on October 16, 2018, the couple finalized their divorce.
Anna Faris and her three-year-younger ex-husband did not give exact reasons for their separation. But an unnamed source revealed that their divorce was due to their inability to reconcile their differences in career success and public attention. The source also claimed that Pratt was too religious to such an extent it became an issue.
Anna Faris And Chris Pratt Continue to Have an Amicable Relationship
If the rumors about the circumstances that led to the end of her marriage to Chris Pratt are right, it would be understandable if they had a testy relationship. But according to Anna, that is not the case. Both parties have maintained a friendly relationship since their unusually quiet Hollywood divorce.
Their relationship is so friendly so much that Chris texted Anna after he proposed to his wife, Katherine Schwarzenegger. In response, Anna offered to officiate their wedding. Anna also hopes to have group Thanksgiving dinners and go on vacations with Pratt and his new family someday.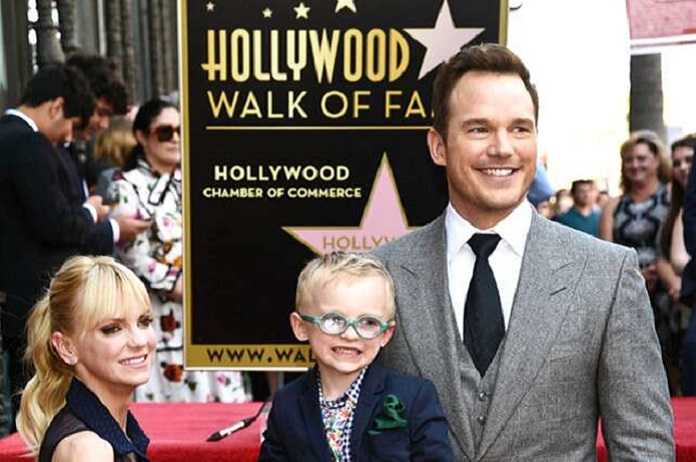 This sense of friendliness has helped in the management of their separation with their son, Jack. He was born in August 2012 and spent the first nine weeks of his life in intensive care because he was born prematurely. Now, older and healthy, Jack shares his time with Anna Faris and Chris Pratt, who remain co-parents to their only child.
However, while the couple is presumed to have joint custody, his primary home remains unknown. But one thing is sure. Wherever it is, he is surrounded by the love of his parents and their new family.