When Christine Blasey Ford brought accusations of sexual assault during the confirmation hearing of Supreme Court nominee, Brett Kavanaugh in 2018, it was reminiscent of a prior incident in American history when Anita Hill accused Clarence Thomas, who was then a Supreme Court nominee of sexual harassment.
Although the Anita Hill incident left a lot to be desired in terms of the morality of American politics, the drama around the incident in 1991 was a transformative period in American politics that led to several changes in American law regarding sexual harassment and led to the massive increase in the number of elected women in the US Congress.
Although her life will forever be defined by the 1991 incident, Anita Hill has had a long and storied career as a lawyer, activist and an academic and you can learn all about it by reading below.
Anita Hill – Biography
For a long time after she was born on the 30th of July, 1956 into a family of 15, including her parents, Erma Hill, and Albert Hill in Lone Tree, Oklahoma, Anita Hill lived a normal life away from media attention until the Senate confirmation hearing of Judge Clarence Thomas changed her life.
She began her education at Morris High School in Oklahoma before she headed over to Oklahoma State University where she earned a degree in psychology in 1977, graduating with honors. Interested in a career in law, she headed over to Yale Law School where she got her Juris Doctor in 1980, again graduating with honors and certifying herself as an academically brilliant woman.
Having satisfied her brilliance as a student, it was time for Anita Hill to prove it in the real world in a professional capacity and she began at Wald, Harkrader & Ross in 1980 where she worked as an Associate for two years. Next, she was made the assistant of Clarence Thomas at the U.S Equal Employment Opportunity Commission, working with the soon-to-be judge when he was chairman of the commission.
After leaving her position at the commission in 1983, Anita Hill returned to academics, becoming an Assistant Professor at Oral Roberts University, in the university's School of Law. She remained in her position for three years, teaching between 1983 to 1986 before moving over to the University of Oklahoma where she became a professor of commercial law and contracts.
While she taught at the University of Oklahoma, the incident that changed her life occurred in 1991 and she remained in her position until October 1996 before she joined the University of California in January 1997 and then later, Brandeis University where she remains as a professor at the Heller School for Social Policy and Management till date.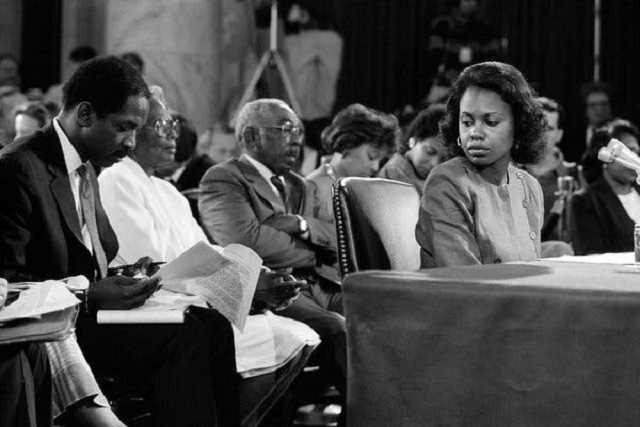 During the 1991 hearing, she made national news when a report of her interview with the FBI was leaked to the press. In the interview, she accused Clarence Thomas of sexual harassment. This eventually led to a Senate hearing by the Senate Judiciary Committee that questioned the claims of Anita Hill.
Although Clarence Thomas was eventually confirmed to the Supreme Court, her hearing led to several transformations in the legal framework of the United States, including the President, George Bush's opposition to a bill providing sexual harassment victims the right to demand damage awards and reinstatement. It also led to an increase in the number of elected women in Congress and has produced a host of literary works and documentaries.
Since the incident, Anita Hill has become a public personality and a media commentator, providing commentary on issues like women and civil rights on media platforms like Face the Nation, Meet the Press, 60 Minutes, The New York Times and many others. She is also a published author of books like Speaking Truth to Power and Reimagining Equality: Stories of Gender, Race and Finding Home.
What is Anita Hill's Net Worth?
The many news shows, documentaries and other media representations of Anita Hill's 1991 ordeal suggest that she might be worth a couple of million but that is, unfortunately, not the case. The lawyer and activist continues to work as a university professor and has earned modestly enough over the course of her career to have a net worth estimated to be $100,000.
Outside of her university salary, her other sources of income include grants and remuneration from public speaking roles.
See Also: Brett Kavanaugh Bio, Wife, Children, Parents, Age, Height, Education
Is She Married To A Husband?
Although Anita Hill was known to have been in a relationship with Chuck Malone for almost 10 years, she never got married to him and has never been married to anyone.

More than just the failure of her relationship with Chuck Malone, Anita Hill has never been known to be in a relationship with any other person and has no known children either.

Fact Check: We strive for accuracy and fairness. If you see something that needs updating,