When Christine Blasey Ford brought accusations of sexual assault during the confirmation hearing of Supreme Court nominee, Brett Kavanaugh in 2018, it was reminiscent of a prior incident in American history when Anita Hill accused Clarence Thomas, who was then a Supreme Court nominee of sexual harassment.
Although the Anita Hill incident left a lot to be desired in terms of the morality of American politicians, the drama around the incident in 1991 was a transformative period in American politics that led to several changes in American law regarding sexual harassment which led to the massive increase in the number of elected women in the US Congress.
Although her life will forever be defined by the 1991 incident, Anita Hill has had a long and storied career as a lawyer, activist, and academic.
Anita Hill was Born into a Large Family of 15
For a long time after she was born on the 30th of July, 1956 into a family of 15, including her parents, Erma Hill, and Albert Hill in Lone Tree, Oklahoma, Anita Hill lived a normal life away from media attention until the Senate confirmation hearing of Judge Clarence Thomas changed her life.
Academically, Anita Hill is an exceptionally brilliant woman; she concluded her education at Morris High School in Oklahoma before heading over to Oklahoma State University where she earned a degree in psychology in 1977, graduating with honors. Interested in the legal profession, the aspiring lawyer proceeded to Yale Law School where she got her Juris Doctor in 1980, again graduating with honors and certifying herself as an academically brilliant woman.
Her Career Path Took Her From Litigation to Academics
Having shown her brilliance as a student, it was time for Anita Hill to prove it in the real world in a professional capacity and she began at Wald, Harkrader & Ross in 1980 where she worked as an Associate for two years. Next, the young lawyer was made the assistant of Clarence Thomas at the U.S Equal Employment Opportunity Commission, working with the soon-to-be judge when he was chairman of the commission.
After leaving her position at the commission in 1983, Anita Hill returned to academics, becoming an Assistant Professor at Oral Roberts University, in the university's School of Law. She remained in her position for three years, teaching between 1983 to 1986 before moving over to the University of Oklahoma where she became a professor of commercial law and contracts.
While Anita Hill taught at the University of Oklahoma, the incident that changed her life occurred in 1991 and she remained in her position until October 1996 before joining the University of California in January 1997 and then later, Brandeis University where she remains as a professor at the Heller School for Social Policy and Management till date.
The Details of Her Allegations Against Clarence Thomas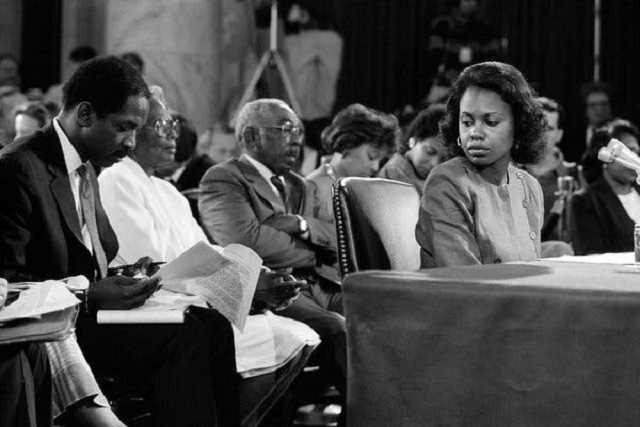 When George H. W Bush Nominated Thomas to be a Supreme Court justice in 1991, his impeccable character was presented as the principal qualification for the high court as he had only functioned as a judge for barely one year. For Thomas, his nomination and confirmation appeared to be guaranteed since he has experienced little or no organized opposition. Then, tragedy struck in the form of a report about a private interview the FBI conducted on Anita Hill. All hell broke loose when this report leaked to the press.
According to Anita Hill's submissions, her two years with Thomas was fraught with several dating requests from the judge, and when she declined, Thomas resorted to using work situation to discuss sexual matters. The judge would always talk about such sordid subjects like rape scenes, movies displaying group sex, and women engaging in sex with animals.
Anita also said that, on several occasions, the judge would graphically describe the details of his anatomy and sexual prowess, she even threw in an instance where Thomas suddenly asked "Who has put pubic hair on my Coke? This happened after he scrutinized the can of coke on his desk.
Though a hearing was set up for these allegations with all aspects of the case well examined, Thomas Clarence was later confirmed to the Supreme Court following heated and extensive debates by the US Senate Judiciary Committee who came up to question Anita Hill's claims. His confirmation was accomplished by a vote of 52–48 which made history as the narrowest margin since the 19th century.
Her Allegations Against Thomas Impacted Her Professional Life in Several Ways
Although Clarence Thomas was eventually confirmed the Supreme Court Judge, Anita's hearing led to several transformations in the legal framework of the United States, including the President, George Bush's opposition to a bill providing sexual harassment victims the right to demand damage awards and reinstatement. It also led to an increase in the number of elected women in Congress and has produced a host of literary works and documentaries.
Since the incident, Anita Hill has become a public personality and a media commentator, providing commentary on issues like women and civil rights on media platforms like Face the Nation, Meet the Press, 60 Minutes, The New York Times, and many others. She is also a published author of books like Speaking Truth to Power and Reimagining Equality: Stories of Gender, Race, and Finding Home.
What is Anita Hill's Net Worth?
The many news shows, documentaries, and other media representations of Anita Hill's 1991 ordeal suggest that she might be worth a couple of millions but the brave lawyer cum activist is worth a whole lot more. She continues to work as a university professor and has earned modestly enough over the course of her career.
However, Hill's experience led her to the creation of other career paths like writing and public speaking roles which has boosted her fortune to a large extent. A recent review of the dogged activist's wealth pegged it at a handsome $6 million and who knows, the figure might even go up in subsequent reviews, only time will tell.
A Harvest of Honors for Anita Hill
Anita Hill's boldness in the Thomas Clarence case has continued to make greater impacts in her life even after so many years. The year preceding the case in 1992, Hill became the recipient of the "Women of Achievement" award conferred on her by the American Bar Association's Commission on Women in the Profession. Her selection as a Fletcher Foundation occurred in 2005; the Ford Hall Forum bestowed her with the Louis P. and Evelyn Smith First Amendment Award in 2008, and Southern Vermont College in Bennington, Vermont employed her services as a Board of Trustees member – a position which she has maintained till date.
As if that is not enough, Anita Hill's 1991 opening speech to the Senate Judiciary Committee is listed as #69 in American Rhetoric's Top 100 Speeches of the 20th Century. By 1993, her induction into the Oklahoma Women's Hall of Fame became a reality.
Hill continues to feel the impact even in recent times, during the National Executive Board Meeting of Zeta Phi Beta sorority on the 7th of January 2017, in Dallas, Texas, the brave lawyer was inducted as one of their honorary members. Before the end of the next year, Wesleyan University awarded her an honorary LLM degree. Even The Wing's Washington, D.C. location dedicated a phone booth to Anita Hill. Also named in her honor is the Minor planet 6486 Anitahill, which was discovered by Eleanor Helin. The Minor Planet Center published the official naming citation on the 8th of November 2019. With the way the accolades are piling on, one wouldn't be completely wrong to surmise that there may still be something in the offing for Anita Hill.
The Impact of the Case on Her Personal Life
Nothing in the lawyer's upbringing could have gone to prepare her for the intense glare of international exposure she would eventually face, especially with Anita being raised in a deeply religious environment on her parents' farm located in rural Morris, Oklahoma. We can say that being grilled by the Senate Judiciary Committee toughened the woman in Hill and has impacted her personal life in many ways.
For one, the fame that followed the incident was quite unprecedented, even Joe Biden who presided over the Senate Judiciary Committee at the hearing recently put a call through to Hill, expressing regrets for the manner in which he treated her. Since then, the professor has been called up for several exclusive interviews on the issues that have continued to resonate long after the headlines have faded. We can conveniently say that Anita Hill's connection with Clarence Thomas made her a celebrity and gave her the opportunity of achieving so many career highs in her life.
See Also: Brett Kavanaugh Bio, Wife, Children, Parents, Age, Height, Education
However, the details of her personal life have always been shrouded, although she was known to have been in a relationship with Chuck Malone for almost 10 years, she never got married to him and has never been married to anyone.
More than just the failure of her relationship with Chuck Malone, Anita Hill has never been known to be in a relationship with any other person or she might have had and kept it a secret. Perhaps the aftermath of her sudden emergence to public attention changed her perception of the world and made her think twice about bringing her private affairs to the public arena.