The Mexico-based actress, model, singer and dancer Angelique Boyer has broken the myth that if you must make it big in the showbiz industry, then you have to go to Los Angeles or the City's environs. Born in France and largely raised in Mexico, the blonde diva whose acting credit centers on TV mainly has built her career to a level that her fame reverberates across nations, cultures, and languages. Since her acting career took off in 2004, the belle has won no less than 7 prestigious awards and has gotten nominated for several more (although mostly off-shore vis-a-vis the USA). In this post, you are going to learn all there is to know about the highly talented star of the Mexican telenovela, Teresa.
Who is Angelique Boyer and How Old is She?
The actress was born and named Angelique Monique-Paulette Boyer Rousseau to Patrick Boyer and his wife Sylvie Rousseau. Her birthplace is Saint-Claude, a commune in the Jura department located in the Bourgogne-Franche-Comte region of Eastern France. If Angelique was born in the United States, she would have been an Independence Day baby because she was born on July 4, 1988. She was raised mainly in Mexico City because her family moved from France to settle in the city around the time the future screen star was still two years old.
Angelique became interested in the showbiz industry at a very early stage of her life. Thus, long before her 8th birthday, she joined a musical group named Rabanitos Verdes (translated as 'Little Green Radishes') in Mexico City. At 8 years of age in 1996, Angelique enrolled at the prestigious entertainment arts school, Centro de Educación Artística (CEA). Based in San Ángel, Mexico City, CEA is run by Grupo Televisa, S.A.B., a foremost multimedia media company in Mexico and the largest in Hispanic America. This is to address the fact that Angelique was well prepared early enough for the career journey ahead of her. Also, although only applicants aged 17 to 23 were accepted in a very selective process where only about 35 to 40 applicants were chosen out of 5,000 applications per year, Angelique made it at age 8 (through an extraordinary form of the program known as 'CEA Infantil') which underscores her great talents even before joining the institute.
After graduating from CEA in 1996, Angelique Boyer received her first acting role (a lead role) in the Televisa (Mexican) soap opera Rebeide at age 15 or thereabouts. Around this time, the blue-eyed beauty formed a band named Citricus (also known as C3Q'S) with her co-stars Estefanía Villareal and Zoraida Gómez during the filming of the soap opera. She has since appeared in no less than a dozen roles and has been in five lead roles in a row since 2010.
Her Partner and Family Life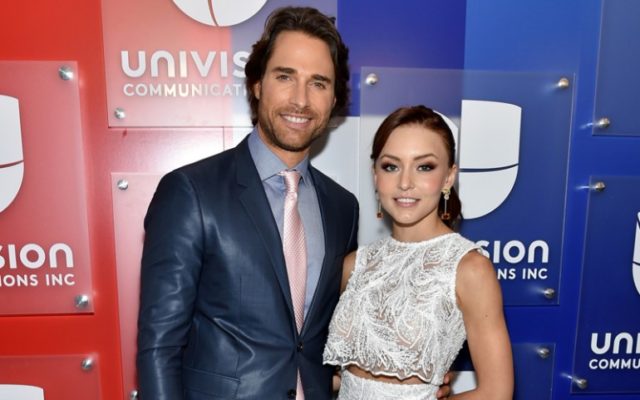 Angelique has never been married but she has had two publicly recognized romantic partners in her life. First off, she was with the Mexican producer and director José Alberto Castro between 2011 and 2014. José is a brother to the famous Mexican actress Verónica Castro who is, in turn, the mother of the famous pop singer Cristian Sáinz Valdés Castro. Besides, Verónica is notable for her work in telenovelas just like Angelique Boyer herself.
Since 2014, Angelique has been dating the Argentine actor and model Sebastián Óscar Rulli. Sebastián who resides in Mexico City with the actress is also an alumnus of Centro de Educación Artística (CEA) the same as Angelique and also noted for showing up in telenovelas. Indeed, they have starred together in a number of projects such as Teresa (2010-2011), Lo que la vida me robó (2013-2014), and Tres veces Ana (2016). So, they have quite a lot in common.
Angelique Boyer does not have kids yet with any of the men she has dated or with anyone else. She, however, said she plans to spend the rest of her life with Sebastián Rulli. She also plans to have babies but, so far, she says it is difficult combining motherhood with her active career as an actress.
See Also: Eden McCoy – Bio, Parents & Other Facts You Should Know
Angelique Boyer's Height, Weight, and Body Measurement
Many people consider Angelique Boyer stunningly beautiful with her dyed-blonde hair, blue eyes, and slender voluptuous body. She stands relatively tall at a height of 5 feet, 5 inches (1.67m or 167cm) and has her average weight listed as 50kg (about 110 lbs). The sizes of her bust, waist, and hips are 32 inches, 24 inches, and 34 inches respectively. With this, she only goes close to capturing the hour-glass shape that is much sought after among women, yet she is stunning enough to be the talk of the web on many beauty/showbiz-related web pages across the internet. Angelique wears dresses of size 2(US) and shoes of size 8(US).