Almost always, search engines are being asked questions likes "Who is Angelina Jolie dating?". This has been the norm since her relationship with Brad the Pitt collapsed. The American actress got into the dating business as a 14-year-old girl and has been in a series of relationships with both men and women, some of which led to marriage. However, even though she has been very successful with her acting career, the same cannot be said of her love life as she has been married and divorced thrice, the most recent of which is her failed marriage to fellow actor Brad Pitt, with whom she had six children.
Following her separation and subsequent divorce from Pitt, there have been rumors that Jolie has moved on and is dating again. To find out who this new guy is as well as other people the actress has previously been involved with, just keep reading.
Is Angelina Jolie Dating Anyone?
Since Angelina Jolie and Brad Pitt ended their marriage, none of them have made any public appearance with anyone and this is probably a deliberate decision to help their kids recover from the pain of their divorce. Notwithstanding, there have been reports that the actress has been secretly dating the A-list actor, Colin Farrell, for months now.
Jolie and Colin were previously romantically involved in 2004 when they both starred in the epic historical drama film, Alexander. It was, however, said to be nothing more than a fling then but somehow they have reportedly found their way back to each other and have reignited their romance. Jolie's presence at the premiere of Dumbo, a 2019 fantasy adventure film in which Colin played a lead role, was a major pointer to the alleged new relationship as some people are of the opinion that the actual motive behind her attendance with her children was to support the actor.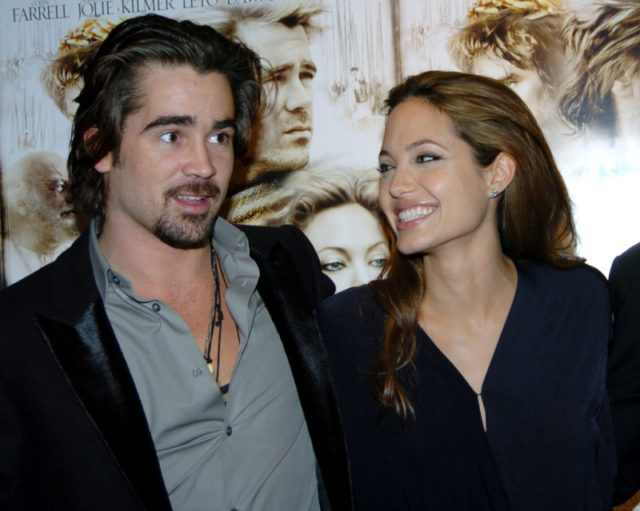 Angelina Jolie and Colin's supposed relationship, however, remains mere speculation as neither of them has confirmed it.
Who Has Angelina Jolie Dated in The Past?
The prolific actress started dating at the age of 14 with the full consent of her mother who even permitted her boyfriend to live with them in their home and share a bedroom with Angelina. They were together for two years before they broke up. According to the actress, their relationship was as emotionally intense as a marriage which was why their breakup affected her so much that she had no choice but to throw herself into acting at age 16 as an escape from the heartbreak.
In the course of filming the 1995 crime film Hackers, Angelina Jolie had her second romantic relationship, this time, with the English actor, Jonny Lee Miller. After the filming ended, they did not keep in touch with each other for many months but later reconnected and tied the knot not long after; that was in March 1996. For her wedding, Jolie was dressed in black rubber pants and a white T-shirt upon which she wrote the name of her groom using her blood. Sadly, the marriage unofficially ended the following year but they maintained a good relationship. In 1999, Jolie filed for divorce and by 2000, they were officially no longer a couple.
Meanwhile, the A-list actress, who admitted to being bisexual during a 2003 interview, kicked off a relationship with Jenny Shimizu, a model cum actress, while they were on the set of the 1996 film Foxfire. At this time, she was still married to her first husband, Jonny Lee Miller. Speaking in a later interview, Angelina revealed that she fell in love with Jenny immediately she set her eyes on her and would probably have gotten married to her if she had not married Miller. Their relationship went on for many years and did not end even while Jolie was involved with other people, Shimizu disclosed.
Angelina Jolie got married a second time on May 5, 2000, shortly after her divorce from her first husband was finalized. She tied the knot with Billy Bob Thornton, whom she met on the set of Pushing Tin in 1999. Nothing romantic happened between them after their first meeting as Thornton and actress Laura Dern were engaged at the time while Miss Jolie was said to be dating actor Timothy Hutton with whom she co-starred in the 1997 film Playing God. As fate would have it, Angelina subsequently hooked up with Thornton and after dating for two months, they tied the knot only to part ways in June 2002.
In 2004, Jolie met actor Brad Pitt on the set of Mr. & Mrs. Smith and somehow, they fell in love even though Pitt was married to actress Jennifer Aniston at that time. Pitt later ended his marriage with Aniston and this put Angelina Jolie in the middle of a heavy Hollywood scandal as she was faced with allegations of causing the dissolution of Brad's marriage. Although she denied having an affair with the actor, Jolie and Pitt carried on with their relationship and never cared to clear the air as to the nature of what they shared until Jolie confirmed that she was carrying his child.
See Also: Jenna Dewan vs Channing Tatum: Which Celebrity Ex makes More Money
They lived together and expanded their family with three biological and three adopted children before they eventually announced their long-awaited engagement in April 2012. Two years later, precisely on the 23 of August 2014, the couple exchanged marital vows at their Château Miraval estate in Correns. Unfortunately, after two years of marriage and twelve years of being together, the glamorous couple of Hollywood parted ways and subsequently divorced officially on the 12th of April 2019.