More than a lack of talent, more than lack commitment, more than not having a great set of teammates, one of the major hindrances to becoming a great universally adored player is an injury. It has kept many players from achieving their dreams of becoming a professional player and has deprived many of living up to their potential as professional players. It is a curse that affects everyone across every sport and it has also affected Andrew Bogut, a player for the Golden State Warriors.
Andrew Bogut may currently be playing for one of the greatest assembled team in NBA modern history but his own personal career achievements haven't lived up to the recognition and talent he possesses. Still, he has been able to build a career many players would envy.
The remarkable nature of Andrew Bogut's talents was evident right from the college level where he ended up becoming the number one draft pick of the 2005 NBA Draft. Keep reading to take a look at it.
When was Andrew Bogut born?
Andrew Michael Bogut was born on the 28th of November 1984 in Melbourne, Victoria in Australia to Michael and Anne Bogut. Even though he was born in Australia, his parents being of Croatian descent, made him look to Croatia for inspiration for his basketball idols and he found Toni Kukoc whom he patterned his basketball game after. At the beginning of his life, his interest in sports was diverse with him sharing his time across Football, Tennis, and Basketball.
With the help of Sinisa Markovic who became his personal trainer, Andrew Bogut found his way into the prestigious sports training program of Australia, Australian Institute of Sport. He spent his formative years playing in the South East Australian Basketball League, establishing his wealth of talents and raking up personal accolades before he moved across international waters to America where he played for Utah as a college player. For high school, he attended St. John's Regional College.
After the completion of his college career, which saw him spend two seasons and set personal records like becoming one of 31 players in Utah history to score 1000 points – a record he achieved in two seasons, he declared for the NBA Draft and joined the Milwaukee Bucks as the first overall pick in 2005.
Before he became known as the unfortunate talent ravaged by injuries, he started brilliantly for the Milwaukee Bucks and played a consecutive 153 games before he fell victim of his injury plague. In his rookie season, he finished as the third best rookie player and was named in the All-Rookie First Team. His second season began his injury woes but he still managed to spend a total of seven seasons at the Milwaukee Bucks before he joined the Golden State Warriors in 2012/13 and played for a consecutive four seasons, winning the NBA Championship in his third season with the Warriors.
Andrew Bogut left the Warriors in 2016 to join Dallas and then back to the Cleveland Cavaliers. He later joined the LA Lakers after one season at Cleveland and then moved back to his home country where he played for the Sydney Kings where he spent one season, winning the Most Valuable Player award at the completion of the NBL season. He rejoined the Golden State Warriors in 2019.
Injury and Career Stats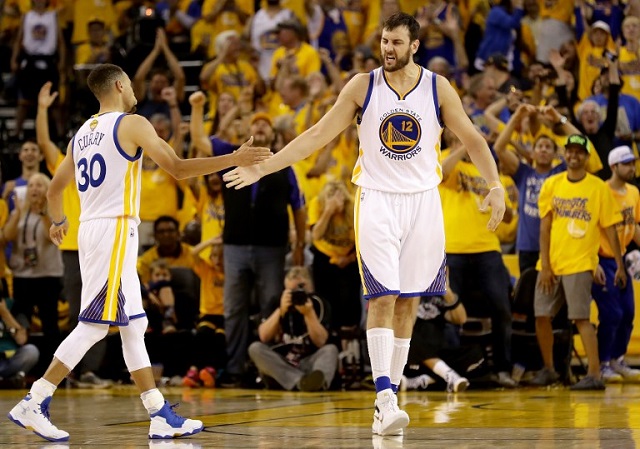 Having mentioned earlier that Andrew Bogut has suffered a lot of major injuries over the course of his career, keeping him from reaching his heights as a player, we take further look at just how damaging those injuries have been.
His first major injury happened in the 2007/2008 season when he played for the Milwaukee Bucks. It was a sprained left foot that kept him out of the remainder of the season and he missed out on the team's last 15 games. This became the first of what has been totaled to be nine major injuries, many of which ruled him out of lengthy periods over the course of the season.
Regardless of these injury woes, which many have described as the only thing that stood in his way of becoming a Hall of Famer, he has had a career stat of playing over 690 regular-season games over 14 seasons. Andrew has played in the playoffs 58 times with a couple more appearances expected in the future.
As a Center player, his points return stands at 9.7 points per game with 8.7 rebounds while his off-season playoff numbers are 5.5 points per game and 7.6 rebounds. He has won the NBA Championship once with the Golden State Warriors in 2015 and has been named into several ranking teams in the NBA, including the NBA All-Rookie First Team in 2006.
Here Are Facts to Know About Him
1. Andrew Bogut's jersey was retired by the University of Utah. While he played for them as a college player, he wore the number 4 jersey.

2. As an Australian player, he has played in the World Cup once and in the Olympic Games three times. He also played in the FIBA U19 World Cup in 2003. He won the gold medal during the tournament.

3. He was named National College Player of the Year in 2005.

Fact Check: We strive for accuracy and fairness. If you see something that needs updating,