Just one look at Andre The Giant is bound to send shivers down the spine of any onlooker, especially people who stand below 6 feet in height. Andre was so tall and huge that he always appeared menacing, like a giant sent to earth to crush opponents with one-off punches.
This Giant was a French professional wrestler who also worked as an actor. He was widely acclaimed as one of the most exciting wrestlers of the 1970s and 1980s. In fact, he is fondly remembered for famously feuding with Hulk Hogan, another wrestling legend. This feud will later culminate at the WrestleMania III.
Considering his enormous height and large body shape, fans have often asked how tall Andre The Giant really was and how big he got before he passed away. Well, we have gathered some facts about him for your reading pleasure.
How Tall Was Andre The Giant?
Andre The Giant was born on the 19th day of May 1946 in Coulommiers, a commune in France. It is noteworthy that even though he was known all around the world as Andre The Giant, his real name was André René Roussimoff. He was nicknamed as such because of his enormous size and height.
According to reports, Andre was born with gigantism, a condition which is characterized by excessive growth. He was way bigger than his peers and by the time he was 12 years old, Andre was already standing at 6 feet 3 inches (191 cm) in height and was weighing 94 kg (208 lb). By the time he was a full-grown man, Andrew The Giant stood at an amazing 7 feet 4 inches in height.
Born to a father identified as Boris Roussimoff and a mother called Marianne Roussimoff, Andre had Bulgarian and Polish roots. Growing up, all he wanted to do was to become a farmer, so he dropped out of school to work on his father's farm. He went on to complete apprenticeship in woodworking and then proceeded to work in a factory that manufactured engines for hay balers. However, this did not give him the kind of job satisfaction he wanted so he decided to move to Paris at the age of 18 to find something better to do with his life.
In Paris, he met with Obert Lageat, a local wrestling promoter who instantly recognized the enormous earning potential that Andre had, considering his huge body size. Consequently, Obert Lageat taught Andre some professional wrestling skills and he soon started wresting within Paris and other nearby areas. His fame began to spread locally and before long, he started to make a lot of buzz by wrestling in the United Kingdom, Australia, Africa, New Zealand, and Germany.
During the 1970s and 1980s, Andre The Giant rose to become one of the most dominant faces in wrestling. Reports have it that he fought for more than 300 days in a year and his fame kept growing around the world especially because of his huge size. Some people actually opined that he was the strongest man in the world. He gained worldwide acclaim when he beat Hulk Hogan for the World Wrestling Federation Heavyweight Title on February 5, 1988.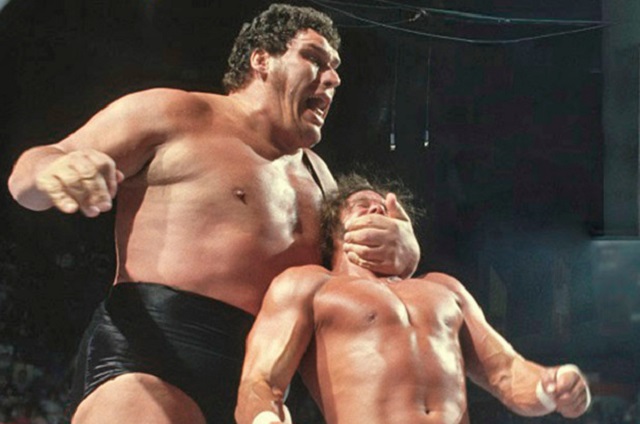 However, Andre's huge size later became a problem for him. According to reports, he underwent surgery to relieve pressure on his spine in 1986 and later had extensive knee surgery in 1992. He kept on adding a lot of weight and soon became immobile. On January 27, 1993, Andre The Giant died of a heart attack in his hotel room in Paris, less than two weeks after burying his father.
Read Also: Xia Brookside – Bio, Family, Facts About The Professional Wrestler
How Big Was Andre The Giant Before He Passed On?
Andre was really a giant! His height was menacing and intimating while his weight was enormous. When he walked, he did so with measured steps which make him look like he was about to crush an opponent attacking him. This made him very popular among wrestling fans.
As earlier stated, Andre was born with giantism, a condition that made him grow unusually excessive. In fact, he became so big that he was called "The Eighth Wonder of the World" by many people.
At his peak, Andre The Giant weighed about 520 pounds (236 kg). This was really massive as most people weigh only between
120 to 250 pounds. Andre also stood at an incredible 7 feet 4 inches in height.