Blessed with stunning facial beauty and breathtaking curvy body shape, Anastasia Kvitko is a Russian glamour model who has consistently wowed innumerable people with her curvaceous body and awe-inspiring beauty. Often described as the 'Russian Kim Kardashian', Anastasia has become one of the very popular Instagram models and is followed by millions of people who throng her page every day to view her in all her voluptuous glory.
Anastasia Kvitko has modeled for top brands after her breakthrough on social media. She has appeared in a TV series and has been named one of the sexiest models from Russia. She is also an entrepreneur who has launched own line of swimsuits which has seen a lot of patronage over the years.
Anastasia Kvitko's Early Life and Venture Into Modelling
Anastasia Kvitko was born on the 25th day of November in 1994 in Kaliningrad, a popular city in Russia where she was also raised. According to reports, right from when she was a little girl growing up, she had already developed a huge backside and breasts and was already getting lots of attention especially among the opposite sex.
Very little is known about Anastasia Kvitko's parents however, some reports have revealed that her father is a businessman and her mother is a primary school teacher. She has a sister with whom she grew up in Russia but her sibling's name remains unknown at the moment.
The details of where she had her education are still in the dark but it is has been reported that she attended high school. Growing up, Anastasia Kvitko was a very lively girl and took interest in sports quite early.
Her Modelling Career Achievements
Anastasia Kvitko started her journey into the world of modeling after she graduated from high school. It was during this period that she was discovered by a photographer who offered her a modeling job. After some time, she began to apply to major modeling agencies in Russia but she was not picked because her body was too curvy for a model. Some agencies asked her to reduce her weight but she would have none of that.
She soon started uploading lots of photos on Vkontakte, a Russian social-media website and became quite famous there. As her popularity grew, she later did a photo-shoot for Rhyme Magazine and many more people began to take interest in her. By this time, she was already a local celebrity in her town and many people had begun to call her the 'Russian Kim Kardashian.'
At the age of 17, Anastasia Kvitko moved to the USA and settled in Miami in search of greener pastures as a model. However, when she applied to modeling agencies, she was rejected because of the huge size of her body assets. This was very disheartening and she almost returned to Russia as a result but she decided to give social media a try and this was when her whole life changed.
Anastasia joined Instagram in August 2014 and started posting her pictures and soon she became quite popular on the platform, Many people were amazed by the size of her backside and breasts and stormed her page in large numbers to have a look at what she was posting. It was not long before she began to get invitations from fashion brands to model for them.
Anastasia has modeled for several brands including corset brands, innerwear brands, and even branded suits. She has also been able to attract a lot of Colombian brands during her career so far. In 2016, Anastasia was made the brand ambassador of Eliya Cioccolato which happens to be a very popular brand of apparel. Today, she has become one of the most popular models from Russia with more than 10 million followers on Instagram and has thousands of other followers on Twitter.
Details of Her Curvy Body Measurements
Anastasia Kvitko is a very curvy woman and this is the main reason why she is loved around the world. Her shape is breathtakingly curvaceous and fans have often wondered how she managed to build her body to look that good.
Anastasia stands at 5 feet 9 inches in height and has the commensurate weight of 56kg or 123 lb. In addition to this, her other body measurements have been revealed to be 39 inches (breasts), 25 inches (waist) and 41 inches (hips). She wears a bra size 36DD and wears a dress size 12.
Other Interesting Facts You May Not Know About The Russian Glamour Model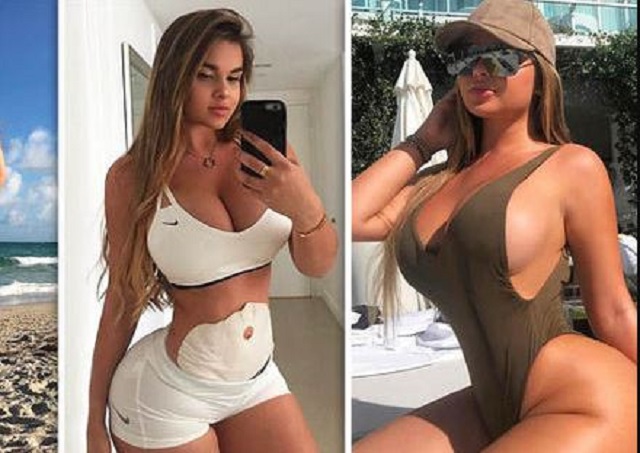 She is an entrepreneur
Apart from her work as a model, Anastasia Kvitko is also an entrepreneur. She has been able to launch her own line of swimsuits which she called 'AC-350'. Her drive to own her a fashion line was borne out of the desire to not just be viewed by people as an ordinary model but as a beautiful woman armed with lots of ambition.
Anastasia launched her swimsuit line at the 'New York Fashion Week with Eliya Cioccolato, a fashion designer, and she has already begun to get lots of patronages.
Her Net Worth is Pretty Impressive
There is no doubt at all that Anastasia Kvitko has been able to rake in quite a lot of money over the years with her work as a glamour model. She has appeared in many shoots and has represented lots of brands, apparently getting paid for her efforts.
Anastasia is also an entrepreneur who has her own swimsuit line. This new business of hers is expected to have fetched her a lot of wealth so far. At the moment, her net worth has been pegged at about $2 million by different sources.
Has she done any plastic surgery?
There have been some speculations that Anastasia Kvitko has done plastic surgery to enhance her body. This is because her buttocks are so large that they look unnatural. Some fans have accused her of going for plastic surgery to boost her breasts, backside and even waist.
However, Anastasia has always denied the allegations, insisting that she has never gone under the knife. According to her, her body is perfectly natural and she is ready to prove it to people in any way she can.
READ ALSO: Jessa Hinton Career Achievements and Other Facts About The Model
Is She in Any Relationship?
Anastasia Kvitko has never kept her personal life and relationships secret. It is known that she was in a relationship with a boy back home in Russia and they both moved to Moscow together as she sought greener pastures as a glamour model. However, their romance did not last too long.
The model has been romantically linked to Timati, a Russian rapper but this was not confirmed. She is now in love with a man identified as Arseny Sharov.