Fame can come with several downsides. Moreover, living out the good, bad, and ugly side of your family life on reality TV can be a daunting feat, even for the bravest. The Brown family is part of a docudrama-style reality TV series titled Alaskan Bush People airing on Discovery Channel. The series chronicles the lives of the Brown family members as they try to survive in the wilderness, away from modern society. Ami Brown is the popular matriarch of the family. She has had to deal with several daunting challenges in her health, as well as her personal and family life. Amy has shown that she is made of 'sterner' stuff as she continues to conquer on every side.
Ami Brown Lived in Texas Before Moving To Alaska
Born on the 28th of August 1963 into the family of Eugene and Earlene Branson in Texas, U.S, Ami has been tight-lipped about her childhood and growing up, but it is known that she has an elder brother – Les Branson. Her level of education is also unknown, but she ventured into marriage quite early.
Ami Brown got married to her husband, Billy Brown on the 16th of June, 1979. Before the couple became stars of a national television show, they went through their share of pain and troubles, starting with employment. After their wedding, Billy ran a plumbing business but gave it up eventually after he got disillusioned with the profession.
This Is How She Met And Married Billy Brown
In 1979, when she was only 15 years of age, she met Billy, and according to her, it was love at first sight for the duo. They walked down the aisle on the 16th of June 1979. Billy was 26 years old and was already divorced with 2 children. Ami's early marriage might have caused a strain in her relationship with her parents, especially her mother, and they remained unreconciled until her passing in November 2018.
Ami built a family with Billy, and they lived in Texas for a while before moving to Alaska in search of greener pastures. The two, who have 5 sons and 2 daughters, who were all homeschooled by Ami, sold their vehicle to afford their relocation. The couple found life in Alaska to be challenging at first, particularly in Mosman Island, where they chose to live.
The Launch of the Family's TV Show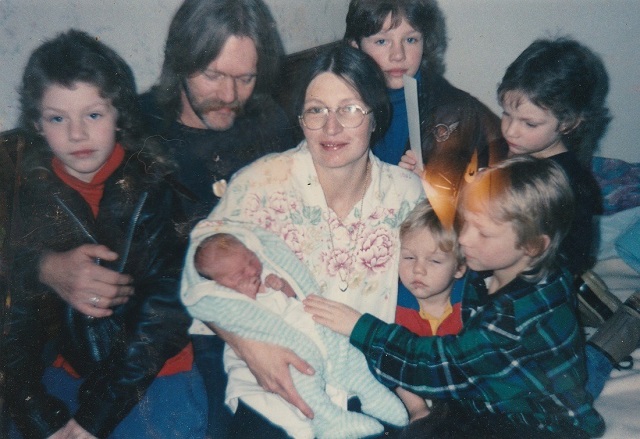 When Amy's family was discovered by a crew of the Discovery Channel, executives producers of the show found it profitable to tell the story of Ami Brown and her family who, interestingly had been living in the wilderness for over twenty years. This was the beginning of the show, Alaskan Bush People, which went on air on May 6, 2014, and has so far aired eight seasons with over 70 episodes.
The show features all seven children of the family, and a daughter-in-law of one of the sons, Noah Brown, who is married to Rhain Alicia. Ami Brown and Billy Brown arrived Alaska with two children, but as they acclimatized to live in the wilderness, they grew their family and added five more children namely – Bear, Gabe, Noah, Snowbird, and Rain Brown. Matt and Joshua were born before they moved to Alaska. As time passed, they moved across different parts of the wilderness, living in places like Hoonah, Haines, Juneau, and Chichagof Island.
What Her Cancer Battle Looked Like
The Brown family hasn't been without their fair share of feuds and drama over the years. Coupled with their diverse challenges, it came as a shock in April 2017 when Ami was diagnosed with Stage III non-small-cell lung cancer. It was even more devastating as it was so 'out of the blue,' and she was given a 3% survival chance. Meanwhile, Ami has been ignoring several signs her body has been exhibiting over the years, chucking it down to Arthritis pain.
She constantly felt pain in her back, and then shortness of breath. There were days when she was completely bedridden but thought it wasn't enough reason to visit the doctor. A routine check to have a tooth replaced with her dentist showed that a capsule was in her teeth. However, further tests revealed that she had advanced lung cancer, which had the potential to spread to any part of her body.
Mixed Reactions From Fans After The Diagnosis
Ami Brown, who has tried to maintain a level of privacy despite being on TV, found herself as a subject of several headlines after word got around about her diagnosis. She received an enormous outpouring of love and support from her fans, as well as accusations from "online trolls" that her diagnosis was faked for reality television. In support of Ami, the doctors at UCLA Medical Center who treated her released a statement detailing her diagnosis and treatment.
It's hard enough fighting a life-threatening disease with a very low level of survival, and it's even harder when you are accused of 'faking it.' Ami stood strong in all of these, keeping hope alive that she could beat it. Through her radiation and chemotherapy treatments, she was severely ill and lost lots of weight. She also became so weak that her husband had to physically carry her.
See Also: Big Chief – Biography, Married, Wife, Divorce, Girlfriend, Facts
How Ami Brown Got Rid Of The Cancer Completely
Fortunately for Ami, on the 21st of December 2017, after several months of treatments, it was discovered that all signs of cancer that had spread through her chest and back had disappeared. She was declared cancer-free, and while undergoing treatments, Ami decided to continue being a part of their family show. The reason for her decision was to help others who are enduring cancer treatments not to be fearful.
This, in itself, has gained Ami large and fierce followership all over the world, with people constantly checking online to confirm if she is still alive and well. The family had to uproot their lives from Alaska to Southern California, to get her the best possible care. It hasn't been an easy journey for them as a family, but Ami shares that they persevered with lots of faith in each other and God.
Ami is gradually on the mend. While she hasn't gotten all of her strength back, she is getting better, adding weight and growing her hair, which she lost back. Her fans continue to keep hope alive that she remains cancer-free forever.