America's Most Expensive House: The price tag for luxury living in the United States saw a new high in early 2017 when a luxurious uber-modern mansion in the swanky neighborhood of Bel Air, Los Angeles listed for a whopping price tag of $250 million, easily making it the most expensive home ever listed on the US market. CNBC gladly broke the news to the world.
The home comes complete with every billionaire essential. As a matter of fact, it was built as a facsimile of a megayacht, that is, in terms of amenities rather than structure, so think of it as a luxury yacht on dry land, one you get to stay in not just for weeks or months but for a lifetime! You can bet on the functionalities of this home to have the superpowers to prolong livelihood. Happy people live longest, right? and living in this home is all you're guaranteed to get– HAPPINESS! Just wait till you see its myriad of recreational amenities.
Measuring 38,000 square foot, the home spreads across four floors which can be accessed either via its handcrafted steel staircase which cost upwards of $2 million or through its elevators adorned with alligator skin.
See Also: 14 Incredible Billionaire Vacation Homes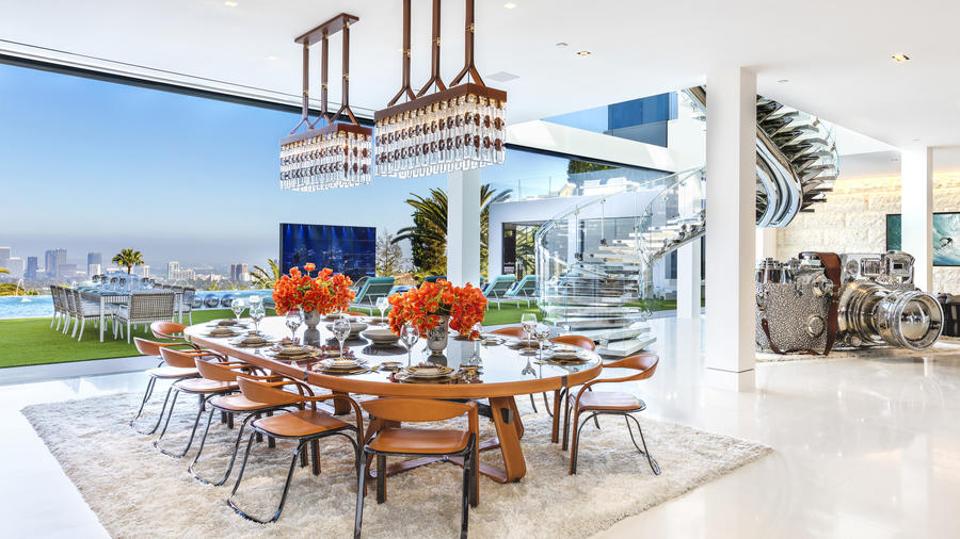 The property holds 12 bedrooms and 21 bathrooms. There are 3 chef kitchens, 2 wine cellars, 4-lane bowling alley, 6 bars, fitness area, massage room, an 85-foot infinity pool with an 18-foot, 4k hydraulic screen that cost $2 million, a 40-seat James Bond-themed movie theater with a 4 K screen loaded with 7,000 movies and games and instead of a garage, an "auto gallery" which features $30 million worth of cars including the $15 million 1936 Mercedes 540 K Special Roadster. All of these come included in the $250 million price tag. More details anon.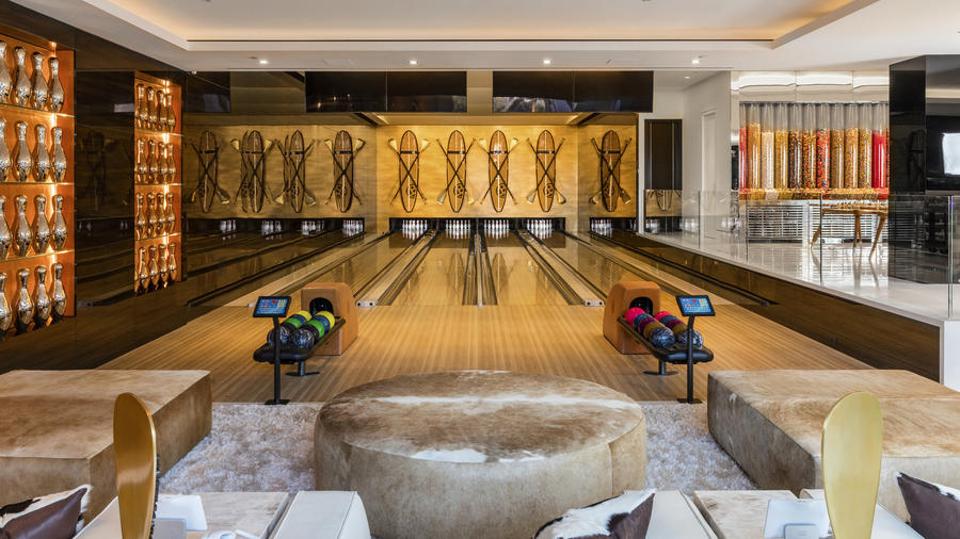 The marvellous spread sure looks like something conjured up from the fantasy world, only that it wasn't. It reportedly took 300 men the space of 4 years to construct the project which is the brainchild of luxury real estate developer Bruce Makowsky, the billionaire owner of BAM Luxury Group who has leather handbags to thank for his initial fortune.
Mister Makowsky told CNBC he created the home with modern day billionaires in mind. Who else but the world's 1% class would need a variety of amenities stocked in a single abode? These guys happen to be their own bosses who when not on a private jet trotting to some business appointment, spend the bulk of their time in their private getaways from where they run their empires.
He said; "I wanted to redefine what super-high-end luxury homes are all about, I wanted to break all the molds. The level of quality and attention to detail in this house is unsurpassed. And I wanted to create the greatest feeling that you can have being at home."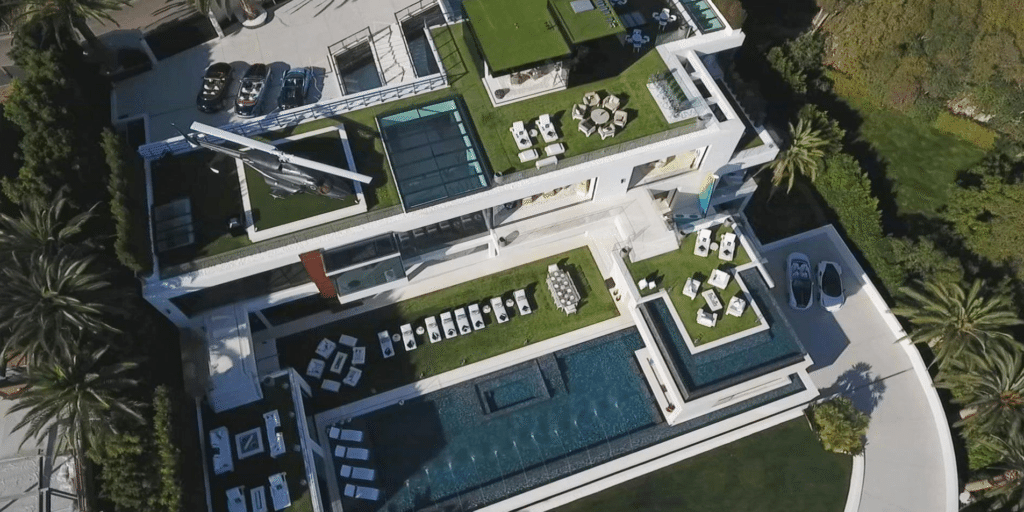 Makowsky bought the piece on which the home sits back in 2013 from retired pro football player and news anchor Michael Strahan for $11 million. Strahan had bought it in 2011 for almost $8 million.
See Also: 30 Most Jaw-Dropping Celebrity Mansions
This sale won't be the first time Makowsky will be setting records. Back in late 2014, he built and sold a mansion in Trousdale Estate, Beverly Hills for $70 million to Minecraft creator and Mojang co-founder Markus Persson. At that price tag, it is the most expensive home ever sold in the city. Another Beverly Hills home by another developer is also on the market for $195 million. It was the most expensive house ever listed in the US until came Makowsky's Bel Air.
The Exterior
We begin with the exteriors which offer just as much pleasure as the interiors. And even better, it features a number of jumbo sized sliding glass doors which make for an outdoor, indoor living experience. One of the master suites (there are 2) opens to a wraparound U-jacuzzi (pictured above).
The main 85-foot infinity edge swimming pool which Makowsky notes is the "largest swim-around infinity pool Jacuzzi ever", features a swim-up bar. There is an indoor-outdoor kitchen complete with a waterfall.
At the rooftop is a helipad decorated with the helicopter from the '80s TV show Airwolf which serves only as a display piece, you know, just to complete the ostentatiousness.
The icing on the outdoor experience and perhaps the priceless feature of the entire property is the breathtaking panoramic views of Los Angeles and beyond which includes the San Gabriel Mountains and the Pacific Ocean.
See Also: 10 Most Romantic Luxury Resorts
The Interior
The interiors come completely furnished from Roberto Cavalli table settings to over 130 pieces of arts collectively worth millions.
One of them is a $1 million Leica camera sculpture by artist Liao Yibai.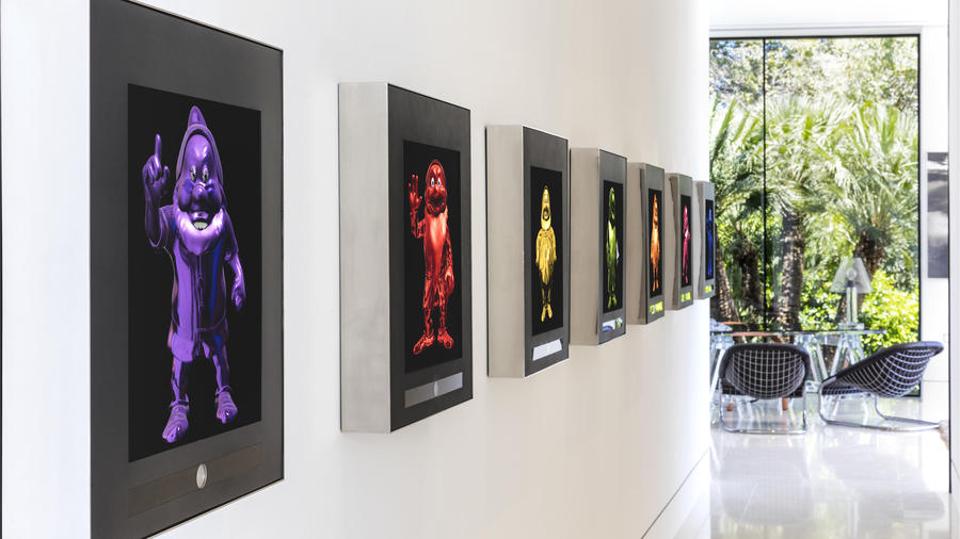 There is also an interactive series of Snow White's 7 dwarfs by Disney.
The Game Room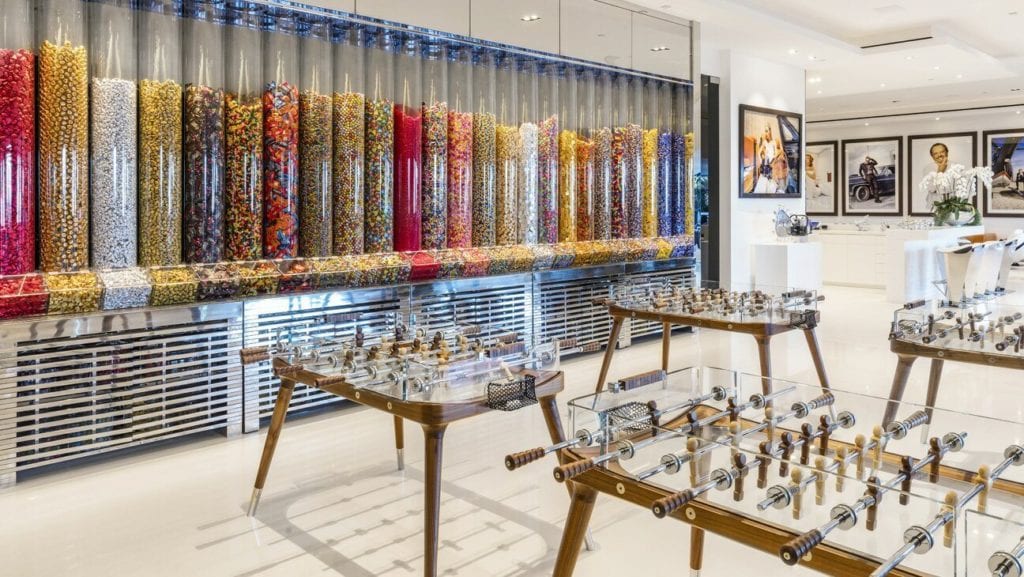 The Game room is perhaps the most glassy part of the home with 4 glass Foosball tables, a glass ping-pong table, a glass pool table that cost $12,000 and a glass candy dispenser for the taste buds.
Also for entertainment is a 30 foot TV screen which is said to be the largest in any residential building.
See Also: 26 Most Expensive Houses In The World And Their Owners
The Auto Gallery
It takes up the entire ground floor of the building. It features 12 cars including a very rare $2 million Pagani Huayra and the "Von Krieger", 1936 Mercedes 540 K Special Roadster valued at $15 million. Others include; a Bugatti Veyron, a Ferrari 488 and a Rolls-Royce Dawn. There are also 10 very fast and rare motorcycles. The total worth? $30 million.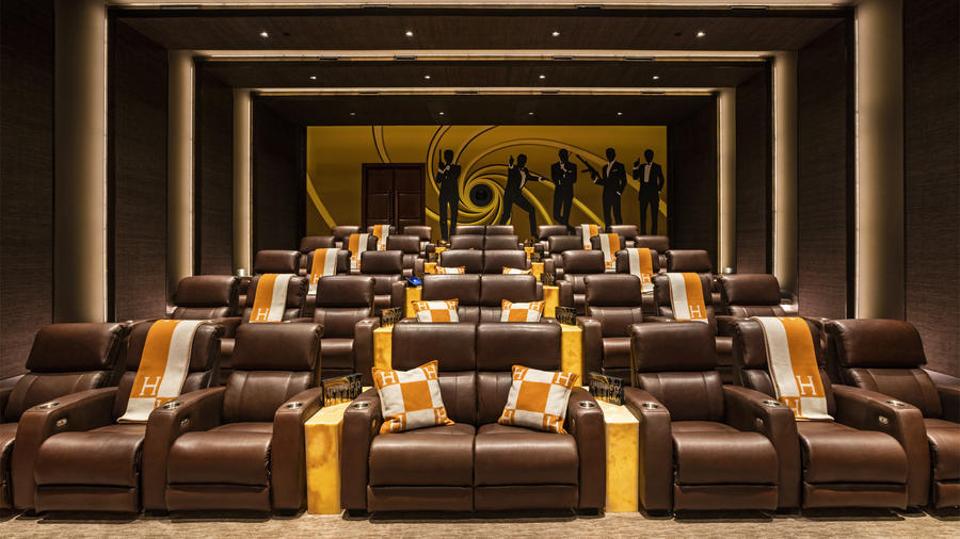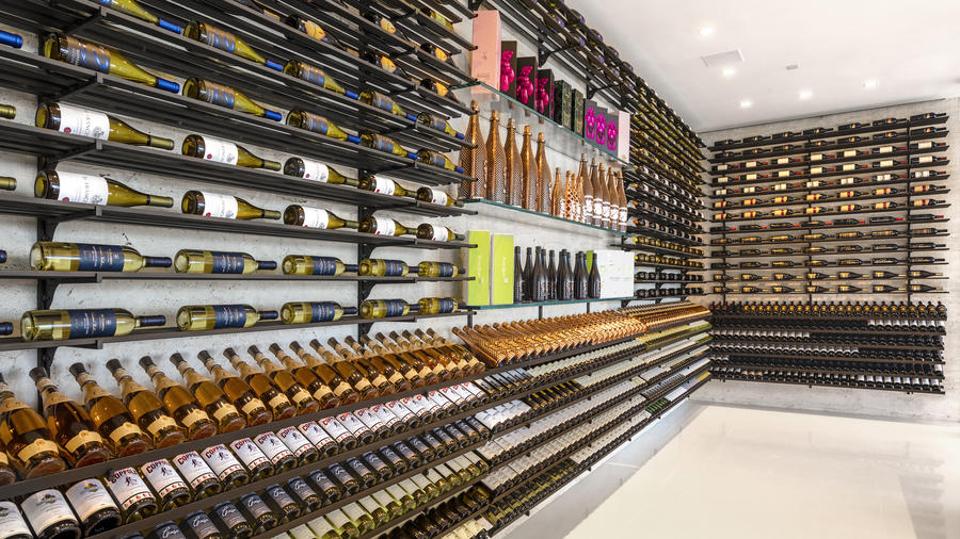 A mansion this luxurious would need hands to keep up with the maintenance and Mr Makowsky has offered to pay the wages of 7 full-time staff for two years which is also included in the asking price. The staff would include a masseuse, chef, and a chauffeur.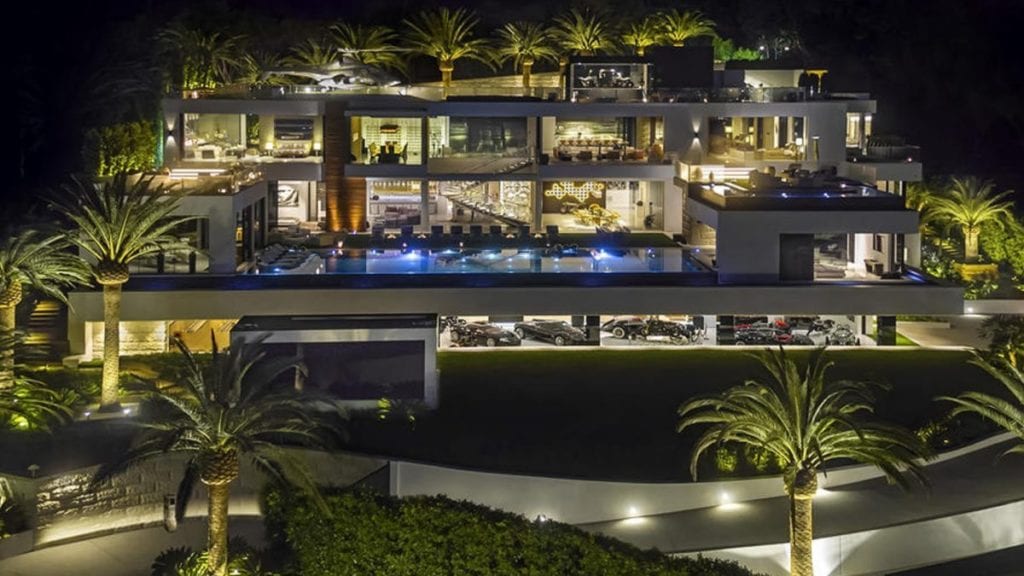 See Also: Oprah Winfrey's $14 Million Colorado Mansion
Should Makowsky get anything near his asking price, the Bel Air mansion will officially become the most expensive home ever sold in the United States. However, it appears it won't be holding the title for long. Another developer, film producer Nile Niami is currently building a 74,000 square-foot mansion also in Bel Air and per speculations, it could list for as much as $500 million when construction is complete.
Currently, the most expensive home ever sold in America is an 18-acre, beachfront mansion in East Hampton, New York which was sold in 2014 to hedge fund tycoon Barry Rosenstein for $147 million.
The most expensive house ever sold in the world is believed to be a 17th Century inspired French Chateau Louis XIV in Paris which was sold in 2016 by Christie's International Realty to an anonymous Middle East buyer for a jaw-dropping $301 million. It snapped the title from a London penthouse that sold for $221 million in 2011.