| Age/Date of Birth: | 28 years old (June 17, 1994) |
| --- | --- |
| Height: | 6 ft 1 in (1.85 m) |
| Ethnicity/Race: | Black |
| Nationality: | American |
| Wife or Girlfriend: | Destiny Jones |
| Parents: | Michelle Green (mother) |
| Net Worth: | $12 Million |
Amari Cooper has distinguished himself as a dominant offensive threat whenever he is in the field of play. His outstanding performances have made him a force to acknowledge as far as the wide receiver's position is concerned. Amari is currently among the prominent stars in the lineup of the Dallas Cowboys of the NFL. He was drafted by the Oakland Raiders as the fourth overall selection during the NFL draft of 2015.
As a result of his unparalleled ball-catching skills, the smart and brilliant wide receiver has earned a spot in the Pro Bowl twice. He completed his collegiate career at the University of Alabama. Learn more about Amari Cooper's career and other interesting facts below.
Amari Cooper's Family Background and Early Life
The Wide Receiver Is the Youngest of Five Siblings and He Knows Little About His Father
Records have it that the Cowboys' star was born on the 17th day of June and in the year 1994. He was born to black American parents, Michelle Green, and her husband Terrance Cooper. Amari spent his early years in Miami, Florida, along with his four siblings – Airrika, Ashley, Aspen, and Avery Cooper. He is the youngest of them all.
The wide receiver had a tough childhood and was raised without a father figure in his life. From what we gathered, he doesn't know much about his father Terrance Cooper. This is so because that man has been in prison since Amari was a toddler.
Records have it that Terrance was sentenced to 30 years in prison sometime in May 1996. This was after he was found guilty of burglary of an unoccupied residence. He has been serving his time in a Florida state prison and is projected to be released in June 2022.
Speaking about his father, the NFL player revealed he never visited the man in prison. He isn't bothered he has no relationship with his father, Amari said. It was an issue when he was younger but he has come to terms with the fact that he never knew him.
Amari Owns His Success to His Mother Who Raised Him and His Siblings
As his father was jailed, raising Amari and his siblings became the sole responsibility of his mother Michelle Green. It was a tough job for Michelle and she had to take on multiple jobs to provide for her kids. The family lived at a housing project in North Miami and based on what Amari Cooper related, were too broke to own a car. As such, his mother had to walk miles to work.
Seeing how much his mother struggled to provide for the family was one of the major factors that left Amari determined to succeed as a footballer. He once shared a story about Michelle that constantly reminds him to never take the woman for granted.
As the story goes, he refused to follow his mother to the store, insisting he was too tired to walk. Michelle went alone and when she returned, Amari noticed the marks on her arms from carrying the groceries. The incident stuck with him and he resolved to support her any way he could as much as she had been supporting him.
The first thing Amari Cooper did after he was drafted was to acquire a home for his mother. He would later buy her a Range Rover as well, promising that it was just the beginning.
He Had His College Career With the University of Alabama
It is said that he started playing the game at a very young age and completed the first stage of his amateur career at Miami Northwestern Senior High School. While he was there, the wide receiver was so spectacular that he became a favorite player of the fans. He also garnered lots of attention from top colleges who wanted him to be a part of their college team.
After an impressive high school career, Amari Cooper accepted a scholarship offer from the University of Alabama. On joining the Crimson Tide football team, he made history as the second freshman since Alfred Lary to make 11 touchdowns in his first season. His performance was so spectacular that everyone couldn't wait to see what he'd pull off in his sophomore season. But then, Cooper suffered a series of injuries that affected his game that year.
He later made 12 appearances for his team and caught 45 passes for 736 yards. He recorded his breakout season in 2014 when he managed 16 touchdowns and notched 124 receptions for 1,727 yards. The player finished the season as an all-time SEC leader in reception and touchdowns.
Awards and Highlights of Amari Cooper's College Career 
As a result of his excellent performance in college, Amari won the Biletnikoff Award. He was equally a finalist for the Heisman Trophy. Below is a list of his attainments as a student-athlete.
BCS National Champion – 2012
Two-time SEC Champion – 2012 and 2014
First-team All-SEC – 2014
Biletnikoff Award – 2014
Unanimous All-American – 2014
Amari Began His Professional Career With the Oakland Raiders
After a solid junior season at Alabama, the wide receiver announced he would forgo the remainder of his college career in order to join the 2015 NFL draft. During the draft, Amari Cooper was chosen by the Oakland Raiders as the first wide receiver and the fourth overall player that year. Notably, he was picked after Marcus Mariota, Dante Fowler, and Jameis Winston.
Joining the Raiders, Cooper made his regular-season debut on the 13th of September 2015 against the Cincinnati Bengals. He made history as the first Raiders rookie to attain 1,000 receiving yards in a season. At the end of his rookie campaign, he had accumulated six touchdowns in addition to 72 receptions for 1,070 yards. Following his performance, Cooper was named to his first Pro Bowl along with Derek Carr.
Injuries Left His Struggling through 2017 and 2018
The player also got his second Pro Bowl call-up after his second successful season in 2016. He recorded 1,153 yards while catching 83 passes and scoring five touchdowns. Sadly, Cooper suffered an ankle injury that affected his performance during the 2017 season.
As a result of the injury, the Raiders' star had seven touchdowns and made only 48 receptions for 680 yards.
Before the 2018 season commenced, the Raiders took a fifth-year option on Amari's contract. While the season was ongoing, Cooper suffered a concussion during their week six game against the Seattle Seahawks.
He Joined the Dallas Cowboys in 2018
Following the concussion, Amari Cooper was traded in exchange for a 2019 first-round pick to the Dallas Cowboys. Joining the Cowboys, Cooper got the starting wide receiver's role for the team. He made nine appearances for the Cowboys managing 53 receptions for 725 yards and six touchdowns.
During his first season with the Cowboys, Amari won the Offensive Player of the Week Award twice. He also featured in the Cowboys postseason game where he made 13 receptions for 171 yards and a touchdown.
The 2019 season came and the wide receiver pulled off a career-high 1,189 receiving yard for 79 receptions and eight touchdowns. It was a remarkable feat that motivated the Cowboys to extend his contract. He made a five-year contract extension with the franchise sometime in March 2020 and the deal is worth $100 million.
Major Awards and Recognition of His NFL Career
PFWA All-Rookie Team – 2015
Four-time Pro Bowler – 2015, 2016, 2018, and 2019
Ranked 53rd in NFL Top 100 Players of 2017
AFC Offensive Player of the Week – 2017
Two-time NFC Offensive Player of the Week – 2018
List of All the Teams He Has Played for
 Miami Northwestern Senior High School Football Team
The Alabama Crimson Tide Football Team of the University of Alabama (2012 – 2014)
Oakland Raiders (2015 – 2018)
Dallas Cowboys (2018 – Present)
Details of His Height and Weight
Undoubtedly, Amari Cooper has been outstanding since the inception of his professional career – all thanks to the work he does at the gym. A mere look at the wide receiver, you'd see he has a great physique and wonderful body measurements. Standing at a height of 6 feet 1 inch (1.85 m), he weighs 210 pounds. The player has black hair and brown eyes.
His Body Measurements Compared to Other Wide Receivers on the Cowboys' Roster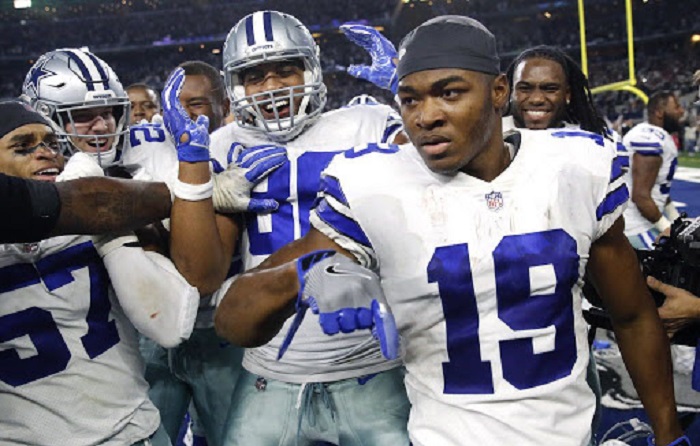 Amari Cooper

Height – 6-1
Weight – 210
Arm Length – 0.80 m
Hand Size – 0.25 m

Noah Brown

Height – 6-2
Weight – 225lb
Arm Length – 0.81 m
Hand Size – 0.23 m

Cedrick Wilson

Height – 6-2
Weight – 200lb
Arm Length – N/A
Hand Size – N/A

Malik Turner

Height – 6-2
Weight – 202lb
Arm Length – N/A
Hand Size – N/A

Michael Gallup

Height – 6-1
Weight – 198lb
Arm Length – 0.80 m
Hand Size – 0.23 m

CeeDee Lamb

Height – 6-2
Weight – 189lb
Arm Length – 0.82 m
Hand Size – 0.23 m
Profile Summary
First Name:
Amari
Last Name:
Cooper
Also Known As:

Not known
Sex/Gender:

Male
Profession:

American football wide receiver
Famous For:
His professional football career
Colleges/Universities Attended:

University of Alabama
Educational Qualifications:

Not known
Religion:

Not known
Birthday & Zodiac

Age/Date of Birth:

28 years old (June 17, 1994)
Zodiac Sign:
Gemini
Birth Place:

Miami, Florida, United States
Nationality:
American
Ethnicity/Race:

Black
Country of Residence:

USA
Physical Attributes

Height:

6 ft 1 in (1.85 m)
Weight:

210 lb (95 kg)
Eye Colour:

Brown
Hair Color:

Black
Other Body Measurements:

Arm length- 31 1⁄2 in
(0.80 m), Hand size-10 in (0.25 m)
Relationships

Marital Status:

Dating
Spouse/Partner:

Destiny Jones
Family and Relatives

Father:

Not known
Mother:
Michelle Green
Children:

Not known
Siblings:
Airrika Cooper, Avery Cooper, Ashley Cooper, Aspen Cooper
Other Relatives:

Not known
Net Worth
Estimated Net Worth:

$12 Million
Salary:
Cooper earns a base salary of $20,000,000
Source of Wealth:

His football career