In the past, she rendered her services to the Minnesota Golden Gophers as part of their exceptional Hockey program and at the national level, Amanda Kessel has earned honours as a member of the United State ice hockey women's national team and has helped them claim victory after victory including the prized gold medal at the 2018 Winter Olympics. She also went home with the whopping $37,000 cash prize which came with the medal. Keep reading to learn more about her.
Early Life 
Amanda is a respected American athlete who plays ice hockey. She has represented her country at several levels and competitions at home and abroad and has also achieved stellar success in her individual career playing for teams such as the Metropolitan Riveters, which she is currently signed to in the National Women's Hockey League.
Amanda Kessel was born on August 28, 1991, in Madison, Wisconsin. She is one of three children born to her parents Phil Kessel and Kathy Kessel. She has two brothers who are named Phil Kessel and Blake Kessel. Amanda discovered her love for ice hockey at an early age and began playing with boy teams around her neighborhood such as the Madison Capitols Bantam team, with whom she won regional and state championships. Amanda completed her high school education at Shattuck St. Mary's. While there, she put up impressive stats season after season for the school's team. She won the U-19 championship in her first year, putting up 102 points in only 56 games. The following year, she registered 100 points with 44 goals and 56 assists in 34 games. Amanda also helped the team win their second U-19 championship. In her concluding season, she put up 122 points with 67 goals and 55 assists in 46 games. She was 61 points ahead of the second best player.
Moving on, Amanda Kessel joined the University of Minnesota to further her education and continuing pursuing her career at the college level. She played her debut game as part of the Minnesota Golden Gophers on October 1, 2010, against Clarkson. She marked 4 points with two goals and two assists during the game. Three months later, in a game against Ohio State, she put up four goals and helped the Gophers win again. She spent the rest of her college career scoring and putting up points in games although injuries derailed her career for a while.
The gifted athlete has also been a part of the United States Women's national ice hockey team and has participated in various competitions and tournaments. Before making it to the senior women's team, she had played for the country's Under-18 and Under-22 teams in which she was named the most valuable forward in the competition. Amanda Kessel has helped the United States win several medals and championships over the years.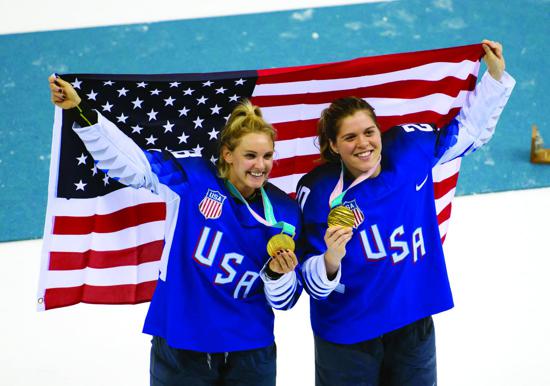 As for her club career, Amanda was never drafted by a team in the National Women's League because she had already completed her junior season before the league came into existence and as a result, Amanda Kessel no longer fit the requirements. She joined the New York Riveters as a free agent in May 2013. Her contract was worth $26,000, which made her the most expensive player in the league. She made history as the first player to score a hat-trick in an All-Star game in the NWHL.
Amanda Kessel's Net Worth
The brilliant ice hockey player has earned all sorts of awards and recognition as an individual and part of a team including an Olympic Silver Medal in 2014, the 2013 Patty Kazmaier Award for College Player of the Year, the IIHF Women's World Championship Gold Medal in 2013, 2017, 2019, and the Four Nations World Cup in 2011 and 2012.
Amanda Kessel has achieved great success and commensurate wealth thanks to her dazzling ice hockey career. She is the highest-paid player in the National Women's Hockey League, meaning that she rakes in fat checks annually by way of salaries. The Olympic gold medalist is estimated to have a net worth of about $800, 000, which is expected to increase as her career progresses.
Read Also: Mitchell Trubisky – Biography, Girlfriend, and Salary
Other Things To Know About the Ice Hockey Player
1. She almost lost control of her mental faculties after she suffered a terrible concussion during the 2014 Olympics and didn't realize it until many weeks later.
2. Amanda Kessel hosts a hockey camp for young kids in the summer.
3. The ice hockey player is set to release her own clothing line in collaboration with Gongshow Gear.
4. Amanda comes from a family of hockey players. Her father Phil Sr. played hockey back in his days and her brother Phil Jr. is also a professional hockey player who has competed in the Olympics and currently plays for the ice hockey league side Arizona Coyotes.