Afro-American football star Alvin Kamara has been making a huge impact in the National Football League despite being a newbie. He currently mans the backfield for the New Orleans Saints. The spirited runner gave an incredible performance in the 2017 regular season, thus, racking up several accolades for himself. Notably, he won the Best Rookie and the Offensive Rookie of the Year Awards in 2017. He equally got his first Pro Bowl call-up while getting PFWA Rookie Team honors in the same year. Alvin completed his collegiate career with the Tennessee Volunteers football team.
Alvin Kamara – Bio
The football prodigy was born as Alvin Mentian Kamara on the 25th day of July 1995 in Norcross, Georgia, US. He was born to a Liberian mother Adama Kamara and American father. There is no much detail regarding his parents. Alvin grew up in Georgia where he finished his basic education at Norcross High School. While he was there, he was a part of the school's football team. Alvin wrapped up his junior season with 17 touchdowns and 1,300 yards. He also notched 26 touchdowns and 2,264 yards in his senior year. As a result of his top-notch performances, Alvin won Georgia Mr. Football as well as the Player of the Year Award in 2012.
Kamara's stellar performance made him one of the top college prospects in the nation. After high school, Alvin decided to enrol in the University of Alabama for his college career. Joining the Crimson Tigers, the running back had a terrible experience with the team. He first suffered a knee injury during the preseason and afterwards, he was dropped by head coach Nick Saban for misconduct. In view of that, Alvin moved to Hutchinson Community College in 2014. There, he recorded his breakout season while scoring 21 touchdowns and 1,469 yards for his team.
For his last two college seasons, Alvin Kamara transferred to the University of Tennessee where he played football under the guidance of coach Butch Jones. He had seven touchdowns, 34 receptions, and 698 yards in 2015. The following year, he recorded over 2,000 rushing yards while averaging a touchdown per game. At the end of the 2016 season, Alvin announced he would be joining the NFL draft of 2017.
NFL Draft Profile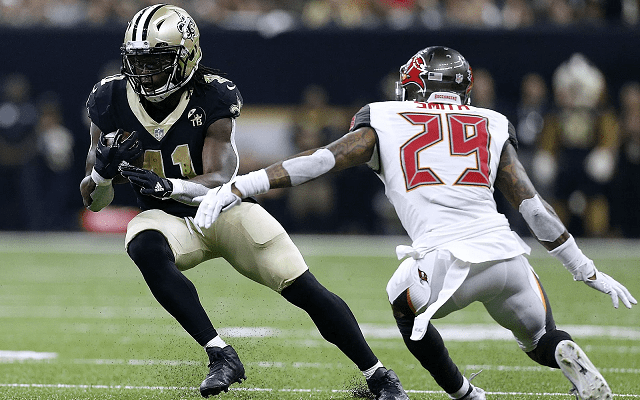 Alvin Kamara was invited for the 2017 NFL Combine where he made the highest score among the running backs. During the drills, Alvin completed the 40-yard dash in 4.53 seconds, 20-yard split in 2.61 seconds, and the three-cone drill in 7.10 seconds. He also took part in five other private workouts organized by NFL teams including New Orleans Saints, Minnesota Vikings, Philadelphia Eagles, Chicago Bears, and Carolina Panthers. Following his performance, Alvin was projected by draft scouts as a second pick in the draft.
While the 2017 draft was ongoing, Alvin was finally picked by the New Orleans Saints as the 67th player overall. He was the fifth running back that was picked that year. After signing his rookie contract, Alvin Kamara joined the team, playing alongside Mark Ingram. The pair became a formidable force backfield and was so spectacular throughout the 2017 season. Alvin got his first Pro Bowl selection alongside Mark in December. He helped the team to maintain 11–5 record while ending his rookie season with eight touchdowns and 728 rushing yards. In addition to being the Best Rookie of Year, Alvin won the league's offensive player of the year award. He also earned a spot on the PFWA All-Rookie Team and All-Pro Second Team.
During the 2018 season, while Ingram was given a four-game suspension, Alvin became a starter for the team. He made a lot of improvements in his game and was able to score 14 touchdowns and 883 rushing yards that season. Undoubtedly, with the way Alvin is going, we believe he would record his breakout season pretty soon.
Also Read: LeSean McCoy Bio, Injury and Career Stats, Girlfriend Abuse Allegations and Suspension News
Height, Weight, and Body Measurements
The Saints star has distinguished himself as a reliable pass catcher and punt returner; all thanks to his great physique. Alvin is very tall, standing at a height of 5 feet 10 inches with a commensurate bodyweight of 215 pounds (98 kg). He has an ideal hand size of 9 ¼ inches and arm length of 32 ¾ inches. His distinctive feature includes his dreadlocks and masculine physique.