Allison Stokke is a Newport Beach, California-born track and field athlete and fitness model who broke several high school pole vaulting records in America. Her popularity went many notches higher when she was 17 years old after a picture of her was posted by Matt Ufford on the male-dominated sports blog known as With Leather. This led to her becoming an internet sensation as well as a sex symbol, a status she never endorsed.
Continuing her pole vaulting career under athletic scholarship at the University of California, Berkeley, Allison Stokke competed for the California Golden Bears track team. She took part in two NCAA Division I Championships, earning All-American honours in 2011 at that year's NCAA Indoor Championships and achieving all-academic honours at the regional level as a result of her performances both in her academics and in athletics. Allison tried making the American Olympic team at the United States Olympic Trials in 2012, but her efforts were not good enough. However, she kept on vaulting regularly in meetings at the national level up to 2017.
Allison Stokke Bio (Age)
Born as Allison Rebecca Stoke, on March 22, 1989, in Newport Beach, California, the athlete is the daughter of Allan and Cindy Stokke. She has an older brother named David, who was involved in gymnastics at the national youth level and probably because her brother was a gymnast, Allison wanted to be one too. However, after she tried it, she changed her mind, deciding instead to go for pole vaulting while studying at Newport Harbor High School.
It was not long before she became one of the best vaulters in America. In her freshman year in 2004, Allison emerged winner of the 15/16 United States championship title with a record of 3.81 m (12 feet 6 inches). Also in the same year, she made a vault of 3.86 m (12 feet 7 3⁄4 inches) and followed it up in her sophomore year with a vault of 4.11 m (13 feet 5 3⁄4 inches. Both of these were record-breaking vaults for a high school freshman and high school sophomore in America. Additionally, Allison's vaults were also the best to be ever recorded by a 15/16-year-old American.
At a point during her high school, she broke her leg but that did not stop her from taking part in and winning two times at the CIF California State Meet. In her final year of high school, the record-breaking pole vaulter climbed to the second spot in the national high school rankings with a record of 4.14 m (13 feet 6 3⁄4 inches). She also participated in the national junior championships in her senior year, finishing eighth.
Moving on to study sociology at the University of California, Berkeley, under an athletic scholarship, Allison Stokke continued performing excellently, breaking the school record freshman athlete both indoors and outdoors in her first year of competition for the Golden Bears. She was also among the top ten in a number of competitions she participated in, some of which are the PAC-10 Championships and the MPSF Indoor Championships.
Despite her involvement in sports, Allison Stokke never allowed her academics to suffer. Consequently, she received All-Academic honours in addition to also receiving an honourable academic mention from the association of track/field and cross country coaches. Upon completion of her college education, she started pole vaulting professionally even though her rank among American athletes was not high.
Does She Have a Boyfriend or Husband?
Allison Stokke is neither single nor married. However, she is in a very serious relationship with the popular professional golfer Rickie Fowler, who plays on the PGA Tour. Born on December 13, 1988, Rickie attended Murrieta Valley High School and Oklahoma State University in Stillwater.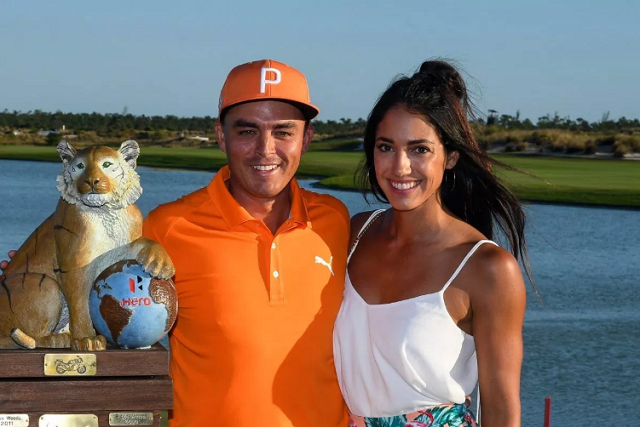 As an amateur golfer, Rickie won a number of tournaments, including the Western Junior in 2005, the Walker Cup in 2007, the Sunnehanna Amateur in 2008, and the Walker Cup again in 2009 after which he went pro. Since becoming a professional golf player, Rickie has won several titles. On the 24th of January 2016, he rose to the fourth position in the Official World Golf Ranking sequel to his victory in the Abu Dhabi HSBC Golf Championship.
Allison Stokke and Rickie Fowler started dating in 2017 and made their first public appearance that year at a Motorcross Race. Since then, the pole Vaulter has never stopped supporting her boyfriend on the course, accompanying him to almost all major golf tournaments. She also posts pictures of her and the golfing star on her Instagram handle on a regular basis just as the golfer also does on social media.
On June 8, 2018, which was National Best Friend Day, the couple announced their engagement on their Instagram handles, sharing a few photos with heartwarming captions. They are, nevertheless, yet to announce their wedding date.
Allison Stokke's Worth?
Allison Stokke has made quite some money from her career as a pole vaulter but that aside, it is believed that she has made even more from modelling. In case you do not know, the beautiful athlete is a sportswear model for a number of big brands such as Nike, Inc., Athleta, and Uniqlo. She also filmed promotional videos for GoPro as a way of advertising the company's action camera equipment. Her earning from all these ventures brings Allison's net worth to an estimated $500,000.
See Also: Booger Mcfarland – Bio, Wife, Son, Family, Salary, Net Worth
Her Height and Body Measurements
Allison Stokke is naturally blessed with good looks. She stands at 5 feet 7 inches tall, weighs 52 kg and also has dark brown hair and eyes. Her body measurements are as follows: bust– 34 inches, waist – 25 inches and hips – 34 inches. Allison's perfect body shape is maintained through serious physical exercise as she has revealed her fitness regimen to include yoga, plyometrics, paddling, drills, and running daily.

Fact Check: We strive for accuracy and fairness. If you see something that needs updating,