If you are a fan of the Weather Channel's TV show called Weather Center, then chances are you'd know Alexandra Steele. She is a gorgeous American meteorologist who became famous for her work with The Weather Channel, where she served as one of the hosts of the Weather Center. She began her career several years ago and has also worked for other mainstream media outfits like CNN and ABC, among others.
Asides her TV career, Alexandra Steele is also famed for an alleged relationship with her fellow meteorologist, Jim Cantero. Here, we discussed the alleged relationship and other interesting facts you need to know about the brilliant meteorologist.
Meet Alexandra Steele
The weatherwoman was born as Alexandra Steele sometime in 1969 in Albany City of New York, United States. As for her early life, there is a shortage of information. Details such as her exact birth date, parents, and family background remain outside the purview of public information. At the moment, other than she being an American woman with white ethnicity, we know nothing of the meteorologist's origins.
Regarding her educational background, Alexandra has also kept that information from public domain, and although she completed both primary and higher education, the names of the institutions she attended, when and where they are located are not known.
The much we know is that Steele developed a keen interest in becoming a weatherwoman right from a very young age. As a result, she went on and acquired a degree in thermodynamics and hydrology in college. Another noteworthy addition in Alexandra's resume is she is a member of the American Meteorological Society.
An Eventful and Successful Career
Alexandra Steele's early life might be a mystery, but her journey from aspiring meteorologist to notable American TV personality is known and inspiring. After graduation, Alexandra Steele began her career as a weather news anchor for a Washington-based ABC affiliate, WJLA. There, she worked for a few years, hosting several weather segments on the network shows, including Good Morning America and Primetime Live.
After spending a few years at WJLA, Steele left and joined The Weather Channel in 2009. Switching from WJLA to The Weather Channel was not just a change in environment for Alexandra, it was also a step forward for her career.
She became a co-host of the network's show, Weather Center Live, alongside Jim Cantore. The two of them replaced Mike Bettes and Stephanie Abrams, who were the anchors of the 7 pm Eastern hour of Weather Center. After some time, Kevin Robinson joined the team as one of the program hosts.
Steele did not spend a lot of time at The Weather Channel before her career took another leap forward. She left the Weather Channel in September 2010 and joined one of the world's largest news media companies, CNN.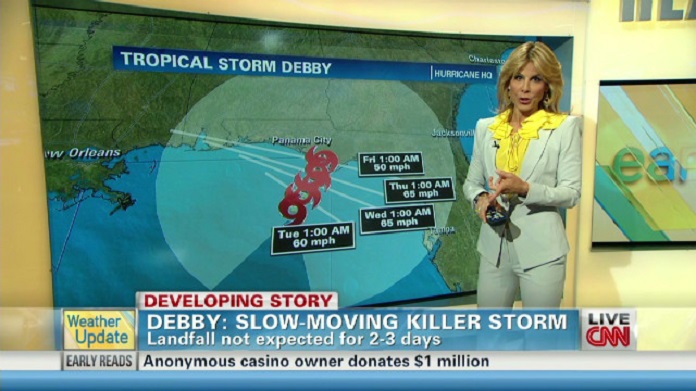 As a meteorologist for CNN, Alexandra Steele quickly became the face of the network's weather news. Her profile grew, and she drew fans from all over the world for her weather reports. She spent a total of four years at CNN before returned to the Weather Channel in 2014. It is unknown why the famous TV personality left CNN, but she has remained with her first home, the Weather Channel since 2014.
Alongside her role at the Weather Channel, she also works with the Atlanta-based TV station, CBS46 – where she continues to live her dream as a meteorologist, bringing reliable information to the American people with a smile.
Her Mysterious Personal Life and Rumored Office Scandal
For all the presence of Alexandra Steele on television, there is very little information about her personal life in contrast. She rarely grants personal interviews, and she has only one official social media account, a Twitter account – @ASteeleWeather, used primarily to share weather news.
Sunny skies and seasonable temps today! Enjoy today and tomorrow before the rain returns on Tuesday! See you @cbs46 with @MeghanPacker pic.twitter.com/GbZFQV98oM

— Alexandra Steele (@ASteeleWeather) March 8, 2020
Over the years, the lack of official details about her personal life has led to a rise in rumors about the meteorologist. One rumor claim that she is married and is the mother of a daughter who was born in October 2008. This has since been confirmed by the weather reporter.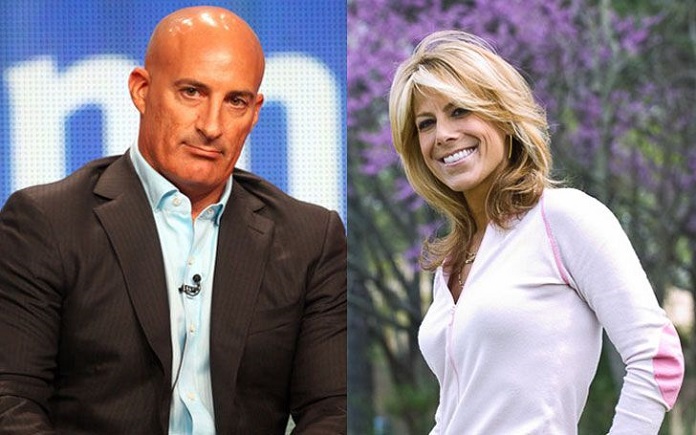 However, the biggest rumor since the meteorologist began to draw media attention was a reported affair with her Weather Channel colleague, Jim Cantore. According to the rumor, the two of them were involved in an office affair. And some went as far as saying that Jim divorced his wife, Tamra, over the relationship.
For years around the internet, this supposed affair has been referred to as the office scandal that rocked Alexandra Steele at The Weather Channel. Sadly, the juiciness of the story has gone sour as none of it has been confirmed or acknowledged by the media outlet.
If the affair really did happen, we cannot say. But, her continued stay at The Weather Channel suggests she has been a model employee since she joined the weather station.
Where is Alexandra Steele Now?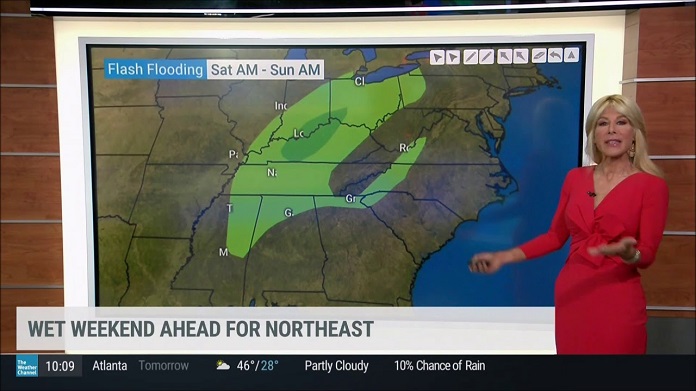 Since she returned to the Weather Channel in 2014, Alexandra Steele has maintained a quiet presence on television. Short of watching her on TV and the occasional selfies on her twitter account, her life remains a mystery.
For those who have taken to the weather reporter, the lack of media presence is a frustration. Yet, many still hold out hope and wonder where she is now.
We may not know much about her personal life, but professionally, we know she is still with the Weather Channel, and she also works for CBS46 in Atlanta, which we guess is now home for the meteorologist.
Read Also: David Bromstad – Biography, Gay, Married, Net Worth, Ethnicity
Other Interesting Facts About the Meteorologist
Asides her stints as an on-air meteorologist, Alexandra is also a member of the American Meteorological Society.
Her time at CNN and a long-running career with the Weather Channel, along with her role at CBS46 has earned Steele a reported personal net worth of $1 million.
Alexandra Steele is one of the tallest women on television. She has a height of 5 feet 10 inches. Steele is not just one of TV's tallest women, but she is well above the American women average, which currently stands at 5 feet 4 inches.
Despite her tall frame, she has an admirable physique, with a bodyweight of 130 pounds and a body shape of 34-28-35 inches for her bust, waist, and hips, respectively.