Often described as an angel with a gun, modern gun culture enthusiasts may recognize Alex Zedra for her high-caliber hotness. Because of the magic she wields while holding a gun, the hardcore shooter makes shooting sports look so very good is also called Hot Brass. The Twitch streamer is a pretty girl who can confidently run a gun in real life and in a First Person Shooter game, thus making her a complete and total smoke show. Here's how the gun lover has set the shooting sports on fire.
Alex Zedra's Bio & Age
A native of South Carolina, Alex Rogers was born on November 3, 1991. There is a dearth of information about her parents, siblings, family, and early life. Nonetheless, it is no secret that she has a younger brother whose name is Seth. There is also no information readily available about Alex's educational background. But the internet star who was raised in her hometown is believed to have had conventional basic education.
Alex Zedra is naturally endowed with a hot body and is also a fitness enthusiast. Besides modeling, Alex has always shown magic when holding the gun but only a few people were aware of her amazing skills in shooting sports. She, therefore, relied on the independence of user-generated platforms to showcase her talents to a wider audience.
The charming shooter took to Twitch and began streaming herself to fans while playing FPS (First Person Shooter) games such as the Blizzard's multiplayer online RPG game, World of Warcraft, and the free-to-play Battle Royale. Zedra's skill could not go unnoticed and she soon garnered lots of plaudits as well as followers. The Twitch streamer has dedicated almost a decade on the platform entertaining fans with her super gaming skills and combat training. It is worthy to note that it is from the World of Warcraft game that Alex adopted her surname 'Zedra'.
Alex Zedra has also spread her tentacles to Instagram. Her earliest post on the photo-sharing app dates back to October 2012. Zedra's entire Instagram page is pretty much dedicated to her love for guns. The Instagram star does not hesitate to share her combat training in line with the Second Amendment and also a variety of modeling shoots with fans. Besides Instagram and Twitch, fans can also connect with Alex Zedra on her Facebook (Alex Zedra @alexzedra1), and Twitter (@Alex_zedra) accounts.
The Twitch and Instagram star is also known as a pastry chef and a brand influencer. Alex is a fitness enthusiast whose hot body has caught the attention of some top nutrition brands. Notably, she is a 1st Phorm Elite Athlete and has helped in promoting the brand's muscle building and enhancement products on their website. Zedra is a 3-Gun competitor with Springfield Armory, as well as a member of their SAINT initiative.
Height
Alex Zedra is also popular for serving hot body goals. The Twitch star has an athletic and alluring physique. While she may not be your tallest nor shortest celebrity favorite, Zedra stands at a height of 5 feet 3 inches, complemented by body weight of about 56 kg. Her other body measurements have not been disclosed but judging by her looks over the years, it is safe to say that Alex puts in a lot of effort to maintain her gorgeous physique.
Who Is Alex Zedra's Boyfriend Or Husband If Married
Alex Zedra is not and has never been married. However, the Instagram star may be just a few steps away from walking down the aisle with the man of her dreams. Alex Zedra is currently engaged to her heartthrob Eli Cuevas. The couple are yet another proof that like minds attract as Cuevas is also a gamer and a shooting sports enthusiast.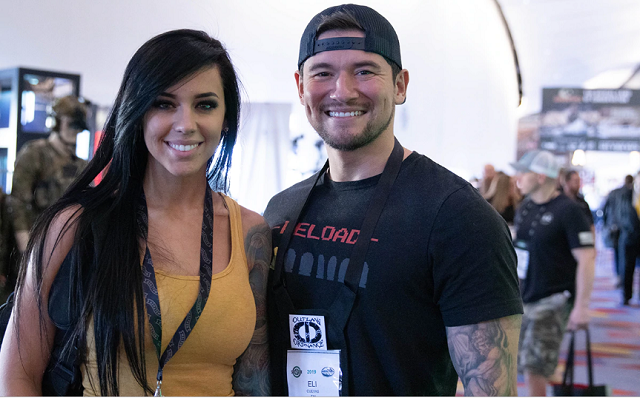 The Indiana-born Squad Designated Marksman veteran, Eli Cuevas is well skilled in weapons and arms. He has also served his country in missions in war-torn zones like Afghanistan and Iraq. However, Cuevas is best recognized as the co-host of History Channel's Brothers in Arms show. On social media, Zedra's fiancé is known as a video gamer and an Instagram star. On his Twitch channel, Eli also streams himself playing first-person-shooting games. His Instagram account is flooded with photos of heavy metal and dangerous arms.

See Also: Emmahdorable – Biography, Net Worth, Family Life, and Twitch Ban

Besides their common love for the Second Amendment, Zedra and Cuevas were drawn to each other for other reasons such as a wry sense of humor and mediocre looks. It is uncertain when exactly the couple began dating but in December 2017, Eli decided to step things up a notch by popping the big question. The lovebirds confirmed their engagement with different posts on their Instagram accounts.

The cute couple has apparently found love in each other's arms as they are all lovey-dovey about their romance on social media. From romantic dates to playing video games together, Alex and Eli are head over heels in love and are presumed to be a perfect match. Although they are yet to let fans in on their wedding plans, it is safe to say the lovebirds are waxing stronger together.

Prior to Cuevas, there is little or nothing known about Alex Zedra's dating history and she is believed to be sans kids. However, the same can't be said of her fiance. Eli Cuevas has a son Ryden from a previous relationship. Though he hasn't shared any information about his baby mama with the public, the Indiana native is a proud father who does not hesitate to flaunt his son on social media.

Fact Check: We strive for accuracy and fairness. If you see something that needs updating,