Wanda Sykes is one lady who has made a huge impact both on a professional and personal level. Career-wise, she is one of the funniest people in America and has established herself as a foremost comic. She is also an accomplished actress and has featured in many movies and TV series, winning several accolades on the way. On a personal level, Sykes is gay and has been a tireless advocate for marriage equality in the United States. Now that the battle is fought and won, she is enjoying marital bliss with her better half Alex Sykes. Alex is someone who likes to shy away from the spotlight, and as such, not much has been unveiled about her. We, however, intend to remedy that error in this article as we expose several facts about her, including her family life and kids.
How Alex Sykes Grew into a Successful Businesswoman
Before Alex Sykes met Wanda Sykes, her name was Alex Niedbalski, and she was born in the year 1974. We know that she was born and raised in France, but there are no details about her specific place of birth. There is also not much information about her family background or educational history. It is, however, safe to presume that she must have completed the equivalent of a high school diploma, and possibly a college degree, in her native France. The dearth of information about Alex Sykes also extends to her career.
The most we do know is that she works for a company that deals in granite countertops and has risen to the position of their Vice President of sales. Her spouse, Wanda Sykes, on the other hand, has had a well-documented career that has seen her work for the National Security Agency. She has also made waves in the entertainment industry as a comedian and actress with roles in several movies and TV shows, including like Nutty Professor II: The Klumps, My Super Ex-Girlfriend, Evan Almighty, Ice Age: Continental Drift, Wanda at Large, Curb Your Enthusiasm, Blackish, and Harley Quinn, etc. Wanda's work has fetched her several awards, including multiple Primetime Emmys and BET Comedy Awards.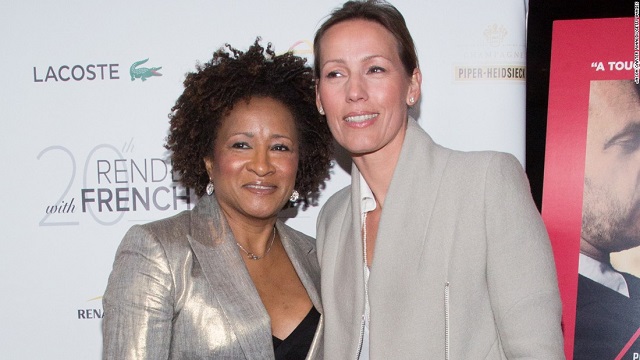 Here's How She Met and Married Her Better Half
Same-sex relationships are never an easy deal even in countries where it is perfectly legal. It is, therefore, not a smooth ride for the many men and women who have dared to come out of the closet, and this reality also applies to successful Hollywood stars like Wanda Sykes and her wife, Alex Sykes. Before meeting and falling in love with Alex, Wanda was married to a renowned record producer, Dave Hall.
Their union lasted for seven years, between 1991 and 1998, during which the comic was forced to repress her sexuality. She later took the bull by the horn and exited her loveless marriage. She also came out as gay to her parents in the year 2004. Wanda's parents were not welcoming as they were a deeply religious couple. The comic, however, took it all in stride and continued living her normal life until she met Alex.
Alex and Wanda first met in 2006 during a ferry ride to the New York gay resort in Fire Island. Wanda immediately noticed Alex, who was toting her laptop bag, while interacting with a lady who was carrying a baby. The picture struck a note with the comic as she realized that this was exactly what she wanted in her life. She, however, did not attempt to approach Alex, and the moment passed.
During this period, Wanda was remodeling her house and fell into the habit of using that topic as an icebreaker. Her friends teased her for it, but she stuck to her guns. That decision turned out to be a fortuitous one as it led to her meeting Alex who happened to sell granite countertops. The duo hit it off immediately and subsequently commenced a relationship. They later tied the knot on the 25th of October 2008. Alex Sykes' in-laws, Wanda's parents, refused to attend the wedding, and this worsened the relationship between the two sides.
Does Alex & Wanda Have Biological Children?
Since their 2008 nuptials, Alex Sykes and her wife have grown from strength to strength and have established a stable union. They have supported each other's careers and have made several joint red carpet appearances. The couple has also expanded their family unit as they welcomed twins, a daughter named Olivia Lou Sykes, and a son named Lucas Claude Sykes, on the 27th of April 2009. Olivia weighed in at 6 pounds, 7 ounces, and was 19 inches long, while her brother was slightly bigger at 7 pounds, 9 ounces, and was 20 inches long.
Alex Sykes and her wife have not revealed much about the circumstances of the twins' birth, except that it was she (Alex) that carried them to term and gave birth to them. There are no details about the children's biological father or the person whose eggs were utilized. It is, however, right to presume that there must have been a sperm donor and an IVF done before Alex got pregnant. It is also right to presume that the sperm donor is possibly Caucasian and that it was Alex's eggs that were utilized, as the twins are both white.
Meanwhile, Alex and Wanda Sykes couldn't care less about these facts but are instead focused on giving their children a good upbringing. The couple split their time between Los Angeles and the suburbs of Pennsylvania. They also make out time to visit Alex's family back in France. Additionally, Alex and her wife have also been forced to manage their time carefully as they both have demanding careers, which require them to travel a lot.
Thankfully, they are making the situation work, and their kids are better for it. The twins are growing in leaps and bounds. They are also bilingual, and they speak English and French fluently. This has led Wanda to quip that the kids and Alex often gang up on her as she only has a rudimentary knowledge of French. The coming of the twins has not only made a great impact on their parents' marriage but their extended family as well. Their birth helped Wanda get reconciled to her parents as they didn't want to miss out on getting to know their grandkids.