In every sport, there are always those designed for great things; they rise and show all signs of prominence, only to fall too fast and early. In American football, Alex Collins is a good example. He is an NFL star who played for the Baltimore Ravens as a running back.
He proved himself worthy of becoming one of the best running backs the world would look out for in the nearest future. Unfortunately, injury and crime that he got involved in came between him and the sports he has always loved. Currently a free agent, Alex has one of the most interesting stories of those that fell too early in the NFL.
Early Life Of Alex Collins
Alex Collins is an American citizen born in Fort Lauderdale's Plantation, Florida, on August 26, 1994. Collins is the son of Johnny Collins and Andréa McDonald who were the key to his successful football career.
Collins began to show his athletic prowess during his days at the South Plantation High School. There, he did not only play football but made himself available for different other sports such as track, lacrosse, basketball and even cheerleading. Collins was not just good at all these sports categories, he did perfectly well in them and even won some trophies and awards. As a sprinter, for instance, he was named the Broward County Male Athlete of the Year 2013.
Details of His Early Football Career
In high school football, Collins was at his best. Under coach Doug Gatewood, Collins did not only make the school proud as a junior player with his 28 touchdowns and 1,786 rushing yards, thereby becoming the Broward County Player of the Year, but he also became even more famous after gaining 14 touchdowns and 1,400 rushing yards despite sustaining an injury that made him miss three matches. Following his success in the senior season, he was named among those selected to join in the Semper Fidelis All-American Bowl with the likes of quarterback player Austin Allen.
Alex Collins became a student-athlete at the Arkansas University in 2013 and played for the college for two years (between 2013 and 2015). As a skilled player that he was, Collins surprised his team with 300 rushing yards in his first three games, becoming the first true freshman in the history of the Southeastern Conference (SEC) to do so.
Collins became the 2013 SEC Freshman of the Year after finishing the year with 4 touchdowns and 1,026 rushing yards on 190 carries. More to it is him being named the third person in SEC history to have 1,000 plus rushing yards in three seasons. He even won the MVP honours after leading his team, the Liberty Bowl in its victory over Kansas with 185 rushing yards and 3 touchdowns.
The Unstable Professional Career of Alex Collins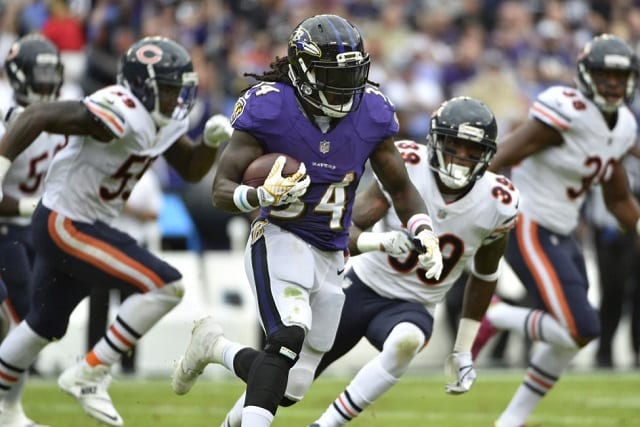 Alex Collins joined a professional team in 2016 after deciding to drop out of the university to pursue his football career professionally. During the NFL draft, it was projected by different sports magazines that he would make the third rank pick after completing the combined drill, however, he ended up as the fifth-round pick by the Seattle Seahawks.
Collins signed a $2.2 million contract with the professional American football franchise which was supposed to last for four years but one year into the deal, the Seahawks decided to trade him along with cornerback Jeremy Lane.
Collins was finally waived on September 2, 2017, and on September 5, 2017, he was signed to the Baltimore Ravens. Beginning his career with the Ravens as a regular starter, Alex joined his new team's practice squad on September 5, 2017, with a salary deal of about $540,000. He restored the glory of the team with his 973 rushing yards and 6 touchdowns in the second of five weeks of the 2017 season. This and more of his heroic scores helped his popularity in the NFL with the ESPN Fantasy Football dubbing him "One of 2017's more surprising breakout performers".
Currently, the former running back for the Baltimore Ravens is out of a contract and is now a free agent.
See Also: Tyler Sash Biography, Career Earnings, Death, Cause Of Death And Autopsy
Teams Under His Belt
From the foregoing, it is obvious that Collins has not had a most elaborate career thus far, having played in the NFL for barely three seasons and for only two teams.
Seattle Seahawks
His career in the NFL began with the Seattle Seahawks which selected him in the 2016 NFL Draft. Although he showed great promise at the start of his 4-year deal, his first season was not out of the ordinary, and by 2017, it was clear that the team was ready to offload him alongside Jeremy Lane who is also a free agent at the moment.
Baltimore Ravens
It was the Ravens that decided to take a bet on Collins after the Seahawks set him free. The Ravens offered him a year's deal and pushed him to the practice squad. He soon got his shot at getting his career back on track again when Danny Woodhead was injured at the start of the season, hence, Collins was promoted to the regular roster. He had an excellent season, leading the Ravens in rushing yard for the season with 973 yards, as well as 6 rushing touchdowns.
He became the team's starting running back in the 2018 season but after his first 10 games in which he made 411 rushing yards and seven touchdowns, as well as 15 receptions for 105 yards and one touchdown, he found himself let down by a foot injury that saw him on the reserve list by December.
Alex Collins Could Have Been Richer
Alex Collins is one of those individuals who have not been able to get their acts together and build themselves. With a net worth that is estimated at below $1 million, he could have done much better for himself.
He made his fortune from his football career and a number of endorsement deals that came with it. At the start of his career, he was offered a 4-year deal with the Seattle Seahawks valued at $2.2 million. However, he spent only a season before moving to the Baltimore Ravens which offered him a year's deal with an annual salary of $630,000 in 2018.
However, he has not been stable in the NFL following a foot injury in December 2018. More so, he was arrested in 2019 after a car crash, and towards the end of the year, he got into another problem with the law for possession of marijuana and a handgun. This forced the Ravens to push him off.
Although he was suspended from the NFL before the suspension was later lifted, Collins is still a free agent. Unless he finds his way back, the former Baltimore Ravens player may not be able to increase his net worth.