When it comes to dramatic or generally serious roles in Hollywood, one name that is unlikely to come up among the top actors in the genre is Adam Sandler, an American actor who is more renowned for his comedic movie roles. Several Adam Sandler films include some of the best comedies in the 21st century. Yet, in Adam's over 70 films and TV show filmography, are several dramatic roles that prove that he can do more than comedy.
From Funny People to Punch-Drunk Love and Reign Over Me, mixed into Adam Sandler's inherently comedic filmography are movie roles that brought out his more exceptional acting skills, and earned him a lot of critical praise. We took a look at seven of the roles he has played that prove he can do more than comedy, check it out below.
Roles That Prove Adam Sandler Can Do More Than Comedy
1. John Clasky in Spanglish (2004)
A lot of Adam Sandler's movie roles are geared towards making the audience laugh. However, in Spanglish, the 2004 film about a woman and her daughter who relocated to America from Mexico in search of a better life, Adam Sandler showed one of the reasons he is considered a versatile actor by those conversant with his works.
Playing John Clasky, the chef whose family the woman worked for as a nanny and housekeeper, he showed just how capable he was of showing the full spectrum of human emotions. As his character falls into the deep end of a midlife crisis, the audience is led by Adam Sandler through the emotional turmoil at the other side of being a quiet all-loving American dad.
2. Charlie Fineman in Reign Over Me (2007)
Anyone who did not see the trailer of Reign Over Me would have walked into the theater expecting to see Adam Sandler play his quintessential comedy movie roles. They would have then gotten a big surprise watching Sandler deliver a pretty spectacular dramatic performance.
As Charlie Fineman in Reign Over Me, Adam Sandler plays a mentally ill man who lost his family to 9/11 and in turn, shut himself from the outside world. It is a heavy theme, and one very few people would have considered in Sandler's wheelhouse.
But he plays the role to perfection, which is encapsulated in a monologue that left many crying in the theatre. His delicate performance in the film, painting the picture of a man in pain, was nothing short of what you would expect of an Oscar performer.
3. George Simmons in Funny People (2009)
A film about a comedian suffering from regret after he became a superstar after years of appearing in mediocre comedies is the exact plot that summarizes Adam Sandler's career. It is why is longtime collaborator, Judd Apatow, cast him in the dramedy.
It is not the comedy side of this film that impressed viewers, it was instead the dramatic elements that brought Adam Sandler to the fore as a comedic actor who was capable of much more than comedy.
With Apatow directing, Adam Sandler was able to blur the lines between the character and himself, so much that the film felt like a documentary of his life.
4. Barry Egan in Punch-Drunk Love (2002)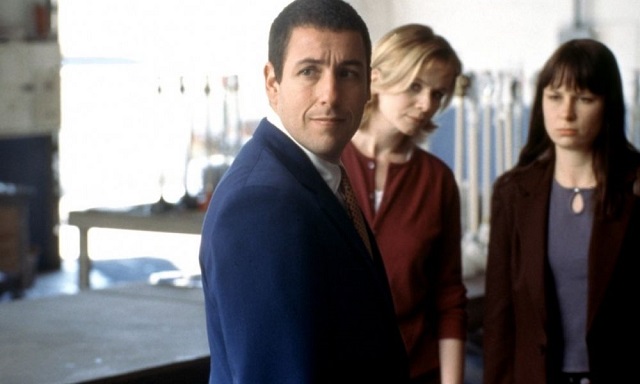 When Punch-Drunk Love was released, there was nothing to suggest Sandler was capable of more than being a comedic actor. However, the romantic comedy, Punch-Drunk Love, offered a chance for him to show an aspect of his skill sets that his comedies do not allow him to express.
In the role of Barry Egan, Adam Sandler plays a man seeking love while carrying baggage like self-doubt. It is one of the most relatable characters in rom-com history, and Adam plays him within an inch of perfection by keeping his character grounded in reality.
For his performance, he earned seven out of the 37 award nominations received by the film, including a Golden Globe nomination for Best Performance by an Actor.
5. Danny in The Meyerowitz Stories (New and Selected) (2017)
This is one of the more recent works of Adam Sandler after his comedy lost their appeal on the big screen and found their home on Netflix. He plays the role of a man who stays back home to take care of his emotionally abusive aging parents. It is a role you have probably seen onscreen many times, but one you wouldn't expect Adam Sandler to play in a movie.
As Danny, Sandler delivers a layered performance showcasing the frustration that comes from his parents and his struggles as a generous family man. If there were any doubts that his older dramatic roles weren't a fluke, his work in The Meyerowitz Stories erased them.
6. Howard Ratner in Uncut Gems (2019)
Following up on his dramatic performance in The Meyerowitz Stories, Adam Sandler teamed up with the Safdie brothers for Uncut Gems. He plays Howard Ratner, a jewelry store owner and a compulsive gambler who has to find a way to pay off his debts.
It is nothing close to Sandler's comedic wheelhouse. But, he pulls off a performance that earned critical praise across the industry. Certainly not something you would expect from a man who made films like Pixels and The Ridiculous 6.
See Also: 5 Will Ferrell Movie Roles That Proves He Isn't Just Your Ordinary Comedian
7. Henry Roth in 50 First Dates (2004)
A lot of romantic comedies find it hard to balance drama and comedy. However, while 50 First Dates is not entirely absolved of that flaw, Adam Sandler delivered a performance that is.

Between his onscreen chemistry with Drew Barrymore and the unraveling of his romantic and emotive side, Adam Sandler, who played a marine biologist trying to get a woman (Drew), who suffers from memory loss, to fall in love with him over and over again, proves that he is more than just fart jokes and his iconic yell.

Fact Check: We strive for accuracy and fairness. If you see something that needs updating,