The United States may share minimal similarities with the old world of the Roman Empire but when it comes to how it treats its sportsmen, particularly the footballers, the two powerhouses have a lot in common. Just like the gladiators, footballers in the NFL are heroes, with men and women shouting their names in celebration and excitement, expecting that their beloved stars will give them victory in return. One of these worshipped heroes is Adam Archuleta, who played as a linebacker and safety in the league.
Adam Archuleta has been experiencing the glorious joy of having a crowd shout your name since he was in high school and he held on to it to the highest level in the NFL, where he spent seven seasons before hanging up his helmet. We take a closer look at the life of this former gladiator, including what he is doing after retirement.
Adam Archuleta's Early Life and Road to the NFL
Adam Archuleta was born on the 27th of November 1977 in Rock Springs, Wyoming, where his parents raised him. His parents are Vange and Albert Archuleta.
He began his football life at Chandler High School. After recording accomplishments like being named in the All-State Honorable Mention twice and All-Central first team twice, he headed to Arizona State University, where he played for four seasons.
At the college level, Adam Archuleta won a couple of individual achievements, including being a finalist in the Butkus Award, getting named Pac-10 Defensive Player of the Year and First Team All-America by The Sports Xchange.
He ranks fourth in Arizona State University history for 54 stops. He also has 330 tackles, 202 of which are solos, and holds 14 quarterback sacks to his name.
Adam was not a stand out player in college by any means but showed he was capable of playing at the highest level. Thus, after his four-year stint in college came to an end, he entered the 2001 NFL Draft, and the St. Louis Rams picked him.
Exploring His Professional Career
Having completed a developmental journey through high school and college, Adam Archuleta was drafted into the NFL by the St. Louis Rams in 2001. He went on to play four seasons for the team, winning individual accolades like being named to the All-Rookie teams in his rookie season.
Although his team wasn't the best in the league, Adam Archuleta delivered enough quality individual performances to become one of the most sought-after safeties after he became a free agent at the end of the 2005 season. His time at St. Louis Rams also earned him a place in St. Louis Rams 10th Anniversary Team.
He joined the Washington Redskins after leaving the Rams in a move that made him the highest-paid safety in NFL history at the time, signing a $30 million contract for six years with $10 million guaranteed. Despite some early stellar performances on his part, Adam Archuleta did not have the best overall experience at the Redskins, which eventually caused him to leave for the Chicago Bears in 2007.
Things did not improve with the Bears, and they traded him. After getting traded to Oakland Raiders in August 2008, he was cut from the team before the season started, forcing him to call time on his active playing days, just after seven seasons in the league.
At the end of his NFL career, Adam Archuleta had played 103 games, starting 86 of them. He had a total of 452 tackles, with 18.0 sacks. It is not the worst career stats by any means, but it was well below the expectations of his college reputation.
Although he was briefly signed to Las Vegas Locomotives in the UFL Premiere Season Draft, after seven seasons in the NFL, Adam Archuleta quit active football.
He moved off the field to the sidelines as a sports commentator and analyst. Off the gridiron, he has worked for ESPN and Fox Sports and made appearances on shows like NFL on CBS and worked for CBS Sports Network for a year as an analyst.
Football Gave Adam a Modest Net Worth
Adam Archuleta's relationship with football may not have been the most triumphant one, particularly on the pitch. But, off the field, specifically his bank account, things have been rosy. The former NFL player has more than $20 million in net worth, most of which came from his earnings as a professional player.
He earned more than $45.1 million in salary throughout his career. His biggest payday was his second contract, worth $30 million across six years, $10 million of which was guaranteed. While the millions from the NFL have dried up since retirement, he has continued to maintain his enviable wealth via a thriving broadcasting career.
The Real Reason Adam Archuleta Has Been A Victim Of Gay Rumours
One of the loudest criticisms of football is the absence of known gay players, due to the sports glorification of masculinity. Thus, many believe that there are a few gay men who played the sport in the past or present. That shared knowledge, combined with the lack of a notable significant other, raised suspicions about the sexuality of Adam Archuleta in the early days of his career.
Aside from the perception of his sport, it also didn't help that a Google search of Adam Archuleta and the word 'gay,' reveals that he has a namesake who works in the porn industry. Adam Archuleta, the porn star, is a gay man whose works abound across various porn websites.
The rumour and connection to the porn star all died in 2010 when he married the Playboy Playmate, Jennifer Walcott. The former football safety's marriage to the model cleared any doubt of his heterosexuality.
See Also: Michael Strahan Bio, Net Worth, Wife, Girlfriend, Kids, Salary, Is He Married?
Adam Archuleta's Marital Life with Jennifer Walcott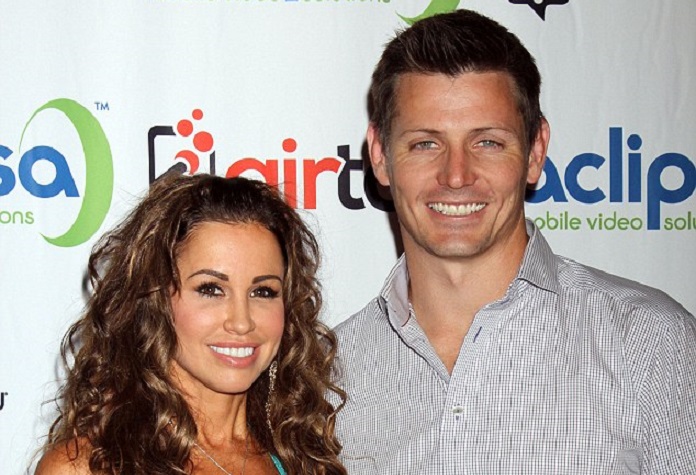 Adam Archuleta had a successful time in the NFL. After he retired, he set out to start a family, beginning with marrying his girlfriend, Jennifer Walcott, a glamour model and former Playboy Playmate. After meeting at a friend's party in Las Vegas, the couple got married in 2010 following five years of a successful relationship. They held their wedding at Cabos San Lucas.
Since they got married, they have only so far shared a son, born on the 10th of April, 2008. They haven't been the subject of any scandal, and they reside in Los Angeles. As a couple, Archuleta and Walcott have appeared on E! True Hollywood Story, and in the magazine, Moves.