Social media has continued to evolve, thus becoming a space for everyone. While the likes of Kim Kardashian and Taylor Swift have become prominent figures on social media, other youngsters, like Abigale Mandler has also emerged, with each offering unique content to their niche. However, the belief that social media takes you on a journey across the world at any point in time cannot be disputed.
Nowadays, the likes of Abigale Mandler have been racking up millions of fans around the world within a short while on social media. Interestingly, she is also an avid game player and has also gained popularity through posting her gaming videos online. She has become somewhat mysterious and interesting at the same time that her story draws in interest at any time.
What We Know About
Abigale Mandler's
Early Life
Abigale Mandler is an American YouTube star, gamer, and social media idol, best known for her eponymous YouTube channel where she uploads her gameplay videos as well as other interesting content for her millions of fans around the world. She began her social media career in 2015 and has got millions of fans on popular social media platforms including Instagram, Twitter, and YouTube, among others.
The talented social media personality was born in Utah in the United States on July 22, 1995. She was born to a middle-class American family and spent her early years in Utah County along with her siblings.
Mandler has four siblings – a sister and three brothers. However, nothing much is known about her family and childhood (asides from the fact that she finished her basic education before venturing into a career in social media). Mandler holds an American nationality and is of Irish ethnic descent.
Her First YouTube Channel and Other Achievements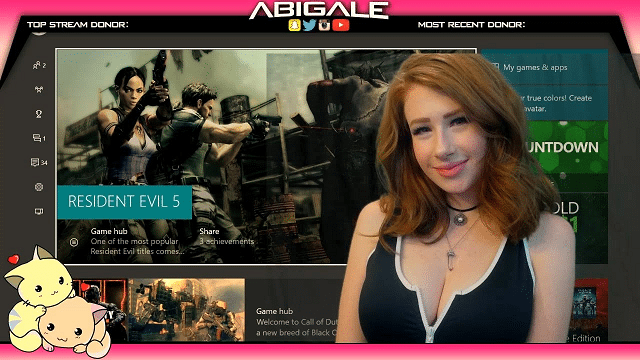 The gorgeous social media star Abigale Mandler began her social media career in 2015 when she created her YouTube channel. There, she uploads Cosplay and E3 videos, as well as other gaming videos including Super Smash Bros, Tomb Raider, Call of Duty, and Resident Evil. Subsequently, she went on to open accounts on other social media platforms including Twitter, Facebook, Instagram, and Patreon.
Amazingly, Mandler makes a lot of money from her channels through donations; her fans donate to her while she posts nude pictures and videos to them. At the time of writing this post, Mandler's YouTube channel has amassed over 160,000 subscribers while she has a whopping 170,000 followers on Instagram, and more than 256,000 followers on Twitter, among others.
She Has Collaborated With Famous YouTube Stars
Abigale Mandler has been making tremendous progress since the inception of her social media career; albeit her successes could not be attributed to her efforts alone. Just like other YouTube stars, Abigale has done lots of collaborative videos with other popular YouTube stars such as Zoie Burgher. Since the pair began their collaboration, Mandler has experienced a significant increase in her social media popularity.
Meanwhile, Zoie Burgher on her own part has garnered massive following after a short while she joined the online video sharing community. Currently, she has over a million subscribers on YouTube; her fame came through uploading twerking, semi-nude, and gaming videos online. Also, she formed the all-girls gaming channel called Luxe Gaming. The gaming group which comprises pro-gamers, porn actresses, and streamers were formed by Zoie Burgher along with OMGLove, Luxe Linda and Luxe Jelzy, among others.
See Also: Amiri King Bio, Net Worth and Other Facts You Need To Know
What Do We Know About Her Personal Life?
The beautiful social media star has won the hearts of her many fans with her gorgeous looks and exceptional beauty. However, she has been in a relationship with a handsome dude whom she has never revealed his name to date. Amazingly, the pair walked down the aisle in the summer of 2017 after a few years of a successful relationship.
Unfortunately, nothing much is known about her mystery man. Although she has posted her wedding pictures online, she hasn't disclosed many details about him yet. A glance at their picture would show you that the amazing couple is so much in love with each other.
Despite the fact that she is now married, Abigale Mandler has continued sharing her usual contents on various social media platform including NSFW contents for which she is better known. More so, she still runs her OnlyFans page where she continues to share photos and videos to subscribers.
As regards the men in her life before she met her husband, she has also managed to keep all the information away from the public domain the same way as almost everything about her.
She Was Involved Cheating Scandal
In March 2019, her name got dragged in a scandal after fellow YouTuber, Zoie Burgher who claimed to be the hottest e-girl alive alleged she was involved in a threesome with FaZe Pamaj and Abigale Mandler – despite the latter being married at the time.
Burgher was quick to delete the tweet in which she claimed she found it shocking that Mandler's husband did not find out about the alleged affair, stating that everyone sucks.
Rather than denying the allegation, Abigaile tweeted that she apparently cheated on her husband and had a threesome, hence she should be roasted so that everyone could move on with their lives.
Her statement seemed to be the natural death of the scandal as it has not been revealed if it has affected her marriage in any way most especially as she has always kept all details about her marriage privately. More so, for someone not new to controversies, the revelation has also not affected her career.
The Amazing Net Worth of Abigale Mandler
Mandler has got all the fame one would want most especially on social media with many followers on Instagram, YouTube, and Twitter among others.
To complement that, she has also amassed a great fortune over the years. She has a net worth that is estimated at between $500,000 and $1 million. She makes her fortune from her career on social media platforms such as Instagram where she is reported to make over half a thousand dollars for each of her posts.
More so, she makes money from her modeling career as well as from her premium subscribers online, some of whom play close to $30 to view her pictures and videos. And thanks to the foregoing, Abigale Mandler lives a lavish lifestyle.
A Closer Look at Abigale Mandler's Body
The social media star has tapped in on her good looks and amazing body more than anything else to gain followers and establish her place on social media.
Abigale Mandler has a good height and slim body build which is complemented by a set of blue eyes and ginger red hair. She stands at 5 feet 6 inches tall and has a body weight of 130 pounds. Her good looks and great body has also helped her in her social media modeling career.