Social media has continued to evolve; thus becoming a space for everyone. While the likes of Kim Kardashian and Taylor Swift has become prominent figures on social media; other youngsters like Abigale Mandler has also evolved, with each offering a unique content to their niche. However, the belief that the social media takes you on a journey across the world at any point in time cannot be disputed.
Nowadays, the likes of Abigale Mandler have been raking up millions of fans around the world within a short while of social media presence. Interestingly, she is also an avid game player and has also gained popularity through posting her gaming videos online. Learn more interesting facts about Abigale Mandler below.
Who is Abigale Mandler?
Abigale Mandler is an American YouTube star, gamer, and social media idol; best known for her self-titled YouTube channel where she uploads her gameplay videos as well as other interesting contents to her millions of fans around the world. The amazing star began her social media career in 2015 and has got millions of fans on popular social media platforms including Instagram, Twitter, and YouTube, among others.
All You Need To Know About The Social Media Star
1. Abigale Mandler was born and raised in the United States
Abigale Mandler was born in Utah in the United States on July 22, 1995. She was born to a middle-class American family and she spent her early years in Utah County along with her siblings. Mandler has four siblings, a sister, and three brothers. However, nothing much is known about her family and childhood; she equally finished her basic education before focusing on her career. Mandler holds an American nationality while of an Irish ethnic descent.
2. She Opened Her First YouTube Channel in 2015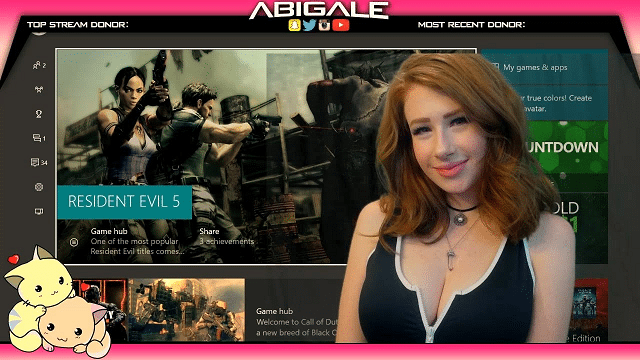 The gorgeous social media star Abigale Mandler began her social media career in 2015 when she opened her first self-titled YouTube channel. On her channel, she uploads Cosplay and E3 videos, as well as other gaming videos including Super Smash Bros, Tomb Raider, Call of Duty, and Resident Evil. Subsequently, she went on to open accounts on other social media platforms including Twitter, Facebook, Instagram, and Patreon.
Amazingly, Mandler makes a lot of money from her channels through donations; her fans donate to her while she posts nude pictures and videos to them. At the time of writing this post, Mandler's YouTube channel has amassed over 160 thousand subscribers while she has a whopping 170 thousand followers on Instagram, and more than 256k on Twitter, among others.
3. She Has Collaborated with Famous YouTube Stars
Abigale Mandler has been making tremendous progress since the inception of her social media career; albeit her successes could not be attributed to her efforts alone. Just like other YouTube stars, Abigale has done lots of collaborative videos with other popular YouTube stars such as Zoie Burgher. Since the pair began their collaboration, Mandler has experienced a significant increase in her social media popularity.
Meanwhile, Zoie Burgher on her own part has garnered massive following after a short while she joined the online video sharing community. Currently, she has over a million subscribers on YouTube; her fame came through uploading twerking, semi-nude, and gaming videos online. Also, she formed the all-girls gaming channel called Luxe Gaming. The gaming group which comprises pro-gamers, porn actresses, and streamers were formed by Zoie Burgher along with OMGLove, Luxe Linda and Luxe Jelzy, among others.
See Also: Amiri King Bio, Net Worth and Other Facts You Need To Know
4. She Got Hitched to her Boyfriend in the Summer of 2017
The amazing social media star has won the hearts of her many fans with her gorgeous looks and exceptional beauty. However, she has been in a relationship with a handsome dude whom she has never revealed his name till date. Amazingly, the pair walked down the aisle in the summer of 2017 after a few years of successful relationship. Unfortunately, nothing much is known about her mystery man. Although, she has posted her wedding pictures online; she hasn't disclosed many details about him yet. A glance at their picture would show you that the amazing couple is so much in love with each other. We wish them the very best in their married life.

Fact Check: We strive for accuracy and fairness. If you see something that needs updating,