NFL quarterback Aaron Rodgers has been making the rounds as one of the best in the league. Drafted by the Green Bay Packers as the 24th overall pick during the NFL draft of 2005; Rodgers led the team to win the Super Bowl XLV competition in 2011. He has been named to the Pro Bowl six times, First-team All-Pro twice, and one-time Second-Team All-Pro. In addition, Aaron Rodgers is a two-time NFL Most Valuable Player of the Year, Bert Bell Award winner, Super Bowl XLV MVP, and Associated Press Athlete of the Year.
Aaron Rodgers Biography
Born Aaron Charles Rodgers on December 2, 1983, he grew up in Chico, California, raised by his parents Edward Wesley Rodgers and his wife Darla Leigh. His father played football as an offensive lineman for the Chico State Wildcats from 1973 to 1976. His nationality is American and he is of English, German, and Irish ethnic descent. While he was growing, Aaron attended Pleasant Valley High School, Chico where he played the quarterback position for his school team. He graduated in 2002, finishing his high school career with a record of 4,421 passing yards and six touchdowns per game.
Soon after his graduation, Aaron enrolled at Butte Community College and after one year, he transferred to the University of California on a scholarship. While at UC, he played for the school football team known as the California Golden Bears. During the 2003 season, he made a significant impact in the team; thus, finishing the season with a record of 394 passing yards. He was crowned the MVP in the Insight Bowl during their game against Virginia Tech. The next season, he led the Bears in the offense which propelled them to finish fourth in the league. The Bears were named to the Holiday Bowl which they eventually lost to the Texas Tech with a record 45 – 31 that year.
Professional Career
Aaron Rodgers was one of the prospects in the 2005 NFL draft; he was selected by the Green Bay Packers as the 24th overall pick. He was the second quarterback to join the Packers and he signed a five-year deal worth $7.7 million with the club. The deal included $5.4 million guaranteed and $24.5 million extra if he records an excellent performance. He played most of his first two seasons from the bench as a substitute for Brett Favre who had been the starting quarterback for the Packers since 1992.
Following Brett's retirement in 2008, Aaron became the starting quarterback for the team. He played all 16 games for the Packers, finishing the season with a record of 4,038 yards and 28 touchdowns. He led the Packers to win the 2010 NFC championship. They also earned a spot in the Super Bowl XLV where they clinched victory over Pittsburgh Steelers. Aaron recorded 304 yardage and three touchdowns as well as 24 pass attempts which earned him the Super Bowl XLV MVP.
In the 2011 season, Aaron Rodgers attained a new feat in his career. He set a new NFL record with over 100 passer-rating in thirteen season games and 110 in twelve games; thus, earning the league's MVP title. He was ranked the third greatest passing season of all-time as well as the most efficient player in the NFL by ESPN. He also won Associated Press Athlete of the Year and Bert Bell Award in the same year. Rodgers extended his career with the Packers in 2013 with a five-year deal worth $110 million. However, his 2017 season was plagued by injuries which ruled him out for the rest of the season but Aaron Rodgers remains one of the greatest quarterbacks in NFL history, his standing records has shown he has been experiencing a wonderful career. In order to honor his excellent achievements; the Wisconsin Legislature declared December 12, 2012, as Aaron Rodgers Day – whose jersey number is 12.
Is Aaron Rodgers Gay?
While gay players have not been fully welcomed in the NFL; Aaron Rodgers has been caught in the web of gay rumours. Most of his Packers teammates think he is gay mostly because he doesn't brag about the size of his dick while in the locker room. When his former roommate Kevin Lanflisi wrote some tweets, he sounded like a jilted lover, thus, raising several eyebrows about Rodgers' sexuality. The quarterback went on to clarify issues based on his sexuality by announcing he is not gay in December 2013. Afterwards, the rumours died off when Rodgers confirmed his relationship with famous actress Olivia Munn.
Who is his wife and what do we know about his brother?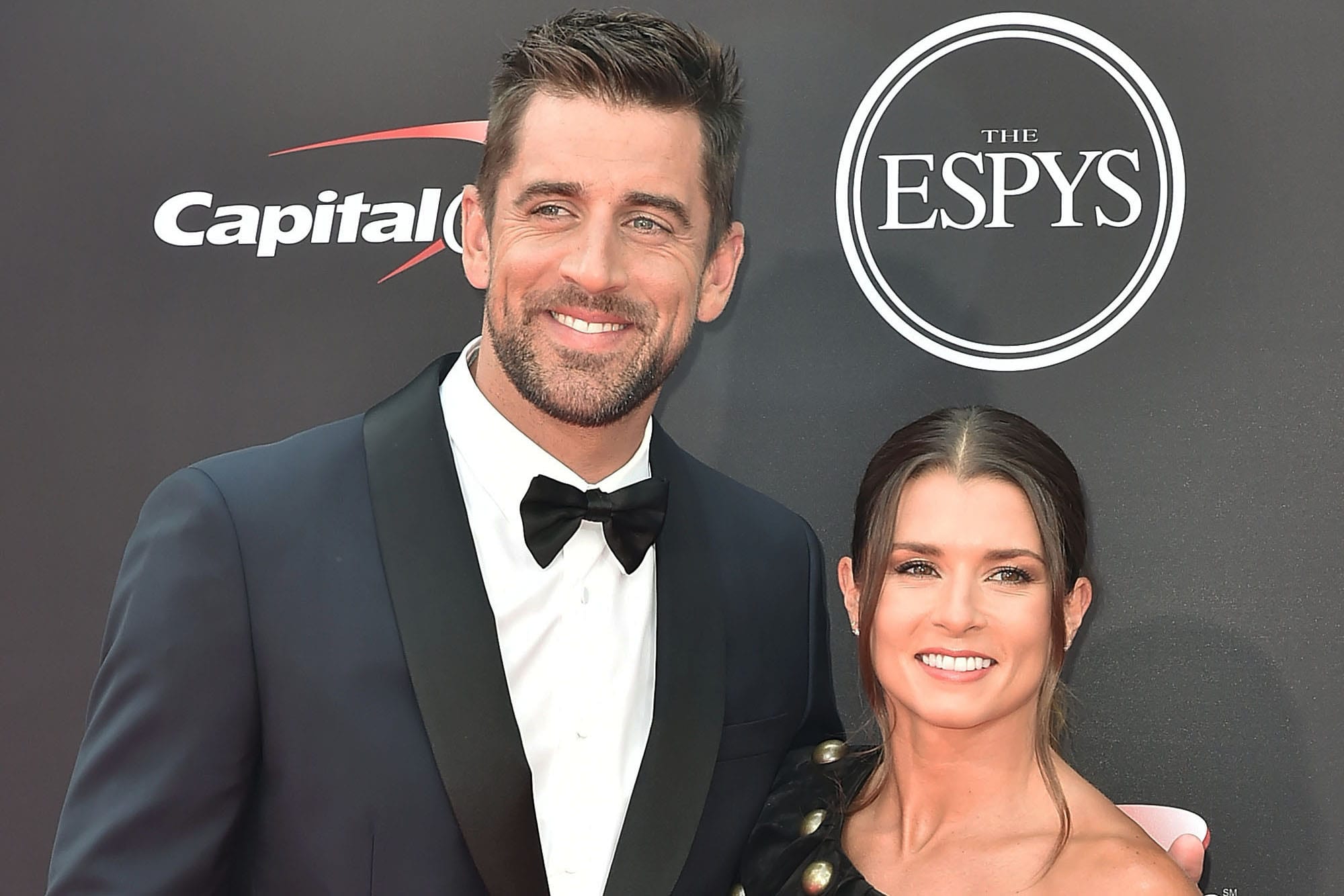 Aaron Rogers is from an athletic family; his father played for the Chico State Wildcats from 1973 to 1976. He has two brothers, his older brother Luke took a different career path while his younger brother Jordan also played football professionally. Although he was not drafted, Jordan played as a quarterback for the Jacksonville Jaguars. Retiring from football in 2015, Jordan was hired as a college football analyst by ESPN in 2016.
Shedding a glimpse of light on his love life; Rodgers has been in two relationships but hasn't walked down the aisle yet. His first relationship was with the American actress and model named Olivia Munn. Olivia is famous for her appearances in movies such as X-Men: Apocalypse and TV series titled The Newsroom, among others. The duo started their relationship in 2014 and after three years, they went their separate ways.
After their break up, Rodgers fell in love with the former American professional racing driver named Danica Patrick. Born and raised in Wisconsin, Patrick is regarded as one of the most successful women in the history of American open-wheel racing. She was previously married to Paul Edward Hospenthal in 2005 but they divorced in 2013. Patrick also had a relationship with co-driver named Ricky Stenhouse Jr. The pair was together from 2012 to December 2017. After she broke up with him, she fell into the arms of the NFL quarterback and they began their relationship in February 2018. We look forward to when they take the bold step to seal their love with a nuptial bond.