When he appeared as Harvey Dent in the critically acclaimed superhero movie, The Dark Knight in 2008, his performance and its acceptance by both fans and critics suggested that he was destined for a very successful career in the industry, but that so far, hasn't been the case. For those who might be unfamiliar, the personality in question is Aaron Eckhart.
Although he hasn't exactly been cast away from Hollywood since he starred in the role and has appeared in a number of movies and TV shows, Aaron Eckhart hasn't reached the leading man status which would have made him into a superstar, a let down from the expectations based on his performance in The Dark Knight. Regardless, he has had a career that many would consider successful in Hollywood and we explore that, along with the best and worst movies of the actor.
Early Life and Career
He was born and named Aaron Edward Eckhart on the 12th of March, 1968 in Cupertino, California to parents James Conrad and Mary Martha Eckhart, the actor was born into a family of three children, all of whom are boys. Aaron grew up in a religious home that attended The Church of Jesus Christ of Latter-Day Saints and he spent time on religious duty in France and Switzerland over the course of two years. Aaron Eckhart's family lived in different cities around the world, including spending time in Sydney and Surrey.
His first introduction to acting was in England where he performed in a school production. His interest in the art form continued from there and he enrolled at Brigham Young University-Hawaii where he studied Film, graduating in 1994. Before he graduated from college, Aaron Eckhart began his professional career as an actor by appearing in the film, Godly Sorrow, although it was a church production. However, his experience with the film helped him secure off-screen roles in various plays before he made an appearance in his first Hollywood production, Double Jeopardy as Dwayne.
After graduation in 1994, his first project was a TV show, Aliens in the Family and he has continued to appear in various movies ever since, developing a reputation as a talented actor through his performances in movies like Thursday, In the Company of Men, Erin Brockovich, Any Given Sunday, The Rum Dairy and several others.
His work as an actor has earned him several awards and nominations, including a Golden Globe nomination for his performance in Thank You For Smoking.
List of His Movies from Best to Worst
Like many actors, Aaron Eckhart's filmography is populated with great movies and terrible movies. As they often say, the trick is to make sure the great movies are more than the terrible ones. Here, we take a quick look at some of his great movies and his worst ones.
In the worst category, we have movies like
The Core
The Black Dahlia
Love Happens
Battle: Los Angeles
The Wicker Man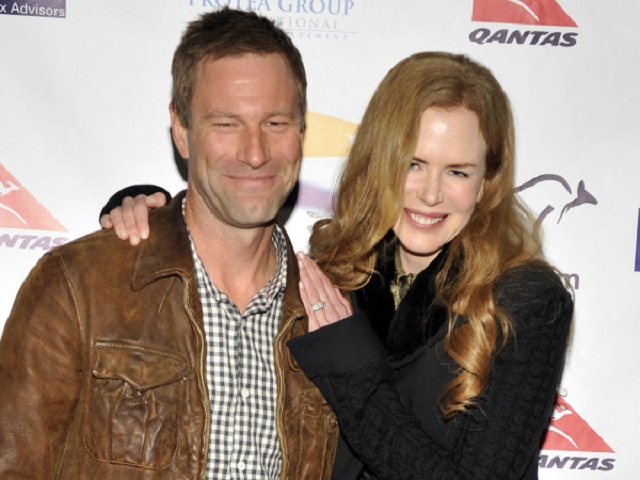 In the best category, you have
The Dark Knight
 Erin Brockovich
The Pledge
Thank You For Smoking
In The Company of Men
Sully
Thursday
Olympus Has Fallen
Conversations with Other Women
Rabbit Hole
Aaron Eckhart's Net Worth
He may not have reached mainstream popularity and leading man status that was expected of him but he certainly wouldn't complain about it from a financial standpoint. Over the course of his 25 years-plus career and with over 40 movies and TV shows, Aaron Eckhart has been able to accrue a total estimated net worth of $25 million.
See Also: Trent Garrett (Actor) – Bio, Net Worth, If Married Who is The Wife or Girlfriend
Who is His Wife?
The rumor mill has churned out a lot of stories about Aaron Eckhart and a number of women since he became a member of the topmost entertainment industry in the world but very few of them have been confirmed by the actor or his reported partner.
So far, we know that he has never been married, and it hasn't been for the absence of relationships. He has been in at least two known relationships, one with Emily Cline, whom he met on the set of In The Company of Men, and began dating shortly after. They broke up in 1998.
He has also been involved with Kristyn Osborn, although the timeline of their relationship is unknown. Aaron has also been known to be involved with Ashley Wick and Molly Sims, but neither of these relationships has led the Thank You For Smoking actor to the altar.