| Age/Date of Birth: | 32 years old (May 23, 1991) |
| --- | --- |
| Height: | 6 ft 1 in or 185.5 cm |
| Ethnicity/Race: | Black |
| Nationality: | American |
| Wife or Girlfriend: | Jaelynn Blakey |
| Parents: | Archie Sr. Donald and Anita Goggins |
| Net Worth: | $60 million |
Aaron Donald is a professional American football defensive end star, notable for his agility and outstanding defensive style. He currently plays the role of a defensive tackle for the Los Angeles Rams of the NFL. The Rams star began his career when he was picked by the Rams in the first round of the 2014 NFL draft. Since then, he has made it to the Pro Bowl five times and All-Pro Team four times. He equally won the AP Defensive Player of the Year Award after a stellar performance in 2017. Learn more about his bio and other interesting facts below.
Who is Aaron Donald?
Aaron Charles Donald was born on the 23rd day of May 1991 in Pittsburgh, Pennsylvania in the United States. He was raised along with his two siblings by their parents, Archie and his wife Anita Goggins.
His father played football while in college and had the intention of going pro but his career was cut short as a result of a career-threatening patellar injury. He introduced Aaron to the game when he was just twelve and while he attended Penn Hills High School, he played the defensive role for the school's football team.
During his high school career, Aaron displayed outstanding skills which earned him a spot on the All-State team in the last two seasons.
He Had His College Career With the Panthers of the University of Pittsburgh
At the end of his career, Aaron got several scholarships offers from different colleges in the United States. He decided to enrol at the University of Pittsburgh in his hometown. There he played the role of a defensive end for the Panthers from 2010 to 2013.
The talented star played as a substitute in his first year and the following year, he became the starting defensive tackle for the school. He recorded his breakout season in his sophomore year which he finished with a total of 47 tackles.
He further made 64 tackles as a junior and in his last season, he had 59 tackles. At the end of his college career in 2013, Aaron got the ACC Defensive Player of the Year and All-American team honors. In addition, he also got Lombardi, Chuck Bednarik, and Bronko Awards as well as the Outland Trophy for an excellent performance.
Highlights and Awards of His College Career
ACC Defensive Player of the Year – 2013
Unanimous All-American – 2013
Outland Trophy – 2013
Bronko Nagurski Trophy – 2013
Chuck Bednarik Award – 2013
Lombardi Award – 2013
Aaron Has Been Playing for the Los Angeles Rams Since 2014
During the NFL draft of 2014, Aaron Donald was chosen by the Los Angeles Rams as the 13th overall player that year. He penned down a four-year professional contract worth $10.13 million with the Rams in June 2014 and made his first appearance for the team on 7th September.
The football star was named to his first Pro Bowl as a rookie after making 47 combined tackles in the 2014 season. He was also honored with the Defensive Rookie of the Year award for his spectacular performance.
Aaron got his second Pro Bowl selection during the 2015 season; he made a total of 69 combined tackles for the Rams that year. He was equally rated 14th best player in the league at the end of the season. In 2016, he was named to his first All-Pro team and third consecutive Pro Bowl after recording 47 tackles that season. The Rams took a fifth-year option on Aaron's contract in 2017. That season appears to be the player's best season as he won the league's Defensive Player of the Year Award. He made 41 tackles and was named to the Pro Bowl as well as the All-Pro team.
The defensive end player got a six-year contract extension with the Rams before the beginning of the 2018 season. The $135 million-contract made him the highest-paid defensive end player in the history of NFL. However, the record was later exceeded by Khalil Mack's $141 million deal with the Chicago Bears.
Career Stats: Is He the Best Defensive Tackle in the League?
While some analysts might find it offensive for one to declare that Aaron Donald is the best defensive tackle in the NFL, no one would disagree he is one of the best. As of 2020, he has been able to pull off a total of six fumble recoveries, 12 pass deflections, 19 forced fumbles, 85.5 sacks, and 357 tackles.
Such remarkable statistics have earned him some of the most coveted awards in the league. In addition to that, he is counted among players like Aaron Rodgers, Adrian Paterson, Drew Brees, Larry Fitzgerald, and of course Tom Brady as future Hall of Famers.
The interesting thing about that is that while most of the players headed for induction into the Pro Football Hall of Fame are approaching the end of their careers, Aaron has only been a part of the league for just six seasons. So, if he continues with his current form, he will not only become a Hall of Famer but a historic figure in the sport.
Awards that Have Projected His As a Future Pro Football Hall of Famer
If there are any doubts that the defensive tackle is headed for the Hall of Fame, the long list of the awards and recognition he has received is enough to put the doubters to rest.
PFWA All-Rookie Team – 2014
NFL Defensive Rookie of the Year – 2014
7-time Pro Bowl selection – 2014 to 2020
4-time PFF NFL Defensive Player of the Year – 2015 to 2019
5-time PFWA All-NFL Team – 2015 to 2019
6-time First-team All-Pro selection – 2015 to 2020
6-time NFL Top 100 – 2015 to 2020
7-time NFC Defensive Player of the Week
2-time NFC Defensive Player of the Month
Associated Press NFL Defensive Player of the Year – 2017 and 2018
Kansas City Committee of 101 NFC Defensive Player of the Year – 2017 and 2018
Pro Football Writers Association NFL Defensive Player of the Year – 2018
NFL Sacks Leader – Deacon Jones Award – 2018
NFL 2010s All-Decade Team
How Aaron Donald Made His $60 Million Fortune
His NFL Salary Has Thus Far Amounted to Over $77 Million
Undoubtedly, Aaron Donald has been outstanding in his game since the inception of his career. He has amassed huge wealth from his career and is currently living a lavish lifestyle. After he was drafted in 2014, he signed a four-year rookie contract that fully guaranteed $10 million. As the deal included a $5.69 million signing bonus, Donald immediately became a multi-millionaire.
The player's earning power soared when he signed a six-year contract extension worth $135 million in 2018. The contract saw him become the highest-paid defensive player in NLF. Thus, it is not difficult to see that his career earnings as a footballer are the major source of his wealth.
Aaron's Yearly Earnings Since His Career Kicked Off
2014 – $6,112,000
2015 – $946,260
2016 – $1,341,500
2017 – $1,802,250
2018 – $40,892,000
2019 – $9,108,000
2020 – $17,000,000
What He's Expected to Earn In Years to Come
2021 – $19,892,000
2022 – $14,250,000
2023 – $19,000,000
2024 – $21,750,000
He Makes As Much As $500,000 from Endorsements
For a footballer who was the NFL Defensive Rookie of the Year 2014 and has twice been named as NFL Defensive Player of the Year, it is only natural that Aaron Donald has become a force to reckon with in sports. To benefit from his influence, several popular companies have partnered with him in an effort to promote their brand. What this means is that Aaron Donal has been making good money from endorsement deals.
In 2019 when Forbes named him on its list of Celebrity 100 Earnings and World's Highest-Paid Athletes, the business magazine related that he makes up to $500,000 from his endorsement deals. Some of his popular sponsors include Pepsi, Panini, Dick's Sporting Goods, and Electronic Arts.
A Look at How His Net Worth Grew Over the Years
Aaron Donald's net worth is currently penned at $60 million but he hasn't always been this wealthy. His journey to fame and wealth can be traced back to his high school days when he started working towards becoming a professional footballer. He attained his dream in 2014 and it instantly made him a multi-millionaire.
The defensive tackle didn't rest on his laurels, he continued to work hard and in no time established himself as one of the most formidable defensive players in the league. His efforts were then rewarded with a $135 million contract that increased his earning power and made him wealthier. Below is a look at how his wealth has grown over the course of his career:
2014 – $3 Million
2017 – $5 Million
2018 – $35 Million
2019 – $40 Million
2020 – $50 Million
2021 – $60 Million
The Defensive Tackle Spends His Money on Real Estate, Exotic Cars, and His Family
When Aaron Donald landed the $135 million contract extension that saw him become the highest-paid defensive player in the league, all he was thinking about while he made the pact was how the money would go a long way in helping him better the lives of his family members.
Commenting after he put pen on paper to the six-year deal, Donald related that he isn't looking forward to buying anything special for himself but to retire his parents and hand his kids a chance to a meaningful life. Stressing that his parents are totally responsible for the man he has become, the NFL star disclosed that he will be buying them a house and was going to retire them.
Later in December 2020, it emerged that the Pittsburgh native acquired a property in his hometown where his family lives. Based on what was reported, he bought a home for $2.88 million and it is situated at 350 Oliver Avenue development downtown. This isn't the only property he has acquired. Earlier in 2019, it circulated that he bought a fancy mansion in The Oaks, a neighborhood in Calabasas, California.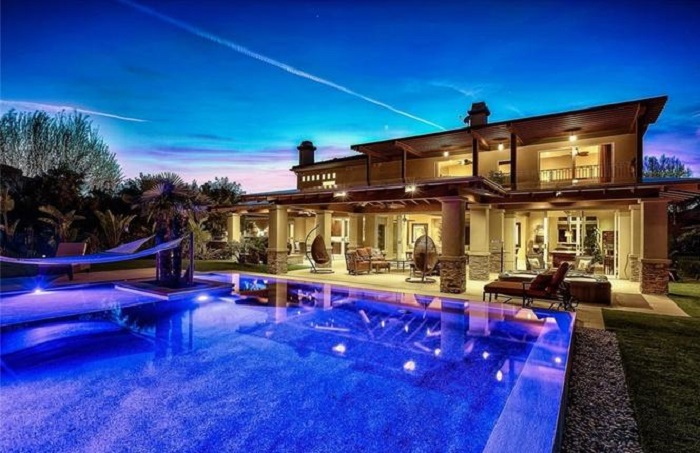 He bought the home originally built in 1996 but renovated in 2014 for $4.7 million. It is a 7,036-sq property with abundant driveway parking and a four-car garage.
The Cars He Has Bought
Apart from spending millions on fancy homes, the defensive tackle has also parted with good money to purchase some fine rides. For instance, he bought a Karma Revero for $130,000 after he signed his $135 million contract extension. The electric car comes with a traditional backup engine, it is a plug-in hybrid sports saloon often described as a luxurious Tesla.
What does @AaronDonald97 do after signing the most lucrative contract for a defensive player in NFL history? He gets a Revero delivered directly to his house in LA. #KarmaAuto #Revero #AaronDonald pic.twitter.com/XebcR9Uxv8

— Karma Automotive (@KarmaAutomotive) September 1, 2018
A few years earlier, precisely in March 2015, the NFL player bought his father a truck, a Dodge Ram which must have cost him several thousands of dollars.
Family is very important for Aaron, so he goes all out to keep his folks happy. For instance, he bought his dad a Rolex watch worth $40,000 as a birthday present in 2018.
How Tall is Aaron Donald?
The Rams' defensive end star is quite tall; he stands at a height of 6 feet 1 inch which has made him stand out in his position. He also has a commensurate body weight of 280 pounds (127 kg). Additionally, Aaron has an arm length of 32 5/8 inches and a hand size of 9 7/8 inches.
Other Interesting Facts about Aaron Donald
Aaron Donald was born and raised in Pittsburgh, Pennsylvania in the United States of America.
He was fined the sum of $21,269 for unnecessary roughness and unsportsmanlike conduct during the 2016 season.
He has been called to All-Pro four times and to the Pro Bowl five times
His older brother Archie Donald Jr. competed as a linebacker in the NFL until his retirement in 2012.
Profile Summary
First Name:
Aaron
Last Name:
Donald
Also Known As:

Aaron Charles Donald
Sex/Gender:

Male
Profession:

American football defensive end
Famous For:
His professional football career
Colleges/Universities Attended:

University of Pittsburgh in Pittsburgh, Pennsylvania
Educational Qualifications:

Degree in communications
Religion:

Unknown
Birthday & Zodiac

Age/Date of Birth:

32 years old (May 23, 1991)
Zodiac Sign:
Gemini
Birth Place:

Pittsburgh, Pennsylvania, United States
Nationality:
American
Ethnicity/Race:

Black
Country of Residence:

USA
Physical Attributes

Height:

6 ft 1 in or 185.5 cm
Weight:

127 kg or 280 lbs
Eye Colour:

Dark Brown
Hair Color:

Black
Other Body Measurements:

Arm length- 32 5⁄8 in
(0.83 m), Hand size- 9 7⁄8 in (0.25 m)
Relationships

Marital Status:

Married
Spouse/Partner:

Jaelynn Blakey
Family and Relatives

Father:

Archie Sr. Donald
Mother:
Anita Goggins
Children:

Daughter Jaeda Donald (b. April 2013), and a son named Aaron Jr. Donald (b. April 6, 2016).
Siblings:
Akita Donald (Sister), Archie Jr. Donald (Older Brother) (Former Professional Football Player, Linebacker for the University of Toledo team, Retired in 2012)
Other Relatives:

Unknown
Net Worth
Estimated Net Worth:

$60 million
Salary:
In 2020, Donald will earn a base salary of $17,000,000, while carrying a cap hit of $25,000,000 and a dead cap value of $60,892,000
Source of Wealth:

Football career, endorsement deals