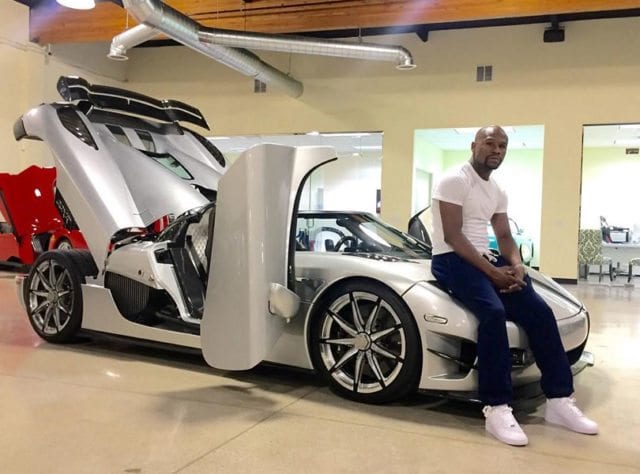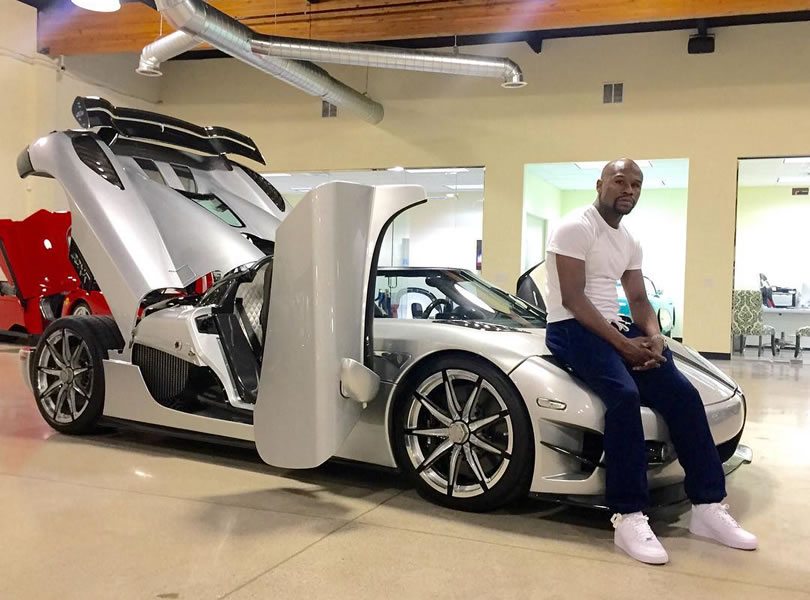 When you're the world's highest-paid sportsman with an annual income of $300 million and a net worth of $400 million, then purchasing a $4.8 million incredibly rare Koenigsegg CCXR Trevita Hypercar is apparently among the least of things you can do.
The world's best pound-for-pound boxer, Floyd Mayweather now owns what has been confirmed to be the most expensive car in the world. The pro-boxer made the purchase after selling off his unique Ferrari Enzo which he recently bought for about $4 million.
Mayweather's "hypercar" as he prefers to call it, is actually one out of the only two made by the Koenigsegg. The expensive beast has its body covered with custom carbon fiber a feature that makes it glow like its encrusted with a million diamonds when driven on a sunny day. In addition, to the breathtaking under-sun appearance, the car is extraordinarily fast; its 4.8 litre V8 engine, DOHC, 4 valves per cylinder and the twin superchargers effortlessly sees it hit an incredible top speed of 250 miles per hour, rising to the 60 mph mark in just 2.9 seconds.
After purchasing his new toy from Fusion Luxury Motors, Mayweather took to Instagram to tout. Posting a picture of him posing on the car bonnet, he wrote:
"My new 4.8 Million dollar car. $4,800,000.00 Koenigsegg CCXR Trevita supercar KOENIGSEGG Is An ULTRA Boutique Automobile Manufacturer For The Super Rich. KOENIGSEGG made only 2 TREVITA'S for the World, and this is No.2 of 2. In addition it is the only USA Spec TREVITA Built in the World. The Origin of the car is Sweden. The word TREVITA means "3 Whites". It is beyond a Super Car, and is classified as a " Hyper Car".
See also: Beyonce's Bespoke $312k Diamond Heels
World's Costliest Bottled Water at $100,000
The Koenigsegg CCXR Trevita Hypercar added to the pro-boxer's collection of supercars which includes 3 Bugatti Veyrons, 3 Ferraris, a Porsche 911 and a Lamborghini, all of which are collectively worth about $14 million. Floyd Mayweather is obviously one of those ardent car collectors; besides his 9 supercars, he has each of his mansions decorated with a specific coloured fleet of cars- a black fleet in LA, silver fleet in Miami and a white fleet in Las Vegas. When he's not travelling by road, Mayweather makes air trips via his $47 million Gulfstream V private jet.
Here is a closer look at his latest Koenigsegg CCXR Trevita Hypercar
You May Like;
Most Expensive Alcoholic Drink in the world at $1.3 million