Retirement periods are widely known to mark the end of a service and saying goodbye to a boss or co-worker who is finally going on retirement may be a difficult thing to do, especially when the befitting words are not forthcoming. For starters, the type of retirement whishes and messages you choose to send to your boss or colleague is determined by the level of relationship you share with them. However, since this transition period is important to them, you may want to send a perfect message as you only get one chance to do so. To help you celebrate this momentous event for your retiring boss or co-worker, we have carefully selected some of the best retirement wishes and messages to share with them.
Retirement Wishes and Messages For Boss
1. Retirement equals freedom. I hope you enjoy doing the things that you don't have time for before. Congratulations! Happy Retirement!
2. I cannot imagine how this place is going to function without you. 'Til this day, you have been a strong mentor and a true leader to everyone. Happy Retirement!
3. You are the kind of boss who brings out the best in others. Thank you for everything you've done for us. Happy retirement.
4. Your retirement is nothing short of a glorious achievement. Not every leader can retire with such grace, dignity, respect and a teary-eyed farewell from the whole office. Congratulations boss."
5. You have been a big part of the company. Your knowledge and years of experience brought the company to where it is today. Thank you for all the hard work! We will miss you so much!
6. Sometimes, the proper words of acknowledgment are tough to find for someone as great as you. Thank you! For always being around every time we needed you.
7. We're glad that you're retiring, but disheartened as well. You were a one-of-a-kind boss who can never be replaced. Congratulations, and we wish you a stress-free retirement. You'll be missed.
8. We hope you enjoy your days away from work, surrounded with much love from your family. Congratulations! Happy Retirement!
9. Cheers to your well-earned retirement! The contributions that you have imparted the company are invaluable. You are one of the foundations of this company's success! Congratulations!
10. Retirement is life's way of telling you that it is time you put your friends and family before your work. Happy retirement.
11. Let us celebrate the end of an exceptional career that has achieved insurmountable goals. We are also here to mourn the parting of our highly honored leader.
12. It has been truly a blessing learning and working with you over the years. We will miss you and your teaching. Do enjoy every second of your retirement.
13. You may be given retirement because you are growing old but it is a pity the company doesn't realize that it is letting go of an asset more precious than gold. Happy retirement boss.
14. After being someone else's boss throughout your whole career life, retirement is your chance to be your own boss. Enjoy your retirement!
15. I wish you a happy retirement not because i empathize with your age, but because I am inspired by the terrific career you've had and life you have lived so far. Good luck.
16. Not only were you my boss, but you were also a great friend that I can turn to throughout our years together in the office/company. Cheers to a hard-earned and well-deserved retirement!
17. It has been truly a godsend learning and working with you over all these years. We will miss you and your instructions. Enjoy every second of your retirement.
18. There was at no time a dull moment or a slow day in the office when you were here. Even though you were the boss, your spirit was the best. Happy retirement.
19. We are not saying goodbye to a boss who gave us orders. Today, we are saying farewell to a leader who gave us direction. Congratulations.
20. To one of the best people that the company has ever had. Congratulations on your retirement boss!
21. You are a good boss because more than giving us direction, you gave us guidance and inspiration. Happy retirement.
22. During your entire career, you sacrificed your health to earn promotions and more money. Now, you will enjoy the fruit of your labor. Have a wonderful retirement!
23. Retire with pride because you have enjoyed a fruitful career. Your employees emulate your work ethics and they would like to have had a successful career when they retire as you did. We wish you a happy retirement, boss!
24. Your brilliance and guidance have always inspired us to do better. You were not just a boss to us, but a mentor and a friend. Your presence will be missed. Happy retirement to you.
25. Dear boss, you have conquered many challenges as our leader. We hope you keep making giant strides in your life. Happy retirement.
Retirement Messages for Your Co-Worker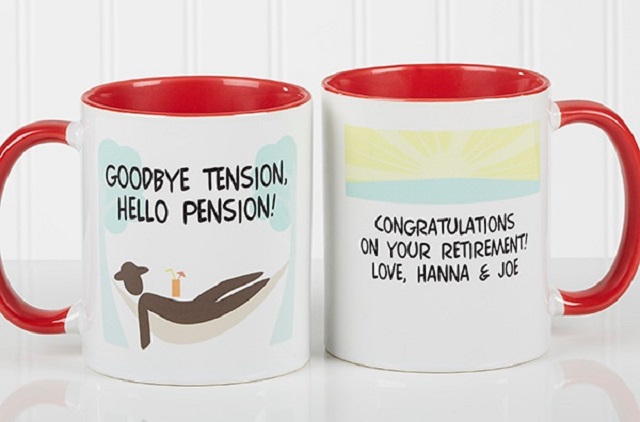 26. Your career's biggest souvenirs are your colleagues' good wishes. Happy retirement.
27. You are an embodiment of optimism and hard work. Thank you for inspiring us everyday at work. We will miss you! Congratulations on your retirement!
28. Thank you for providing an atmosphere of motivation in the workplace. You are one of the most organized, motivating people that I know. We will miss you. Congratulations.
29. You have set a great example for everyone at work. You are our role model by the ways of your teamwork, diligence, efficiency, and friendliness. Thank you for being someone we can look up to. Congratulations on your hard-earned retirement!
30. We will miss you, our wonderful, knowledgeable colleague with entertaining life lessons that lessen our work pressure. Enjoy your retirement!
31. You will be remembered for how you always smiled even when things weren't going so well… you never let your colleagues suffer even when you have other problems, we will surely miss you, goodbye and happy retirement.
32. With all best wishes to you on your retirement. We hope that your retirement is filled with relaxation, fun, and family time.
33. Congratulations on your retirement. You've had a brilliant career and now it's time for a fantastic retirement!
34. It's hard to believe the time has come to say goodbye. You're one of a kind and we're going to have a hard time replacing you! Thank you for all you've contributed over the years, we'll miss your dedication and enthusiasm. We wish you a long, happy retirement. Don't be a stranger.
35. You made it! Congratulations on your retirement! You're officially your own boss and i wish you much success and happiness in this new chapter of your life. I'm going to miss you, you've been a great friend and co-worker, and i really appreciate all you have done to support me over the years. Don't forget to keep in touch!
36. You will finally have time to ferret out that special fishing spot or to sleep through an afternoon game on TV. It couldn't happen to a nicer guy. Congratulations on your retirement.
37. It has been such a pleasure working with you all these years. You've been a great co-worker and friend, and we're sad to see you go. We hope you have a very happy retirement and enjoy your new-found freedom!
38. Retirement is not about giving up, losing yourself, slowing down or feeling old. Retirement is about enjoying the longest holiday of life. Farewell.
39. Thanks for making our work life much easier and fun. Now you can unwind your mind and spend some time with your family and best friends. May you get the best of everything in life.
40. Wishing you a wonderful retirement. Enjoy this new chapter of your life and we hope it's filled with good health, relaxation, and fun!
41. After retirement the body grows older, the heart grows fonder and the mind becomes younger. All the best on trying to handle an old body with a young mind and a fond heart.
42. Most people spend their whole lives planning their retirement but when they actually retire, they don't know what to do. Don't let this happen to you. Enjoy your retirement.
43. Congratulations, the countdown is over! It's been such a pleasure working with you and we're sad to see you go. Enjoy your new-found freedom and we wish you continued success in your retirement.
44. Don't retire with regrets of what you couldn't do. Retire with ambitions of what you will do now. Congratulations.
45. Retirement is the only thing that will make you realize how you wasted all these years trying to be mature when you can get back to being a child at the end of it all. Have fun.
46. Promotion, bonuses, paid leave and insurance – retired life with the family will give you perks much bigger than these. Happy retirement.
47. No facades, fake smiles or charades – retirement is all about being who you are without a worry in the world. Congratulations.
48. Having someone like you as a coworker has been no less than a gift. Wishing you a wonderful retirement ahead!! You will be missed, but never forgotten.
49. Busy Monday mornings, working late shifts, horrible coffee, and a demanding boss… of course, we know you'll miss all of this! Congratulations on your retirement from your jealous co-workers!
50. Morning coffees will finally be what they are meant to be – relaxing and de-stressing. Happy retirement.