As one of the most popular and influential musicians in history, Beyonce's talent as a singer, choreographer, and songwriter has never been in question. Her extensive discography has made her one of the best-selling artists of all time, with more than 160 million records sold as a solo artist and part of the girl group, Destiny's Child. In film, she does not have a similar level of impact, still, Beyonce has played enough roles on the big screen to show she could dominate the entertainment form if she wanted to.
The multi-platinum singer has appeared in several films since she made her debut as an actress in 2001. In this article, we took a look at five roles that proved she is just as talented at being an actress as she is at singing.
Five Roles That Prove Beyonce is a Multi-Talented Musician
1. Deena Jones in Dreamgirls (2006)
Several of Beyonce's movie roles have combined her otherworldly singing talents with her acting skills. And while not every one of them has achieved success to an impressive degree, Dreamgirls did.
In Dreamgirls, Beyonce, who plays the role of Deena Jones, in the semi-biopic about the music group, The Supremes, delivered a performance on par with her musical ability. As Deena Jones, she played a layered portrayal of a character that was most definitely based on Diana Ross as one of The Supremes. She earned a Golden Globe nomination for best performance by an actress for her work, which is the least it deserved.
2. Etta James in Cadillac Records (2008)
If Dreamgirls pretended to be a fictionalized story about a girl group's journey to stardom, Cadillac Records suffered none of those pretensions. The 2008 film was about the rise of Chess Records, the record label that was home to several blues legends like Muddy Waters and Chuck Berry.
In Cadillac Records, Beyonce had a big boot to fill playing Etta James in this period piece, and she did so majestically. She played Etta's professional and personal challenges to perfection, including her struggles with fame and addiction.
It is not a performance one would have expected from Beyonce, who at the time was still a good girl member of Destiny's Child. But it served as proof that when she wants to, and the script allows her, the Queen of music is capable of chewing any role to perfection.
3. Sharon in Obsessed (2009)
In the thriller, Obsessed, Beyonce took a departure from her music-related roles and starred in this thrilling drama about a successful man who is stalked by a temp worker.
By all accounts, it is a predictable thriller that failed to bring something new to the genre. Still, Beyonce manages to deliver a noteworthy performance in her role as Sharon, the wife of Idris Elba, the subject of Lisa's (Ali Larter) unsolicited affection.
In the film, Beyonce goes from being a suspicious wife who questioned her husband's fidelity to a scorned woman who engaged in explosive fights with her husband's stalker.
It may have been released years before 'Becky with the good hair' happened, but it would happily fit as the story's official movie.
4. Lilly in The Fighting Temptations (2003)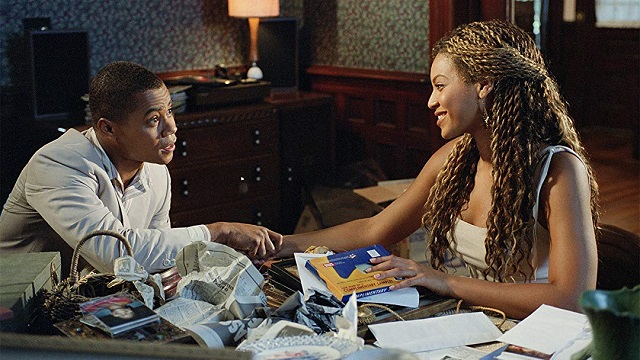 At the age of 22, Beyonce starred in The Fighting Temptations in the role of Lilly, a local town singer, and single mother. It was her first lead role. While a lot of her vocal talents are deployed to crowd-pleasing effects in this gospel-themed musical comedy, she gets some moments to shine in a dramatic role.
She played a woman who had been cast out of the church's choir by its leadership because she sings in nightclubs. The Fighting Temptations is forever remembered for its music, but lost in between is a gentle and non-overbearing performance by Beyonce as the talented singer and love interest of Darren who is portrayed by Cuba Gooding Jr.
5. Queen Tara in Epic (2013)
Even for the best live-action dramatic actors, voice acting can be a very challenging art form. This is why hundreds and thousands of actors are committed to the art alone. But in the 2013 animation film, Beyonce showed zero signs of limitations when she voiced Queen Tara.
Freed of movie directors who limited her role to a display of her sexuality, Beyonce shines through in this somewhat predictable film with a performance voice actors would be proud of. Her warm and affirming voice was an impressive complement to her role as the Queen of a tiny forest civilization.