Yes! We have a new world record holder! After selling at $300,000 this diamond-encrusted matte white Himalayan Niloticus Crocodile Hermes Birkin is the most expensive handbag ever sold at auction.
Prior to its auction at Christie's Hong Kong on 30th May, the coveted bag was estimated to fetch at most $260,000 which could have been enough to make it the most expensive handbag ever sold at auction but not the most expensive bag ever sold. However with the whopping hammer price of $300,000, it beats both the most expensive handbag ever sold (Red Hermes Birkin) and the most expensive handbag to sold at auction (fushia pink Porosus crocodile Hermes Birkin) with a price difference of $2,000 and $80,000 respectively. The latter was sold by Christie's last year while the former was recently sold by Florida-based Privé Porter to an LA buyer.
See Also: Kris Jenner's Hermes Handbag Collection.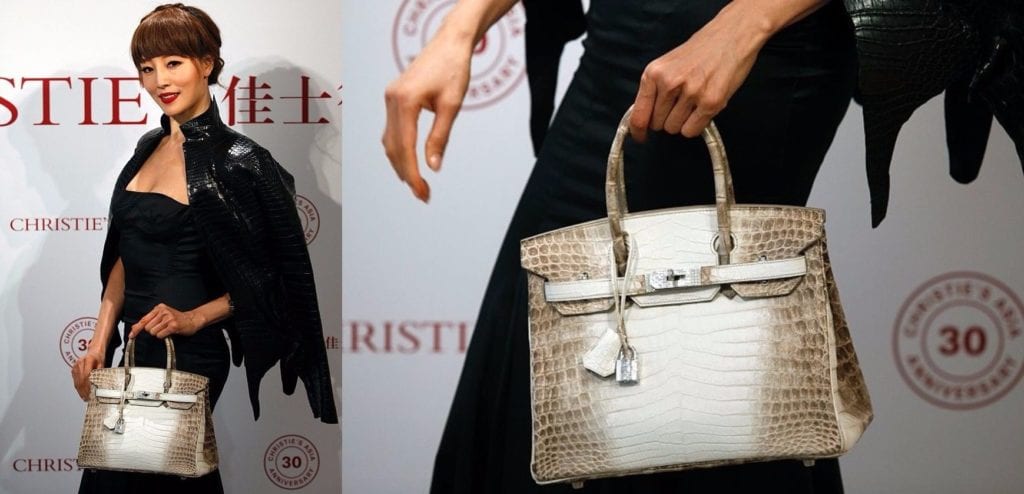 A private Asian collector snapped the luxe piece, ending the bidding war. There are many reasons the high price tag is justifiable, for one, its exclusivity is second to none. The handbag comes with an 18 K gold hardware encrusted with multiple F-color diamonds weighing around 10 K. Also, the Himalayan pieces require a painstaking process to make and hence are incredibly rare.
A statement released by Christie's prior to the auction said; "The diamond pieces created by Hermes are exceptional, but none are nearly as iconic as the Himalaya. It is believed that only one or two of the Diamond Himalayas are produced each year, globally, making it one of the lowest production runs for handbags."
Also Birkin bags including the basic ones are more than just a fashion statement, it makes for lucrative investment as well. For example this Himalayan Hermes was originally produced in 2008, it first sold in 2009 and had a higher reselling price.
See Also: 10 Most Expensive Luxury Handbags In The World