From movie stars to sports stars, musicians, record producers and filmmakers, celebrities are known to have diversified sources of income. In addition to earning top dollar from their numerous gigs and shilling for the world's top brands/companies, many go ahead to establish their own businesses. And while luxury apparel/fragrance lines apparently seem to be their top preferred choice, many have deviated from the norm and into the field of hospitality, owning restaurant chains, nightclubs and hotels. This post focuses on the later. A-listers like Robert De Niro and Francis Ford Coppola have proven to be successful hoteliers over the years, owning multiple accommodations all over the world. But the duo aren't the only ones making waves in the business. Brace yourself for surprises as JustRichest.com brings you 25 celebrity-owned hotels from around the world.
So, the next time you find yourself lodging in any of these, keep your fingers crossed as you could bump into your favorite celebrity. And be sure to ready your pens for an autograph and your cameras for a selfie and oh! say hi for us, would you?
1. Gwinganna Lifestyle Retreat, Tallebudgera, Queensland, Australia
Owner: Actor, Hugh Jackman (Net Worth: $150 million)
X-Men's Wolverine fell head over heels in love with this property in his home country of Australia during one of his usual visits and decided to buy it. Located in the extremely secluded Tallebudgera valley, this serene retreat is the perfect escape from the cares of life. Not only does it offer retreat packages and programs that include morning meditation and yoga, Gwingana is also extremely healthy prohibiting the consumption of cigarettes, drugs and alcohol. Rooms begin from $980/night. gwinganna.com
2. Costa d'Este, Vero Beach, Florida
Owner: Actors/Singers Gloria and Emilio Estefan (Combined Assets: $1 billion)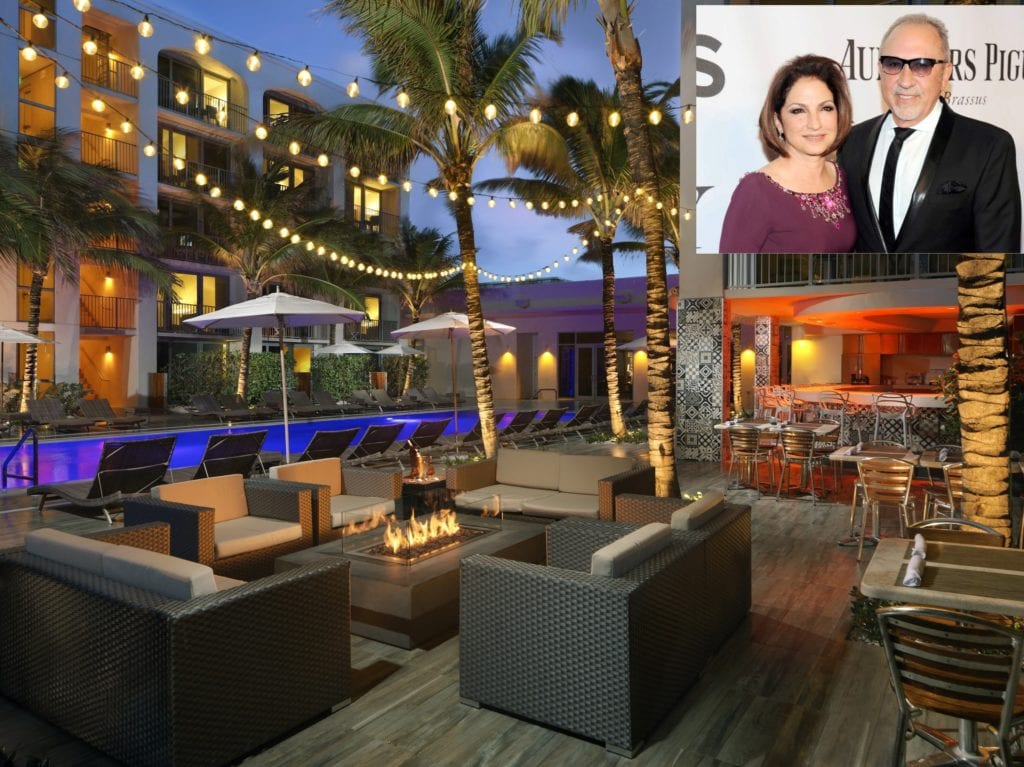 Like Jackman, the Estefan's bought this sprawling beachfront property and completely refurbished it to their own personal taste, even using their "own furniture with tweak wood for a nautical theme" she told Architectural Digest. Almost all of its commodious rooms offer a view of the beach. Several dining options are available as well as a luxury spa. Fun activities include snorkelling and paddle boarding. Rooms begin from $179 per night. Be free to bring your pet along. costadeste.com
3. Sundance Mountain Resort, Sundance, Utah
Owner: Actor, Producer, Director Robert Redford (Total Assets: $180 million)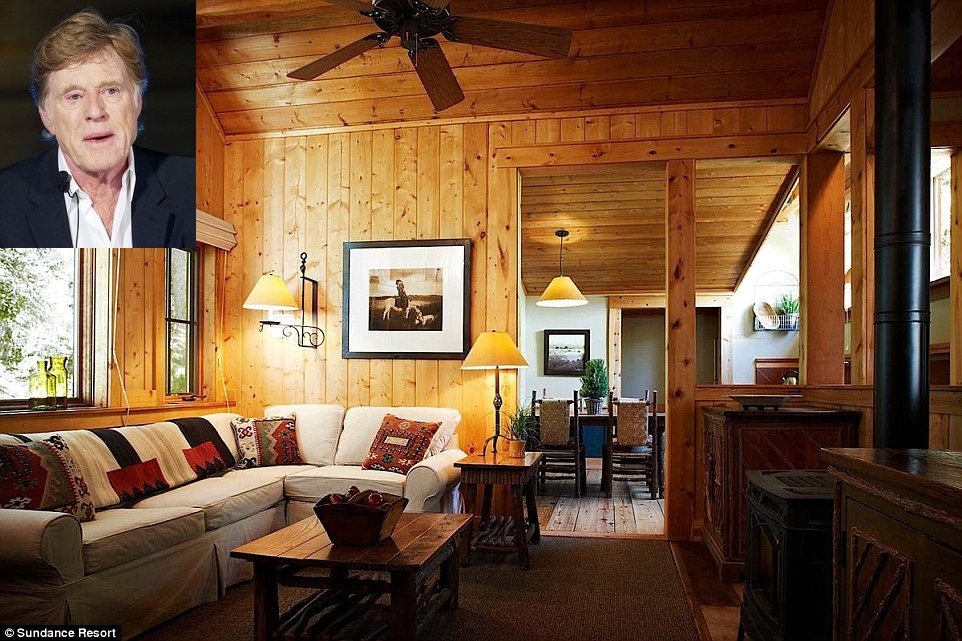 Unlike the list's first two, the Sundance Film Festival founder built this picturesque retreat from scratch on the valleys of Mount Timpanogos, a 5,000-acre piece he bought back in 1969. Rustic, yet elegant, the mountain resort offers a diverse range of outdoor recreation activities including fishing, skiing, and horseback riding. Rooms begin from $199 per night. sundanceresort.com.
4. Mission Ranch Hotel, Carmel, California
Owner: Actor, Clint Eastwood (Worth: $375 million)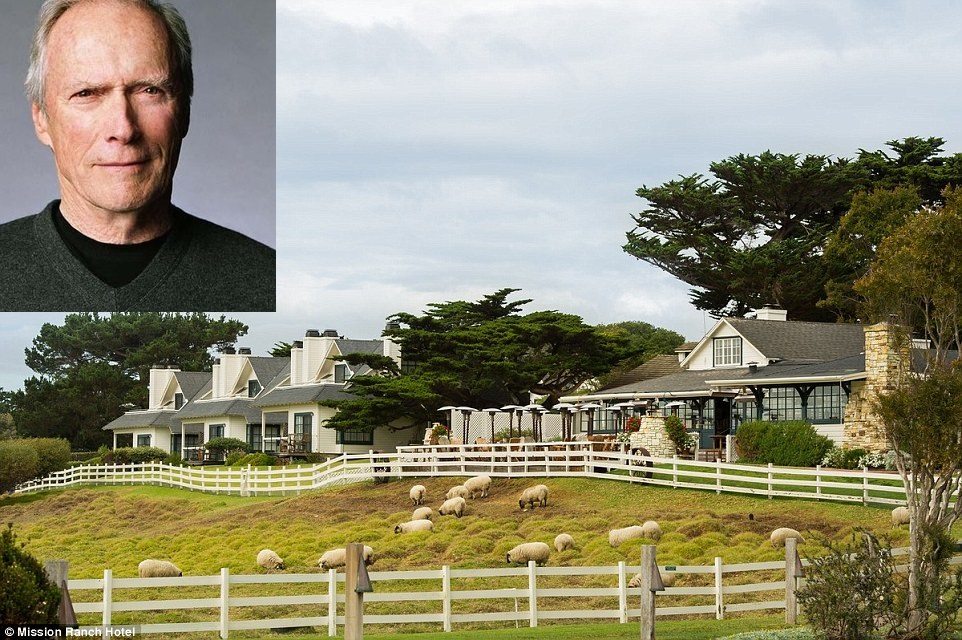 Long-time Carmel resident, Clint Eastwood purchased this 22-acre former dairy farm when it was on the verge of being ruined by property developers and revamped it into a 31 room luxury escape. The rooms, spread among 10 different buildings come with their own specific feature including a whirlpool tub. General features include a tennis court, piano bar, on-site restaurant and fitness center. Perfect for a romantic getaway, the secluded property offers views of the Pacific Ocean, Carmel River Beach and Point Lobos. Rooms begin from $125 per night. missionranchcaramel.com
5. Ariel Sands Resort, Cottage Colony Hotel, South Shore, Bermuda
Owner: Actors, Michael Douglas & Catherine Zeta-Jones (Combined Financial Strength: $350 million)
When the refurbishing of this property is completed in the spring of 2017. It would be utilizing green energy making it absolutely eco-friendly. Other features would include a direct access to the beach, fresh water pool and of course a luxury spa. arielsands.com
6. Casa Grande at Vermejo Park Ranch, Raton, New Mexico
Owner: Ted Turner (Net Worth: $2.2 billion)
The billionaire founder of CNN owns about 15 properties worldwide but this 591,000-acre ranch is his largest. Sitting on it is Casa Grande, a 25,000 sq ft, 7 bedroom stone estate which he previously resided. Originally built between 1848–1913, the Spanish-inspired building underwent a multi-million revamping that was concluded in November 2015. It includes a billiard room and a greenhouse. Lodging at Casa begins from $550 per night. Also on the Vermejo Park Ranch are several other buildings with their own accommodations, they include Costilla Lodge (8 bedrooms at $950/night), Casa Minor (12 bedrooms at $525/night) and 6 separate guest houses that begin at four figures per night. Vermejo Park Ranch offers outdoor recreational activities like no other, from horse riding to fishing, sports shooting and more. vermejoparkranch.com
7. The Greenwich Hotel, Tribeca, New York
Owner: Actor Robert De Niro (Net Worth: $200 million)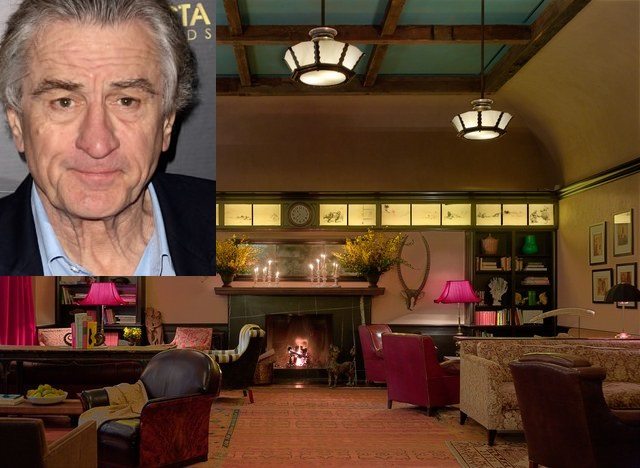 Want to roll with celebrities like Taylor Swift? then you should really head to Niro's The Greenwich, a top celebrity hot spot. Located in the upscale Tribeca neighbourhood of Manhattan, the country-house 88-room hotel is famed for its signature Locanda Verde restaurant and chic Shibui Spa. Other perks include and indoor, lantern-lit pool, yoga classes and fitness spa. Rooms start at $595 per night. thegreenwichhotel.com
See Also: Views of Donald Trump's $200 Million Washington DC Hotel
8. Nobu Manila, Philippines
Owner: Robert De Niro
This is another of Rob's multiple properties which he co-owns with renowned chef Nobu Matsuhisa and Hollywood producer Meir Teper. The 321-room hotel housed in the casino and entertainment City of Dreams is a branch of a luxury restaurant of the same name. However, it is yet unclear if this one would woo celebrities as well as it was named by Luxury Travel Intelligence as the worse luxury hotel of 2015. Rooms begin at $155 per night. nobuhotelmanila.com
9. The Wellington Hotel, Covent Garden London
Owner: Actor, Robert De Niro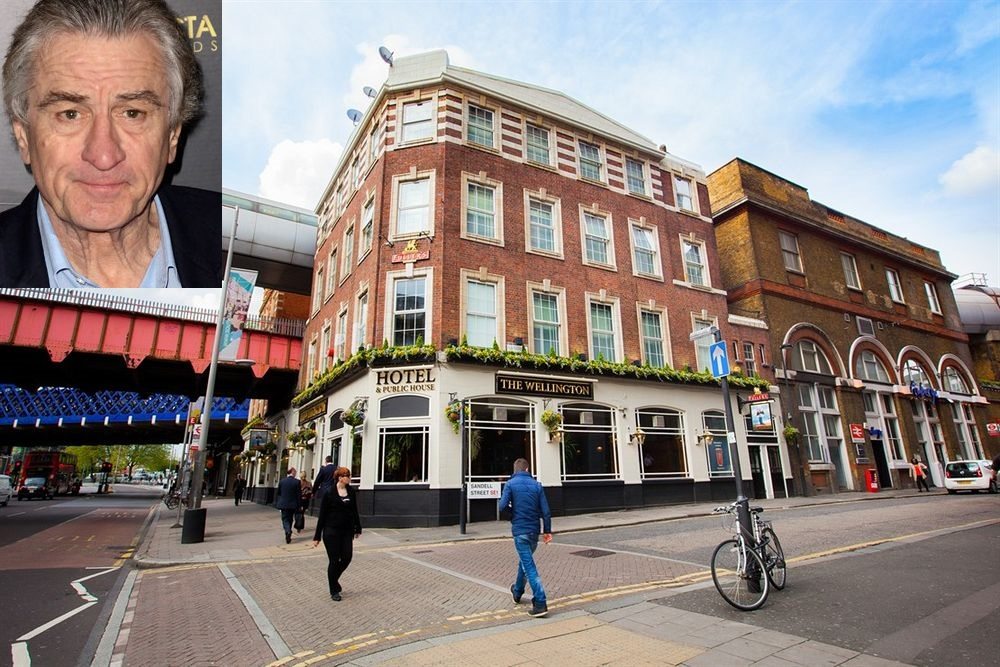 Obviously, Robert wasn't bothered, to say the least, about the ratings of his Manila hotel as he went ahead to expand his collections. He was given the go ahead to open the 83-room boutique hotel located in Covent Garden, London which stretches across 6 Victorian buildings. The hotel includes a membership club which appears to be the new norm in the town, two restaurants and a spa. De Niro even plans to expand his hotel business with future projects, including a resort in Barbadua in partnership with billionaire James Packer.
10. Kasbah Tamadot, Marrakech, Morocco
Owner: Personality/Businessman, Richard Branson (Worth $5.2 billion)
Virgin Group billionaire Richard Branson first laid eyes on this Atlas mountain property in 1998 during one of his attempts to circumnavigate the globe. He later bought the 27-room property and transformed it into a sweet escape. No two rooms in the hotel are the same, each with its own unique decor depicting the rich Moroccan culture. Lodging begins at $535 per night. virginlimitededition.com
11. Palazzo Margherita, Bernalda, Italy
Owner: Filmmaker, Francis Ford Coppola (Net Worth: $300 million)
Like Robert De Niro, The Godfather director, Ford Coppola is another successful hotelier with multiple properties worldwide. Pictured above is one of the 9 rooms in his Palazzo Margherita in Italy which start at $443 per night. 9 rooms too small? How about this; his Blancaneaux Lodge in San Ignacio, Belize, formerly his personal vacation spot features luxury secluded villas each with its own private pool. Coppola's other hotels include; Turtle Inn in Belize, Jardin Escondido in Argentina, and La Lancha in Guatemala. His other non-movie ventures include two vineyards and a restaurant.
Chck out: Off Paris Seine- Paris' First Floating Hotel
12. Musha Cay, Bahamas
Owner: Illusionist, David Copperfield (Net Worth: $900 million)
If it isn't the world's most commercially successful magician. Copperfield is known for his chain of 11 resorts lined on his private island of Copperfield Bay in the Bahamas. The interiors are decorated with antiques and exotic treasures from around the world, mostly African, some of which are from his private collection. mushacay.com
13. Palazzo Versace, Dubai
Owner: Fashion Designer, Donatella Versace (Net Worth: $900 million)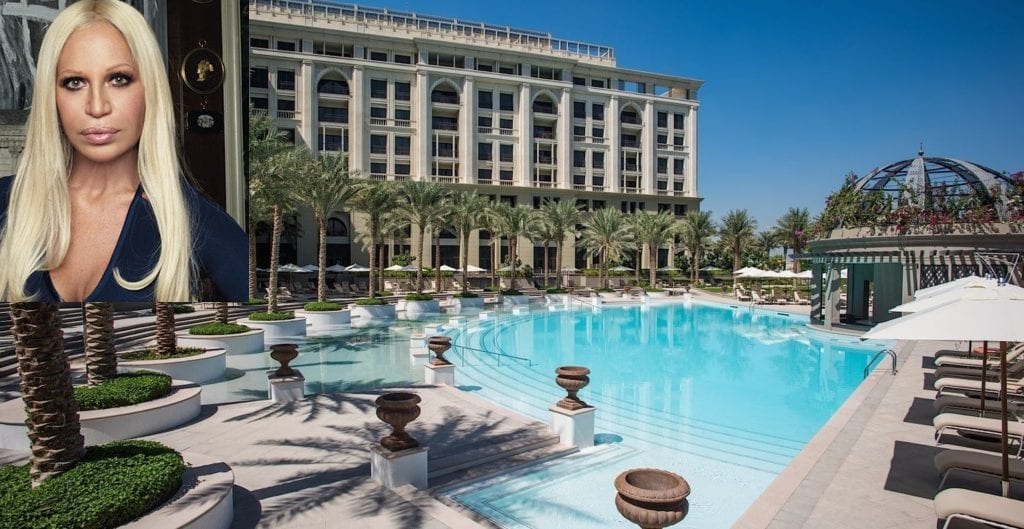 The House of Versace has long been a household name in the world of fashion, but the Italian family is spreading its tentacles to the field of hospitality with sprawling gigantic hotel accommodations in the world's hottest vacation spot. The first Palazzo Versace opened in 2000 in Australia but was sold in 2012 to a Chinese consortium. The second one (pictured above) opened in Dubai in 2015. The Palazzo Versace, Dubai is literally a symbol of the Versace lifestyle with each of its 215 rooms decorated with tailor-made fabric and crafted furniture by who else? The House of Versace. Overlooking the Dubai Creek, the hotel's location is easily accessible- 15 minutes away from the Dubai International Airport. Rates start at $435 per night. palazzoversace.ae
14. The Big Sleep Hotel, Cardiff, UK
Owner: Actor, John Malkovich (Financial Power: $45 million)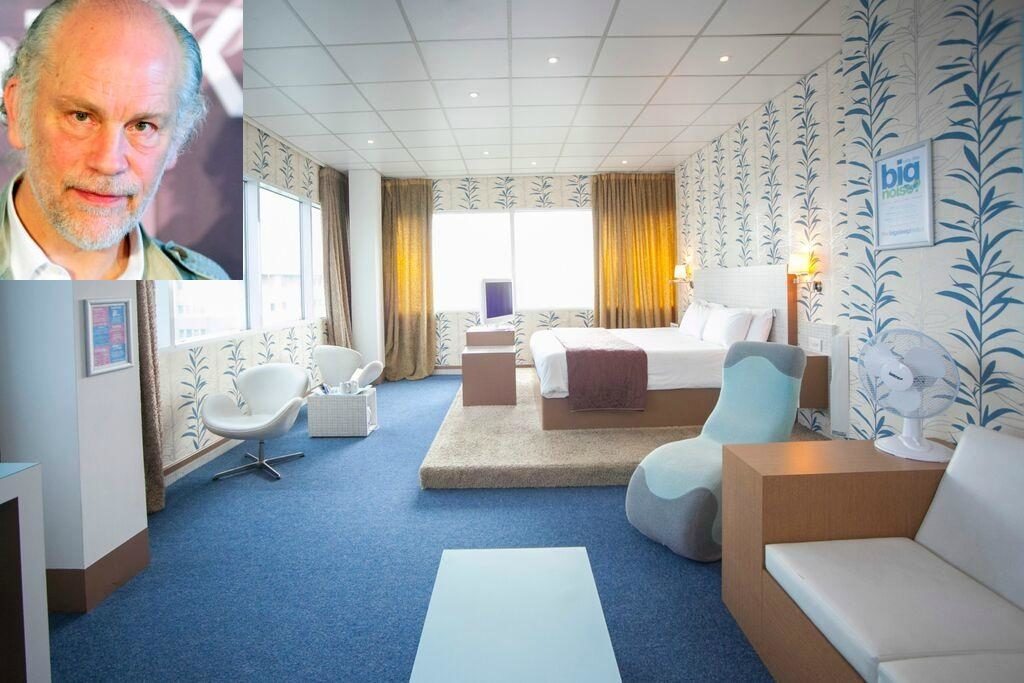 It may not be as luxurious as its counterparts on this list but The Big Sleep hotel is far from being a mediocre accommodation. Veteran actor John Malkovich is one of the investors in the budget hotel which is located not just in Cardiff but also in Cheltenham and Eastbourne in England. It is The UK's first design hotel for budget travellers with rates starting from $72 per night. thebigsleephotel.com.
15. Perthshire Hotel Cromlix, Scotland
Owner: Tennis Player, Andy Murray (Net Worth: $70 million)
Murray isn't only grabbing titles from his primary occupation as a tennis player but also from his business venture as an hotelier; his Cromlix Hotel was in 2016 named for the second time in a row as Scotland's most luxurious hotel. The Victorian style property sits on a 34-acre piece in the woodlands of the countryside and dates as far back as the 15th century. The Olympic medalist scooped it in 2013 for £1.8 million and spent a reported £6 million to refurbish it into a 5-star luxury hotel which began business in 2014. The refurbished property includes 15 rooms, a private dining room for special occasions, two drawing rooms, and its own chapel which makes it a perfect wedding location. Andy and his brother and fellow tennis player Jamie Murray both had their wedding receptions at the hotel. Rooms begin at $250 per night. cromlix.com
16. Blackadore Caye, Belize
Owner: Actor, Leonardo DiCaprio (Net Worth: $250 million)
Oscar winner Leonardo DiCaprio purchased this 104-acre island in Blackadore for $1.75 million in 2005. In a bid to put his money where his mouth is, the outspoken environmentalist has begun construction of an "eco-friendly" resort on his piece. Slated to open in 2018, the resort's main focus would be in its rehabilitative features such as newly planted mangrove trees, marine grass nursery, and a manatee conservation area. The completed property would also include 68 resort villas and 48 private homes. To qualify as a guest in this futuristic resort, you'd have to enrol in an ecology orientation programme. And Leo isn't kidding.
17. Y'all Come Inn, Mermaid Cottages, Tybee Island
Owner: Celebrity Chef, Paula Deen (Salary: $14 million)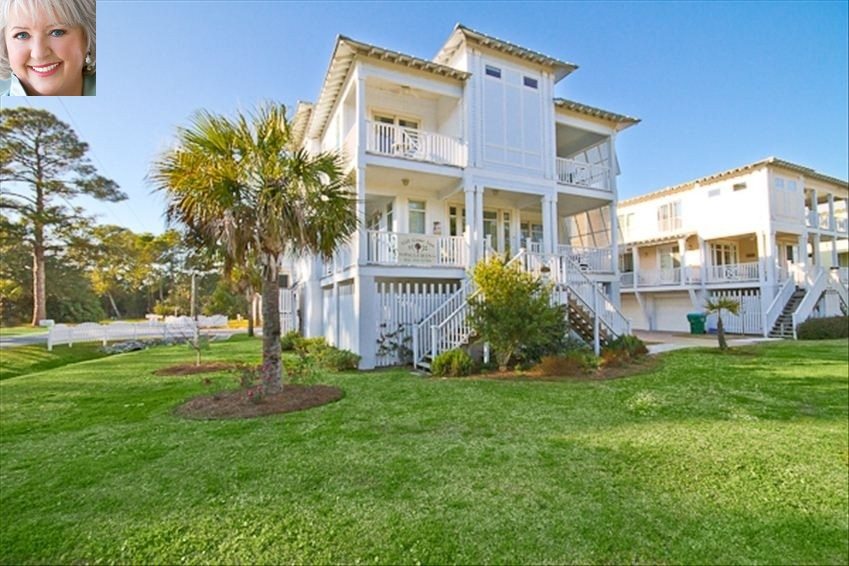 In addition to her cookbooks, TV show, restaurant and product line (which includes furniture), celebrity chef, Paula Deen also owns a vacation beach home available to the public. Mermaid Cottages also include a host of other vacation homes available for rent. Y'all Come Inn features a well-equipped kitchen, an outdoor shower and wraparound terrace. Guest stand to enjoy perks such as a VIP reservation at her Lady & Sons restaurant located 15-minute drive away from the beach house.
18. GoldenEye Hotel and Resorts, Jamaica
Owner: Record Producer, Chris Blackwell (Income: $180 million)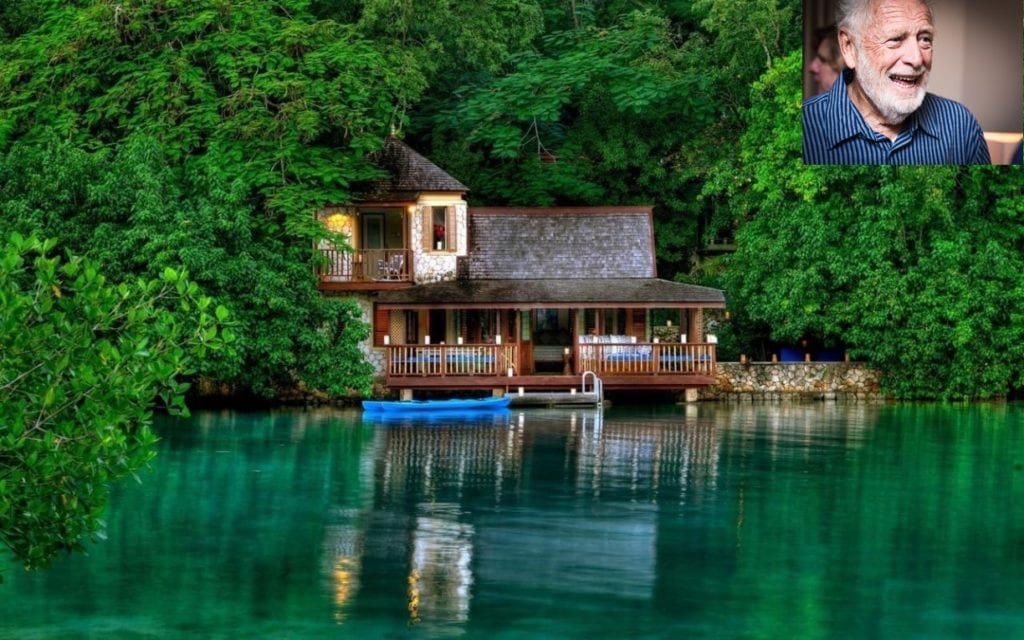 Previously the private residence of Ian Fleming- the man who created the James Bond character, this Jamaica northern coast resort is now a property of Chris Blackwell, the legendary Island records producer responsible for bringing Bob Marley (who sold the property to Blackwell) to the limelight. The resort underwent renovations in 2010 to include 17 more rooms. Its flagship suite is the Fleming Villa which includes its own movie room, pool, private beach and sunken garden. Recreation activities include stand-up paddle boarding and jet skiing. Rates begin from $560 per night. goldeneye.com
19. Bedford Post Inn, Westchester County, New York
Owner: Actor, Richard Gere (Net Worth: $120 million)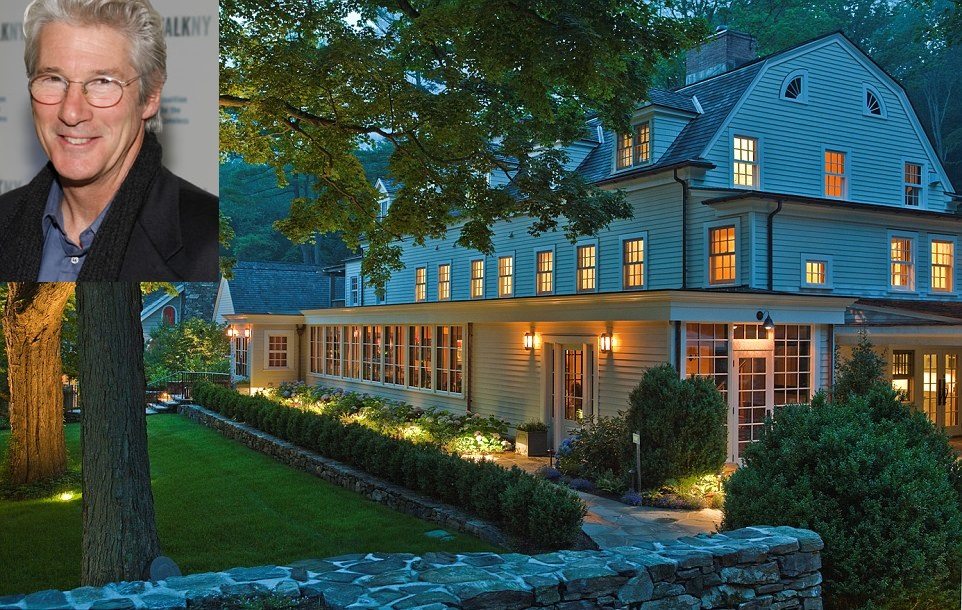 Pretty Woman star Richard Gere is a co-owner of this historic inn in his hometown of Westchester, just an hour away from Manhattan. Most of its 8 luxurious rooms come with their own private patios from where the lush and rustic environment can be well appreciated. The property touts two acclaimed restaurants, an outdoor patio and grill, and an award-winning Yoga Loft studio which is open to the locals as well as the inn's guests. Rates begin at $390 per night. bedfordpostinn.com
See Also: 10 World's Most Romantic Luxury Resorts
20. Gaia Retreat & Spa, Brooklet, Australia
Owner: Singer, Actress, Olivia Newton-John (Net Worth: $40 million)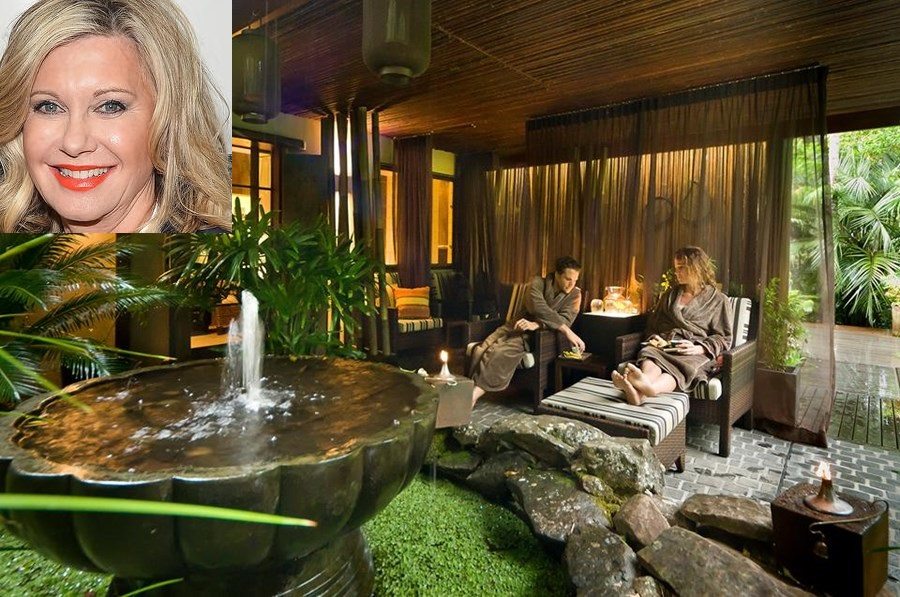 Grammy-winning Australian singer and actress Olivia Newton-John is among the four owners of this luxury retreat. Located in a mountainous area of New South Wales, Gaia's tranquillity is perfect for a private getaway. Guest have numerous retreat packages for choice. The spa includes various treatments including sound therapy. Available also are yoga classes done at the hilltop, cooking classes and boxing. Available also is a restaurant, outdoor pool, and sauna. gaiaretreat.com.au
21. Terrace Beach Resort Ucluelet, British Columbia
Owner: Actor, Jason Priestley (Net Worth: $16 million)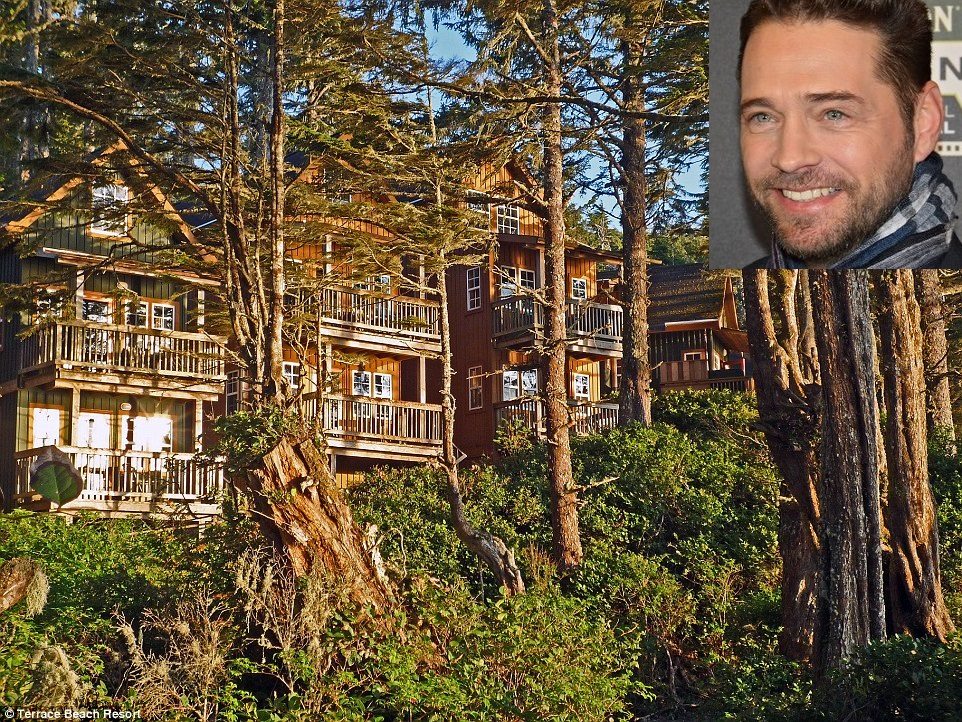 I bet Beverly Hills 90210 fans would be shocked by this one, but if you aren't then well, what an incredible fan you must be. Jason Priestley was among the primary investors in the rustic but luxurious retreat which was completed in 1999. A facsimile of a 1920s west coast fishing village, the beach front property was constructed entirely from pilings. All of the 6 types of accommodation available offer scenic views of the Pacific Rim National Park Reserve. Guests can book per night or per five-night stay. Outdoor activities range from trekking to cycling, kayaking, fishing and surfing. terracebeachresort.com
22. Hotel Rival, Stockholm, Sweden
Owner: Benny Andersson from ABBA (Net Worth: $230 million)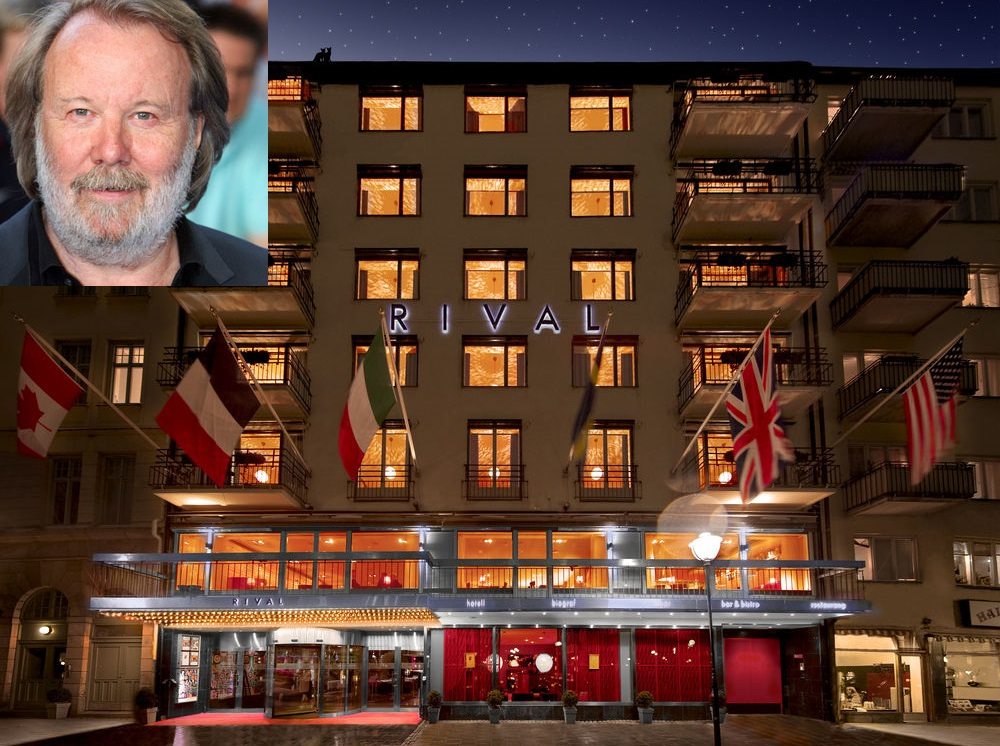 Money Money Money, ABBA's Benny Andersson is still raking in lots of it thanks to his luxury, ultra-modern Hotel Rival which he opened in 2003 in Stockholm's bustling Södermalm district. Perks include a 700-seat theater with regular live entertainment. Rooms in the 4-star hotel begin from $210 per night. rival.se
23. Hotel Villa Angela Taormina, Sicily
Owner: Musician, Jim Kerr (Net Worth: $45 million)
Simple Minds frontman Jim Kerr owns this intimate boutique hotel in Taormina, Sicily. Set on the hills, perhaps the most outstanding feature of the luxury retreat is its breathtaking views. There is an outdoor swimming pool and a chic restaurant. The hotel boasts a total of 27 rooms with the lowest rate of $150 per night. hotelvillaangela.com 
24. The Clarence Hotel Dublin, England
Owner: U2 bandmates, Bono And The Edge (Net Worth: $700 Million and $240 million)
U2 bandmates Bono and Edge became co-owners of the property located in the famous Temple Bar district in 1992. Before then, the hotel which was originally built in 1852 was a 79-room, two-star hotel. Now a 4-star 50-room hotel, it houses Cleaver East restaurant and the Octagon Bar. theclarence.ie
25. Number 11, Cadogan Gardens Hotel, London
Owner: Actress, Elizabeth Hurley (Net Worth: $35 million)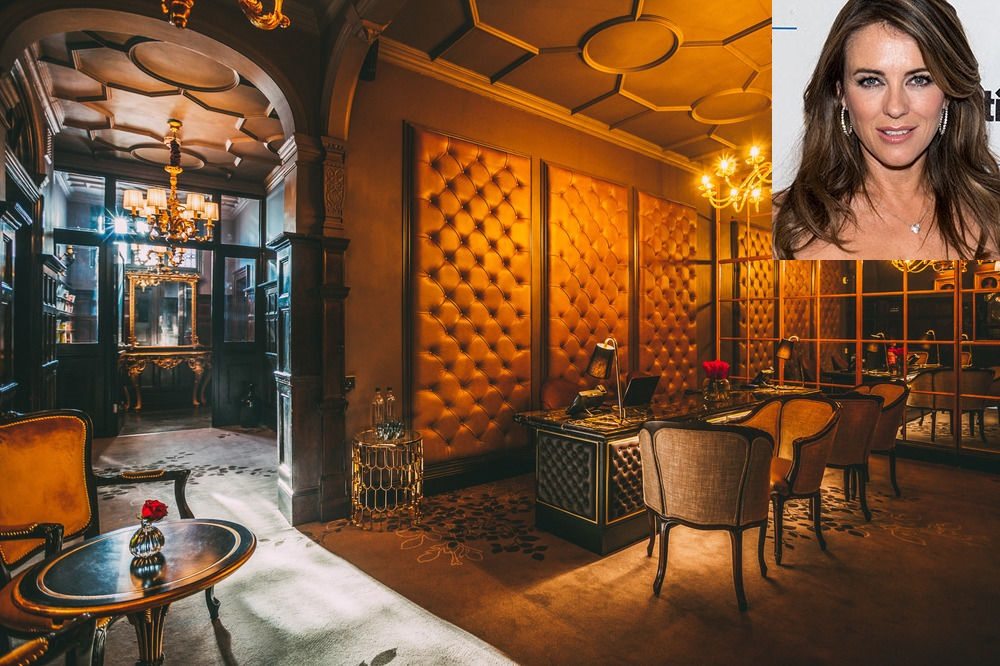 Gold and velvet accents almost everywhere you turn. The interior decors of this Elizabeth Hurley-owned luxury boutique hotel are as upscale as the Knightsbridge neighbourhood it is located. Formerly, four separate townhouses, the 5-star hotel houses a gourmet restaurant, an outdoor terrace, a gym and a library with antique leather-bound books. Rooms begin from $320 per night.