You don't need to be told that Dubai is the most populous city in the United Arab Emirates unless you are an alien on earth. Often described as "the shopping capital of the Middle East", Dubai has more than 70 mega shopping centers, one of them (Dubai Mall) is the world's largest shopping center. This is only one of the things that make Dubai an extraordinary travel destination.
Being the capital of the Emirate of Dubai, one of the seven emirates of UAE, Dubai has set itself apart from the rest of the world; everything is posh and sophisticated in a way that makes it obvious the city is organized and classy.
While the foregoing is true, there was a time when it is said that foreign women visiting Dubai who get raped and report the incident are most likely to be jailed instead of the rapist. To cite an instance, Marte Deborah Dalelv from Norway brought rape charges against her colleague and was sentenced to sixteen months in prison. Thankfully, the city's attitude towards women has changed for good over the years.
Fun Facts To Know About Dubai
1. In Dubai, the police department owns fleets of Lamborghini, Ferrari, Bentley and the latest Mercedes-Benz model. They use these fast sophisticated cars at work to chase and catch over-speeding vehicles that can outrun slow cars.
2. Many years ago, it emerged that Dubai is building a 50,000,000 square foot climate-controlled indoor city from scratch. The project which is still ongoing will see the city erect what is regarded as Mall of the World. Among other things, it envisions having a fully air-conditioned city.
3. The city is home to the world's largest natural flower garden. Called the Dubai Miracle Garden, this flower garden located in Dubailand has more than 250 million plants and 50 million flowers.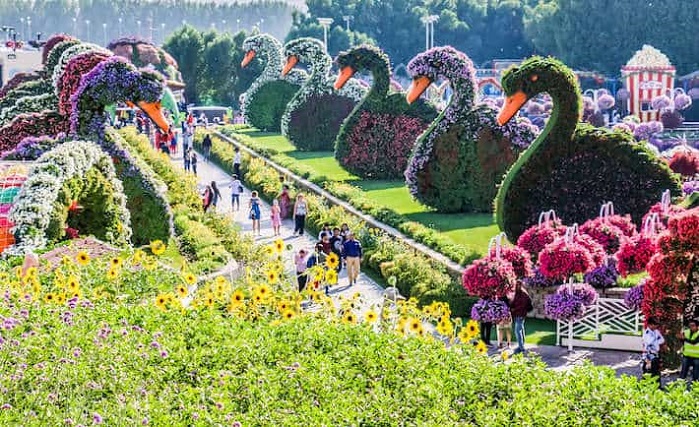 4. 40% of physical gold traded in the world occur in Dubai. In 2013 only, they traded $70 billion of physical gold. That's 2,250 tonnes, altogether the weight of more than 354 elephants. For this reason, Dubai is also known as the City of Gold.
5. Dubai's artificial Palm Islands imported enough sand to fill 2.5 Empire State Buildings. The Islands were constructed from 94 million m3 of sand while 37 million m3 was required to complete the Empire State Building.
6. In Dubai, wild animals are used as pets, and the owners drive alongside their pets sitting on the passenger seat. This has become a rare sighting since 2017 when UAE outlawed the keeping of wild animals. Anyone found in public with a wild animal faces a fine of 500,000 dirhams and six months in jail.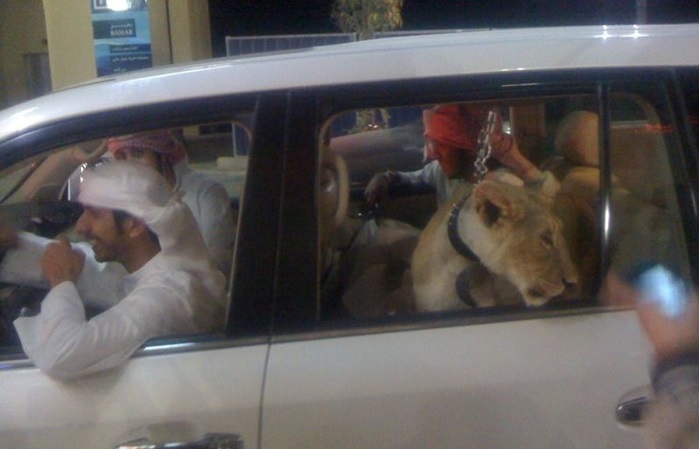 7. The Dubai police have a bagpipe band. The bagpipe music captivates Dubai residents and inspires them to create their own band.
8. The crime rate in Dubai was once as low as 0%. This is the reason why the city is considered one of the safest cities on earth. The law is strict and the residents are orderly and law-abiding. It was reported in 2019 that Dubai is the seventh-safest city in the world.
9. The Burj Khalifa (most luxurious hotel ever built) is so tall that some of its residents need to wait longer to break their fast during Ramadan. Residents from the 150th and higher floors see the sun longer than other residents of the hotel.
The Burj Khalifa can be seen clearly from around 90 kilometers away. The apex can be seen from the tower of Makkah if it was in Jeddah.
10. 85% of the Dubai population are foreigners, most of who come from India, Pakistan, and Bangladesh. They migrate to Dubai in search of a well-paying job.
11. In Dubai, robots participate in multi-million dollar camel racing tournaments. These robots are lighter and more flexible compared to humans and each robot for camel racing costs between 300 to 10,000 USD.
12. Residents of Dubai do not pay personal income tax. So they earn a lot of money and save most of it.
13. 39% of the famous Burj Al Arab hotel is uninhabitable and completely a waste of space. A night in a royal suite of the Burj Al Arab hotel is priced at $20,000 and that amount is enough to visit several countries. Burj Al Arab is the seventh tallest hotel in the world
14. 1,790 square meters of 24-carat gold leaf was used to cover the interior of the Burj Al Arab. This gold will cover 46,265 Mona Lisa paintings, which has a surface area of 0.3869 square meters per painting.
15. Due to unbearable heat and high humidity in Dubai, air conditioners are a necessity and are everywhere, even outside. Bus stops in Dubai are enclosed and air-conditioned.
16. In 1968 there were only 13 cars in Dubai. Today the traffic in the city is so dense they had to build double Decker roads to contain all the cars.
17. Illuminated by 50 colored projectors and 6,600 lights, the Dubai Fountain is one of the greatest sights to behold. Records have it that it can spray 83,000 liters of water in a go. The animated fountain shoots water up to as much as 500 ft and is 902 ft long.
18. One out of every five cranes is located in Dubai. Today the city has over 1000 finished high-rise buildings and the number is growing, thanks to the use of cranes.
19. Sales of oil constitute less than 5% of Dubai's economy. While the city's economy was initially nurtured with proceeds from petroleum and natural gas, its local economy is mainly based on real estate and tourism. Its GDP as of 2018 was over $102 billion.
20. A journalist from Dubai named Omar Borkan Al Gala was asked to leave Saudi Arabia because he was "too handsome". This was because the authorities of Saudi Arabia thought the UAE delegate could corrupt impressionable women at the annual Janadriyah Festival.
21. The world's highest tennis court is located in Dubai. It is on the top of the Burj Al Arab. This tennis court sometimes serves as a helipad.
22. Dubai is the city with the most rapid changes. Within the past few decades, there has been a tremendous transformation in the city that some countries can not achieve in 100 years. It has all the basic physical and organizational structures and facilities that serve a city.