Some roads require more caution, care and professionalism behind the wheels than others because of the level of serious and fatal accidents, happening on them. Thus, for such very terrific and horrible roads that do nothing other than wreck our cars badly and land us in the hospital, we do our utmost best to avoid them and if we must be on such roads, we would rather walk them than drive with so much caution. But for daring drivers who think there is no risky and challenging road worthy of making them scared, these 20 most dangerous roads in the world will likely convince you that people who have driven through them and came out at the other end in one piece should be made heroes.
Trollstigen, Norway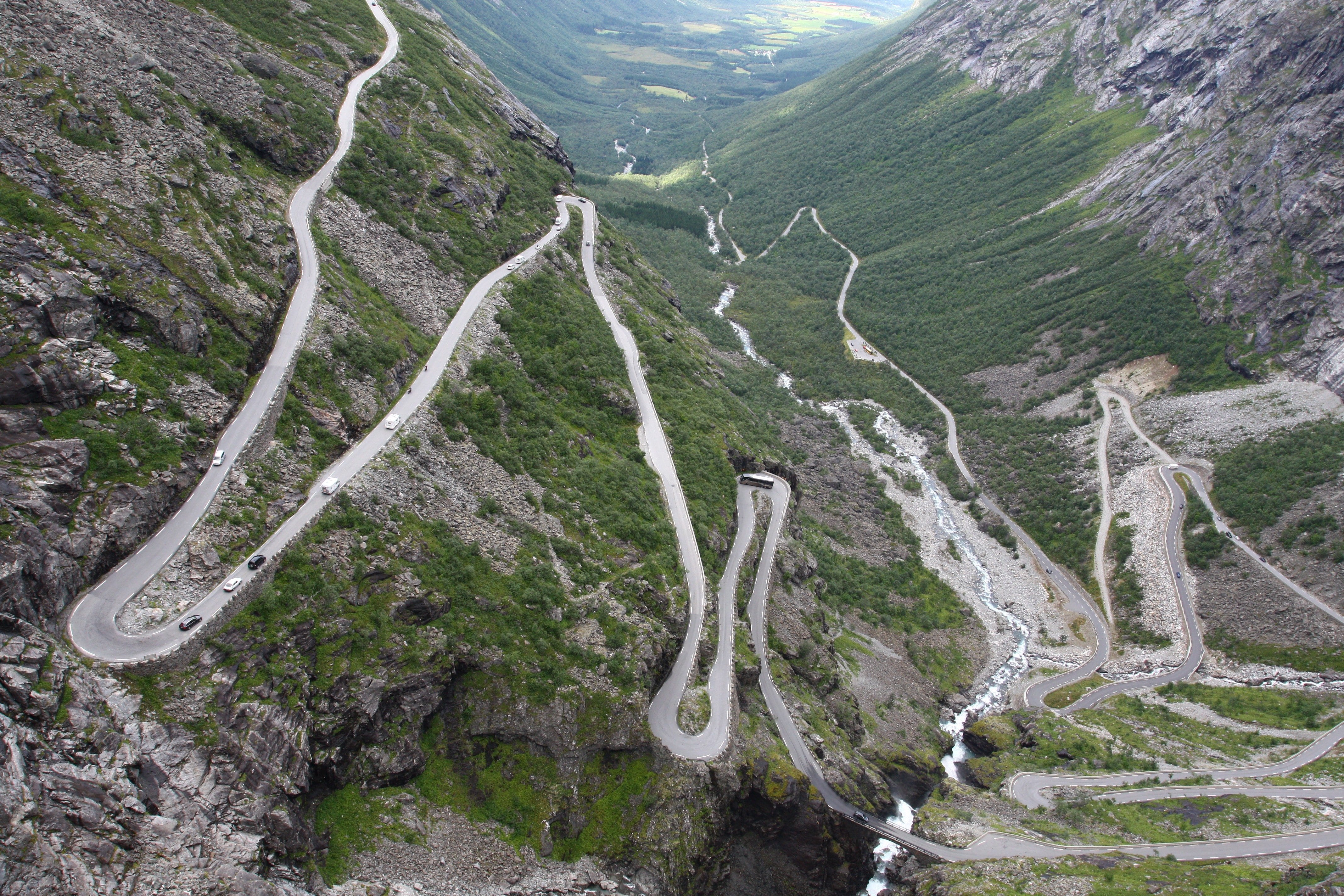 This road also called troll ladder is a serpentine mountain road in Rauma Municipality, Møre og Romsdal county, Norway. The road is narrow with many hairpin bends and sheer drops that are particularly treacherous in icy conditions. Though some of the bends were widened sometime back, but between 2005 to 2012, vehicles over 12.4 metres (41 ft) long were prohibited from driving the road. This road is one of the roads you will drive with real care and is not recommended for after dark. Note that troll ladder's Mad inclines, 11 hairpin bends and narrow passes add to the nation's 208 annual road deaths.
 Fairy Meadows, Pakistan
Although it may sound harmless, the Way to Fairy Meadows is actually an extremely narrow and dangerous 10 km stretch of road that leads to Nanga Parbat or The Killer Mountain in Pakistan. Fairy Meadows is a nearby valley with serene views of the huge mountain. The Fairy Meadow Road is also one of the scariest road track because of its treacherous high altitude, unstable and narrow mountain roads.
Fairy Meadows Road is a spectacular and dangerous high mountain track with a length of 16,2km, located in the Gilgit-Baltistan region of Pakistan. The gravel road is completely unmaintained, there are no guard rails to protect you, and it gets so narrow that near the end you'll have to cover the last section by walking or biking.
The trail starts on the Karakoram Highway and ends in the village of Tato, near Fairy Meadows, a picturesque destination at an altitude of about 3,300 meters above the sea level.  Getting to Fairy Meadows is a huge risk that prevents many from enjoying the view. The most dangerous part of the road up to Fairy Meadow involves a narrow 6-mile ascend on an unpaved and uneven road. There are no barriers to prevent a vehicle from falling off the cliff to a fiery death.
Yungas Road, Bolivia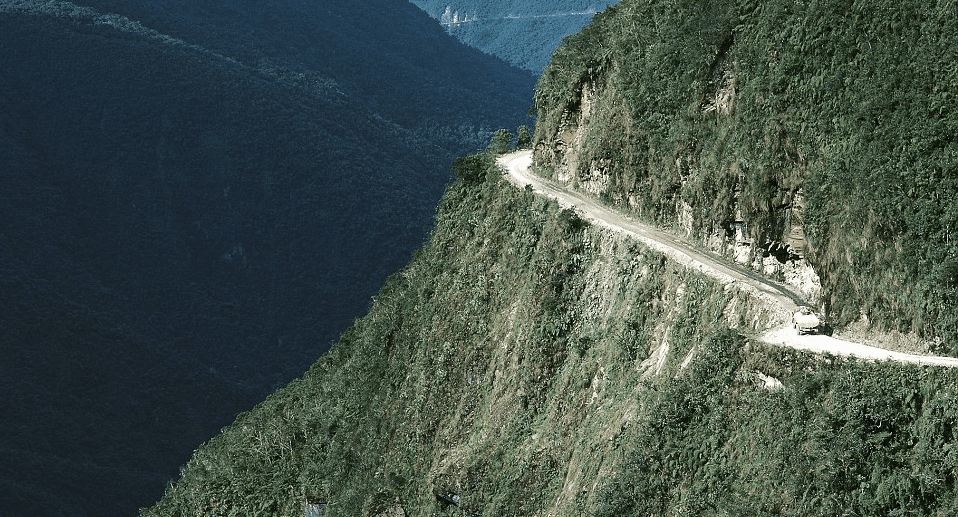 North Yungas Road in Bolivia, widely considered to be the world's most dangerous route and has earned the nickname of 'death road'. This road is a 61-or-69-kilometer (38 or 43 mi) road leading from La Paz to Coroico, 56 kilometers (35 mi) northeast of La Paz in the Yungas region of Bolivia.
The road is also called El Camino de la Muerte or "Death Road", this 60km track was built by Paraguayan prisoners in the 1930s and takes daring motorists from the Bolivian capital of La Paz to the town of Corioco. The legendary dangerous road is hardly  more than three metres wide. It is navigated by trucks and buses, and it is specially dangerous because its constant sheer drops of at least 600m has no barriers or guard rails, so one slight miscalculation can mean a fall of up to 600 metres.
Also, heavy rain and fog often add to the danger. Fog reduces visibility to about zero while the rain in the winter months often washes away parts of the road, reducing visibility as well as causing mudslides and the loosening of rocks from the hillsides above. The road has claimed thousands of lives and crosses mark many of the spots where vehicles have fallen. The high death toll and spectacular setting have also encouraged fearless cyclists to attempt the journey on two wheels. The road has been improved in recent years, and a new section now bypasses one of the most dangerous parts of the old route.
Guoliang Tunnel Road  (China)
Guoliang is a road in the Taihang Mountains in the Hunan Province of China. The road was constructed by local villagers. It took five years to complete the 1,200-metre long tunnel which is about 5 meters high and 4 meters wide. During construction of this road that was hollowed out of the side of a mountain, some of the villagers died in accidents. Without being intimidated by the danger or difficulty involved in its construction the others continued. On May 1, 1977, the tunnel was opened to traffic. Tight driving resulting from a small width of 4m wide through various tunnels contributes to its risk.
Guoliang Tunnel Road requires extreme focus to drive. Even one mistake, locals say, means big trouble in little China.
Taroko Gorge Road, Taiwan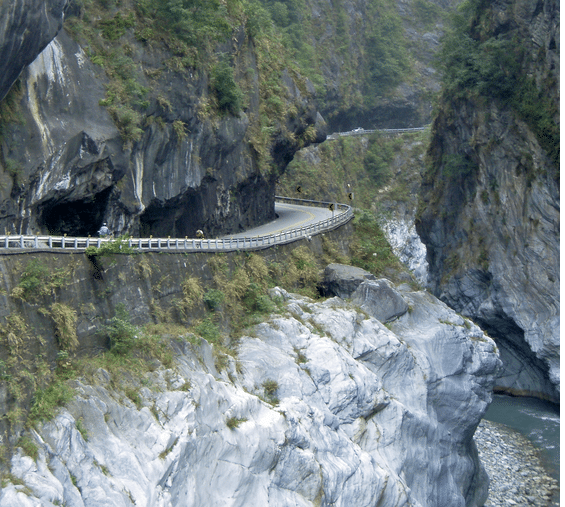 Taroko Gorge Road is not as 'beautiful and alluring' as the translated name suggests. This road is another road known as one of the most dangerous roads in the world. It is full of blind bends, narrow roads, and mountain drops. Every type of transport possible vies for space on this road. Heavy typhoons and seismic activity only add to the danger that contributes to 96,611 road deaths in Taiwan every year.
Iroha-zaka Road – Japan
This road is a pair of popular winding roads in the mountains of Tochigi Prefecture, Japan. It connects Nikko and Oku-Nikko. It is made up of 48 tight curves, one for each letter of the Japanese alphabet, placed in alphabetical order and winds through some of the most verdant parts of the region. The uphill and downhill drives give daring drivers numerous views and numerous experiences as well, as each road is separate from the other.
This pair of asphalted roads is a one-way Switchback mountain road (2 separate roads; up and down). It's necessary to use the Second Iroha-zaka to go up and use the First Iroha-zaka to come down.
Transfăgărășan, Romania
It is the second-highest paved road in Romania after Transalpina. It begins close to the village of Bascov, located near the city of Pitesti, ending on the crossroad between DN1 and Sibiu. It stretches 90 km with twists and turns that run north to south across the tallest sections of the Southern Carpathians, between the highest peaks in the country, Moldoveanu, and the second-highest, Negoiu. The road connects the historic regions of Transylvania and Wallachia, and the cities of Sibiu and Pitești.
Tianmen Mountain Road, China
Tianmen Mountain Road is located within Tianmen Mountain National Park, Zhangjiajie, in northwestern Hunan Province, China. The road is 11 kilometers (6.8 mi) long from the bottom to the top and it boasts a total of 99 turns and 3,937 feet in elevation gain. The highest point of the road is 1.300m above sea level, and the lowest point is 200m. The road took eight years to finish with work starting in 1998 and finishing in 2006. The road called 'Heaven-Linking Avenue' requires extra care, slow drive and attention to all the curves in it when driving through it.
Hana, Hawaii
This 64.4-mile (103.6 km) road of Hawaii Routes 36 and 360 that links Kahului with the town of Hāna in Maui is another dangerous road. The highway is narrow and winding  and it passes over 59 bridges, 46 of which are only one lane wide. The road is the route to several famous treasures including the Seven Sacred Pools. But the dirt road past Route 31 is sometimes closed to traffic thanks to landslides and most major rental car contracts forbid driving this section.
Perdikaki-Patiopoulo, Greece
Perdikaki-Patiopoulo road is a mountain road with a length of 23,5 km, situated in the northeastern part of Aetolia-Acarnania, Greece. The road starts in Perdikaki a village at an elevation of 700 meters above the sea level, and winds uphill to Patiopoulo, rising to an altitude of 1,160 meters. This road filled with potholes is bustling with pedestrians, livestock, trucks, buses, cars and claim many lives every year. It is narrow and busy with a sheer drop on either side of its slope and no guard rails or prevention to stop a vehicle from going over. It has a very little grip for the vehicles that travel on it and it is widely slippery when it rains.
Though it has gravel for grip in most places, there are no lines to determine the location of the edge making it even difficult to avoid drops even in the light. There is no light to guide you at night so, unless you want to risk your life, don't try this road at night.
Halsema Highway, Philippines
Halsema Highway is another terrific road in the world. The road is a Philippine major highway in northern Luzon that stretches from the city limit of Baguio to the municipality of Bontoc, Mountain Province. With its great point at 7,400 ft above sea level in the municipality of Atok, Halsema highway is officially the highest altitude highway in the Philippines–even higher than Mt. Banahaw's peak. Though renovations have largely improved the construction that was put in place when the road opened in 1930, making it less dangerous, some parts are still very dangerous.
Gotthard Pass, Switzerland
Gotthard pass is one of the wild roads around the world that will get your adrenaline pumping. The road is a mountain pass in the Alps, connecting northern to southern Switzerland. This road connects the Uri and Ticino, in Switzerland.
Pasubio, Italy 
Pasubio is the name of a street located in Northern Italy and is popular for its panoramic beauty. The stretch is famous for its incredible views, and the 52 hand-carved tunnels and crazy driving conditions. But it turns out this way is a well-known extreme path. Driving on this road could be a challenge for anyone. The road has narrow lanes flanked by ravines and cliffs which can pump the adrenaline of any traveler. The road is old and the government has tried to shut it down to save the residents.
Stelvio Pass
Stelvio is a mountain pass in northern Italy, at an elevation of 2,757 m (9,045 ft) above sea level. It is the highest paved mountain pass in the Eastern Alps, and the second-highest in the Alps, just 13 m (43 ft) below France's Col de l'Iseran (2,770 m (9,088 ft). It's one of the busiest of the ultra-high passes in the Alps and it runs from the Lombardy region to Austria. When driving through this road, ensure you don't get too carried away with the view as you will have to navigate 48 dangerous hairpin bends. Voted Top Gear's "greatest driving road in the world" the Stelvio pass is located in the Ortler Alps in Italy between Stilfs ("Stelvio" in Italian) in South Tyrol and Bormio in the province of Sondrio.
Sichuan-Tibet Highway (China)
The Sichuan-Tibet Highway is a high-elevation road that starts in Chengdu of Sichuan on the east and ends at Lhasa in Tibet on the west. The road with a length of 2,142km was formerly known as the Kangding-Tibet Highway (a section of the No. 318 National Trunk Highway).  It has large landscapes with majestic peaks vaulting skyward. Landslides and rock avalanches are common. It has a record of more than 7,500 deaths for every 100,000 drivers. With its rock slides, avalanches, and poor weather, drivers need to use caution. It is certainly a road to be feared.
Skippers Canyon, New Zealand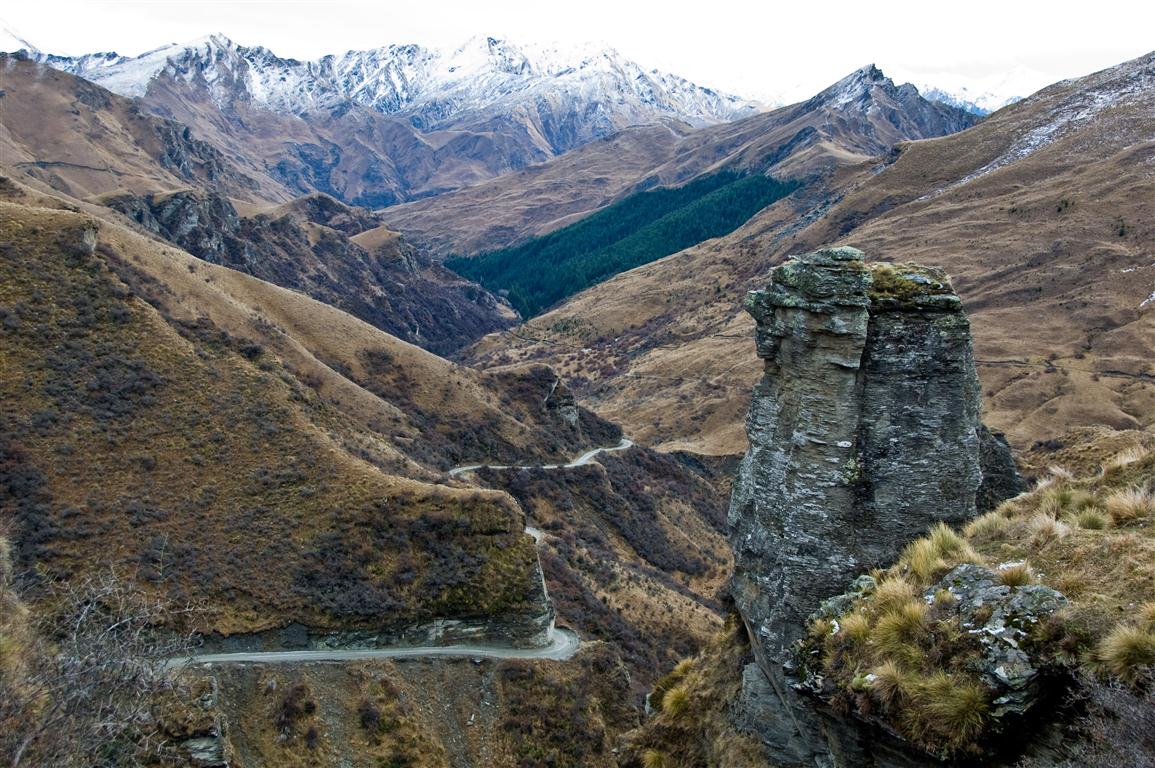 The Skippers Canyon is a road in the south-west of New Zealand's South Island. The road is one of New Zealand's better known scenic roads. This gravel road, with a length of 16,5 miles, carved by hand by miners over 140 years ago is made from a very narrow cut in the middle of a sheer cliff face. Worse, this road narrow and windy goes both ways. So you can imagine how scary and difficult it will be if suddenly there was a car speeding up in the opposite direction.
The road is a narrow, winding, and exhilarating treacherous pathway that twists and turns for about 16 ½ miles through Canyon. It's too narrow for vehicles to pass each other in most parts. Also, there are no guard rails, and the drop-offs leave absolutely no room for error. So you need to be careful when driving through this road.
Zoji La, India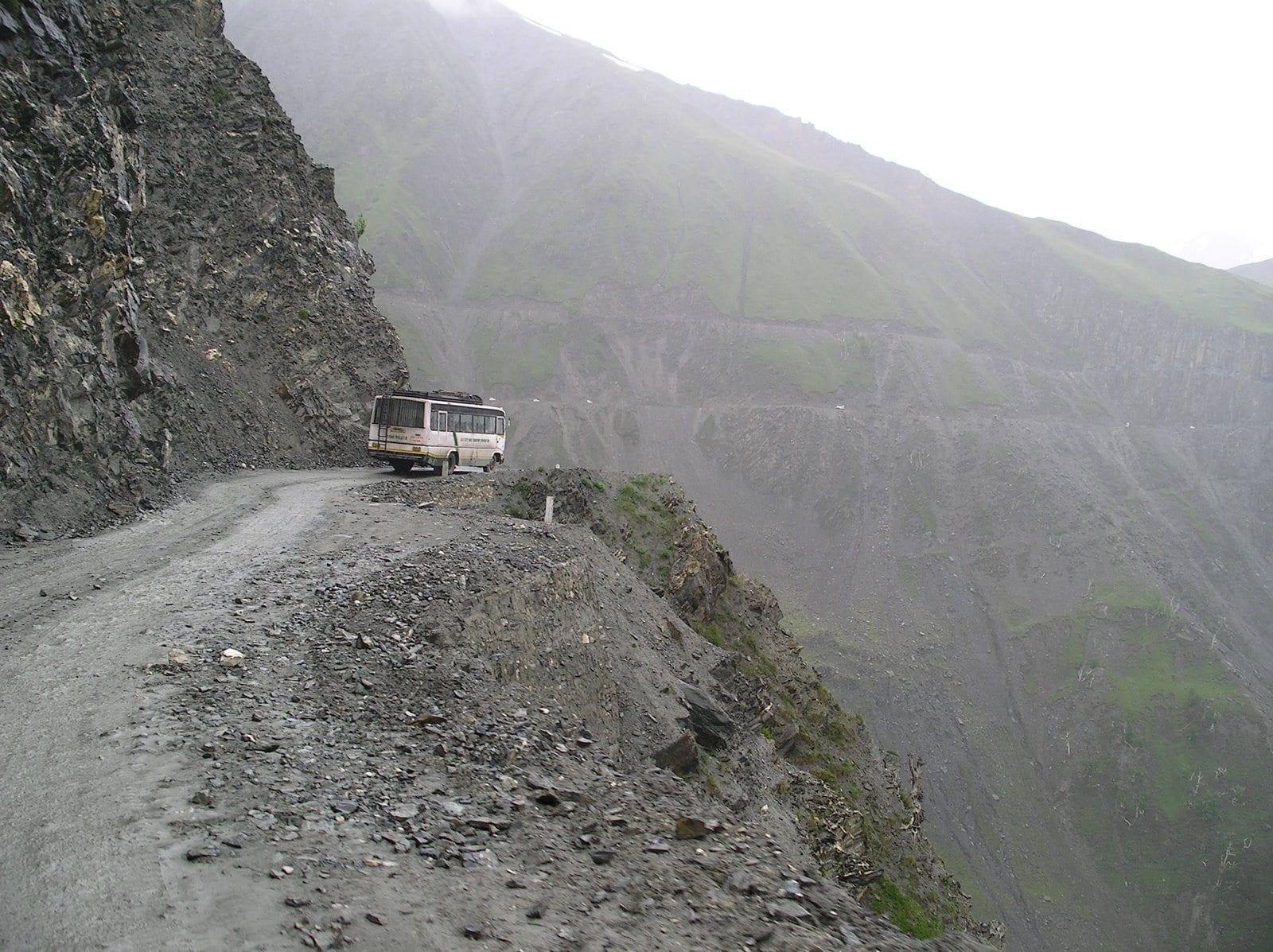 Zoji La is one of the crucial mountain passes in India. The pass lies Amid Leh in the Western Himalayan Mountain Ranges and Srinagar with an elevation of 11,575 ft (3,528 meters) above the sea level. This is considered as one of the riskiest passes in the world and in this area. The pass offers an important connection between Ladakh and Kashmir.
Pan-American Highway, Alaska to Argentina
Though many risky roads branch off the Pan-American Highway, the highway itself can be fairly risky as well. This road has been called the "longest motorable" road in the world as you can travel by car from the stretches of Alaska down to the tip of South America, which is about 30,000 miles in total. Crossing two continents and traversing through jungles, mountains, glaciers, and deserts can pose challenges.
Cotopaxi Volcano Road, Ecuador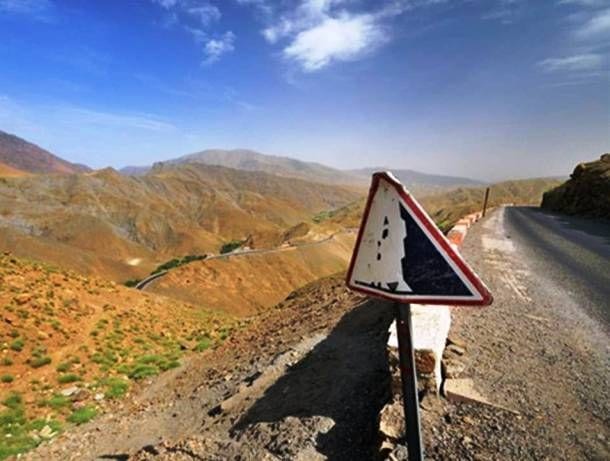 Enormous potholes, slippery slopes, and all-around dangerous driving conditions make this a road a bit of a challenge. The 40-km long dirt track links Pan American highway with the Cotopaxi Volcano National Park in Ecuador.
Note that Cotopaxi is one of the highest active volcanoes in the world and according to record, it has had more than 50 eruptions since 1738. Local population, their settlements, and fields face a high risk as several valleys formed by powerful lahars surround the volcano.
The 40-km dirt track is covered in potholes and runs through streams that like to flash flood. It is not the best choice if you're on a family vacation. It has numerous potholes that are hidden amongst the 25-mile dirt road, and a small stream that is a source of dangerous (and fatal) flash floods with even the slightest amount of rain, this tiny road linking the Pan American Highway with Cotopaxi Volcan National Park is one that claims the lives of quite a few tourists every year. This road seems to be the most dangerous section among other precarious sections branching off the Pan American highway.
Along with the Trans Canada Highway and Australia's Highway 1, the Trans-Siberian Highway is one of the longest in the world. In order to get from Vladivostok to St. Petersburg, it stretches forests, mountains, deserts, and everything in between. Much of it is unpaved and certainly not ideal for a casual Sunday drive. Unless you are up for a challenge, you better walk or something.
Arica to Iquique Road, Chile
The section of  Route 5 locally called Ruta 5 that links Arica and Iquique is a sheer risky drive. Though it may appear simple, this road can be dangerous to travelers. The deep valley and the mono-colored scenery can blind divers. The surrounding landscape is bare, about vivid and is often empty of any distinguishing characteristics. It is easy to lose focus on this road. Also, constant dense fog can decline visibility to zero in the blink of an eye if losing your concentration wasn't enough to get at you. This road catches speeding unwary drivers unknowingly giving rise to many fatalities annually.
National Highway 22, India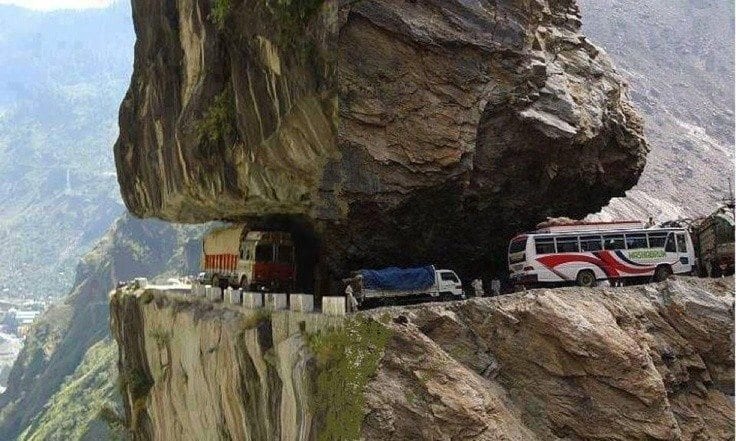 National Highway 22 is one of the world's deadliest and most terrific roads. The road located in India has risky cliffs, poor bridges and tunnels, heavy traffic and very bad conditions. It has hazardous driving conditions that will drive you to naught. The 459 km (285 mi) National Highway in Northern India starts asphalted in Ambala, a city in the Ambala district in the state of Haryana. part of the road is a mountain road with extensive hairpin turns. The conditions at this point are extreme. It usually has heavy traffic, dangerous cliffs, poor bridges and tunnels on a very narrow road poorly surfaced.