While you work tirelessly saving up some nickels and quarters hoping to someday afford a decent vacation, the elites have made it a habit of making all and sundry jealous, spontaneously going on lavish trips and holidays like no man's business. The thought of this can either make you green-eyed or be a source of inspiration, a reminder not to give up on chasing the Benjamins; at least not until you have done absolutely well for yourself. These days it seems like the more billionaires emerge, the more smart businessmen who also desire the elite status have risen to create exquisite luxury that doesn't fail to woo the rich. Fancy hotels, of course, are not left out of these luxuries.
Most Expensive Hotel Suites From Around The World
Wondering where these elites lay their heads when they go on one of their expensive holidays? Then here, we bring you the most expensive hotel suites from all around the world that constantly have the elites checking into them. Brace yourselves, because some of the price tags are utterly outrageous; but considering how marvelous they look, I could almost say they are priceless.
20. Royal Armleder Suite, Le Richemond – Geneva, Switzerland
Price per night: $22,000
Le Richemond Hotel's Royal Armleder suite has three bedrooms and an ensuite bathroom which comes with L'Occitane bath products. Its private terrace is big enough to hold a cocktail party if you like and also gives a panorama view including the Lake Geneva, the Alps, the old town and the St. Pierre Cathedral. There is also a private hammam (bathhouse) available for relaxation.
19. Bridge Suite, Royal Towers, Atlantis Paradise Island – Bahamas, USA
Price per night: $24,400
The Bridge Suite located on the Royal Towers of the Atlantis Resort is the premium of all accommodations available at the exquisite vacation spot. The suite derives its name from its location – on the 16th floor connecting two towers of the luxurious resort. The 10-bedroom suite has loads of perks including a giant piano, two entertainment centers, and a 24-karat gold chandelier. The floor-to-roof windows give eye-watering views of the paradise island. Visitors also have access to ample water slides, lagoons, pools and beaches.
18. Champagne and Jewel Suites, Lotte New York Palace – New York, USA
Price per night: $24,700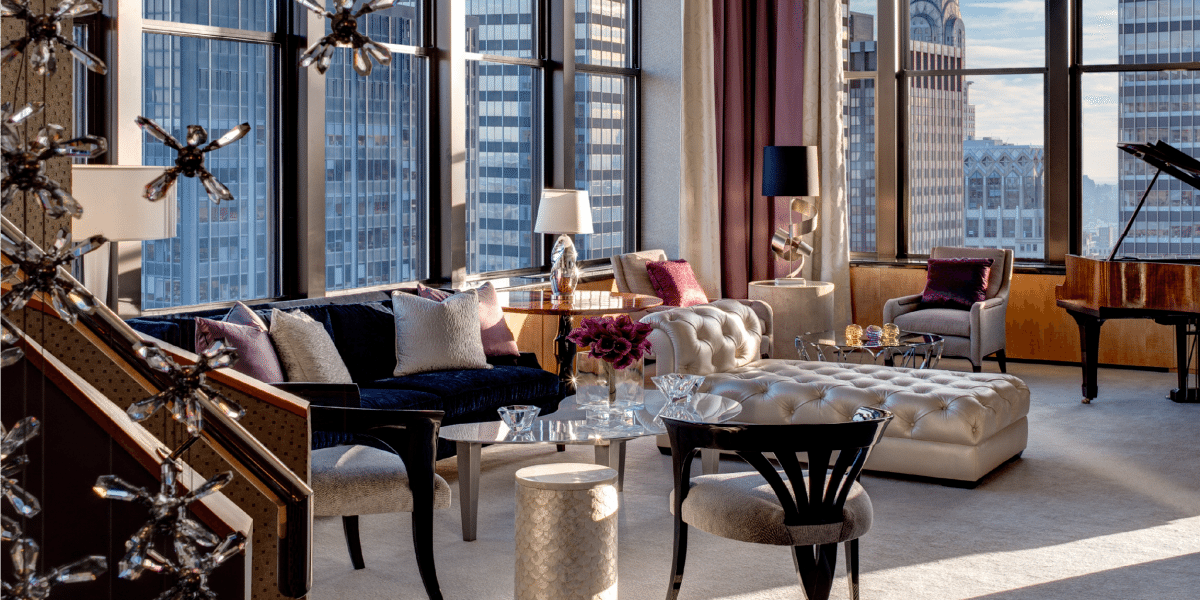 The Palace's most expensive suites are the Champagne and Jewel suites. Both suites were introduced to the hotel lately after it underwent a $40 million refurbishing. The 5,000 square feet penthouse suites both represent what they are called. The Champagne suite has each of its rooms featured with a wine cave of a particular kind of Dom Perigon Champagne. The Jewel suite likewise has Martin Katz jewelry floating down its walls. Their top to bottom windows gives a good wood view of the Empire State Building. Extra amenities include a private elevator and a private Maybach car service.
17. The Penthouse, Four Seasons Hotel George V – Paris, France
Price per night: $25,300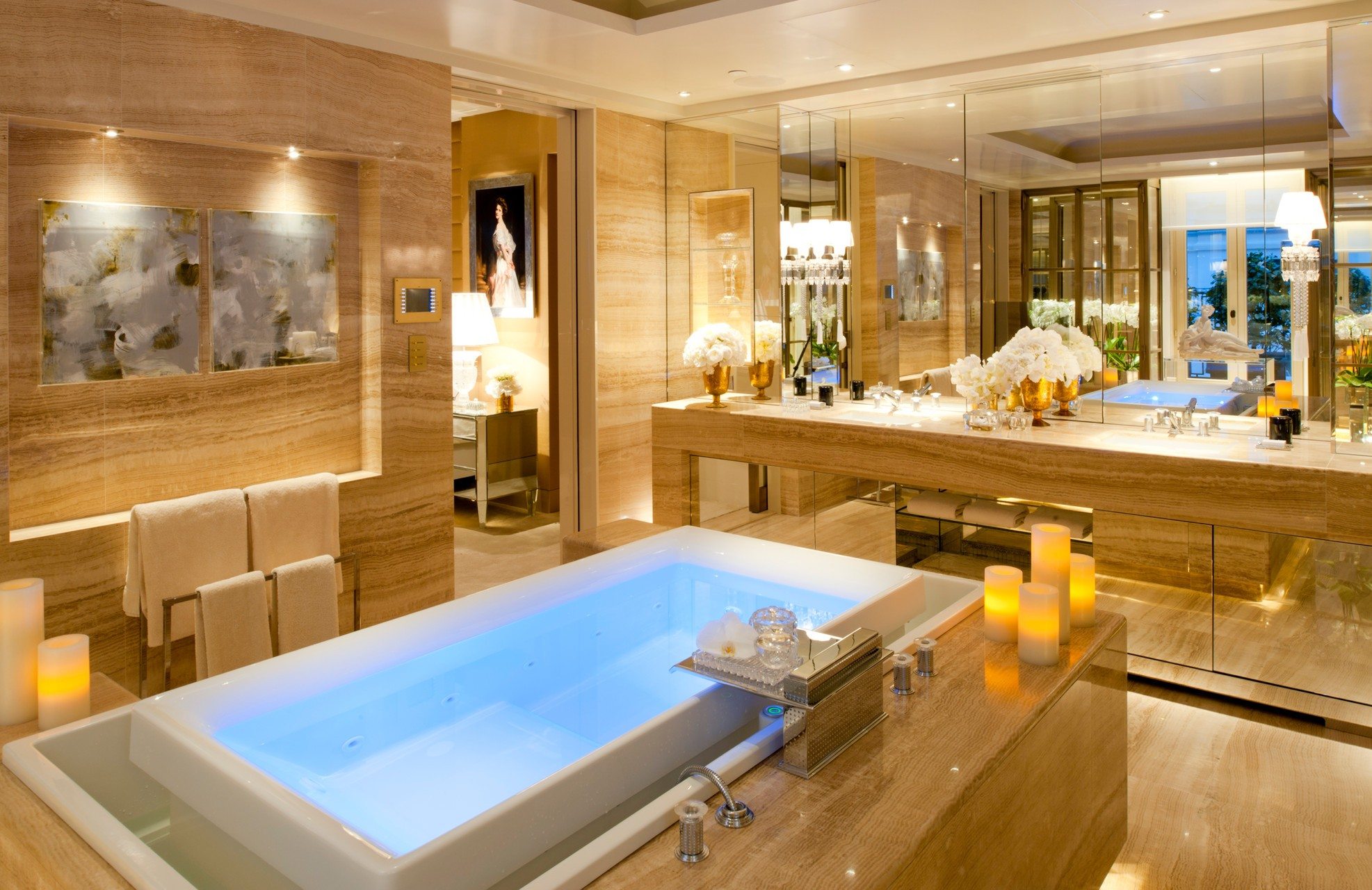 The Penthouse found on the 8th floor of the Four Seasons Hotel George V was designed as a similitude of an elegant Parisian condo. Topping its exclusive features is the astonishing floral fabric adorned winter garden demarcated from the living area by a wrought iron door; a perfect place to sit out and savor the amazing views of Paris while having a dinner or sipping on a drink. Another surprise of this suite is the breathtaking beige themed bathroom, so luxurious it could pass for a lounge. The suite's six terraces also provide a bird's eye view of the American Cathedral, the Eiffel Tower, City of Light, the roofs of the Madeleine, the Opera and the Pantheon. It is indeed a perfect destination for a romantic getaway!
See also: Top 15 Richest Royals In World
16. Presidential Suite, Hotel Cala di Volpe – Porto Cervo, Italy
Price per night: $26,000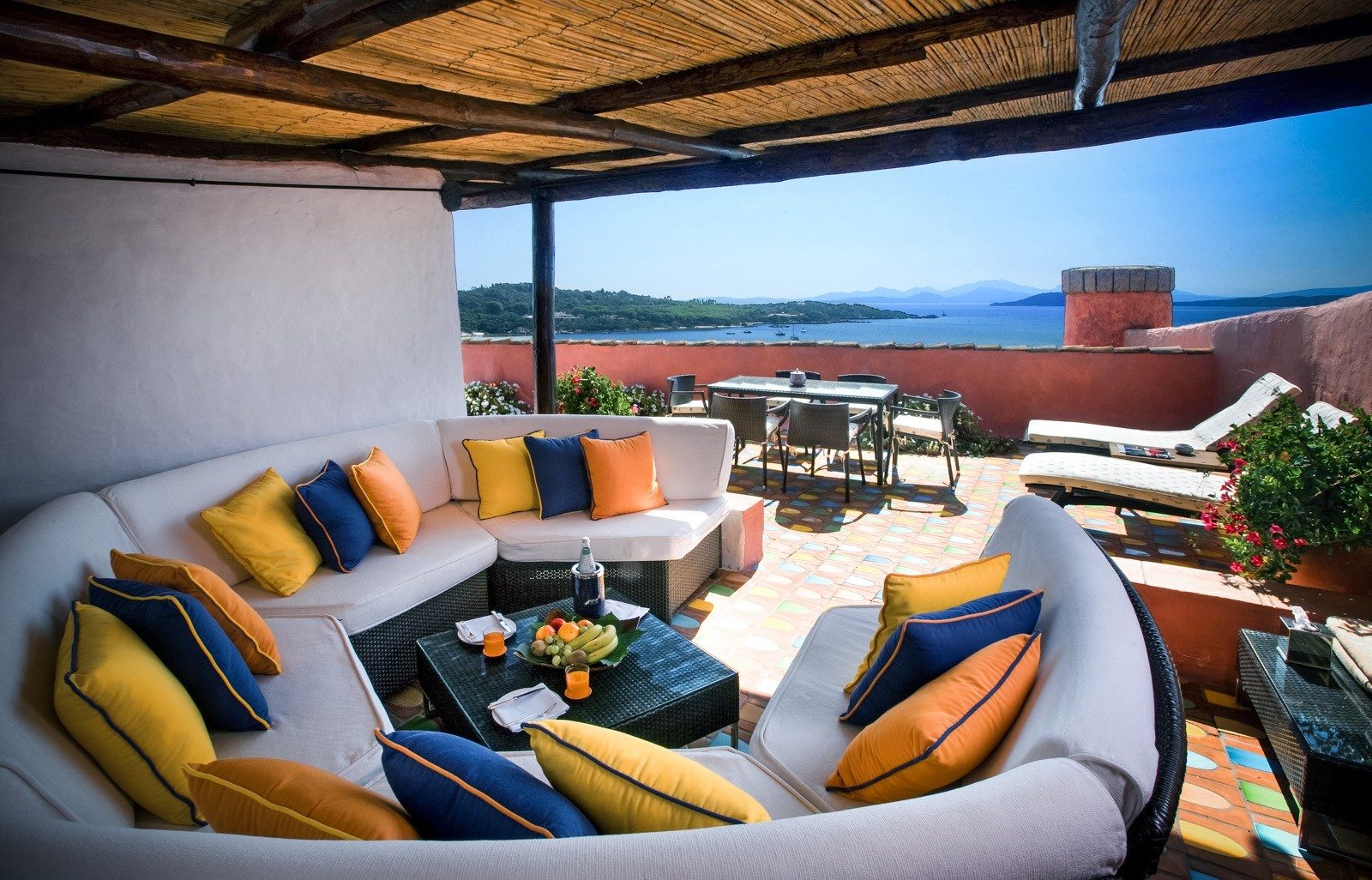 The Hotel Cala di Volpe offers the best of luxury in Italy. Its three-bedroom presidential suite decorated with glowing ceilings and terracotta-tiled floors boast a fitness area, its own private swimming pool, and a solarium. Visual access to the alluring coastline of the city is also provided via its wide terrace.
15. Shangri-La Suite, Shangri-La Bosphorus – Istanbul, Turkey
Price per night: $26,390
The Shangri-la Suite offers exclusive luxury that blows the mind. Despite the fact that every other suite on this list comes with many perks and surprises, its 19-inch TV embedded in its marbled, heated floor bathroom mirror could be the most fascinating of them all. The bathroom also has all of its toiletries produced by Bulgari. The suite which takes up the hotel's entire 6th-floor boasts of three private terraces which all offer a view of Istanbul's most prominent silhouettes.
14. Presidential Suite, Mandarin Oriental – Pudong, Shanghai, China
Price per night: $26,450
Mandarin Oriental's most expensive and deluxe suite – the Presidential Suite is a 788-square meter condo that occupies more than half of its 25th floor. The suite has a wine bar, a private wine cellar, a dining room, a completely implemented kitchen, and a private meeting room. Its 50-square meter bathroom stored up with Ormonde Jayne luxury bath products is described as the best among its counterparts in the city. Moreover, the suite's rooftop offers two private gardens that grant extensive view to the striking radiance of Shanghai. You'll also have access to a full spa and an in-door pool.
See Also: Most Expensive One Bedroom Flat In London
13. The Apartment at The Connaught Hotel – London, UK
Price per night: $26,500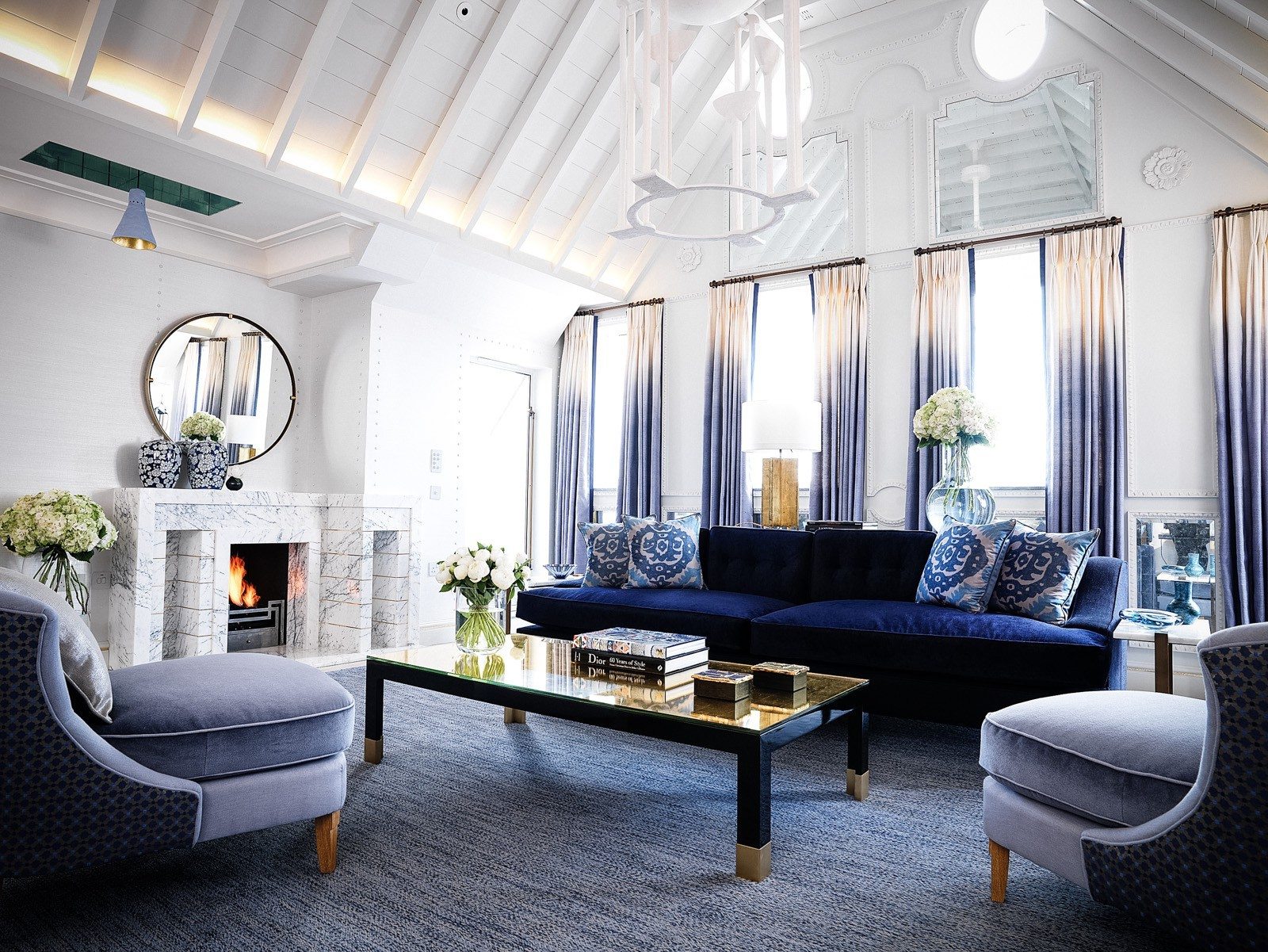 Connaught Hotel's The Apartment is undoubtedly one of London's most renowned luxury suites. The two-bedroom lilac and navy blue themed penthouse was designed by the late legendary architect and interior designer, David Collins. The suite's dual terrace as designed by Tom Stuart-Smith offers a purview including the chimneys and rooftops of Mayfair. Upon arrival, hotel souvenirs consisting Christian Louboutin satin heels, Lanvin silk dresses, and Balenciaga suede jackets await guests. Its reception room also contains vast specially commissioned artworks, thoroughly selected antiques and limited edition books. In addition, the Hotel's unique butlers are on the alert to serve meals cooked by a Michelin-starred chef – Hélène Darroze.
12. Royal Suite, Hôtel Plaza Athénée – Paris, France
Price per night: $27,000
The Royal Suite at Hôtel Plaza Athénée is among the famous Dorchester collections and is the largest hotel room in Paris. It touts 3 living rooms, 4 ensuite bedrooms, 2 drawing rooms, an office and a kitchen. The suite's theme redesigned in 2012 by Marie-José Pommereau, one of France's finest decorators reflects the city's rich culture, history and elegance, having French Regency furniture, gorgeous antiques and highlights of silk and damask. Though the design dates back to the 18th century, the Royal Suite isn't devoid of modern technologies like TV's hidden behind smoked mirrors, a steam room and Jacuzzi. Also, its spacious porch gives a view of Avenue Montaigne and the Eiffel Tower.
11. The Royal Penthouse, Corinthia Hotel – London, UK
Price per night: $27,000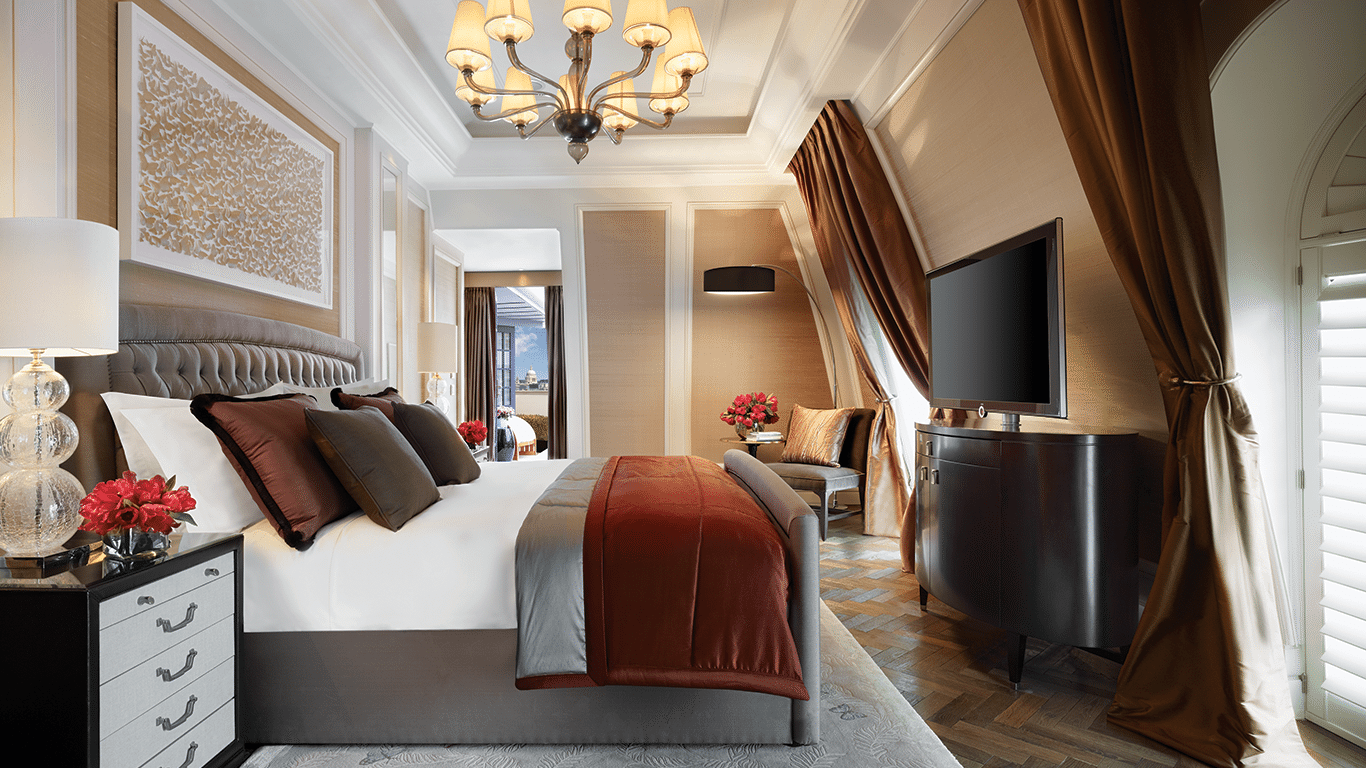 Corinthia Hotel's The Royal Penthouse spans two floors measuring 5,000 square-foot. The grand sweeping circular stairway with a decorative floral artisan balustrade and stunning chandeliers are among the wow factors of this suite, sight of them is enough to make one feel like royalty. There are four bedrooms, a spa, wine cellar, an oval dining table that seats up to 10, and a fridge stored with Harrods products. Amazingly, the rooftop terrace offers a 180 degree incredible wide view including St. Paul's Cathedral, Millennium Wheel, Big Ben, Nelson's Column, and more. There's of course, also a team of professional butlers and chefs.
See Also: 15 College Drop-Outs That Became Billionaires
10. Royal Bridge Suite, Atlantis The Palm – Dubai, UAE.
Price per night: $30,000
The luxury of the Royal Bridge Suite makes apparent the UAE's love for optimal opulence. The most exclusive on Dubai's Atlantis The Palm, the suite spans 924 square-meter and features three bedrooms with ensuite bathrooms. The master bedroom as befitting has two extraordinary bathrooms (male and female). Its dining which seats up to 16 has its table adorned with gold. There is also a media center, a game room, massage room and a library. Extra perks include; dolphin encounters, access to the hotel's Aquaventure water-park and N'Dulge nightclub, private training sessions and more. The entire suite combines Arabian sophistication with the latest facilities. The suite in 2014 entertained reality TV superstar, Kim Kardashian.
9. The Presidential Suite, The St. Regis – New York, USA
Price per night: $33,000
The St. Regis' most expensive suite, The Presidential Suite was redesigned in 2013 by Richard Mishaan and goes for jaw-dropping $33,000 for just a night. In addition to its 3 bedrooms, is a full kitchen, dining room, living room, library, plus butler services, 4 bathrooms with deep bathtubs, and unlimited access to a fleet of chauffeured Bentley; and if you are a movie lover, the suite also offers complimentary in-room movies.
See Also: 20 Most Expensive Houses In The World And Their Owners
8. The Royal Villa, Grand Resort Lagonissi – Athens, Greece
Price per night: $35,000
The Royal Villa has two master bedrooms, each with a fireplace, an extra-large bathroom, plus a smaller one for guests, a gym, and a massage table. Located near the Aegean sea, the Grand Resort Lagonissi offers the best of nature with the presence of a beach. To further enhance the outdoor experience, there is a private marina and sunbathing deck. There is also an onsite butler to see to all orders. The resort is a favorite holiday getaway for celebrities and has welcomed the likes of Mel Gibson and Leonardo di Caprio.
See Also: Hotels You Never Knew Were Owned By Celebrities
7. Royal Suite, St. Regis Saadiyat Island Resort – Abu Dhabi, UAE
Price per night; $35,000

The Royal Suite of the St. Regis Saadiyat Island Resort is a duplex that sits on a gigantic 22,600 square feet. The four-bedroom suite has a Steinway piano in its living room, a dining that seats 12, a game room, a spa, a movie theatre an outdoor pool and a sauna. The beige, teal and sand earth tones of its walls complement the hotel's natural environment.
6. Penthouse Suite, Grand Hyatt Cannes Hôtel Martinez –  Cannes, France
Price per night: $37,500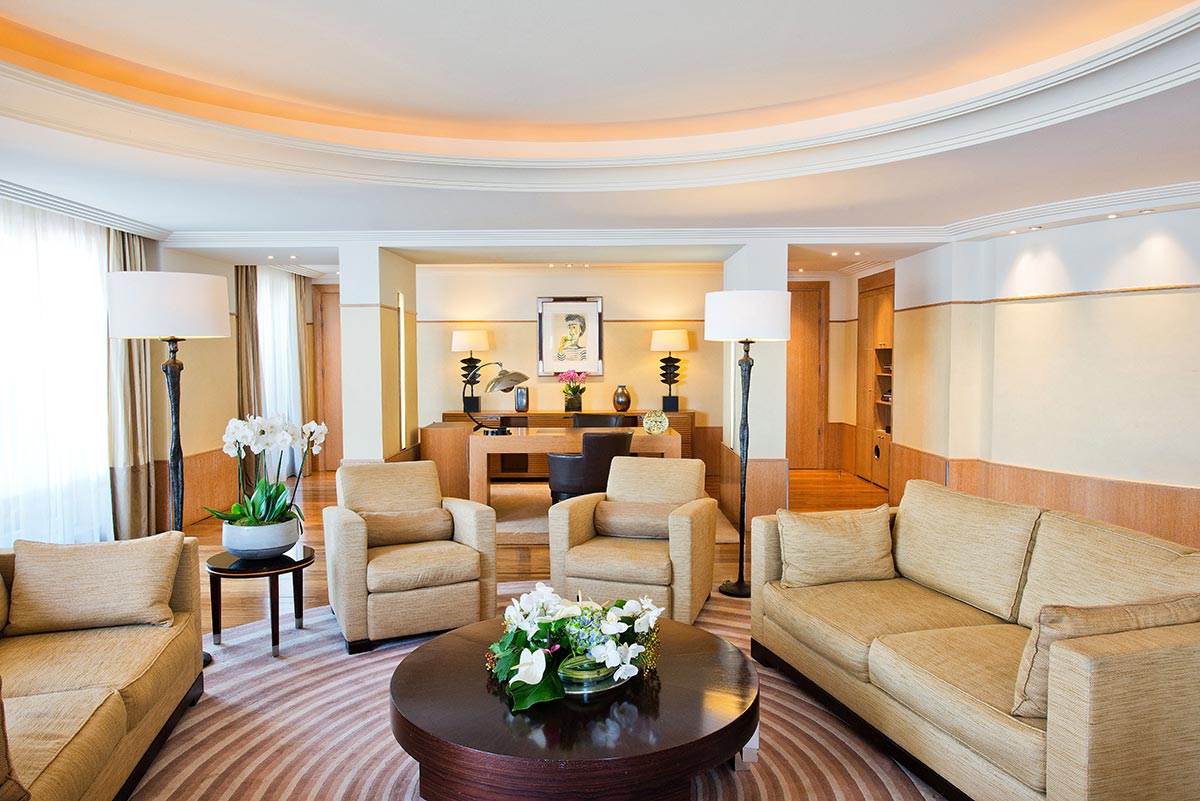 The Penthouse Suite occupies the 7th floor of the Grand Hyatt Cannes Hôtel Martinez. It boasts two master bedrooms with two marble bathrooms, a living room, and a dining room. Its spectacular private terrace from where the Bay of Cannes can be sighted is not only large but comes with a Jacuzzi.
Maybe, the Penthouse Suite owes its staggering price tag to the fact that the hotel's beach is the largest in the whole of Cannes. The suite is also notable for accommodating German, French, US and Italian forces during the World War II. Presently, it is celebrities' topmost favorite lodge during the annual Cannes Film Festival.
5. The Empathy Suite, Sky Villa, Palms Casino Resort – Las Vegas, USA
Price per night: $40,000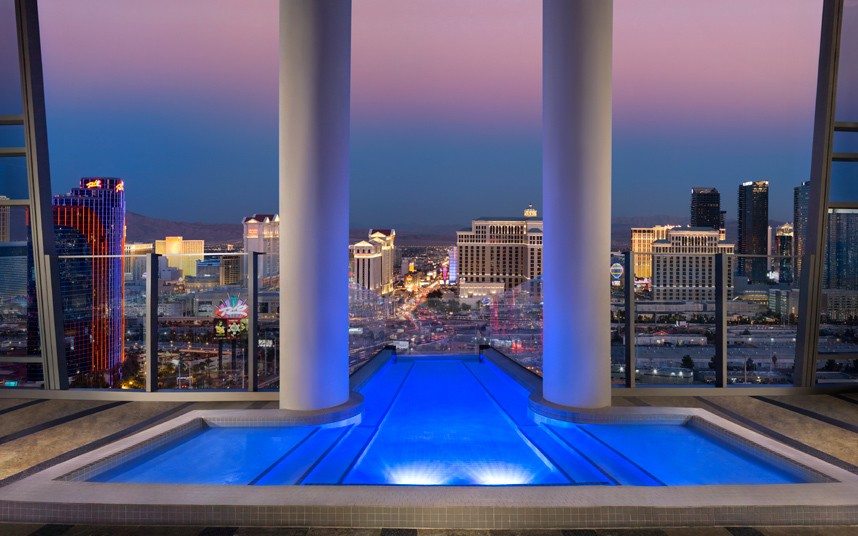 The two-story 9000-square feet Empathy Suite in Palms Casino Resort's Sky Villa is not found wanting in splendor, the reflection of soft lights on its colored walls makes it look undeniably cozy and romantic even. Think of dousing in its cantilevered Jacuzzi pool on one of its private terraces that overlooks the strip, sweating it out in an 8 capacity dry sauna, or having yourself pampered in its massage room available in the second floor. The suite also has a fitness room, a private glass elevator, a 24-hour butler service, and a media room equipped enough to hold a private party if you so wish. For lovers of the b-ball game, access to the hotel's indoor hardwood basketball court is granted.
4. Hilltop Estate Owner's Accommodation, Laucala Island Resort – Laucala Island, Fiji
Price per night: $40,000
Fiji, a country blessed with white sand beaches and numerous astonishing islands with round the year tropical weather, is absolutely the perfect destination for any kind of getaway. The Hilltop Estate owned by Austrian Red bull billionaire, Dietrich Mateschitz is one of the 25 luxurious villa's present on the Laucala Island. The many perks that come with this island include; massage at the spa, gourmet meals from a private chef, a chauffeur, and an exclusive horseback riding from which one can tour the amazing natural features of the island.
3. Ty Warner Penthouse, Four Seasons Hotel – New York, USA
Price per night: $45,000
The Ty Warner Suite takes its name from the hotel's owner, Ty Warner – the inventor of Beanie babies.  The suite which cost a whopping $50 million and a duration of 7 years to construct was designed by  I.M Pei and Peter Marino. The roof is of cathedral ceilings and diamond skylights. Its polished 9 bedrooms are made of artisan materials while the bedding is of Japanese silk and Venetian velvet. The super luxurious suite also boasts concealed sound systems, personal butler and trainer, a spa, a Rolls Royce chauffeur, and a library. Its roof to floor windows and four glass made balconies gives a 360 degree sight of Manhattan's skyscrapers. Going for a whopping $50k per night, the Ty Warner suite is arguably the best among its counterparts in the city.
2. Shahi Mahal Suite at Raj Palace Hotel – Jaipur, India
Price per night: $60,000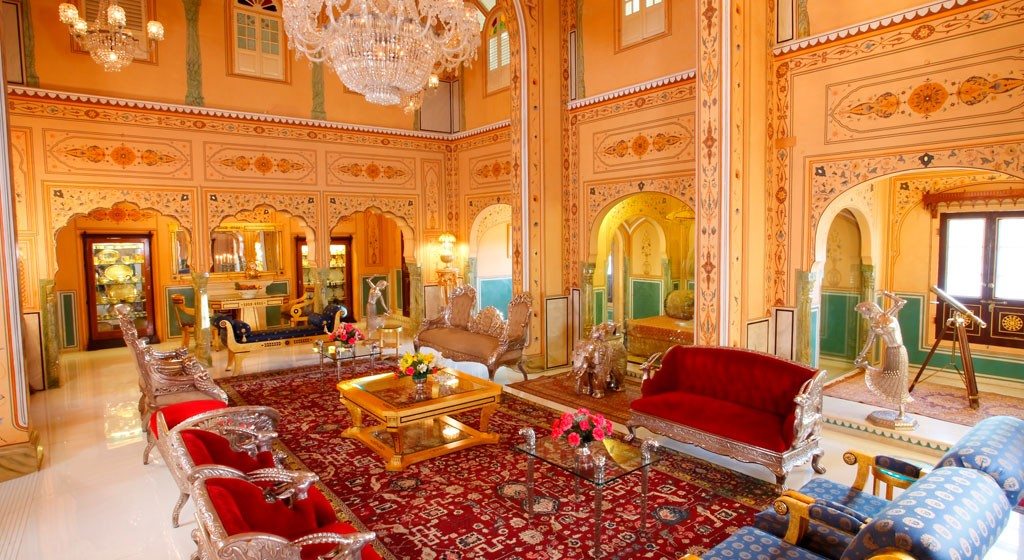 The Raj Palace like the name implies was formerly a palace since 1700's before it was converted to a hotel, a fact that gives it some spectacular features. Every nook and cranny of the hotel glows, with gold and silver plated architectural ornaments at every angle you turn. The hotel's Shahi Mahal Suite is a 6-bedroom, 1500-square-meter apartment comprising a library, a theatre, a bar, a dining room, a team of personal butlers and kitchen staff, a private rooftop pool and terrace and a private museum. It remains one of Asia's biggest hotel suites.
1. Royal Penthouse Suite at the Hotel President Wilson – Geneva, Switzerland
Price per night: $67,000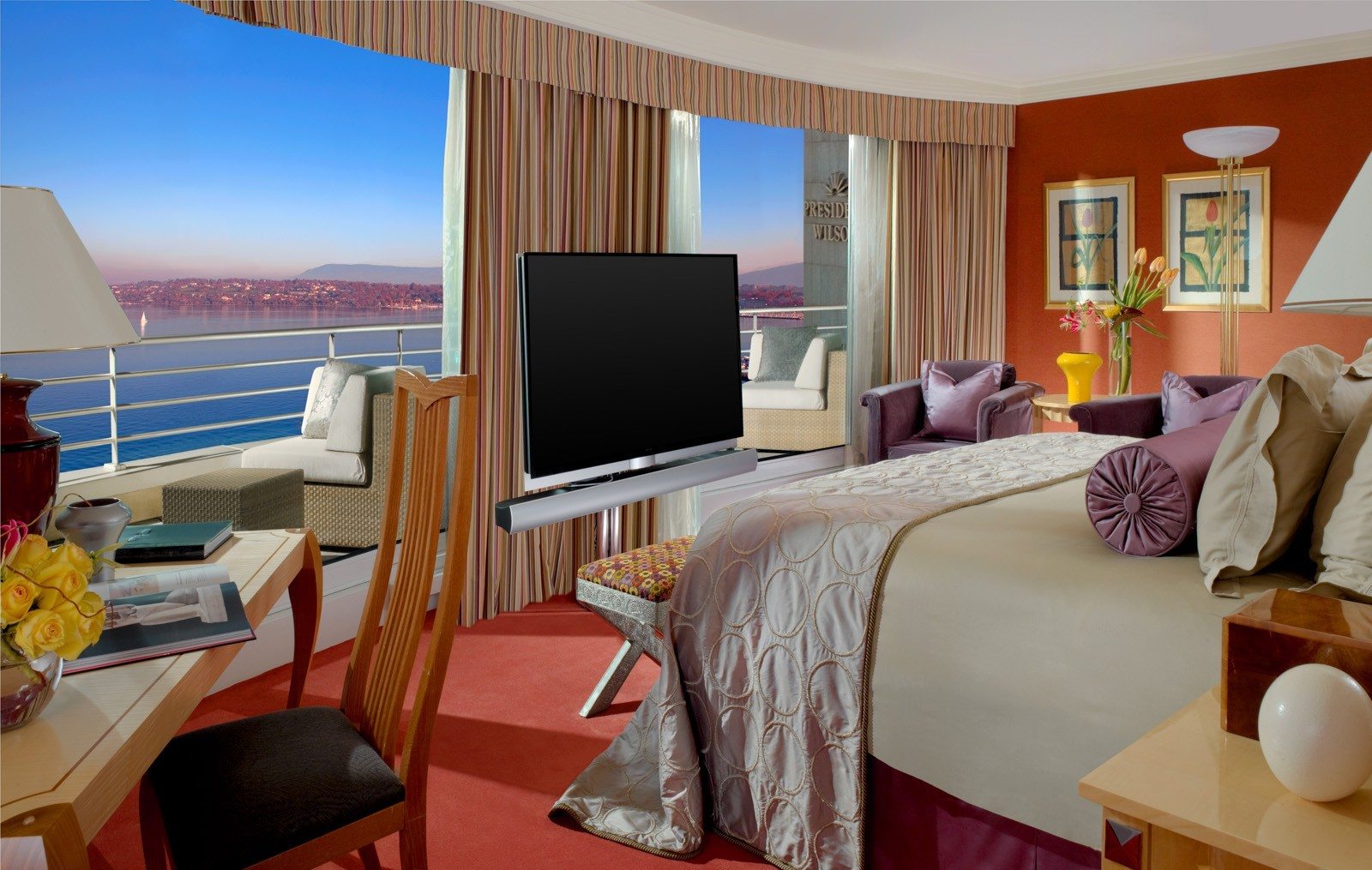 Here's what the most expensive hotel suite in the world offers: 12 bedrooms,12 marble bathrooms, Persian rugs, armored doors, bulletproof windows, a human-sized safe, 1700 sqm balcony (offering a view of Lake Geneva and the Alps), Steinway grand piano, helipad, private elevator, private fitness area, a billiard room, a saloon with the world's largest TV – Bang & Olufsen BeoVision 103 inch, and every other modern amenity you can think of.
Taking up to 1600 sqm, Hotel President Wilson's Royal Penthouse Suite recently emerged World Travel Awards' World's Leading Hotel Suite. The indescribable suite has entertained celebrities including Bill Clinton, Richard Branson, Micheal Douglas, Micheal Jackson, Rihanna and of course the world's richest man, Bill Gates.
Here's a quick recap of the World's 20 Most Expensive Hotel Suites:
Royal Penthouse Suite at Hotel President Wilson – Geneva, Switzerland
Shahi Mahal Suite at Raj Palace Hotel – Jaipur, India
Ty Warner Penthouse, Four Seasons Hotel – New York, USA
Hilltop Estate Owner's Accommodation, Laucala Island Resort – Laucala Island, Fiji
The Empathy Suite, Sky Villa, Palms Casino Resort – Las Vegas, USA
Penthouse Suite, Grand Hyatt Cannes Hôtel Martinez –  Cannes, France
Royal Suite, St. Regis Saadiyat Island Resort – Abu Dhabi, UAE
The Royal Villa, Grand Resort Lagonissi – Athens, Greece
The Presidential Suite, The St. Regis – New York, USA
Royal Bridge Suite, Atlantis The Palm – Dubai, UAE.
The Royal Penthouse, Corinthia Hotel – London, UK
Royal Suite, Hôtel Plaza Athénée – Paris, France
The Apartment at The Connaught Hotel – London, UK
Presidential Suite, Mandarin Oriental – Pudong, Shanghai, China
Shangri-La Suite, Shangri-La Bosphorus – Istanbul, Turkey
Presidential Suite, Hotel Cala di Volpe – Porto Cervo, Italy
The Penthouse, Four Seasons Hotel George V – Paris, France
Champagne and Jewel Suites, Lotte New York Palace – New York, USA
Bridge Suite, Royal Towers, Atlantis Paradise Island – Bahamas, USA
Royal Armleder Suite, Le Richemond – Geneva, Switzerland