Movie stars and pro athletes are not the only ones raking in big bucks in this world. Another class of professionals who are equally smiling to the bank and enjoying huge paydays are celebrity chefs. Thanks to their abilities to whip up extraordinary cuisines, which rival works of arts, these talented individuals boasts of empires comprising of restaurants located all over the globe.
These chefs have also been able to transcend the culinary world as they now have book deals and TV shows to their names. Throw in merchandising and endorsement deals and you will realize that cooking now goes beyond some mundane home task and is a multi-billion dollar empire. Without much further ado, we present to you the individuals who have expertly carved out their share of this lucrative business to rank among the richest celebrity chefs in the world.
Richest Celebrity Chefs and their Net Worth
20. Mario Batali
• Net Worth – $25 million
• Nationality – American
Mario Batali currently occupies the 20th spot on the list of the richest celebrity chefs in the world but that status is under threat as a result of his present predicament. The ace American chef has been accused of sexual assault by several women and this has cost him his TV shows. Various departmental stores have also stopped carrying his sauces and cookbooks, and the man himself has been forced to close down his restaurants or sell his stake in them. It is truly hard to state whether Batali would be able to make a comeback or if this is the beginning of the end for his career.
Did You Know?
Batali was named the GQ Man of the Year, chef category, in 1999.
19. Guy Fieri
• Net Worth – $25 million
• Nationality – American
Guy Fieri is not just talented in the kitchen but is also an astute businessman who has made some money by branching out into the wine industry. Such acumen has helped him become one of the richest celebrity chefs in the world but he is not all about the money though. During the covid-19 pandemic of 2020, Fieri spearheaded a fund-raising effort that yielded over $20 million. The funds were used to provide financial relief for restaurant workers who had lost their jobs and livelihoods as a result of the lockdown imposed by several countries to stem the tide of the disease.
Did You Know?
Fieri's very first NYC restaurant, Guy's American Kitchen and Bar, received horrible reviews from the New York Times upon opening in 2012. It nevertheless went on to become one of the top-selling spots in the city due to its location in Times Square.
18. Rick Bayless
• Net Worth – $30 million
• Nationality – American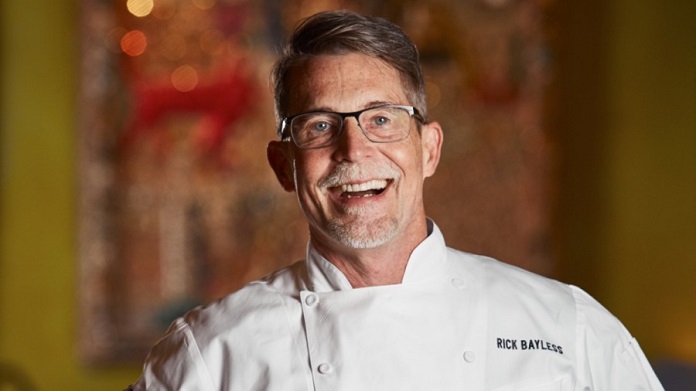 Rick Bayless has distinguished himself with the level of academic research that backs up his work. Prior to becoming an executive chef in the 80s, he completed his bachelor's degree at the University of Oklahoma before going on to obtain a master's from the University of Michigan. He subsequently embarked on his Ph.D. but dropped out to concentrate on cooking. Not completing his Ph.D. did not mark the end of Bayless's research prowess as he would later embark on a six-year-long culinary research that culminated in his renowned 1987 book, Authentic Mexican: Regional Cooking from the Heart of Mexico.
Did You Know?
Rick Bayless was one of three chefs that were tipped to serve as the White House executive chef under the Obama Administration. The appointment, however, later went to someone else.
17. Giada De Laurentiis
• Net Worth – $30 million
• Nationality – Italian-American
Giada De Laurentiis is one of the few women who made it to the list of the 20 richest celebrity chefs in the world. She is not only endowed with extraordinary cooking skills but also has good looks and a charming personality. All these have helped her become a force to be reckoned with on TV and she has gone on to host several shows on the Food Network, including Everyday Italian, Behind the Bash, and Giada's Weekend Getaways.
Giada is now a bonafide star on the network and reportedly receives seven-figure paychecks annually for her work. Beyond TV, she has authored some bestselling books and receives as much as $2.5 million in royalties.
Did You Know?
Giada has won several awards, including the 2008 daytime Emmy award for outstanding lifestyle host.
16. Marco Pierre White
• Net Worth – $40 million
• Nationality – British
Marco Pierre White held sway as one of the most popular, albeit controversial, chefs in Britain in the 90s. He then called time on his cooking career in 1999, citing his personal life as a reason. Despite the retirement, White continues to rake in cash as a restauranteur. He has thus far partnered with some businessmen to set up several restaurants and a franchise, including Marco Pierre White Steakhouse, Mr. White's English Chophouse, Marco's New York Italian, and Koffmann & Mr. White's.
Did You Know?
White is the first British chef as well as the youngest chef to receive three Michelin stars. He achieved this feat at the age of 32 in 1994. He later returned the stars in 1999 following his retirement.
15. Levi Roots
• Net Worth – $45 million
• Nationality – British-Jamaican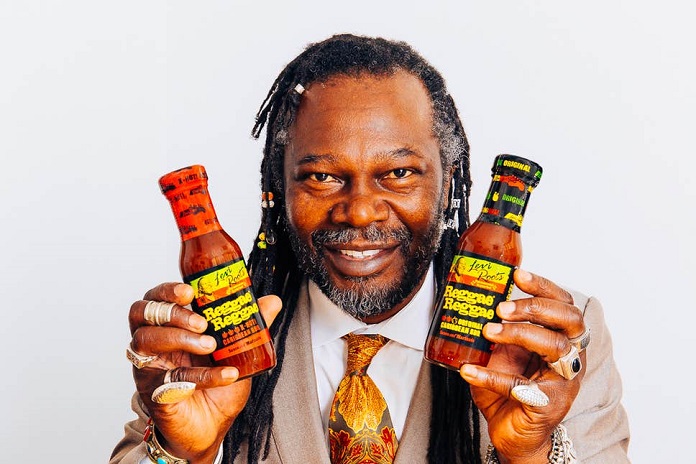 Levi Roots is not your atypical celebrity chef. The musician and TV personality is famous for his jerk barbecue sauce known as Reggae Reggae Sauce. Ever since its creation in 2006, Roots has been able to grow an empire featuring an extensive range of Caribbean-inspired sauces, snacks, desserts, soft drinks, and ready meals. He has also starred in several TV shows such as Celebrity Mastermind and Big Brother. Roots has also established several restaurants but he was forced to close one down, Levi Roots Caribbean Smokehouse, in 2019. The establishment came into existence in 2015 and was originally intended to be a franchise.
Did You Know?
Roots grew up in relative poverty in Jamaica and learned how to cook from his grandmother whom he lived with until the age of 11.
14. Vikram Vij
• Net Worth – $50 million
• Nationality – Indian-Canadian
Once upon a time, Vikram Vij was just a young man whose passion for food led him to leave his country of origin and sojourn to places such as Austria and Germany to study. As an immigrant, he didn't have it easy at all. He, however, persevered and today is one of the foremost ambassadors of Indian cuisine. Together with his ex-wife and business partner, Meeru, Vij owns about two restaurants in Canada. He has also co-authored several books and has many more product lines to his name. All these have enabled him to build up a fortune that now makes him one of the richest celebrity chefs in the world.
Did You Know?
Vij aspired to become a Bollywood actor as a boy but had to forgo that dream because his father forbade it.
13. Thomas Keller
• Net Worth – $50 million
• Nationality – American
Beyond his hugely-popular and well-patronized restaurants, Thomas Keller also makes his money from other avenues such as book royalties as well as income from merchandising. The renowned American chef also teaches several cooking classes on the online platform, MasterClass. The classes cover essential techniques for cooking meat, poaching perfect eggs, and making stock/sauces, etc. These classes attract a bill of $15 monthly while the yearly access can cost as high as $180.
Did You Know?
Thomas Keller is one of the most decorated chefs in America. There are a total of seven Michelin stars awarded to his restaurants. He is the first American chef to have two of his restaurants awarded three Michelin stars simultaneously.
12. Ree Drummond
• Net Worth – $50 million
• Nationality – American
Another woman who makes it to the list of the richest celebrity chefs in the world is Ree Drummond. Unlike her peers, Drummond did not train at some fancy culinary institute before pursuing a career as an executive chef. She was simply a normal American woman who took to blogging in order to share details of her ranch life as well as homeschooling her kids. From there, she started posting recipes and cooking tutorials and the rest is now history. Ree's blog, The Pioneer Woman, now attracts tens of millions of visitors each week and she has her own show on the Food Network. She also has several bestselling cookbooks and awards to her credit.
Did You Know?
Drummond aspired to become a lawyer after obtaining a degree in gerontology but her plans unexpectedly changed after meeting and marrying her husband.
11. Jose Andres
• Net Worth – $50 million
• Nationality – Spanish-American
Jose Andres is one celebrity chef who is noted for his humanitarian endeavors. The Spanish-born American chef is the founder of the World Central Kitchen which provides free meals to survivors of natural disasters. To date, the initiative has provided hundreds of thousands of free meals to survivors of natural disasters in places such as Puerto Rico, Guatemala, California, and Hawaii. Such work has fetched Andres several accolades, including a Humanitarian of the Year award from the James Beard Foundation in 2018 as well as the National Humanities Medal from the White House in 2016.
Did You Know?
Jose Andres underwent compulsory Spanish military service at the age of 18 during which he was assigned as a chef to an admiral.
10. Ina Garten
• Net Worth – $50 million
• Nationality – American
Just like Ree Drummond, Ina Garten is another lady who has followed an unconventional route to emerging one of the richest celebrity chefs in the world. The native New Yorker first made a splash in the food industry by setting up a popular specialty food delicacies store known as Barefoot Contessa in New York in 1978. Since then, she has published several cookbooks and floated various lines of merchandise. Garten is also the host of a hit cooking show on the Food Network known as The Barefoot Contessa and has been touted as a potential successor to Martha Stewart.
Did You Know?
Garten once worked at The Office of Management and Budget in Washington and wrote nuclear energy budget and policy papers for presidents Gerald Ford and Jimmy Carter.
9. David Chang
• Net Worth – $60 million
• Nationality – Korean-American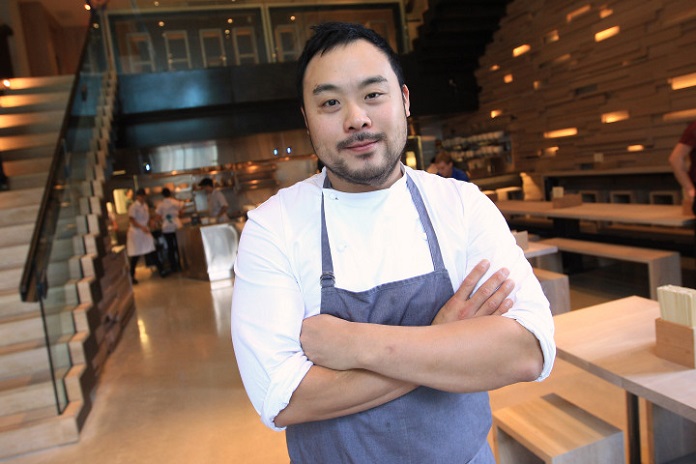 The L.A. Times once described David Chang as a man who is always yearning for self-improvement. It is this trait that has been pivotal to his success story as he has established several innovative restaurants, including Ando, a digital outlet that takes online orders and delivers. He also owns the 250-seater Majordomo Meat & Fish Restaurant in the Palazzo Tower of the Venetian Las Vegas.
Beyond the food industry, Chang has scored several hit shows with Netflix, including Ugly Delicious and Breakfast, Launch & Dinner. The figures behind these Netflix deals are not public knowledge but it will be reasonable to assume that Chang walked away with considerable pay.
Did You Know?
Chang was named the GQ Chef of the Year in 2007.
8. Bobby Flay
• Net Worth – $60 million
• Nationality – American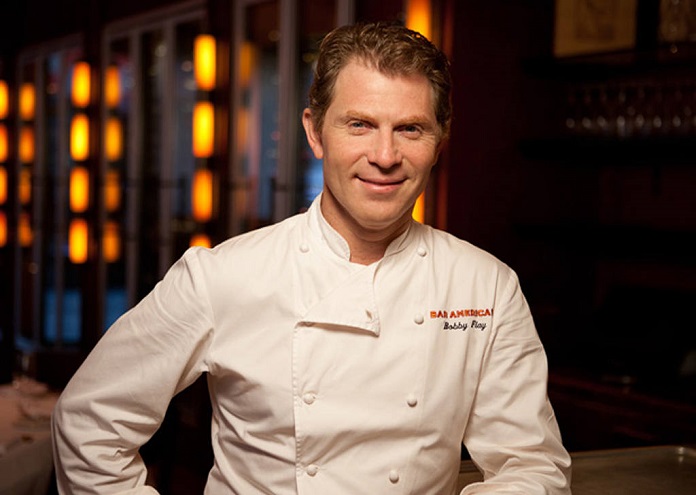 Occupying the eight spot on the list of the richest celebrity chefs in the world is American chef Bobby Flay. The Food Network star predictably draws his income from his restaurants, book royalties, TV shows, and endorsement deals. Another unlikely source of income for Flay is horses. The chef is a big lover of horses and owns several racing horses that have gone on to win championships. For instance, one of Flay's horses named More Than Real won the Breeder's Cup Race in 2010 and received a prize of $1 million in the process. Half of this amount went to Flay while the rest was divided between the trainer and jockey.
Did You Know?
Flay is the first chef to receive a star on the Hollywood Walk of Fame. He achieved this feat in 2015.
7. Emeril Lagasse
• Net Worth – $70 million
• Nationality – American
Renowned for his mastery of Creole and Cajun cuisine, Emeril Lagasse has built up an empire that generates not less than $150 million per annum. His lucrative empire comprises about 12 restaurants scattered across Las Vegas, New Orleans, and Bethlehem, Pennsylvania. There are also the numerous TV shows he has hosted, including The Emeril Lagasse Show, Emeril Live, Essence of Emeril, and Emeril Green. The Massachusetts native has also licensed his name to several product lines, including kitchen knives, cookware, pasta sauces, essence spice blend, fresh herbs, and marinades.
Did You Know?
Lagasse turned down a full college scholarship to the New England Conservatory of Music to pursue his dream of becoming a chef.
6. Rachael Ray
• Net Worth – $100 million
• Nationality – American
The queen of 30-minute meals, Rachael Ray is so much more than a celebrity chef and is now a lifestyle brand. That brand encompasses several TV shows, including an award-winning syndicated daytime eponymous talk show. There are also several cookbooks to her credit, namely Comfort Foods, Veggie Meals, My Year in Meals, The Book of Burger, Everyone is Italian On Sunday, and $40 A Day: Best Eats in Town. Throw in lucrative product lines, as well as endorsement deals with the likes of Nabisco and Dunkin' Donuts, and it will not be hard to figure out why Rachael Ray is one of the richest celebrity chefs in the world.
Did You Know?
Ray has received at least two daytime Emmy awards. One was for the best outstanding service show in 2006 while the other was for the best outstanding talk show in 2008.
5. Wolfgang Puck
• Net Worth – $120 million
• Nationality – Austrian-American
Ever since he set up his signature Spago restaurant on the Sunset Strip in 1982, Puck has gone on to enjoy unrivaled longevity. He is, however, not resting on his oars but is planning for the future. In December 2020, the highly-decorated chef opened a new Asian-inspired bistro named Merois in West Hollywood and revealed that one of his sons, named Byron, will serve as the general manager. He also went on to disclose his future hopes that either Byron or one of his younger brothers would one day eventually run the company. According to Puck, he has rejected several entreaties to sell his business as it will give him great pleasure to look down from heaven someday and see his kids running his business better than he ever did.
Did You Know?
Puck has been the caterer for the Academy Awards official after-party, known as The Governor's Ball, since 1995.
4. Nobu Matsuhisa
• Net Worth – $200 million
• Nationality – Japanese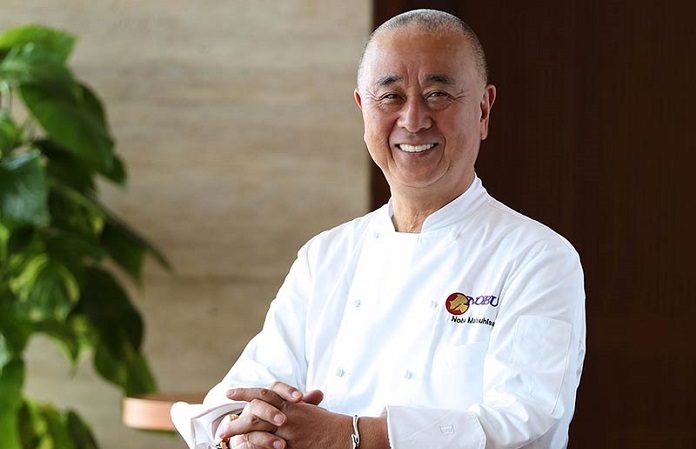 Renowned sushi maker, Nobu Matsuhisa, spent several years making a name in Peru before landing in Los Angeles. There, he continued building his reputation and soon got to know movie star Robert De Niro who convinced him to go into business with him. Today, the Nobu name comprises several restaurants as well as cookbooks. The Japanese chef has also extended his tentacles to the hospitality industry and now has hotels in several cities around the world, namely Los Cabos, Madrid, Barcelona, Ibiza, Manilla, Warsaw, Miami, London, and Malibu.
Did You Know?
Nobu's debut American restaurant in Anchorage (Alaska) burned down about two weeks after its grand opening as a result of an electric fault.
3. Gordon Ramsay
• Net Worth – $220 million
• Nationality – British
With the kind of fortune he has amassed, Gordon Ramsay can afford the good life and he is living exactly so. The ace British chef owns an impressive real estate portfolio comprising of several homes, both in the U.S. and the U.K. They include three different properties in the Cornwall area of England, all of which are worth a collective £11 million. There is also a three-story home in London worth around £7 million and a Los Angeles residence worth £4.3 million.
Ramsay also has a jaw-dropping car collection which GQ has dubbed "effing brilliant". It includes several Ferraris, an Aston Martin DB7 V12 Vantage, a Porsche 918 Spyder (£511,000), a Land Rover Defender 110 SVX Spectre JB24 (£245,000), and Ferrari SP2 Monza (£1.4 million), etc.
Did You Know?
Gordon Ramsay holds the Guinness World Record for the fastest time to fillet a 10lbs fish. He did so in 1 minute and 5 seconds on the 14th of June 2017.
2. Kimbal Musk
• Net Worth – $300 million
• Nationality – South African-Canadian
Elon Musk is not the only member of the Musk family who is making waves in the world. Another person who has followed in his exemplary footsteps is his younger brother, Kimbal. Alongside being a tech expert, Kimbal is also a chef and restaurateur and has founded the Kitchen Restaurant Group. This is a family of restaurants scattered across America which is dedicated to sourcing high-quality food from sustainable American farmers. Such a conscientious outlook has proved to be popular with the public and the Kitchen Restaurant Group now has several locations across the United States of America. It has also received glowing reviews from various industry publications.
Beyond the food industry, Musk makes his fortune from tech. For instance, he is a major investor in the electric car manufacturing company, Tesla, owned by his brother.
Did You Know?
Kimbal Musk was named the global social entrepreneur of the year at the 2018 World Economic Forum.
1. Jamie Oliver
• Net Worth – $300 million
• Nationality – British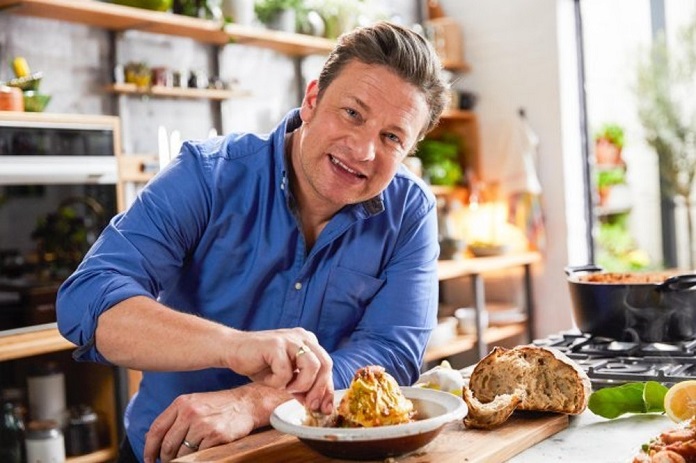 Thanks to his ability to simplify cooking methods, as well as his charismatic personality, Jamie Oliver has built a business holding which easily averages more than £100 million in earnings per annum. This has seen him emerge as the richest celebrity chef in the world but he is not infallible though. In 2019, his Jamie Oliver Restaurant Group suffered a big hit as 22 out of his 25 outlets in the U.K. were shut down. This was occasioned by a tough trading environment, brought about by rising costs and brittle consumer confidence, and about 1000 staff lost their jobs. Oliver, however, got some solace as his overseas franchise outlets, numbering 61, survived. Also unaffected was the 10-year deal that he struck with US caterer firm, Aramark, to open franchise sites in both the U.K. and other overseas locations.
Did You Know?
Oliver has severe dyslexia and read his first novel at the age of 38 in the year 2013.
Quick Recap of the 20 Richest Celebrity Chefs in the World
1. Jamie Oliver – $300 million
2. Kimbal Musk – $300 million
3. Gordon Ramsay – $220 million
4. Nobu Matsuhisa – $200 million
5. Wolfgang Puck – $120 million
6. Rachael Ray – $100 million
7. Emeril Lagasse – $70 million
8. Bobby Flay – $60 million
9. David Chang – $60 million
10. Ina Garten – $50 million
11. Jose Andres – $50 million
12. Ree Drummond – $50 million
13. Thomas Keller – $50 million
14. Vikram Vij – $50 million
15. Levi Roots – $45 million
16. Marco Pierre White- $40 million
17. Giada De Laurentiis – $30 million
18. Rick Bayless – $30 million
19. Guy Fieri – $25 million
20. Mario Batali – $25 million
Why Popular Chefs Like Alan Wong and Salt Bae Did Not Make the Cut
Any keen follower of the food and hospitality industry would have come across the names of both Alan Wong and Salt Bae. While the former is popular for his mastery of Hawaiian cuisine and has cooked for several dignitaries including at the White House, the latter is a butcher and chef who became an internet sensation thanks to his technique at cutting and seasoning meat. Both men are said to be worth $1.1 billion and $1.2 billion respectively and as such, should naturally top the list of the richest celebrity chefs in the world. This is however not so for some reasons.
With regards to Wong who only has three restaurants, all of which have closed down, it is believed that the fortune being attributed to him is erroneous and rather belongs to Hong Kong business mogul, Allan Wong. Allan made his wealth in the electronics industry and is the co-founder of VTech Holdings, a maker of electronic toys as well as the world's largest manufacturer of cordless phones.
When it comes to Salt Bae, the situation is a bit better as his $1.2 billion net worth is not his personal fortune but rather the valuation of his Nusr-Et restaurant group. The group has branches in several cities around the globe, including Abu Dhabi, Dubai, Doha, Ankara, Istanbul, Jeddah, Mykonos, Miami, and Boston. It has also catered to important personalities such as Venezuelan president Nicholas Maduro.