Age, they say, is just a number. But when that number becomes overly higher or lower than a pairing number, then it becomes more than a number – it turns to headlines. Several famous couples in Hollywood have damned age differences in favor of their love story. Multiple Award-winning singer and performer, Beyonce, is among them, only her husband, Jay-Z, is just twelve years older than her. The same goes for Mariah Carey, who is also twelve years older than her former husband, Nick Cannon.
The idea of being with an adult who is at least two decades older or younger than you is not without its moral dilemma, as internet chatter suggests. But does it matter that your wife or husband is about the same age as one of your children? To these twenty couples, it doesn't matter.
As long as there is love, care, and wealth to spice up the relationship, these famous couples are having the best relationships any married person could ever have, irrespective of their vast age difference.
1. Jason Statham and Rosie Huntington-Whiteley
Age Difference: 20 years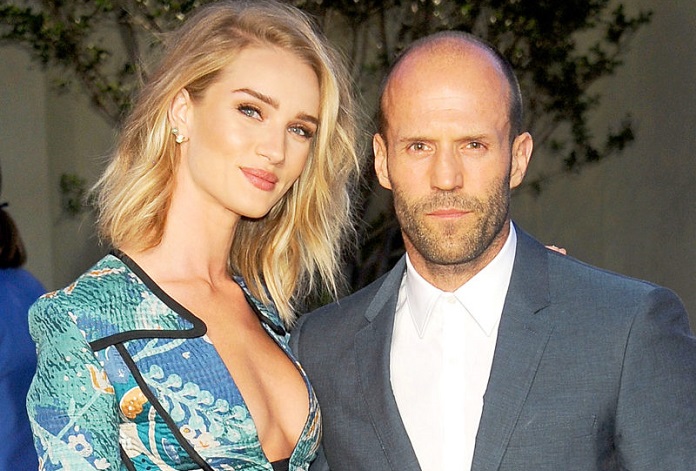 Jason Statham is not particularly known as a regular fixture in entertainment gossip columns. But through his relationship with the English model, Rosie Huntington-Whiteley, he has found himself on the front pages.
The famous couple has a 20 year age difference, and while you would expect that to be a significant challenge to the survival of their relationship, it is not. They began dating in 2010 and have given birth to a child, a son born in 2017, a year after they got engaged.
With more than a decade as a loving couple, it would appear that age is, indeed, nothing more than a number.
2. Alec and Hilaria Baldwin
Age Difference: 26 years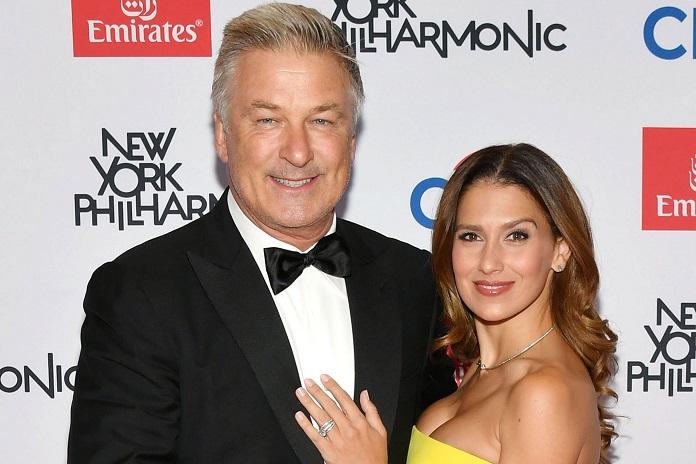 Hilaria Baldwin(nee Thomas) was a yoga instructor when she met Alec Baldwin and began their relationship. Considering his reputation as a bit of a bad boy, no one expected the famous couple to last, not in the least because of their 26 years age difference.
But to the surprise of many, the couple got married within a year and have been together ever since. They have four children, and their marriage is the longest of Alec's marital history. He was initially married to Kim Bassinger for 7 years.
3. Harrison Ford and Calista Flockhart
Age Difference: 22 years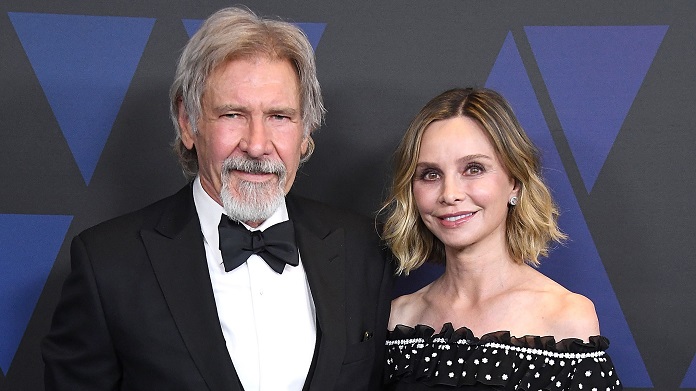 It took three tries before Harrison Ford found the love of his life in a woman 22 years younger than himself, actress Calista Flockhart. The two met in 2002 at the Golden Globe Awards, after which Harrison had racked up two failed marriages.
Calista, who is known for her roles in Supergirl as Cat Grant, got married to the iconic actor eight years later in June 2010. Despite what their two decades plus age difference might have suggested, they have continued to remain a couple, sharing an adopted son, Liam, and living in Jackson Hole, Wyoming.
4. Sam Taylor-Wood & Aaron Johnson
Age Difference: 23 Years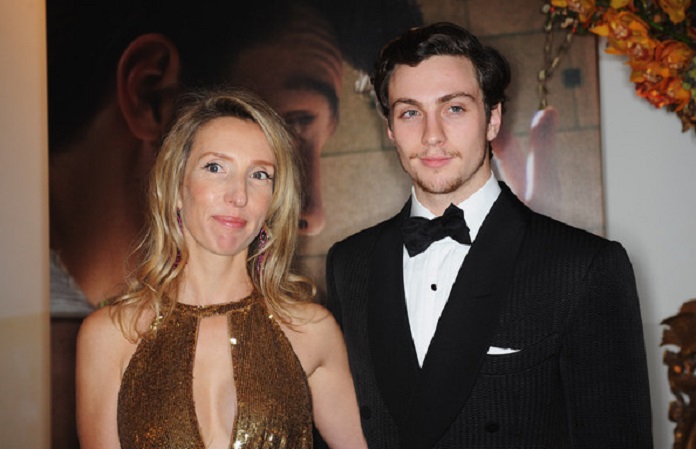 The non-negotiable fact about couples with a significant age difference is both parties must be adults. But even by those standards, things can still feel a little weird. For instance, the English filmmaker, Sam Taylor-Wood, met her husband, Aaron Johnson, when he was 18 years old. At the time, she was 42.
They met in 2009, and within the year, they were engaged and got married 3 years after in 2012. If that is not strange enough, they are still together, and they share 2 daughters.
5. Kelsey Grammer & Kayte Walsh
Age Difference: 25 years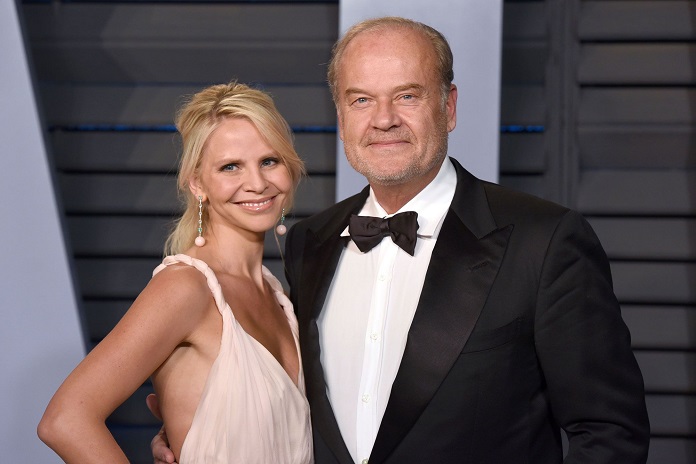 Hollywood comedies or dramas have plenty stories of divorced older men marrying young women. Usually, they write the cliche as a symptom of a mid-life crisis, and you hardly see it last a decade.
In the real world, however, things are a little different. After 3 failed marriages and 4 children, Kelsy Grammer's wedding to Kayte Walsh seemed like a real-life version of Hollywood's tropes.
However, despite their 25 year age difference, the famous couple is still together, having started off in 2011. Together, they have three children, two sons, and a daughter, bringing his total children to seven. To say Kelsey has lived an unconventional life would be an understatement.
6. Michael Douglas & Catherine Zeta-Jones
Age Difference: 25 years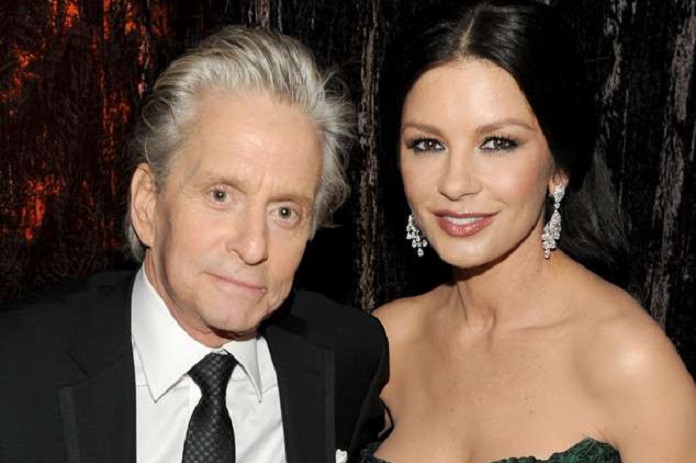 They were both born on September 25, 25 years apart. If you are the type who believes in fate, you might call their relationship ordained. These two Hollywood icons have been together since March 1999 and got married in November 2000.
Despite a brief period in 2013 when Catherine Zeta-Jones and Michael Douglas got separated and looked like fate was being turned on its head, they found their way back to each other.
The age difference-defying couple has 2 children – a son and a daughter, born in 2000 and 2003, respectively.
7.  Jeff Goldblum and Emilie Livingston
Age Difference: 30 years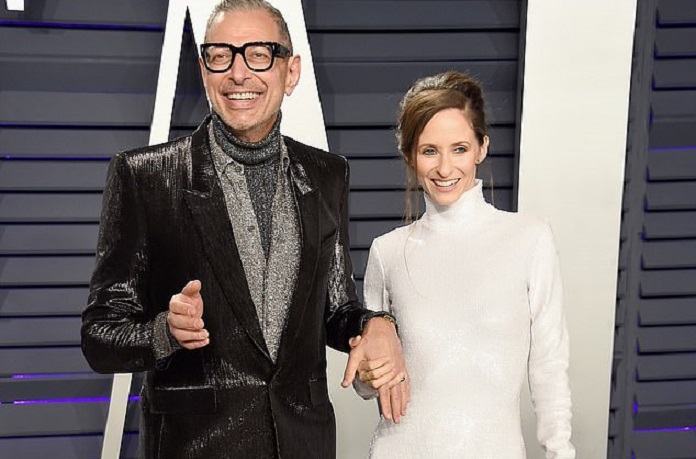 Perhaps one of the least surprising couples in this list. Jeff Goldblum's reputation as one of Hollywood's unconventional men means you are more likely to find his name among strange phenomena than you will in the normal.
His marriage to Emilie Livingston, who is, by the way, a Canadian Olympic gymnast has been ongoing since 2014. They share two children and are yet to be subject to a divorce rumor.
For the famous couple, their age difference is just an irrelevant factoid.
8.  Katherine McPhee and David Foster
Age Difference: 34 Years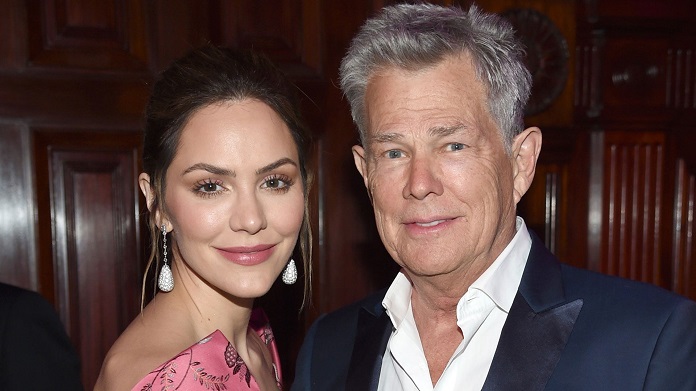 When news hit the airwaves in 2018 that the Canadian musician, David Foster, is in a relationship with Katherine McPhee, an actress, and singer, it was not well-received by the public, to put it mildly.
It turns out there is a limit to massive age gaps the public is willing to accept, and at 34 years, the age difference between the famous couple was too much.
But neither the age nor the public outcry mattered because Katherine and David got married in June 2019 and are still together.
9. Woody Allen & Soon-Yi Previn
Age Difference: 35 years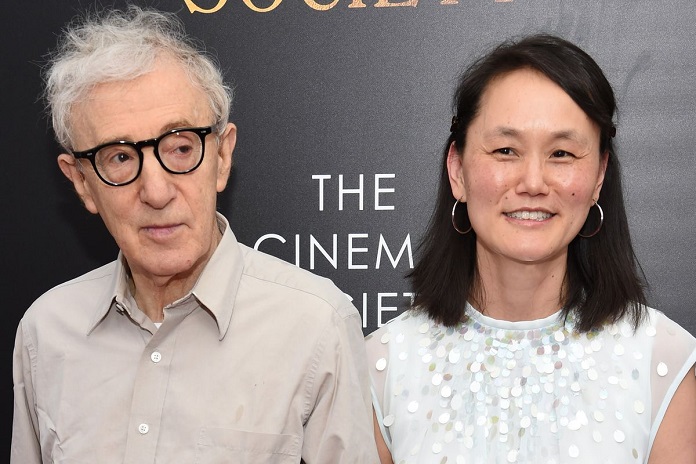 The marriage of Woody Allen and Soon-Yi Previn is perhaps, the most controversial in modern Hollywood history. Careers have derailed over it, and reputations hurt because of it.
If you are not familiar with the iconic director's love life, the uproar is not just because he is older than his wife by 35 years, but he also dated her mother for ten years, during which he was sort of a father to Previn.
Additionally, rumor has it their relationship began when she was a minor, although both have denied the story.
Regardless of the controversy, Woody and Soon-Yi remain a couple and share 2 adopted children.
10.  Patrick Stewart and Sunny Ozell
Age Difference: 38 years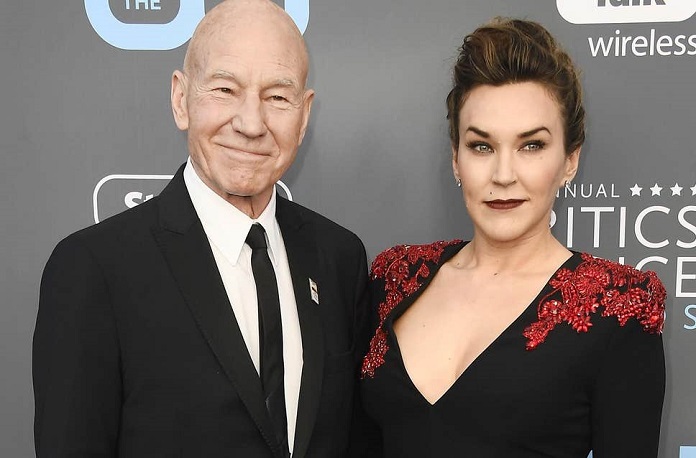 Sir Patrick Stewart did not draw as much controversy when his relationship with Sunny Ozell became public knowledge in 2008. Probably because they met each other as full-fledged adults.
He met Ozell, who is a singer and songwriter during a performance of Macbeth in Brooklyn. After five years of dating, they got engaged and got married in 2013, in a ceremony officiated by another iconic actor, Sir Ian McKellen.
The couple does not share any children and appear content at sharing the rest of their lives together..
11. James Woods and Kristen Bauguess
Age Difference: 46 years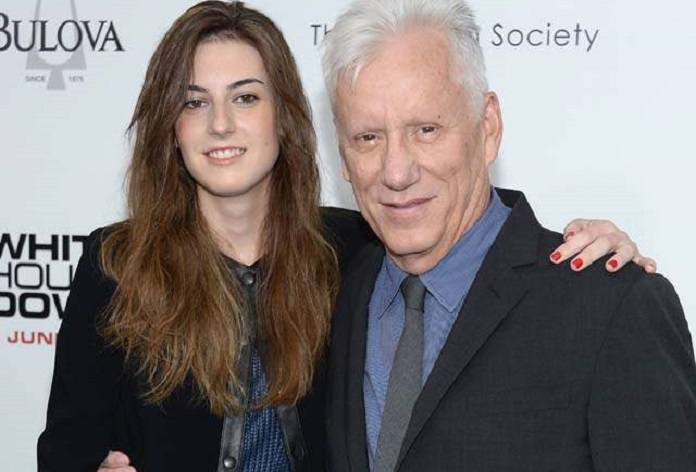 Their's nothing as weird as having a husband who was probably your grandmother's crush in her days, or a wife who is halfway younger than your first child. And even though it is not illegal, there is something weird about a man in his 70s dating a young woman in her 20s.
Although the outrage did not reach the levels of Woody Allen and Soon-Yi, there were loud voices who spoke out against their relationship, like Amber Tamblyn and Armie Hammer.
The couple has since gone underground, but all available evidence suggests the famous couple is still together, age difference be damned.
12. Dick Van Dyke & Arlene Silver
Age Difference: 46 years
Award-winning actor, Dick Van Dyke, who has been in the industry for more than seven decades and recorded numerous achievements, added a feather to his storied life in 2012 when he got married to Arlene Silver. Marriage is nothing to raise an eyebrow about. Except, in this case, it was a marriage between a man in his late 80s and a woman in her 40s.
Interestingly, this unusual match-up is only the second marriage of Disney and Hollywood legend's life. Arlene Silver, who was a makeup artist, remains married to the entertainment icon, suggesting this not, in fact, an elaborate prank.
13.  Sarah Paulson and Holland Taylor
Age Difference: 32 Years
If you think the phenomenon of dating or marrying someone way older is a heterosexual issue, then you have much to learn about Hollywood.
American actress, Sarah Paulson, is in a relationship with fellow American actress and playwright, Holland Taylor, who is most known for her role as Evelyn Harper in CBS' Two and a Half Men.
Despite a 32 years age difference, and the challenge of a public gay relationship, the famous couple remain together since they became official in 2015. Will they take things further and get married? We will have to wait and see.
14.  Donald and Melania Trump
Age Difference: 24 Years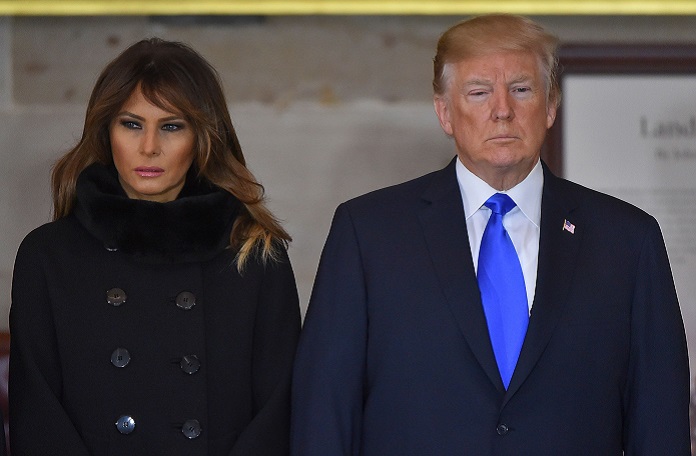 The most powerful man in the world, Donald Trump, also finds himself as part of a famous group of people who attach little importance to the age difference between themselves and their partner.
He is older than the first lady, Melania Trump, by 24 years, and they have been married since 2005 with one child, Barron, to show for it.
15.   Princess Charlene and Prince Albert
Age Difference: 20 Years
It was a swimming competition that brought Prince Albert II of Monaco together with Princess Charlene in 2000. At the time, the princess was in her early twenties while the prince just crossed the edge of 40.
Despite the two-decade age difference, this famous couple threw caution to the wind and dated for ten years before they got married in a lavish ceremony fitting for a royal in 2011.
Their unconventionality has resulted in the birth of twin children – Gabriella and Jacques, who are now heirs to the Royal House of Grimaldi.
16.  Emma Heming Willis and Bruce Willis
Age Difference: 23 Years
Nine years after his marriage to Demi Moore came to a painful end, Bruce Willis gave marriage another try. This time, to Emma Heming Willis, a woman who is 23 years younger than the Die Hard actor.
The suggestion that it is a vanity marriage has gotten quenched by the fact it has lasted more than 11 years, and they have two daughters.
The age difference between this famous couple gets them in lists like this, but one only needs to look at the actor's social media pages to see it is working out well for both of them.
17.  Billy Joel and Alexis Roderick
Age Difference: 33 Years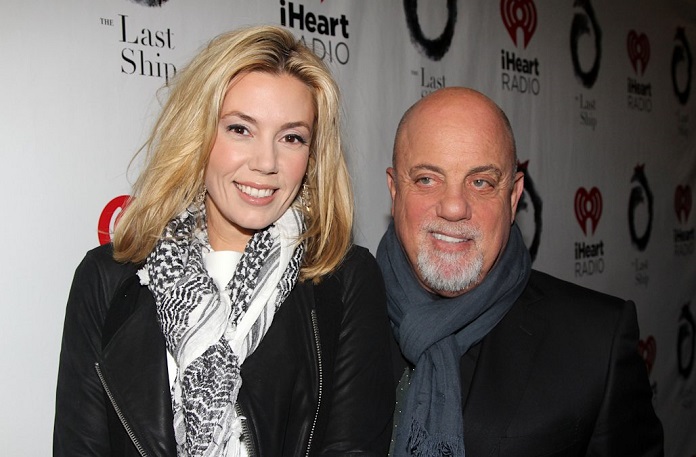 Billy Joel is one of the most successful artists from the United States of America, having sold more than 150 million records worldwide. His impressive discography places him in several notable lists, including the Rock and Roll Hall of Fame.
One less glamorous list Billy Joel finds himself is this one, thanks to his marriage to Alexis Roderick. Alexis, who is the singer's fourth wife, is an equestrian and a former executive of Morgan Stanley.
The famous couple began dating in 2009, got married in 2015, and have two children, all while reducing their 33 years age difference to an anecdotal factoid.
18.    Rod Stewart and Penny Lancaster
Age Difference: 27 Years
With an age difference of 27 years, Penny Lancaster and Rod Stewart is another couple who have little concern for age difference. The couple has been together since 1999, dating for eight years before they walked the aisle at a monastery in Portofino.
Despite the age gap, they have given birth to two children, and from the outside, appear to be in a happy, loving marriage. The fact it is currently the second-longest marriage of the famous rockstar's life certainly counts for something.
19.   Rupert Murdoch and Jerry Hall
Age Difference: 25 Years
The owner of Fox News and other media outlets like Sky News also finds himself on this list thanks to his 2016 marriage to Jerry Hall. The marriage was the fourth of Murdoch's life, having been previously married to Wendi Dang, Anna Murdoch Mann, and Patricia Booker.
Jerry Hall, who is a former model and actress, got married to the King of News in a private ceremony in London. Before her relationship with Rupert, she was married to Rolling Stones Mick Jagger.
So far, the couple is yet to give birth to any children.
20.   Stephen Fry and Elliot Spencer
Age Difference: 30 Years
It took about a year for TV icon, Stephen Fry to go from meeting fellow comedian, Elliot Spencer to his husband, ignoring their 30 year age difference.
Their relationship started as a summer romance but quickly blossomed into something more, culminating in their age-defying wedding in Dereham, Norfolk.
As a man who has always been on the side of unconventional lifestyle and opinions, his marriage to the young comedian is the least surprising thing about him.