Age, they say is just a number. But when that number becomes overly higher or lower than a pairing number, then it becomes more than a number – it turns to headlines. Dating or marrying someone two decades older or younger isn't exclusive to Hollywood. There are several popular couples caught in this euphoria of ageless love. Multiple Award winning singer and performer, Beyonce, is among them, only her bae, Jay-Z is just twelve years older than her. Same goes for Mariah Carey who is also twelve years older than her former husband, Nick Cannon.
As long as there is love, care and wealth to spice up the relationship, these couples are having the best relationships any married person could ever have, irrespective of their huge age differences. This list shows celebrities whose age difference is twenty-years and above. Some of these people have wives young enough to be their kids or husbands old enough to be their grandfathers. Let's check them out.
20. Jason Statham and Rosie Huntington-Whiteley
Age Difference: 20 years
Jason Statham is 47 years old while Rosie Huntington-Whiteley is 27.
19. Carlo Ponti Sr. & Sophia Loren
Age Difference: 22 years
Carlo Ponti Sr. & Sophia Loren started dating in 1950, and finally got married seven years after. Carlo Ponti, Sr. was born in 1912 while his wife, Sophia Loren was born in 1934.
18. Harrison Ford & Calista Flockhart
Age Difference: 22 years
Harrison Ford  engaged Calista Flockhart in 2009 and married her the next year. Harrison was born in 1942 while Calista Flockhart was born in 1964. Their relationship is spiced up by the twenty-two year age gap between them.
17. Johnny Depp & Amber Heard
Age Difference: 22 years
Johnny Depp and Amber Heard started dating in 2012 and got engaged in 2013. Johnny was born in 1963, and Amber, 1986.
16. Sam Taylor-Wood & Aaron Johnson
Age Difference: 23 years
These two got married in 2012 after dating for three years. Sam Taylor-Wood was born in 1967 and is twenty-three years older than her husband, Aaron Johnson who was born in 1990.
15. Kelsey Grammer & Kayte Walsh
Age Difference: 25 years
Kelsey Grammer and Kayte Walsh began a relationship in 2010 and got engaged same year.Kelsey was born in 1955 while Kayte was born in 1981. They both look alike and have nose pointing to the ground. On a second look, Kelsey could be mistaken for Kayte's father.
14. Michael Douglas & Catherine Zeta-Jones
Age Difference: 25 years
Michael Douglas was born in 1944. He started a relationship with Catherine Zeta-Jones in 1999 and engaged her in same year. These two love birds got married in 2000 and gave birth to two kids born in 2000 and 2003. Michael is twenty-five years older than Catherine and she loves her marriage that way.
13. Humphrey Bogart & Lauren Bacall
Age Difference: 25 years
Humprey Bogart was born in 1899 while Lauren Bacall was born in 1924. They began a relationship in 1943, and tied the knots in 1945, after which they had two children together. These two loved themselves so much and were always seen in public fondling and kissing, not minding the twenty-five year age difference between them.
12. Alec Baldwin & Hilaria Thomas
Age Difference: 26 years
These two look great together, only Alec looks like he is taking his daughter to prom. Alec and Hilaria started dating in 2011. They got engaged in 2012 and married same year. born in 1958, is twenty-six years older than his wife, Hilaria Thomas.
11. Frank Sinatra & Mia Farrow
Age Difference: 29 years
Frank Sinatra was born in 1915. He started Mia Farrow in 1964. They married in 1966 and divorced two years after. Frank Sinatra was twenty-nine years older than his ex-wife but the age difference was barely obvious judging from his young looks.
10. Jeff Goldblum and Emilie Livingston
Age Difference: 30 years
Jeff Goldblum was born in 1952 and is thirty years older than his fiancée, Emilie Livingston, who was born in 1983.
9. Cary Grant & Dyan Cannon
Age Difference: 33 years
Cary Grant and Dyan Cannon said "I do" in 1965. Dyan was born in 1937, and was thirty-three years younger than her husband, whose birthday was in 1904.
8. Aristotle Onassis & Jackie Kennedy
Age Difference: 33 years
Aristotle Onassis married the love of his life, Jacqueline Kennedy, in 1968. He was thirty-three years older than his wife.
7. Doug Hutchison & Courtney Stodden
Age Difference: 34 years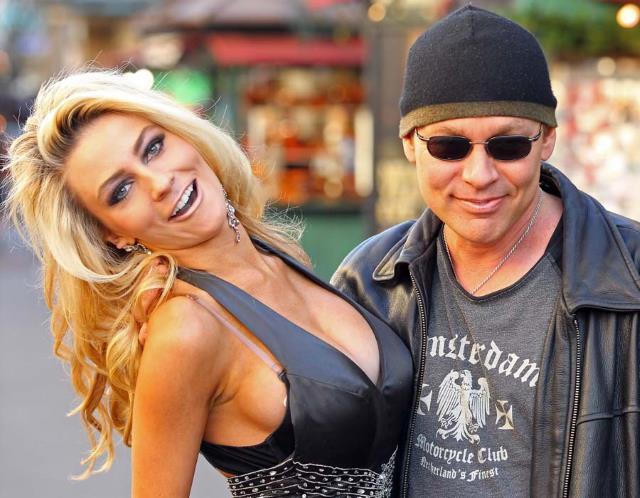 For hot bodied model, Courtney Stodden, age is not just a number, but of the mind. She was married to Doug Hutchison in 2011. They separated in 2013, and although they had thirty-four years gap between them, Doug did not look it, and always dressed dandy to befit his hot model's status.
6. Woody Allen & Soon-Yi Previn
Age Difference: 35 years
Woody Allen and Soon-Yi Previn tied the knots in 1997 after dating for five years. Wood was born in 1935 and his wife, 1970. He is thirty-five years older than her.
5. Charlie Chaplin & Oona O'Neill
Age Difference: 36 years
Born in 1889, Charlie Chaplin married Oona O'Neill in 1943. He was thirty-six years older than her, and they had eight children together between 1944 and 1962.
4. Patrick Stewart & Sunny Ozell
Age Difference: 38 years
Patrick Stewart was born in 1940, and started dating Sunny Ozell in 2009. He engaged her in 2013 and they got married in 2013.
Patrick's wife is thirty-eight years younger than him and he treats her like a wife, daughter and best friend.
3. Hugh Hefner & Crystal Harris
Age Difference: 40 years
A whooping forty years age difference means when Crystal Harris was born, her husband Hugh Hefner was already a forty-year old grown man. This couple started dating in 2008. They got engaged in 2011 and tied the knots in 2012. They look happy together, even though age is beginning to tell on Hugh's face through wrinkles.
2. James Woods & Kristen Bauguess
Age Difference: 46 years
Their nothing as weird as having a husband who was probably your grandmother's crush in her days, or a wife who is half way younger than your first child. For 68-year-old James Woods and 22-year-old Kristen Bauguess, this is not an issue as their love knows no age and no bound.
1. Dick Van Dyke & Arlene Silver
Age Difference: 46 years
Dick Van Dyke married his lover Arlene Silver in 2012, after six years of dating. This couple has forty-six years between them but that doesn't stop them from enjoying their married life – after all "age is nothing but a number."