Recently, more women and men are becoming bold enough to say they are bisexual. But it turns out it is more common with celebrities. Here are 10 famous celebrities who openly told the world they love both females and males.
Azealia Banks
The hip-hop world is now becoming the kindliest place for gay, lesbian, bisexual and transgender people unlike in the past years. Homophobia has finally been kicked out so greatly that people have gone public with their sexuality. Azealia banks is among such people.
According to the "212"singer, she is bisexual and can mate with both men and women. Though the claim can't be verified since the rapper's debut album Broke With Expensive Taste seems to take aim at gays. But the truth remains that Banks has a transgender sibling and claims not to be homophobic.
Amber Rose
Amber Rose is a famous cute actress and model with some proper curves. Her knockout figure has won her millions of fans online including male and females. Well, that might include her playmates too as she has revealed in an interview that she mingles with both sides. I can be in love with a woman, I can be in love with a man. I definitely find beauty in everybody". This statement makes us love her even more!
Miley Cyrus
Miley Cyrus makes out with both girls and boys. She has confessed to having affairs with women and is known as a "genderqueer who speaks up strongly for LGBT rights.
Cara Delevingne
Supermodel Cara Delevingne is one of English fashion's most powerful forces, working with top brands like  Burberry, Mulberry, Dolce & Gabbana, and Jason Wu. Seems her force extended even to her sexuality as she has a record of dating both men and women including Harry Styles and Michelle Rodriguez.
However, she has never formally confirmed her bisexuality. One she was asked about this during the interview, she said: "What do I think? I think people shouldn't be scared of that. I'm young, I'm having fun, I don't want to pretend to be something I'm not…"
The actress later admitted that her bisexuality wasn't a "phase" as most people thought. She revealed that being in love with her girlfriend St Vincent has made her a better actress.
Josh Hutcherson
Hunger Games" actor Josh" Hutcherson is good-looking and talented. Ladies love him and guys cherish him. He, of course, returned the love accepting to do both male and female if need be. Josh described himself as "mostly straight" and has never denied the idea of becoming bisexual.
OUT magazine quoted him as saying "Maybe I could say right now I'm 100 percent straight. But who knows? In a year, I could meet a guy and be like, Whoa, I'm attracted to this person. I've met guys all the time that I'm like, that's a good-­looking guy, you know?" This shows he is indeed open-minded and that will get more females drooling.
Lindsay Lohan
Though she doesn't  consider herself bisexual, Lindsay Lohan has had sexual relationships with women, most notoriously with the woman DJ Samantha Ronson.
Drew Barrymore
Actress Drew Barrymore announced that she loves women sexually. The mother of two who has been married several times said she sees having sex with women as exploring her body through another.
Kim Zolciak
Real Housewives Of Atlanta" star Kim Zolciak had dated "Big Poppa" and DJ Tracy Young  long before tying the knot with Kroy Biermann. She is among the millions of parents who have been in a gay or lesbian relationship.
Sarah Paulson
It was speculated in 2015 that Paulson was dating Holland Taylor. Good for them! Despite the age difference – 32 years – Paulson loves Tylor and everything about their relationship
Kristen Stewart
Kristen Stewart is currently dating a girl and the former Twilight star said dating a girl seems better than her former relationship with guys like Robert Pattinson. Stewart has remained open about her sexual preference and not being defined by it. In this photo, she takes a walk with personal assistant Alicia Cargile. There are strong rumors that the two are dating.
Evan Rachel Wood
Miranda Kerr
Miranda Kerr is one of Victoria's Secret's most recognizable models. Kerr rose to prominence in 2007 as one of Victoria's Secret Angels and became the first Australian Victoria's Secret model. She has also gained fame for being a heterosexual. Though she has never been caught with a female lover she is ready for whatever love throws up at her. Her statement in an interview with GQ magazine: "I appreciate both men and women… Never say never."
Channing Tatum
Channing Tatum can really dance despite all the muscles and always have our minds officially blown anytime he does that. The actor knows how to serve some fierce and awe-inspiring moves. Despite leaving a constant good impression, the actor has faced several speculations about his sexuality.
The obvious reason for the unending rumor is basically because of his roles in several gay-themed movies – which has propelled him to prominence the more. Plus, he once revealed that he had a man-crush on George Clooney and there were rumors of him having an attraction for men via Twitter after the movie "22 Jump Street. But can we say he is bisexual after this? Well, truth is he is married to actress Jenna Dewan and they have a child together. So he might be enjoying both genders!
But can we say he is bisexual after this? Well, truth is he is married to actress Jenna Dewan and they have a child together. So he might be enjoying both genders!
Lady Gaga
Lady Gaga is not the type that hides her sexual persuasions. She opened up about her bisexuality from the beginning of her career. She also previously revealed that her hit "Poker Face" is about her bisexual identity.
Anna Paquin
She is well-known for her wonderful role in "True Blood" where she starred as the main heroine who got involved with all sorts of supernatural creatures, including vampires, werewolves, and fairies. But her popularity rose the more when she confessed that she is a bisexual. Speaking to SA for the Give a Damn campaign as part of the True Colours Fund, she said "I'm Anna Paquin. I'm bisexual, and I give a damn". She is beautiful and can roll with any gender that's handy.
Speaking to SA for the Give a Damn campaign as part of the True Colours Fund, she said "I'm Anna Paquin. I'm bisexual, and I give a damn". She is beautiful and can roll with any gender that's handy.
Megan Fox
Megan Fox in a 2011 interview with Esquire said she is bisexual… but she'd never have sex with a bisexual woman because such women also have it with men. Adding that because men are so dirty she wouldn't like to imagine having it with a woman who had slept with a man.
Bai Ling Bai Ling
Born in the southern city Cheng Du of China, Bai Ling started out her career at the age of 14. She has since grown both in her career and sexuality.  She once told GLAAD she didn't have an interpreter handy and her name was pronounced as bi.
So when people ask her "Are you bi?", she always responded, "Yes, I am Bai". Though Ling finds the confusing situation funny, she openly admitted she was bisexual.
Angelina Jolie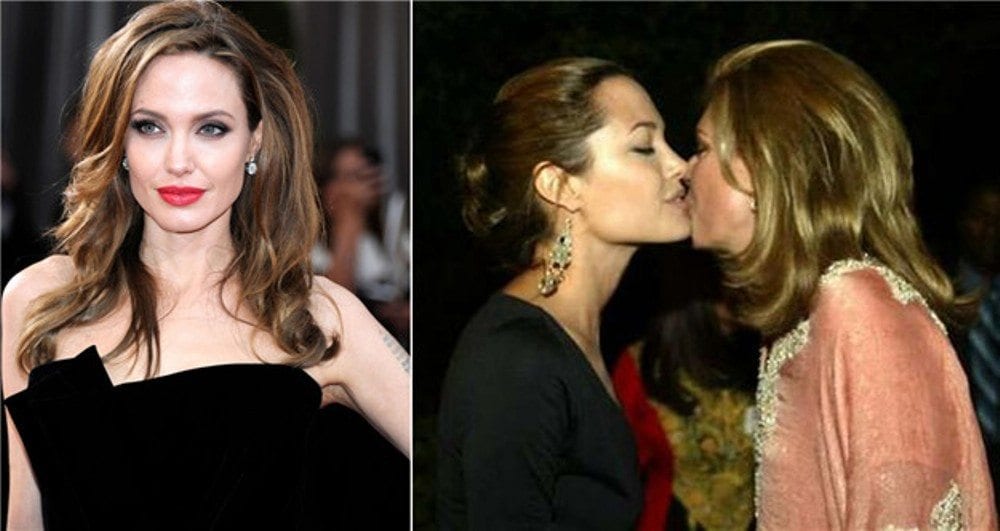 Angelina Jolie has always classified herself as a bisexual for quite some time, having had countless affairs with women, including model and actress Jenny Shimizu. She was quoted as telling OK Magazine that, "I have loved women in the past and slept with them."
Amber Heard
Johnny Depp's ex-wife, Amber Heard is stunning. She is no doubt an open-minded person and has never hidden her sexuality from the world. She openly admits her bisexuality whenever the question comes up. She told 'Elle that there was no point hiding it. A lot of people opined that her sexuality ruined her marriage. But in all, she is happy and has moved on!
Michelle Rodriguez
Fast and the Furious beauty, Michelle Rodriguez readily admitted that she has gone both ways and once had a relationship with Cara Delevingne. According to her, she is too curious to sit without exploring new things when she can. And you can bet she has satisfied her curiosity!
Fergie
Fergie of Black Eyed Peas told Oprah Winfrey back in 2012 that she was bisexual. The star admits that she loves to have fun with women because they are beautiful as well as well-endowed men.
Snooki
The former "Jersey Shore" star clarified her sexuality in 2012 calling herself a bi. She confesses to having done things with girls before. But would love to be with a man rather a girl because she likes penis. Thus, does it with girls on experiment grounds!
Andy Dick
Andy Dick announced that he is bisexual in 2008 in an interview with the Washington Post. Though the comedian has been making out with a woman since last year, we won't be surprised if he flaunts a man as his partner.