A dwelling-place, temporary, permanent or semi-permanent should be comfortable no doubt. Most celebrities go beyond the ordinary to stay in mansions that are way above "comfortable". They are not expected to live in huts though, but in most cases, "mansions" are not big enough, the houses are huge empires that could accommodate a hamlet. These celebrity homes will overwhelm you; they are five times the size of a normal home and are absolutely stunning.
Here are 20 most expensive celebrity homes in the world
1. Bel Air – Kim Kardashian & Kanye West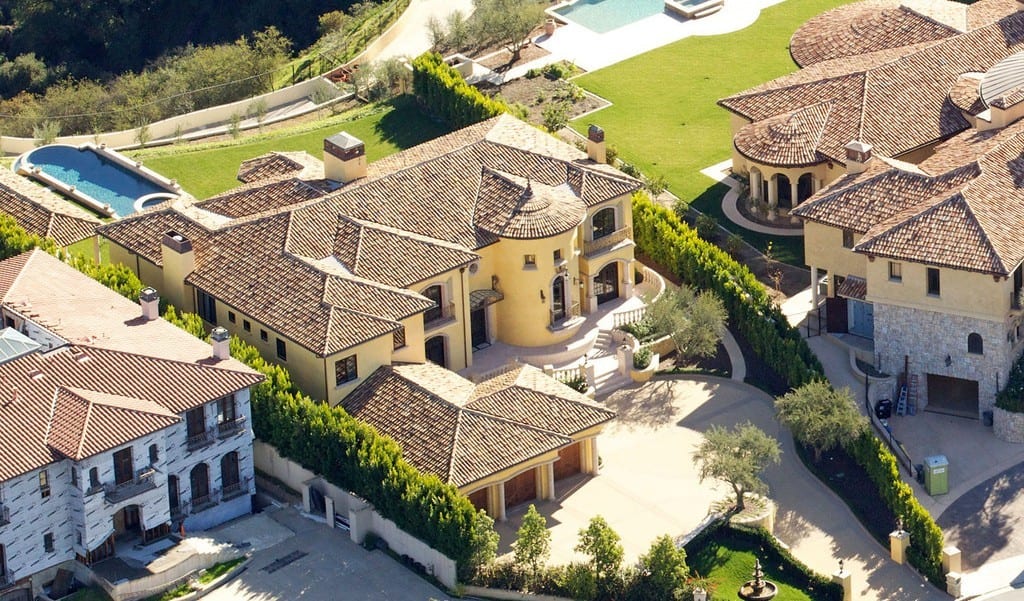 This house belongs to the world's most controversial celebrity couple. The Bel-Air property has sweeping views of the surrounding canyons and a stunning Pacific Ocean vista. It is home to Kim Kardashian, Kanye West, North West, and the newly expected – Baby West.
2. Bubble Hill – Eddie Murphy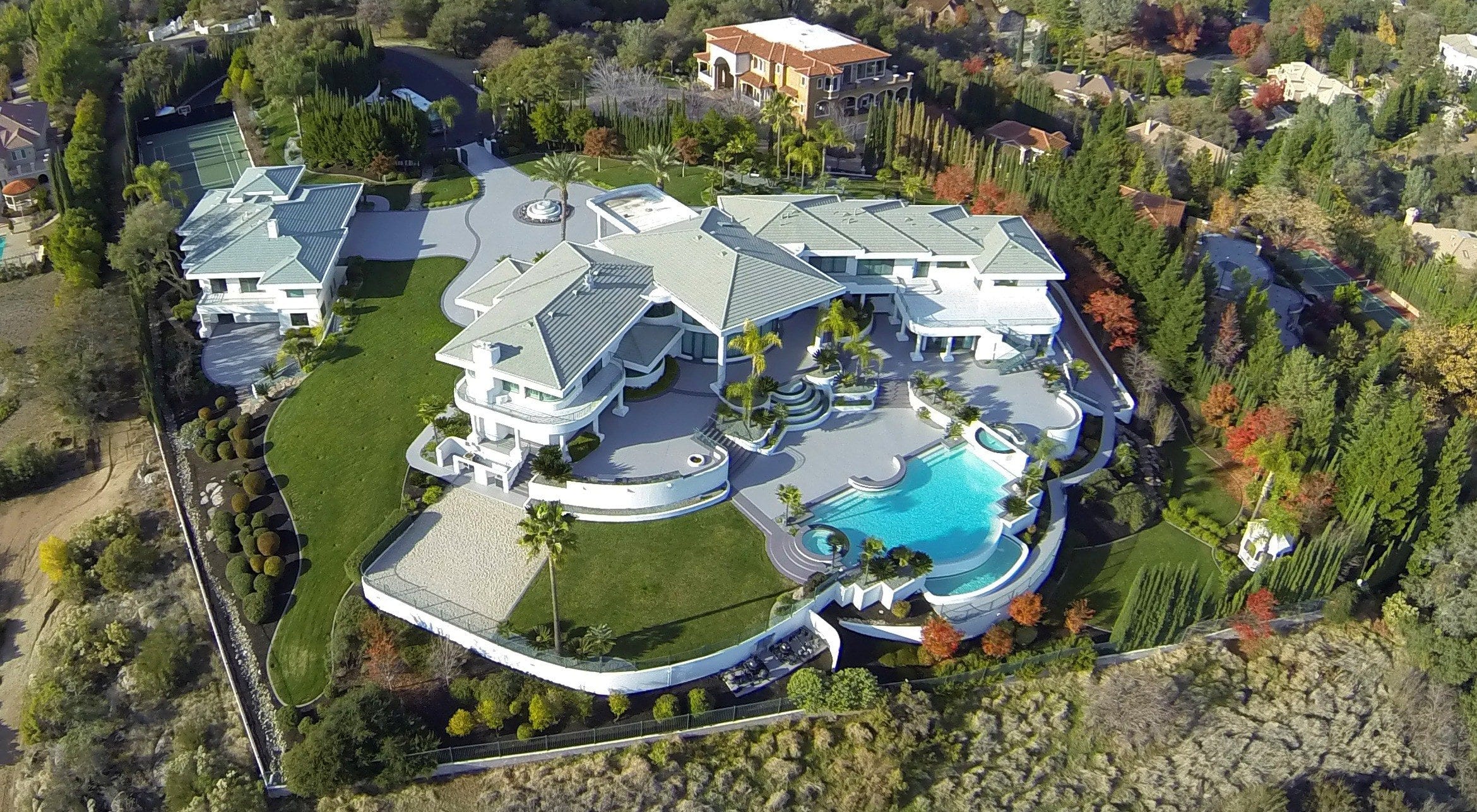 Eddie Murphy owns this gigantic house called Bubble Hill. The house is situated in New Jersey and is one of the most expensive properties ever sold in the area. The 30 million dollar house has in it 32 rooms, major entertainment areas, a pool table, a Jukebox, an indoor pool, and an outdoor pool. This is not Eddie's only house, and he had tried to sell it a couple of times to no avail.
3. Sandcastle – Beyoncé & Jay-Z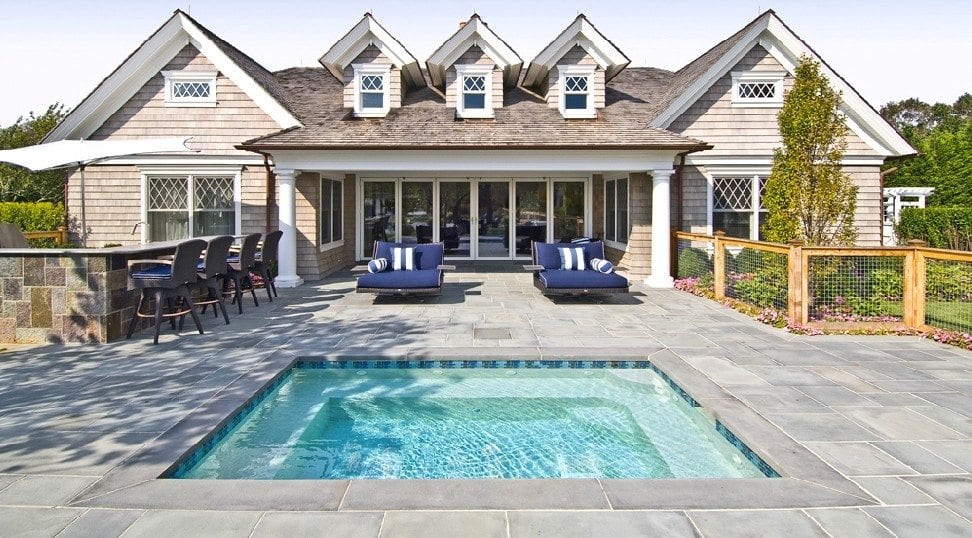 Beyonce and Jay Z spent last summer in their home in Bridge Hampton, New York. The whole family rented the very private home to enjoy some quiet time by the beach. This house seems to be dream home. The legendary "Sandcastle" as it is called, is one of the most expansive houses for sale in the Hamptons, with a price tag of $43,500,000, and $400,000 monthly rent. It has 12 en suite bedrooms, walnut library, a 2,800+/- SF master suite and one of the most beautiful walk-in closet. One will assume that living in such an enviable home will bring peace and happiness to its habitats. True or not true? Bae and Jay are actually having the best times of their lives.
4. The Fortress – Rihanna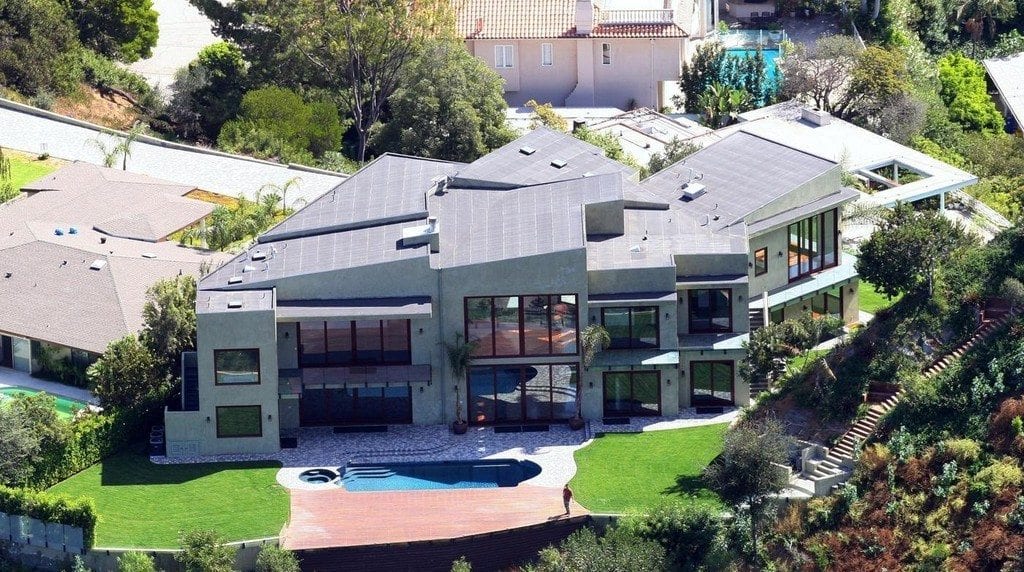 This $7 million mansion is on the Hollywood Hills and belongs to the world-renowned songstress, Rihanna. The house was rented and has been nicknamed "The Fortress." It is decked out in glass, chrome, and gray accents to fulfill anybody's medieval nightclub dreams. This house is Rihanna's hideout and has everything she would look for in a clubhouse.
5. Château Miraval – Brad Pitt & Angelina Jolie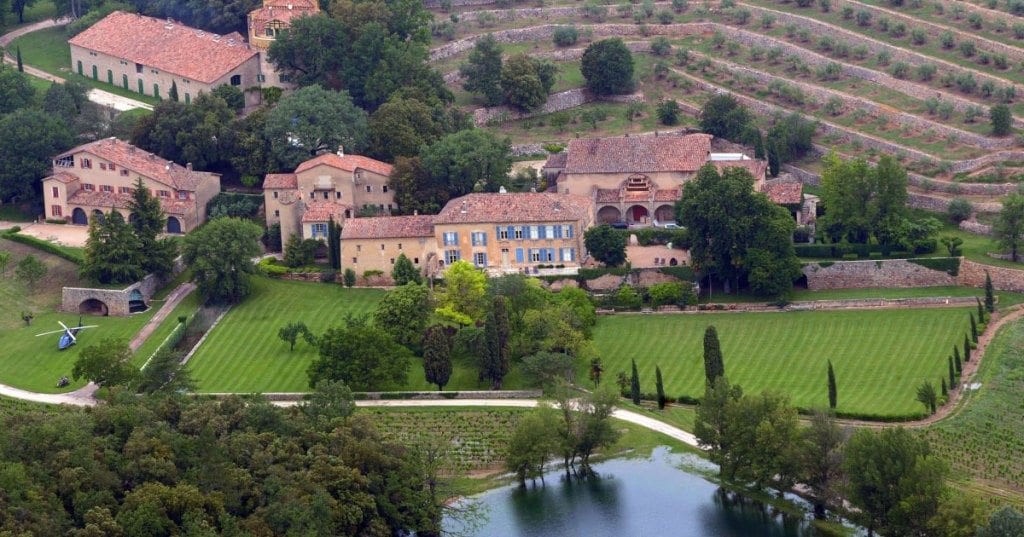 Brad Pitt, Angelina Jolie, and their 6 kids live in this beautiful mansion. It is located in the Château Miraval, South of France. The mansion costs $60 million with 35 rooms and a moat. The couple got married there and moved their family into the 1000-acre estate. Apparently, this is where they spend their springs, summers, and winters.
6. The Jet-Setter – JOHN TRAVOLTA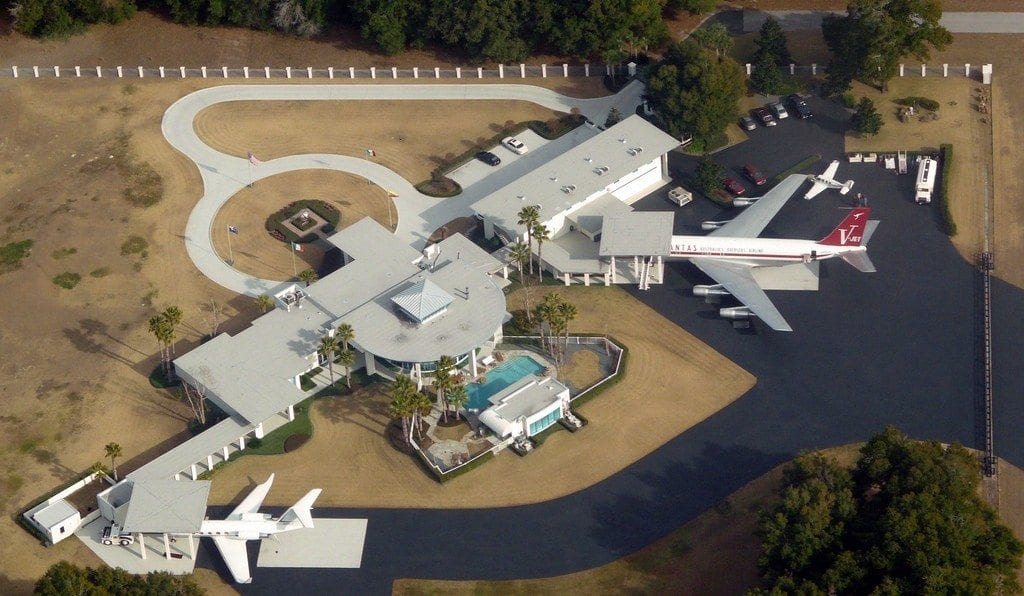 This house is owned by John Travolta, the legendary actor behind Grease, Pulp Fiction and Saturday Night Fever. From an aerial view, the house looks more like an airport, with two air-crafts hung in front of the house. This $2.5 million house has it's own private runway, a Boeing 707 parking spot, and an astonishing 16-car garage. This is the epitome of living a jet-setter lifestyle.
7. Hilltop Estate – Steven Spielberg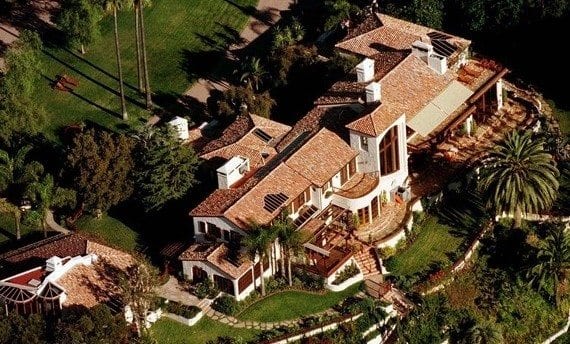 This is an aerial shot of the home of Steven Spielberg, one of Hollywood's finest film directors. Spielberg purchased the hilltop estate in 1985, from singer Bobby Vinton. The property is located in Pacific Palisades, north of Sunset Boulevard, and the largest, 8,932 square foot home on it has 5 bedrooms and 6 bathrooms which sits on a 145,860 sq ft/3.35 acre size lot.  It's estimated value range is between $11.7 and $20.9 Million or $58,080 monthly lease.
8. Tom Brady & Gisele Bundchen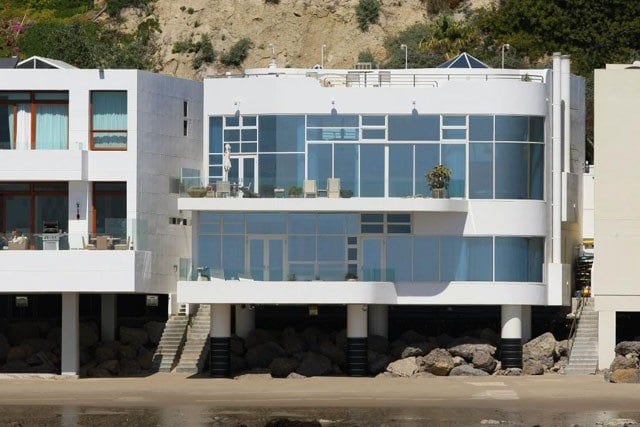 This mansion belongs to the quarterback, Tom Brady and his supermodel wife, Gisele Bundchen. The house cost $20 million and is located in Los Angeles. The construction of the 22,000 square feet home took three years to complete. The abode has a resort-style swimming pool in the back yard, a castle-like custom play area for the kids, a moat that runs across the front of the house and a bridge over it. It also has eight bedrooms, a six-car garage, a wine cellar, and a state-of-the-art gym.
9. Tiger Woods
Tiger Woods moved into his $60 million mansion in Florida, which comes complete with a running track and four-hole golf course. The mansion of the golfer, whose marriage to Elin Nordegren ended expensively, overlooks the Atlantic Ocean. It has huge windows for incredible sea views and a glass-fronted lift. It also has a large wine cellar, a cinema, a games area, and a gigantic master bedroom, with a little ironically, his-and-hers bathrooms.
10. Oprah Winfrey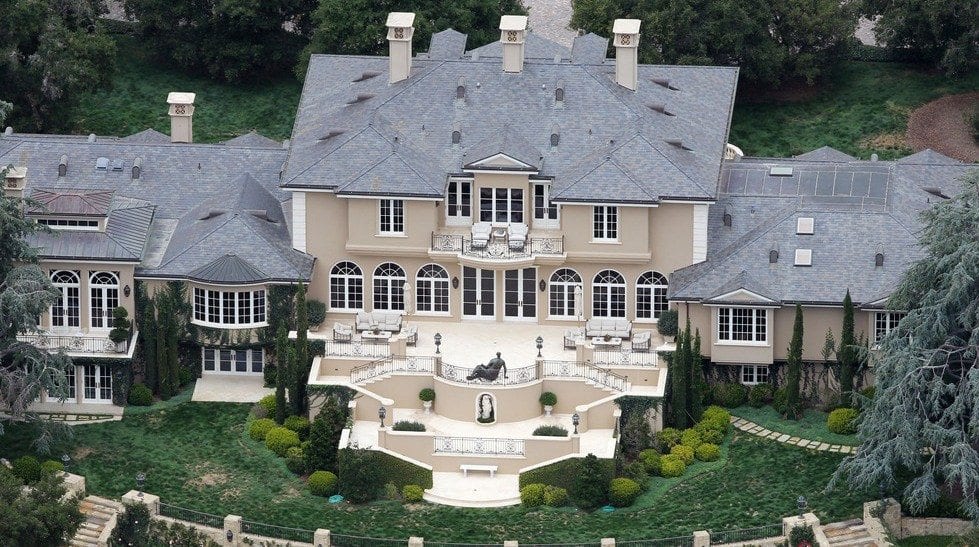 Her very successful "Oprah Winfrey Show" branded her as the "Queen of Talk". With her earnings for being in the industry for over 25 years, Oprah was able to invest in an extremely huge and expensive mansion. This mansion is made of 6 bedrooms, 10 fireplaces, 14 bathrooms, a lake for her exotic fish collection, and her own movie cinema. The house recently went through a massive renovation to meet up with the taste of the Queen of Talk.
11. Taylor Swift

According to U.S. Magazine, Swift paid $17 million in cash for this gorgeous 11,000-square-ft. Rhode Island oceanfront mansion. The American singer-songwriter and actress has earned a lot of money from being an artist at the independent label Big Machine Records, also from Sony/ATV Music publishing house, and other sources. Although rumor has it that she paid more, the mansion is absolutely worth its price all the same.
12. Halle Berry
This is Halle Berry´s home in Malibu beach city, Los Angeles. The house is painted in classy white and decorated with panorama windows. The price tag for this beautiful house was 8 million dollars in 2004 when Halle bought it. The home includes four bedrooms and six bathrooms. One reason why Halle got this beach house is that she is a big fan of water sports and owns over 20 different water skis.
13. Gwyneth Paltrow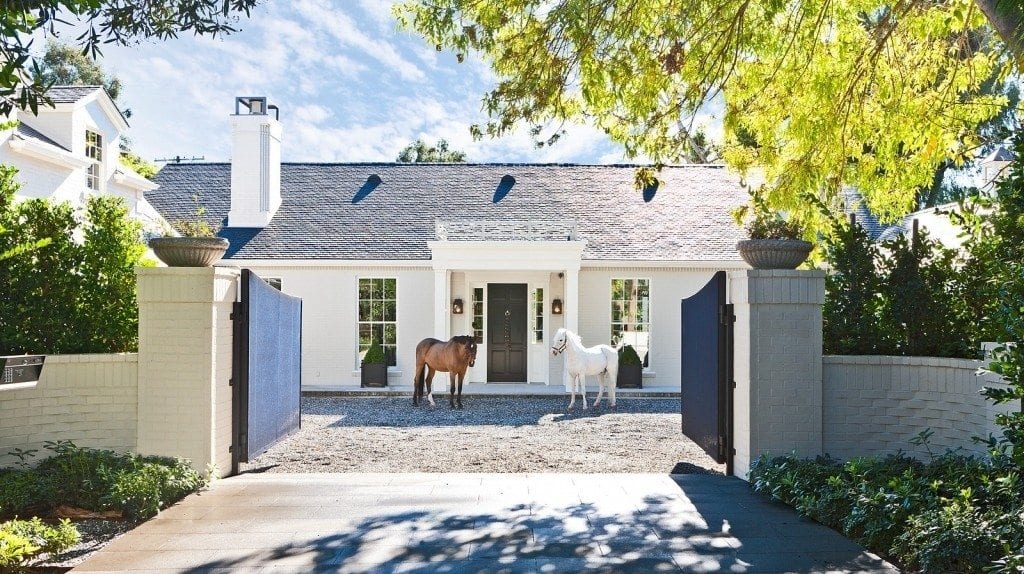 This is the home of the beautiful actress Gwyneth Paltrow and her husband, Chris Martin in England. The children, Apple and Moses fit well in this large house with 5 bedrooms and a covered wall to protect the kids from Paparazzi photographers. Gwyneth and Chris bought this home for 4 million pounds from Kate Winslet (Rose in Titanic), and they have Hugh Grant and Madonna as neighbors.
14. Selena Gomez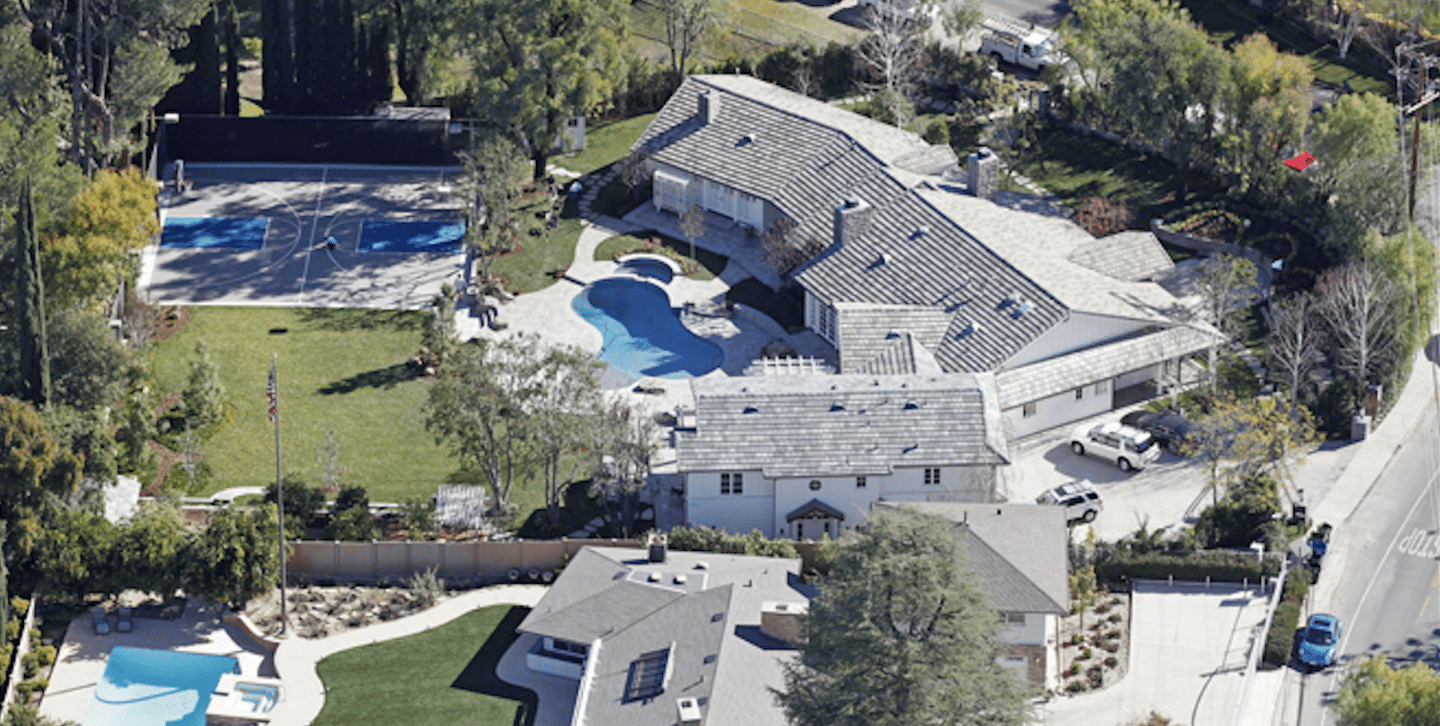 This is Selena's newest home in the Hollywood Hills. It cost $3 million and has 5 bedrooms. The petite Hollywood actress claims she specifically wanted a house far away from her ex's, Justin Bieber. Selena Gomez's Mansion is in the Hidden Hills Gated Community Located in Calabasas, CA, and has several trees and shrubs around it that brings a good spread of air.
15. Ellen DeGeneres & Portia De Rossi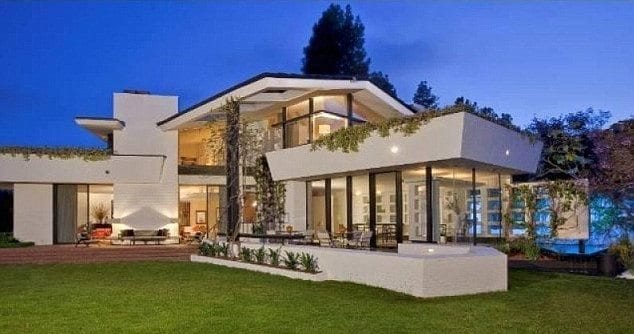 The 55-year-old talk show host, Ellen DeGeneres, and wife, Portia de Rossi, bought this mansion for a whopping sum of $39.888 million. The 13,511-square-foot mid-century dwelling was designed by famous architect Quincy Jones and is considered the masterpiece of modern sophistication and glamour. The glass-walled home contains six bedrooms and nine baths. Ellen and Portia count Playboy founder Hugh Hefner among their high-profile neighbors.
16. Will & Jada Pinkett Smith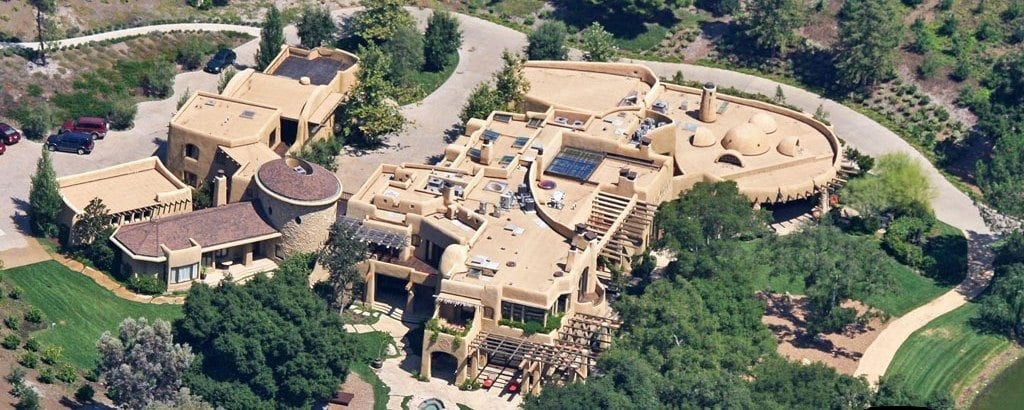 The 'Fresh Prince', Will Smith and his wife, Jada-Pinkett Smith, own this fantastic house which is situated in California. The house is one of the largest in the area and the Smith family almost have their own society in this house. The facilities in the house include a volleyball court, a stale and two gigantic pools. Will Smith bought this house for $20 million, he also bought the lake in front of the house so that his family can take a swim-in alone whenever they want to.
17. Simon Cowell

According to The Pinnacle List, Simon Cowell considers this his dream home. Located in Beverly Hills, the home is 9, 335 square feet and took five years to build. It has a high-tech media theater, 6 bedrooms, 6 bathrooms, a luxury spa, steam room, solarium, lap pool and more. The home of the X-Factor original creator has a separate live-in Butler's/Maid's quarters and a 24-hour Servant's kitchen. It also has a $1.0 million security system that reportedly includes retina/fingerprint scan authorization.
18. Rob Lowe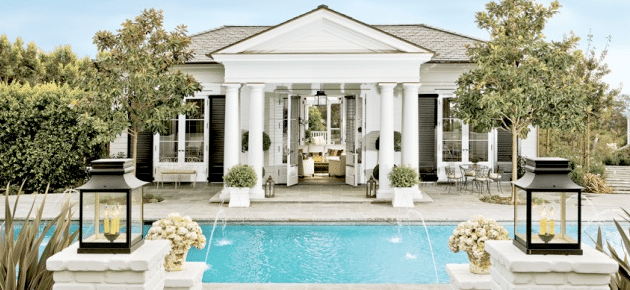 This Georgian-style mansion is located in Santa Barbara, it belongs to Rob Lowe and has 20 rooms. The expansive veranda of the house stretches from the master suite to the white-wood Ping-Pong table, a battle site for his sons. On the other hand are two guest houses with four kitchens. Looking through the living room windows from the front door, one would see the ocean, and from the pool, the mountains. Though large, the house has a human scale and was put together with the creative touch of architect Don Nulty.
19. Conan O'Brien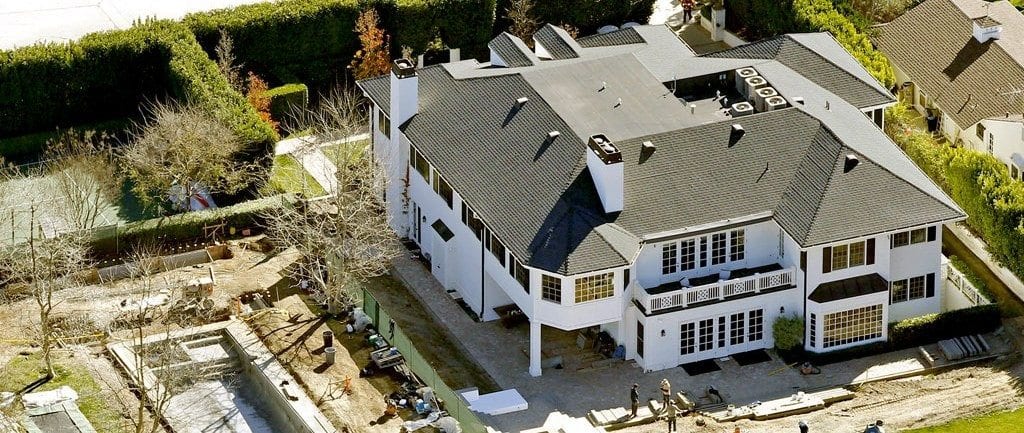 The talk show host has spent a pretty penny on this massive estate worth more than $20 million in Pacific Palisade. He also bought the lot next door to extend his property even more. Conan sold his L.A mansion for $9.25 million, and after signing a contract for more than $10 million, the red-headed funny man could definitely afford to live in this type of pricey neighborhood.
20. Ryan Seacrest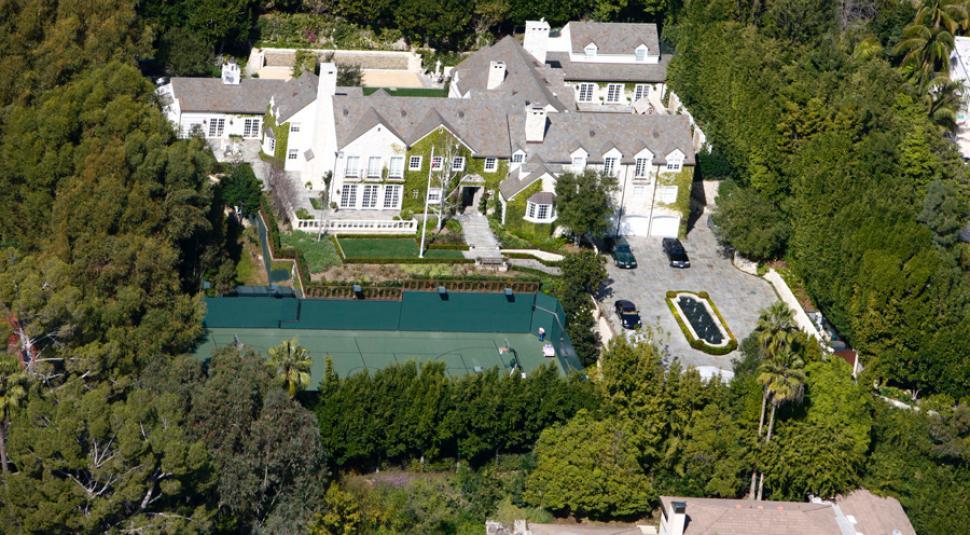 Seacrest bought this mansion from Ellen DeGeneres and Portia de Rossi for $49 million in Beverly Hills. The grounds have a separate three-bedroom house and another two guest houses. DeGeneres and her wife, Portia de Rossi, paid $29 million in 2007 for the property. They expanded the home to 9,500 square feet and bought the two neighboring properties, creating a pond. In the main nine-bedroom residence, there's a media room where the couple was married and a meditation room where they used to get massages.