Are you in terms with the cliche that says we live in a strange world? Well, if you are not, here is further proof that we are living in a world that is really brimming with tens and hundreds of strange possibilities. A place where so many unexpected people look unbelievably alike.
But if you aren't, with these 19 male and female celebrities who look so much alike you are likely to be convinced that indeed we live in a really weird world. Remember the weird feeling when you ever come across someone who reminded you of someone else or looks eerily like someone you have met before? That's what you about to get once again. You might start questioning if they share DNA as you can hardly tell the difference between the faces of these male and female celebrities listed below: Just get ready to be blown away by the incredible similarity they share. Enjoy!
Justin Bieber and Miley Cyrus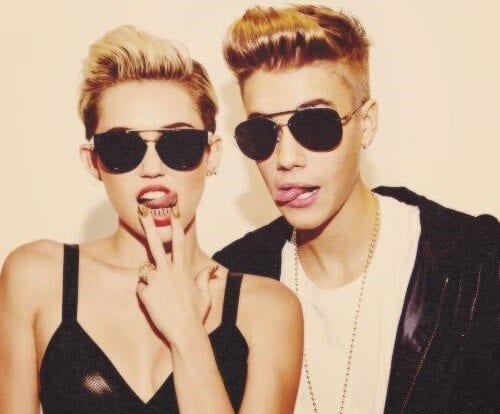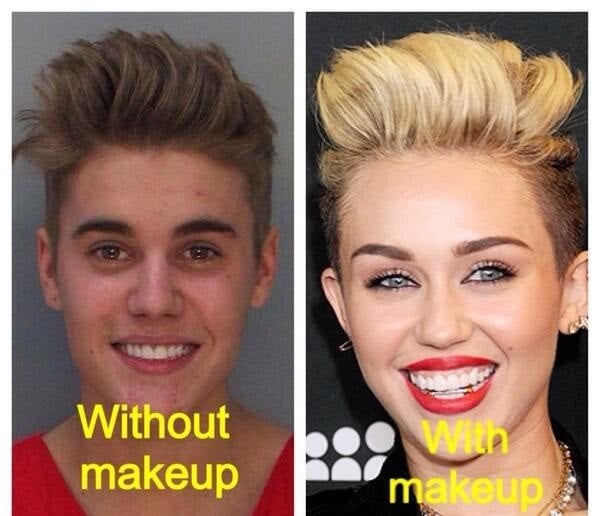 There is a striking resemblance between these two celebrities no doubt. They seem to be sharing the same DNA or something right? Well, whether or not they don't, it is easily seen that they have a lot in common – same chin, same smile, tongue out and even similar short haircut. Justin Bieber and Miley Cyrus are actually one and the same person, by superimposing their faces.
 Krysten Ritter & Anne Hathaway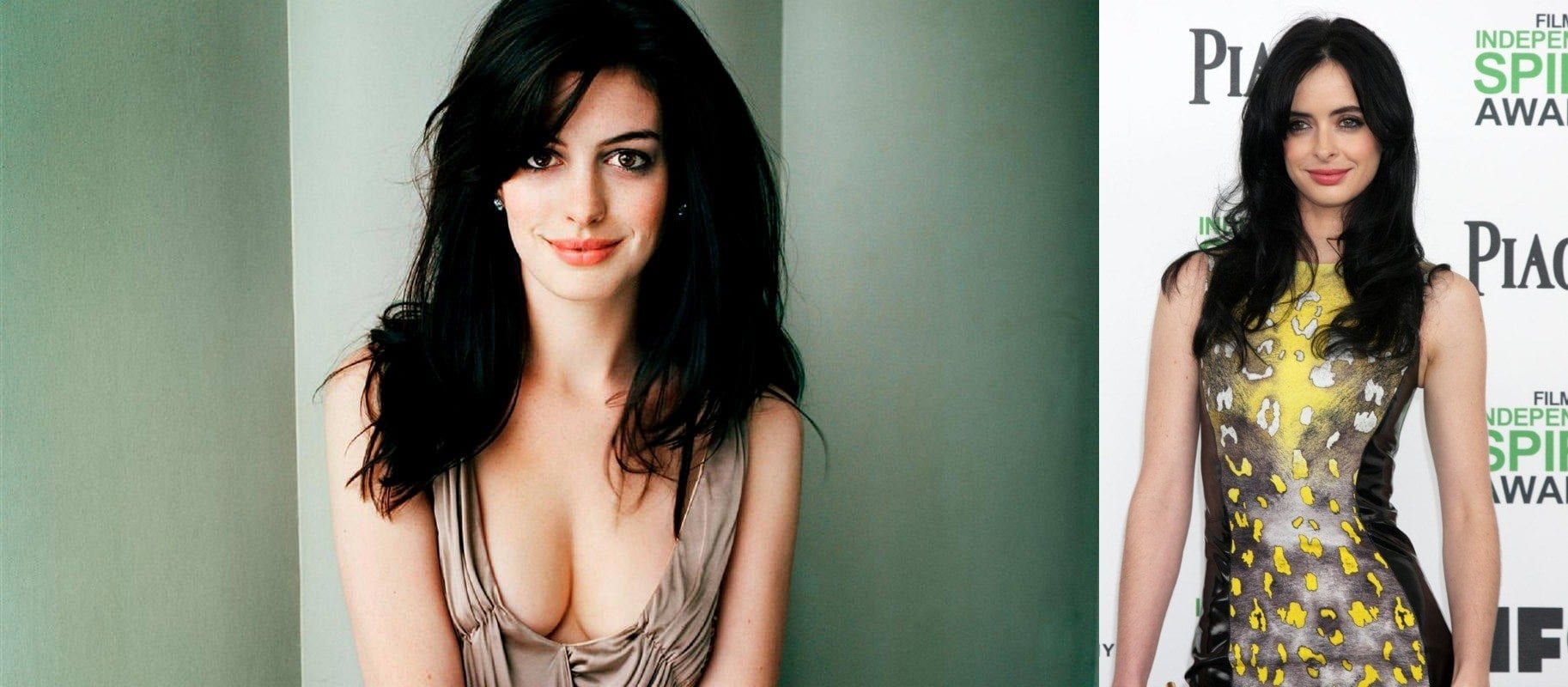 Are these two sisters or is it just a coincidence?
Sarah Jessica Parker and Roger Daltrey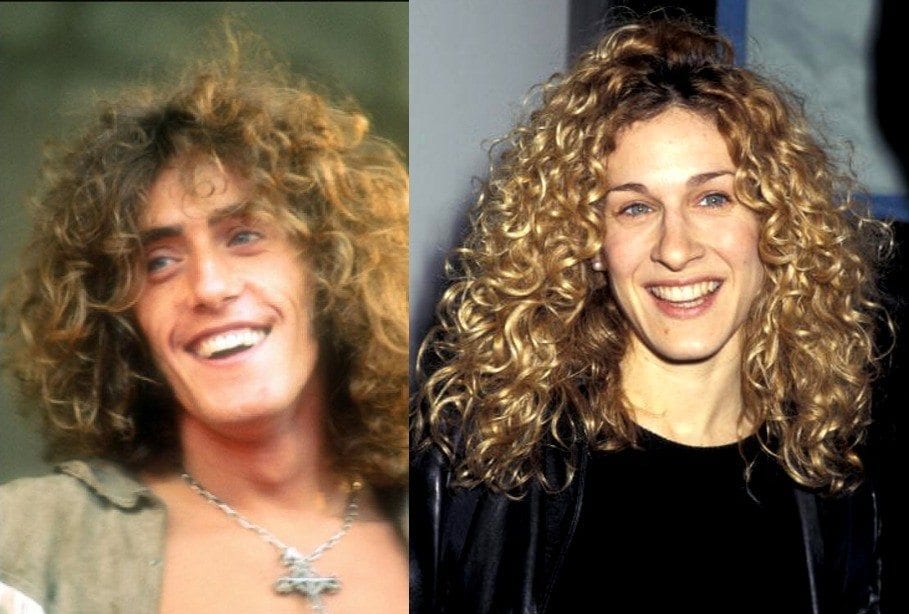 Sarah Jessica Parker, an American actress and producer known for her leading role as Carrie Bradshaw on the HBO television series Sex and the City looks so alike with Roger Harry Daltrey, CBE , an English singer, songwriter and actor.
Katherine Mathilda "Tilda" Swinton and Conan Christopher O'Brien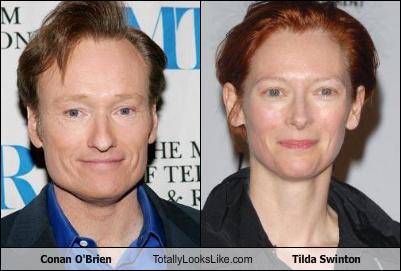 In case you aren't familiar with Katherine Mathilda "Tilda" Swinton and her look-alike, Tilda Swinton is a British actress and fashion muse popular for both arthouse and mainstream films while Conan Christopher O'Brien is an American television host, comedian, writer, producer, and voice actor. The features of their faces look eerily like each other including their eye balls, hair and how they smile.
Clea DuVall and Josh Hartnett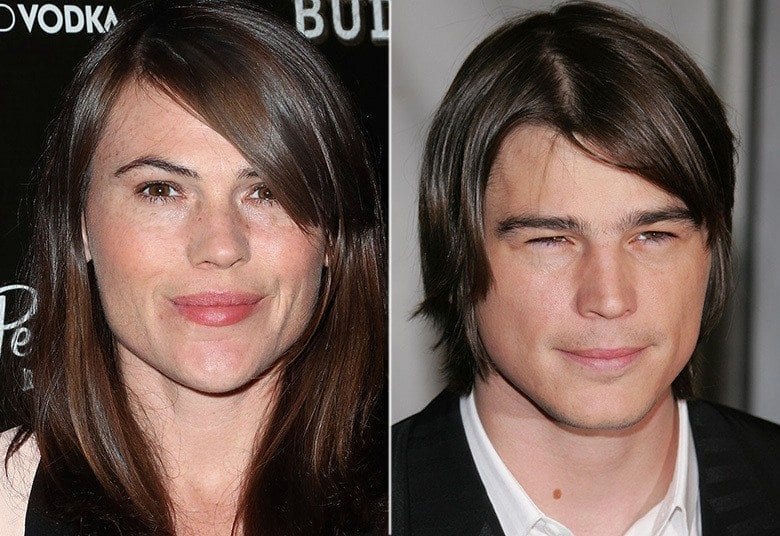 Notice a close physical likeness between Clea Helen D'etienne DuVall, an American actress born in Los Angeles, California best known for her role as Sofie on the HBO television series Carnivàle  and Joshua Daniel "Josh" Hartnett, an American actor and producer? Way close like they have DNA link.
Jada Pinkett Smith and Zoe Saldana

Zoe Saldana (an American actress and dancer) and Jada Pinkette (an American actress, singer-songwriter, and businesswoman) are close enough in age to be sisters. With only 7 years between them, they are exactly alike. So we think that someone's mom isn't telling the truth, because these ladies could be twins! They look more alike than Zoe does with her own biological sis
Ozzy Osbourne and Penny Marshall

Penny Marshall, an American actress, director, and producer and Ozzy Osbourne, an English singer, songwriter and television personality are another two people who share a lot in common in terms of their looks. Despite their age differences, they look strikingly alike.
Alanis Morissette and Anthony Kledis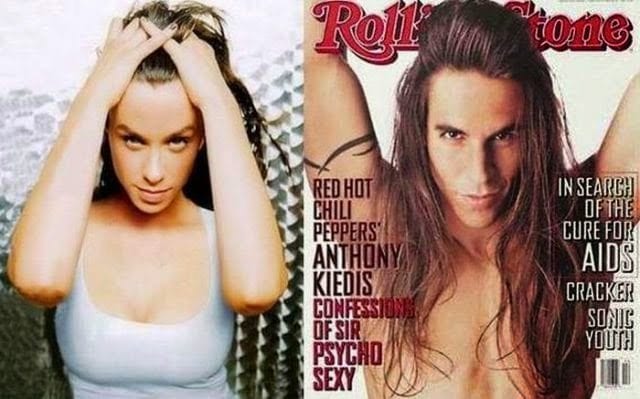 Alanis Nadine Morissette and Anthony Kledis didn't escape this list of celebrities who look so alike. The Canadian-American alternative rock singer-songwriter, guitarist, record producer, actress, 16 Juno Awards and seven Grammy Awards winner and a two-time nominee in Golden GlobeAwards, Alanis Nadine Morissette probably has a twin in the industry from another mother. Anthony Kiedis, an American musician, famous the lead singer and lyricist of the band Red Hot Chili Peppers with whom he has fronted since their inception in 1983 share look with rock singer Alanis.
Maria Shriver and Willem Dafoe
Chicago born American journalist, author of six best-selling books, and former First Lady of California for being the wife of former California Governor Arnold Schwarzenegger, Maria Owings Shriver looks much the same with William J. Dafoe, best known as Willem Dafoe, an American film, stage, and voice actor, and a member of the experimental theater company The Wooster Group.
Julia Roberts and Steven Tyler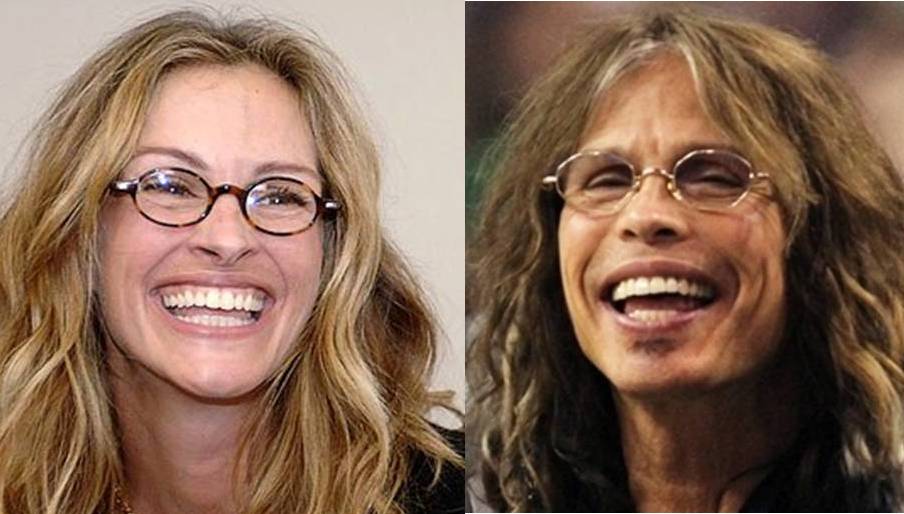 Julia Fiona Roberts Hollywood star best known as pretty woman after headlining the romantic comedy Pretty Woman, which grossed $464 million worldwide and Steven Tyler (Demon of Screaming) an American singer-songwriter, multi-instrumentalist, and former television music competition judge, best known as the frontman of the Boston-based rock band Aerosmith look indistinguishable. They no doubt share certain features which leaves us to ponder if there's a link in their DNAs.
Zooey Deschanel & Katy Perry

Is Zoey Deschanel a double of Katy Perry. The mother of Katy Perry, an American singer, songwriter and actress and that of Zooey Deschanel, an American actress, singer-songwriter, model, musician, and producer might have some secret to share. It's better if their mothers start talking quick because we are already curious to know how the close look came about.
Keira Knightley & Natalie Portman.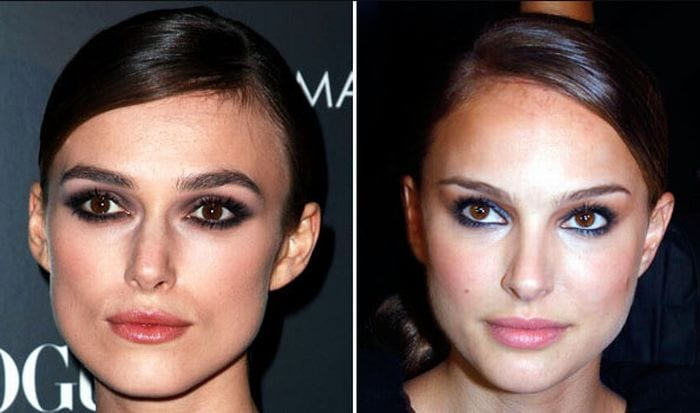 Keira is an English actress who started acting as a child on television and made her film debut in 1995. She gained widespread fame in 2002 after co-starring in the film Bend It Like Beckham and achieved international fame in 2003 after appearing as Elizabeth Swann in the Pirates of the Caribbean film series. Natalie an Israeli-born American (with dual citizenship), actress, producer, and director. She rose to prominence when she was cast as Padmé Amidala in the Star Wars prequel trilogy (released in 1999, 2002 and 2005).
Roselyn is a Puerto Rican singer-songwriter, model, actress, producer and writer while Nicole is an American singer, dancer, actress and television personality, so we wonder how they look so alike.
Margot Robbie and Jaime Pressly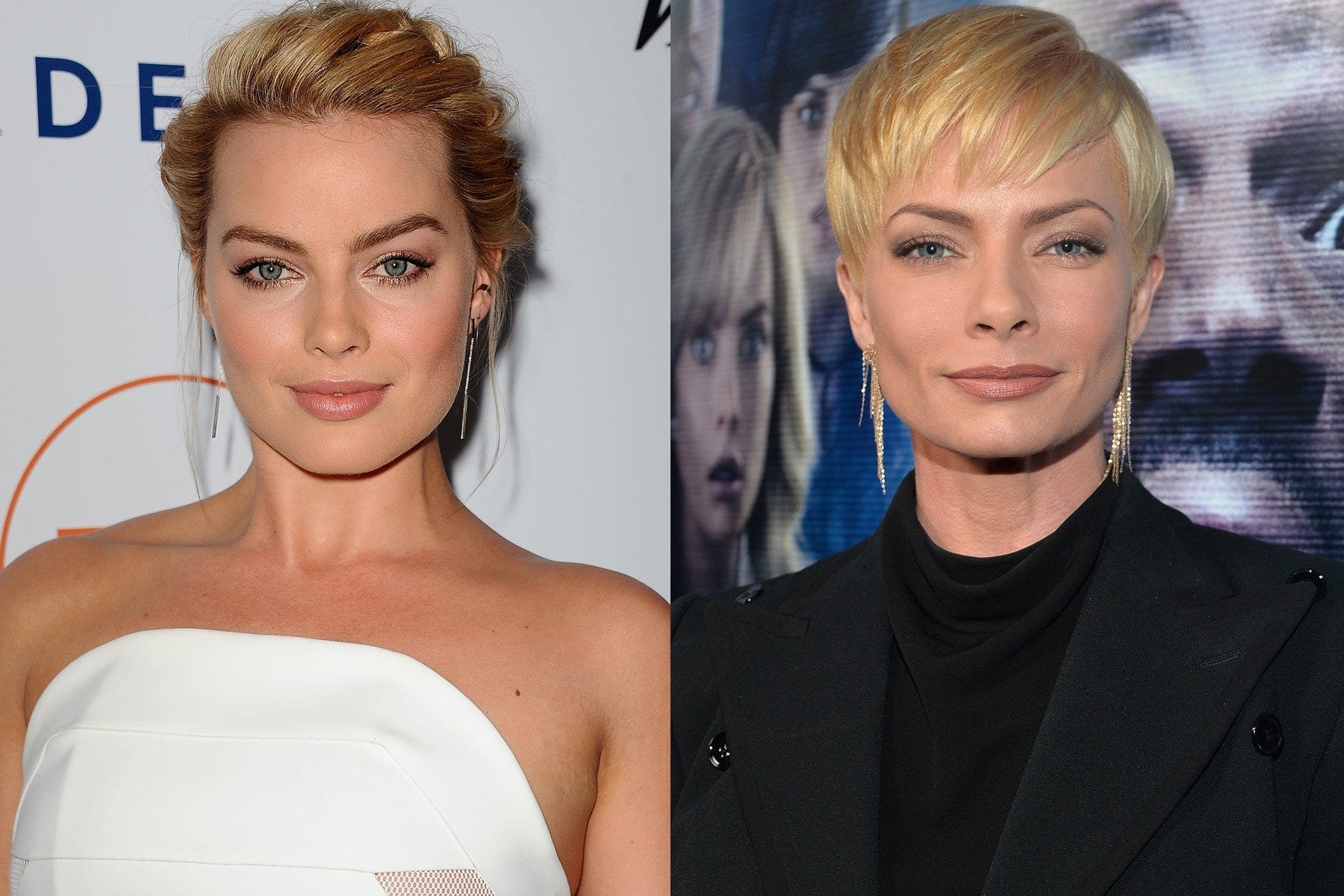 Australian actress Margot Robbie got us thinking she was Jaime Pressly, an American actress and model in the movie The Wolf of Wall Street. It wasn't until the credits rolled that we found out they weren't the same person, and that Margot is much  younger than Jaime. Even till now I can't tell them apart.
Helen Hunt and Leelee Sobieski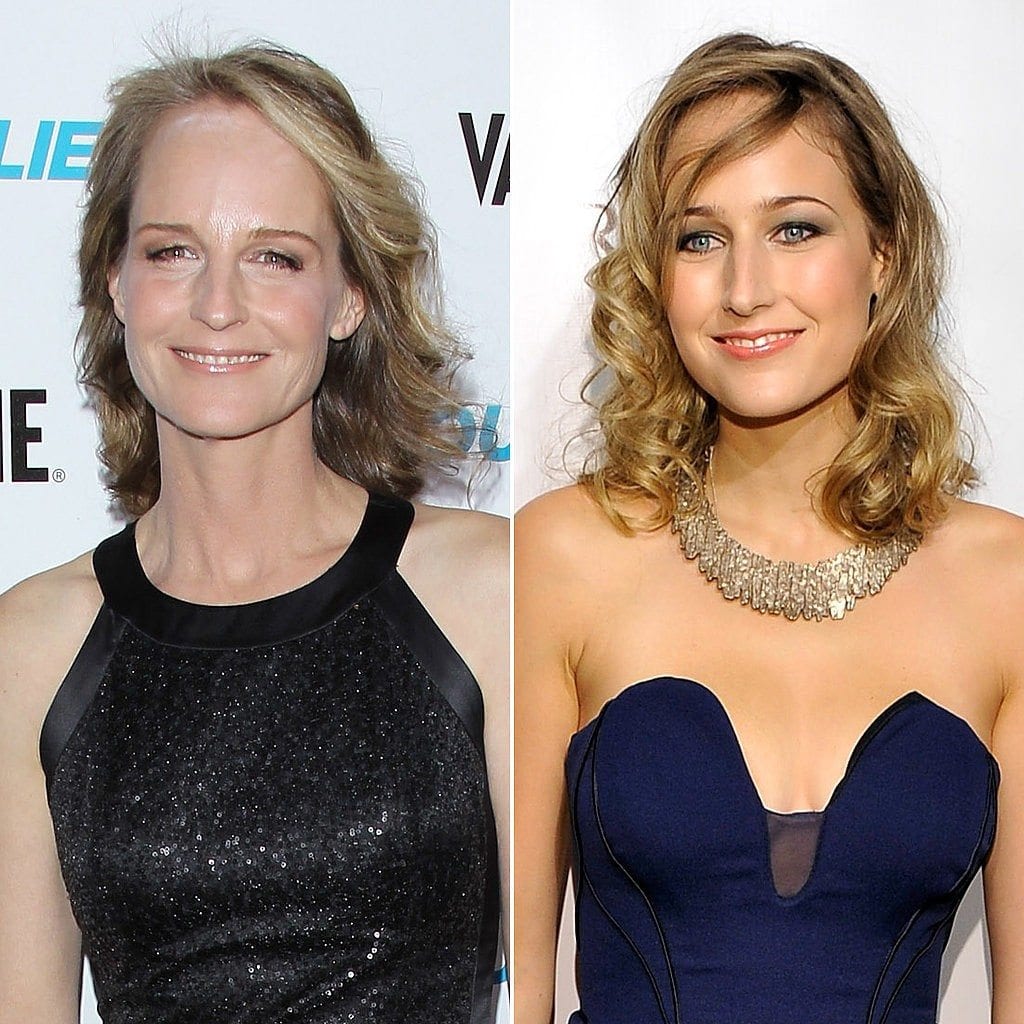 Helen Hunt is an American actress, film director, and screenwriter who starred in the sitcom Mad About You for seven years, and played single mother Carol Connelly in the 1997 romantic comedy film As Good as It Gets, for which she won the Academy Award for Best Actress. Leelee Sobieski is an American film and television actress who became famous in her mid-teens for her performance in the 1998 film Deep Impact and as the daughter of a costume store owner in Eyes Wide Shut (1999). The two celebrities share a lot in common including the way they smile.
Sarah Hyland and Mila Kunis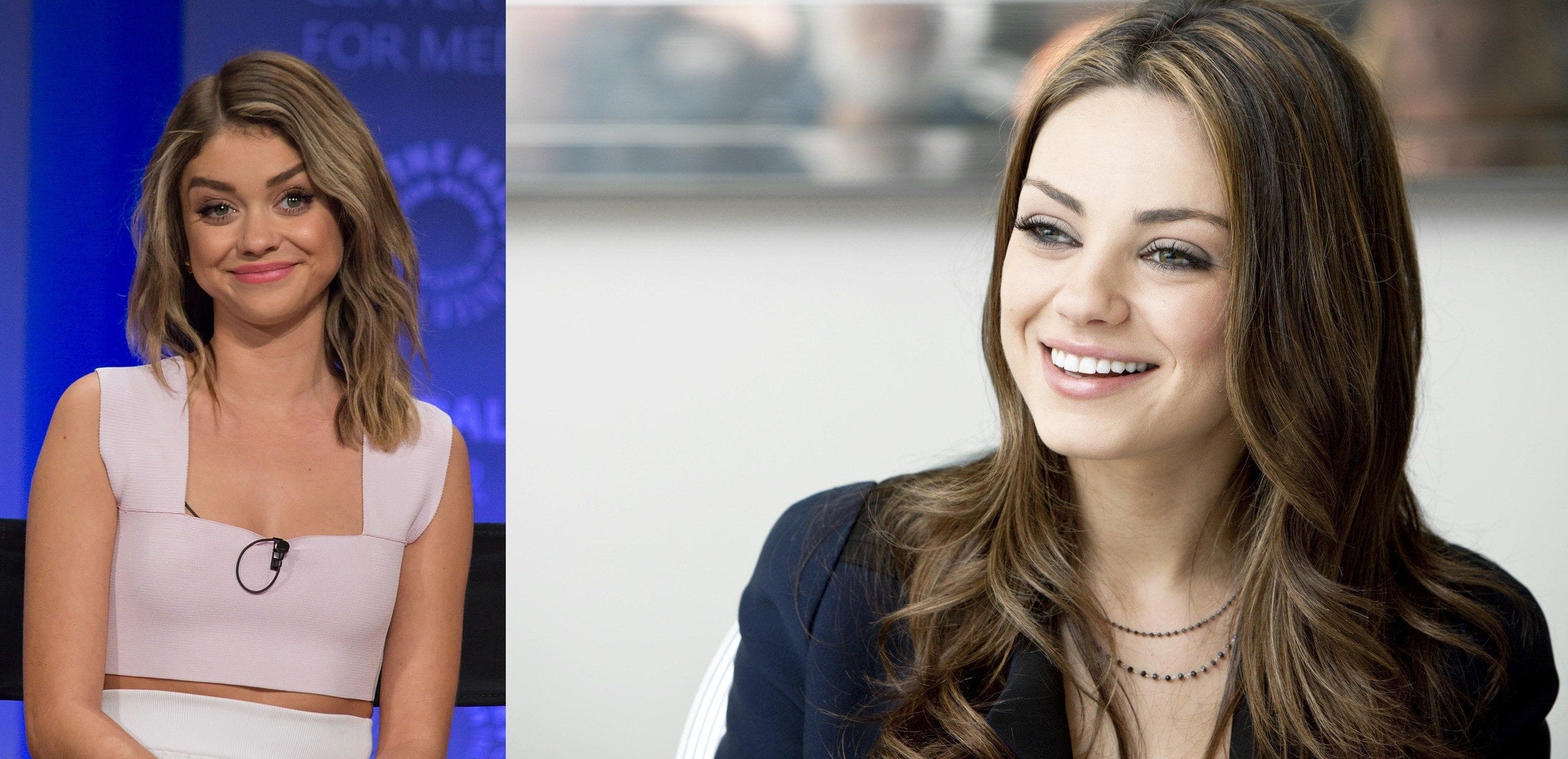 Sarah is an American actress best known for her role as Haley Dunphy on the ABC sitcom Modern Family. Mila Kunis is an American actress who appeared in several television series and commercials, before earning her first significant role just before her 15th birthday, playing Jackie Burkhart on the television series That '70s Show. Have you ever seen the two of them in the same place at once? I bet you wouldn't recognize who is who when you do.
Jordana Brewster and Demi Moore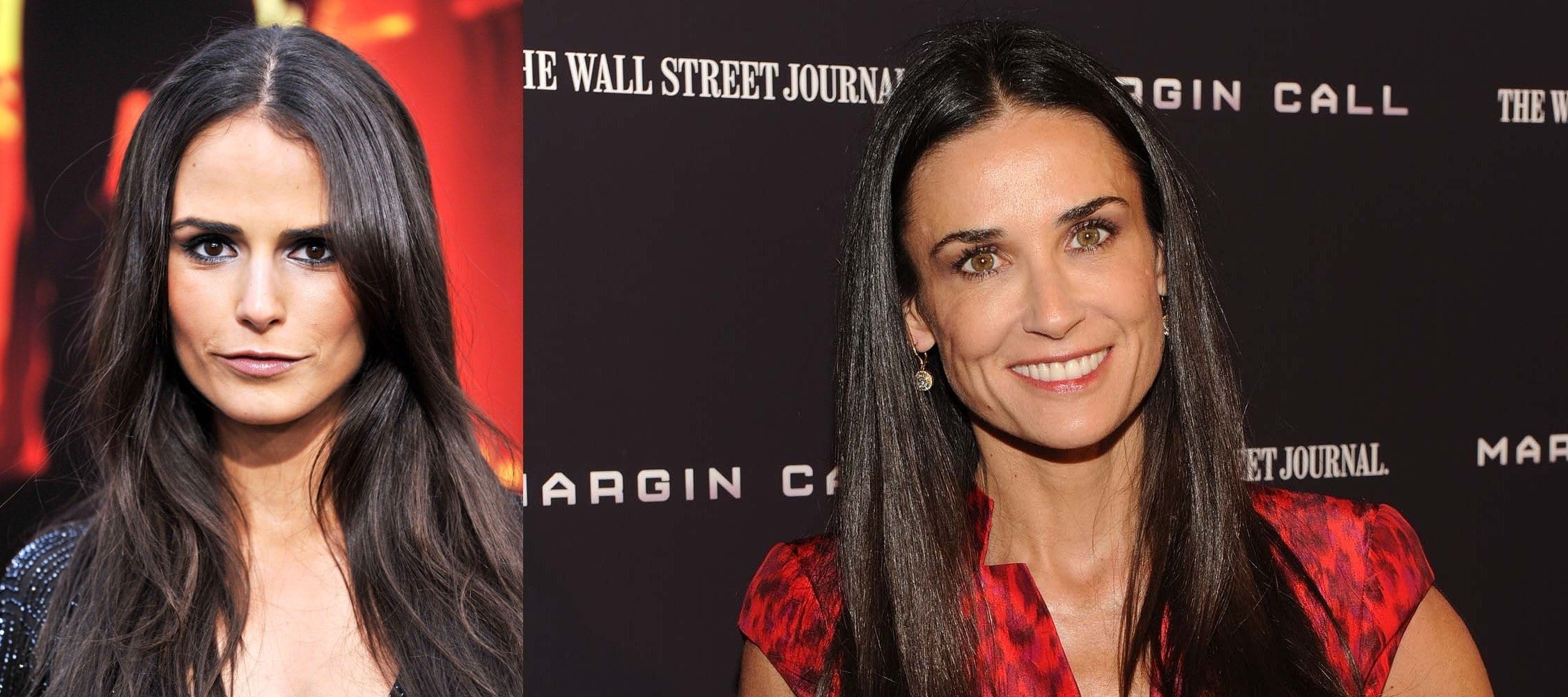 Jordana Brewster is an American actress and model who started out her acting career in her late teens, with a 1995 episode of the soap opera All My Children and has since risen to prominence. Demi Moore is an American actress, filmmaker, former songwriter, and model. The two celebrities look like they share a common in their DNA starting from their chin, smile, etc..
Logan Marshall-Green and Tom Hardy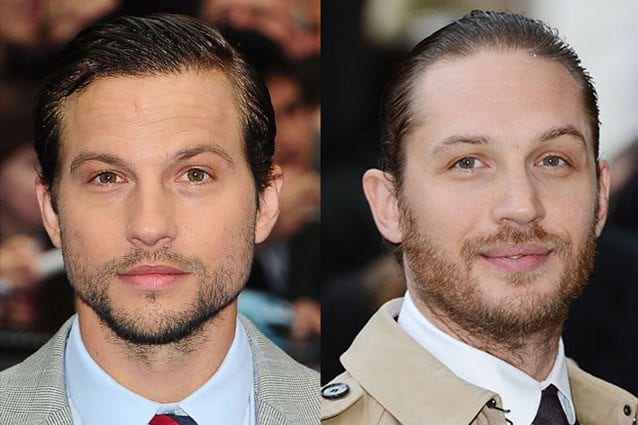 Logan Marshall-Green is an American actor known for his roles in the television series 24, The O.C., Traveler, and Dark Blue, and as Charlie Holloway in the 2012 Ridley Scott film Prometheus. Tom Hardy, an English actor made his feature film debut in the war film Black Hawk Down (2001). They look terrifyingly alike.
Javier Bardem and Jeffrey Dean Morgan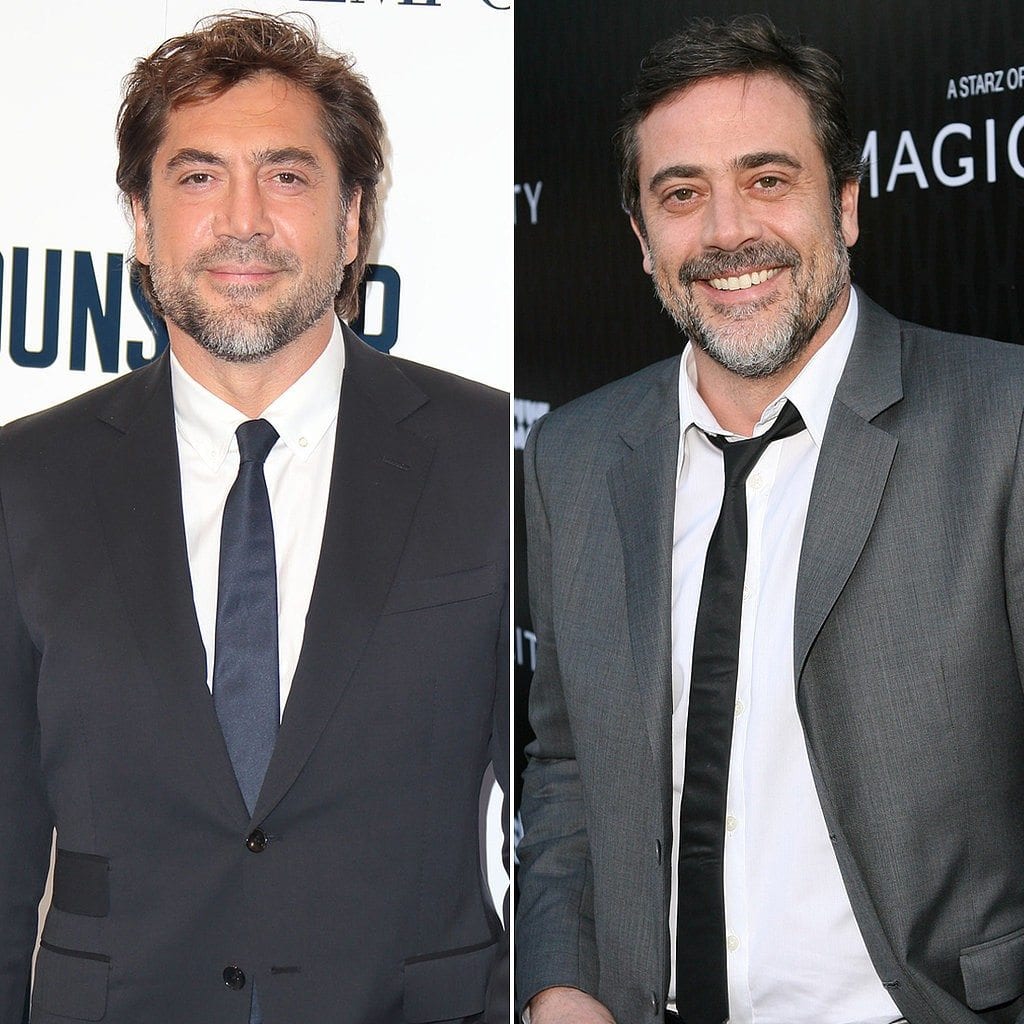 Javier is a Spanish actor. He was bestowed with Academy Award for Best Supporting Actor for his role as psychopathic assassin Anton Chigurh in No Country for Old Men in 2007.  Jeffrey is an American actor. He is best known for portraying Denny Duquette in the medical drama Grey's Anatomy for parts of three seasons (2006-2009), John Winchester on Supernatural, The Comedian in the 2009 superhero film Watchmen, and Ike Evans in Magic City.