Year in year out, magnificent buildings are erected somewhere in the world. But some are so incredible that they are considered landmarks, some of them even contribute to its country's GDP as they keep attracting tourists. These buildings usually have something in common – they are the most expensive buildings in the world.
Some of the big cities of the world boast tall and magnificent buildings, with architectural designs that can make just anyone stare in awe. The construction cost of such buildings usually amounts to billions of dollars. While a lot of these buildings are skyscrapers, the price of construction isn't directly proportional to its height. Instead, the ultra-modern amenities made available, and the exterior/interior uber-luxurious designs escalate the cost.
In compiling this list, we used sources like MSN and Wikipedia for insight into the top twenty costliest buildings in the world. Without further ado, here is a detailed look at the most expensive buildings in the world, with facts about their locations and construction.
20. Antilia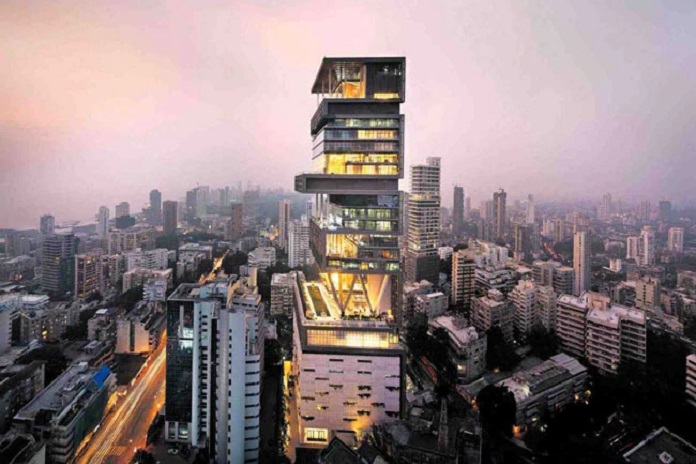 Construction Cost: $2.3 billion
Location: Mumbai, India
Floors: 27
Area: 4,532 m²
Height: 173 m CTBUH
Owner: Mukesh Ambani
Architecture firm: Perkins and Will
Belonging to India's richest man Mukesh Ambani, Antilia is the only privately-owned residential property on this list. After Buckingham Palace, Antilia is the second world's most expensive residential building and the most expensive privately-owned residential building in the world. Though it may be just a residential building, the 27-story skyscraper employs 600 in-house staff to look after it's over the top amenities.
In addition to the breathtaking purview it offers the billionaire and his family, Antilia features three helipads, nine elevators, six parking lots, with 168 car capacity. It also has pools, a spa, a gym, a snow room, and a cinema.
19. 200 West Street, New York
Construction Cost: $2.4 billion
Location: New York, USA
Floors: 44
Height: 228 m CTBUH
Construction started: 2005
Floor area: 2,099,985 sq ft (195,095.0 m2)
Location: Battery Park City, Manhattan, New York City
The building is the global headquarters of Investment bank, Goldman Sachs. The building features an environment-friendly raised floor underfloor air system. Multiple environmental air towers located in the tenant space that delivers 62 °F (17 °C) air into a raised access floor plenum provide condition air for its occupants. This underfloor air system provides users with the ability to control their space temperature, as well as improving ventilation effectiveness. When building churn occurs, workstation moves can be performed more efficiently with lower cost and less product waste. The investment company was the envy of Wall Street when the sumptuous $2.4 billion (£1.5bn) head office opened in its doors in 2010. 
18. Bellagio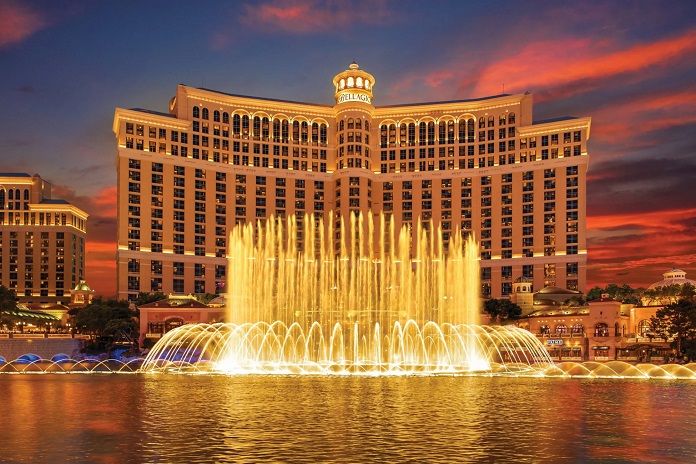 Construction Cost: $2.4 billion
Location: Las Vegas, USA
Location: Paradise, Nevada, U.S.
Address: 3600 South Las Vegas Boulevard
Opening date: 15 October 1998; 22 years ago
No. of rooms: 3,950
Bellagio luxury hotel and Casino has two towers with 36 and 33 floors measuring 151 m and 119 m, respectively. The tallest is the main tower, which houses over 3000 hotel rooms/suites with each room containing amenities in the hotel, while the shorter tower- the spa tower has over 900 rooms. The exclusive The Bellagio fountain and dancing water are what differentiates it from other luxury casinos on the Vegas strip. Bellagio is one of the many properties of MGM Resorts Intl.
17. Princess Tower
Construction Cost: $2.4 billion
Location: Dubai, UAE
Architectural Height: 413.4 m (1,356 ft)
Antenna spire: 414 m (1,358 ft)
Roof: 392 m (1,286 ft)
Top floor: 356.9 m (1,171 ft)
Floor Count: 101, plus 6 basement floors
Amazingly, this 101-story, 413.4 m tower, is not a hotel but a residential "only" building, which took six years to construct (2006-2012). It is currently the second-tallest building in Dubai after Burj Khalifa, the tallest building in the world (828m). Some of its features include eight retail outlets, 763 units, and a 6-floor underground parking lot with the capacity to carry almost 1000 cars. Its design was done by Adnan Saffarini Office and developed by Tameer Holding Investment LLC.
16. Shanghai Tower
Construction Cost: $2.5 billion
Location: Shanghai
Address: 501 Yincheng Middle Rd, Lu Jia Zui, Lujiazui Residential District, Pudong, Shanghai, China
Height: 632 m CTBUH
Floors: 128
Floor Area: 171,175 m2 (1,842,512 sq ft)
At 2,073 feet (632 meters) high, Shanghai's twisty tower boasts all sorts of superlatives. From one of the most expensive buildings in the world, the world's fastest lifts, and the highest observation deck on the planet. It is also the world's second-tallest building by height to the architectural top, and it shares the record of having the world's highest observation deck within a building or structure at 562m. It opened in 2014, having cost $2.5 billion (£1.7bn).
15. Yankee Stadium, New York
Construction Cost: $2.6 billion
Location: New York, USA
Address: 1 E 161 St, The Bronx, NY 10451, United States
Departments: Yankee Stadium Team Store
Capacity: 54,251
Opened: 2 April 2009
Owner: New York City Economic Development Corporation
Yankee Stadium is a baseball park located in Concourse, Bronx, New York City. It is the home field for the New York Yankees of Major League Baseball and New York City FC of Major League Soccer. The replacement Yankee Stadium in New York cost $2.3 billion (£1.7bn) to construct in 2009, making it the most expensive stadium ever built. Controversially, a hefty $1.2 billion (£863m) of public money helped fund the project. The design includes a replica of the frieze along the roof that had been part of the original Yankee Stadium.
14. The Shard, London
Construction Cost: $2.6 billion
Location: London, UK
Address: 32 London Bridge St, London SE1 9SG, United Kingdom
Height: 310 m
Floors: 87
Construction started: 16 March 2009
Floor area: 398,490 m2 (4,289,300 sq ft)
The Shard, also referred to as the Shard of Glass and formerly known as London Bridge Tower, is a 95-story gorgeous tall skyscraper in Southwark, London forming part of Shard Quarter Development. The 310 meters tall building has been the UK's tallest building since its completion in 2012 and the sixth tallest building in Europe. The construction involved the revamping of the areas that surround the London bridge.
13. City of Dreams
Construction Cost: $2.7 billion
Location: Macau, China
Opening date: 1 June 2009; 11 years ago
No. of rooms: 2,251
Total gaming space: 420,000 square feet (39,000 m2)
Dubbed "COD Macau in the industry," this podium style property designed by Miami's Arquitectonica is owned and managed by Melco Crown Entertainment. The entire property boasts four buildings- The Hard rock Hotel, Crown Tower Hotel, and two towers of the Grand Hyatt Macau. All three hotels have 1400 rooms/suites, a massive 420,000 sq. ft. casino with 450 gaming tables, and 1514 gaming machines; more than 20 bars and restaurants, and an exclusive 175,000 sq. ft. Boulevard retail space, which spans across two floors. The entertainment in COD includes the Vquarium, the bubble fountain theatre, and the dancing water theatre. COD opened services to the public in 2009.
12. Venetian Macau
Construction Cost: $3 billion
Location: Macau, China
Location: Macau
Address: Cotai Strip
Opening date: 28 August 2007; 13 years ago
Theme: Venice, Italy
No. of rooms: 3,000
Total gaming space: 550,000 sq ft (51,000 m2)
Venetian Macau is a 39-story luxury hotel and casino resort and property of Las Vegas Sands. Its 550,000 sq. ft. casino is the largest in the world with 800 gambling tables and 3400 slot machines. The structure is the largest single structure in Asia, with 3000 suites and 1.6 million sq. ft. of retail space. Its Cotai Arena seats up to 15,000 people, hosts sports events, award shows, and concerts. The design of Venetian Macau, which is the same as The Venetian LA, was done by Aedas & HKS Inc.
11. Istana Nurul Iman Palace
Construction Cost: $3.3 billion
Location: Brunei
Address: Jln Menteri Besar, Bandar Seri Begawan BA2112, Brunei
Structural system: Malay and Islam
Floor area: 2,152,782 square feet (200,000 m2)
Architect: Leandro Locsin
The 11th most expensive building in the world came at the cost of $3.3 billion. Built in 1984, The Istana Nurul Iman is the official residence of the Sultan of Brunei, Hassanal Bolkiah, and the seat of the Brunei government. The palace is located on a leafy, riverside sprawl of hills on the banks of the Brunei River, a few kilometers southwest of Bandar Seri Begawan, Brunei's capital city. The Sultan of Brunei's eye-opening home is the largest palace in the world that is still in use as a royal residence. The complex contains a total of 1,788 rooms, including a banqueting hall that can seat 5,000 guests.
10. Wynn Resort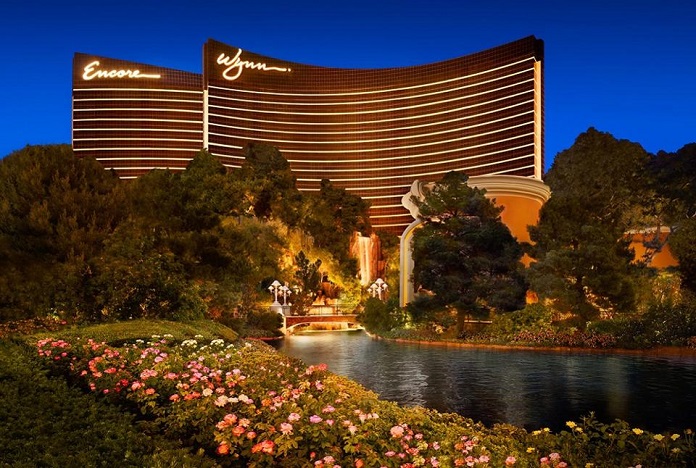 Construction Cost: $3.4 billion
Location: Las Vegas, Nevada, USA
Wynn resort is one of the world's most exclusive luxury hotels/casinos. It has excellent international ratings, including AAA five-diamond rating and Forbes five-star rating, to name a few. Wynn's 49 floors boast 2,716 rooms, a 111,000 sq. ft. casino, a convention center, and retail space for luxury brands. Together with its sister hotel, Encore, which has 2034 rooms, the entire complex is the 6th largest in the world and currently boasts the most Forbes five-star awards than any other hotel/casino in the world.
Some of the exceptional features of the Wynn include its Ferrari-Maserati car dealership, golf course, and the presence of a lake. There are about 5-night clubs and several Michelin-starred restaurants. Wynn Resort is the flagship property of Wynn Resorts Limited, which has billionaire hotel mogul Steve Wynn as its CEO.
Headquarters: Las Vegas Strip (Paradise), Nevada, U.S.
Address: 3131 South Las Vegas Boulevard
Opening date: April 28, 2005; 15 years ago
Theme: Imperfect Dreams Life Imitating Art
No. of rooms: 2,716
Total gaming space: 189,00
9. Emirates Palace
Construction Cost: $4.5 billion
Location: Abu Dhabi, UAE
Location: Ras Al Akhdar, Abu Dhabi, United Arab Emirates
Opening: February 2005
Owner: The Government of Abu Dhabi
The Emirate palace luxury hotel is the perfect depiction of the Arabian opulence. Located a few meters away from a private beach with natural green surroundings, the hotel has 95 suites and 302 rooms. The number of rooms may not be up to the thousands found in the others, but none of them comes close to being described as a seven-star hotel, revealing the level of luxury hospitality offered at the Emirates.
Most of the suites in this luxurious palace have gold furnishings. Other luxurious offerings include a Beach Club that offers watersports, rugby, cricket pitch, soccer facilities, and tennis courts. Owned by the government of Abu Dhabi, it is the masterpiece of the British Architect, John Elliot.
8. Palace of the Parliament, Bucharest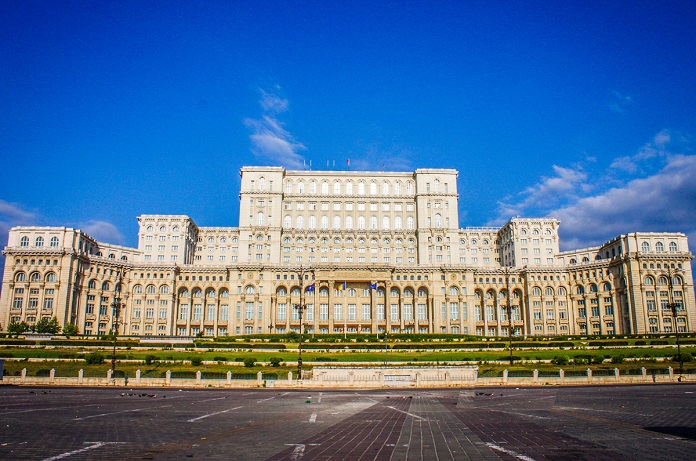 Construction Cost: $3.9 billion
Location: Bucharest, Romania
Address: Strada Izvor 2-4, București, Romania
Height: 84 m CTBUH
Architect: Anca Petrescu
Architectural styles: Neoclassical architecture, Stalinist architecture
The palace of the parliament is the seat of the parliament of the nation, Romania, located in the capital, Bucharest, atop Dealul Spirii. In 1984, the construction and development of the building began, which in today's money costs a total of $3.9 billion. Romanian dictator, Nicolae Ceaușescu's monstrous Palace of the Parliament, was built on blood. To erect this eighth most expensive building in the world, thousands of workers died, and swathes of Bucharest got destroyed.
7. One World Trade Centre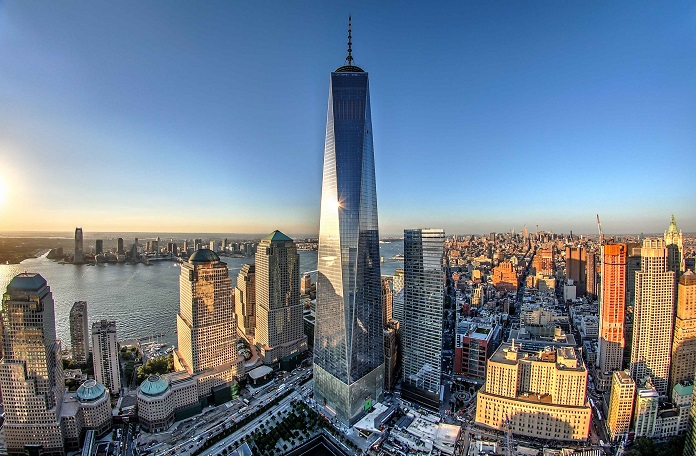 Construction Cost: $4.1 billion
Location: Manhattan, New York
Located in: Westfield World Trade Center
Address: 285 Fulton St, New York, NY 10007, United States
Height: 541 m, 546 m to tip CTBUH
Floors: 94
Colloquially known as Freedom Tower, the 104 standard story building with 94 actual floors is a replacement for the original world trade center destroyed by terrorists in the 9/11 attacks. Beating the Empire State building by height, 1 WTC became the tallest building in New York and the western hemisphere and the fifth tallest in the world after the completion of its construction. Davis Childs of Skidmore, Owings & Merrill designed this magnificent building.
6. The Cosmopolitan
Construction Cost: $4.4 billion
Location: Las Vegas, Nevada, USA
Popularly called Cosmo, it is one of the top luxury hotel/casinos in the world. It has two towers that house 2995 rooms, a 300,000 sq. ft. casino space, and an extensive fitness facility. It also has a theatre that seats 1,800 people, a convention and retail space, and restaurants, including famous ones like China Poblano, and Holsteins. Some of the exclusive attractions of the resort include Marque Nightclub & Dayclub, The Chandelier, and The Boulevard pool. The Blackstone Group property opened to customers in 2010 and is near another expensive building, Bellagio Hotel & Resort.
Address: 3708 South Las Vegas Boulevard
Opening date: December 15, 2010; 10 years ago
Theme: Metropolitan
No. of rooms: 3,027
Total gaming space: 110,000 sq ft (10,000 m2)
5. Resorts World Sentosa
Construction Cost: $4.93 billion
Location: Sentosa Singapore
Address: 8 Sentosa Gateway Singapore 098269
Opening date: 20 January 2010; 11 years ago
No. of rooms: 1,500+
Total gaming space: 15,000 m2 (160,000 sq ft)
The fifth most expensive building in the world is one of Singapore's major resort properties. The renowned architect, Michael Graves, designed it, and the Genting Group owns it. Resorts World Sentosa is home to one of the two major casinos in Singapore. Top features include The Maritime experimental Museum, a Marine Life Park, Universal studio park, Adventure Cove water park, and the world's largest oceanarium. Six hotels with 1800 rooms/suites inhabit the resort, which also offers elegant and casual dining. Its Resorts World Galleria luxury fashion includes Versace, Jimmy Choo, Bulgari, and Asia's first Victoria Secret boutique. The entire property covers 121 acres of land.
4. Apple Park, Cupertino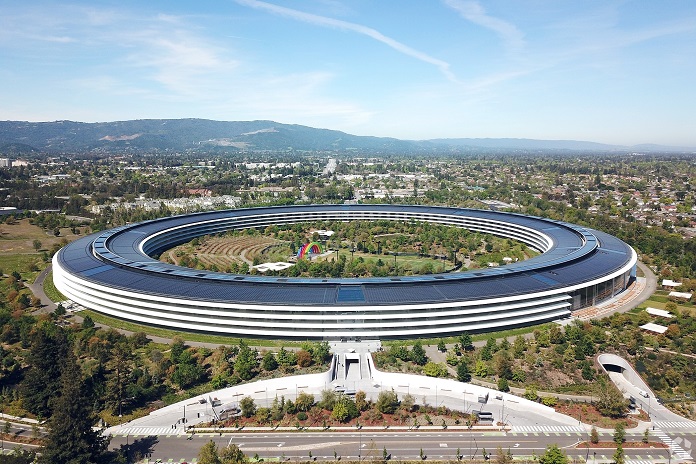 Construction Cost: $5 billion
Location: Cupertino, California
Address: 10955 N Tantau Ave, Cupertino, CA 95014, United States
Parking: 14,200
Cost: 5 billion USD (the land cost was estimated at $160 million)
Floor area: 2,800,000 sq ft (260,000 m2)
Architect: Norman Foster
Apple is the richest company in the world with more spare cash than many developing countries, the 4-story building houses over 12,000 staff and is the corporate headquarters of Apple Inc. So, it's only natural the firm would pump billions into its shiny new HQ in Cupertino, California. The campus, which opened last April, cost an estimated $5 billion in total. The building, fondly referred to as the spaceship, possesses an underground garage, onsite utilities, a solar roof, and two outdoor dining areas.
3. Marina Bay Sands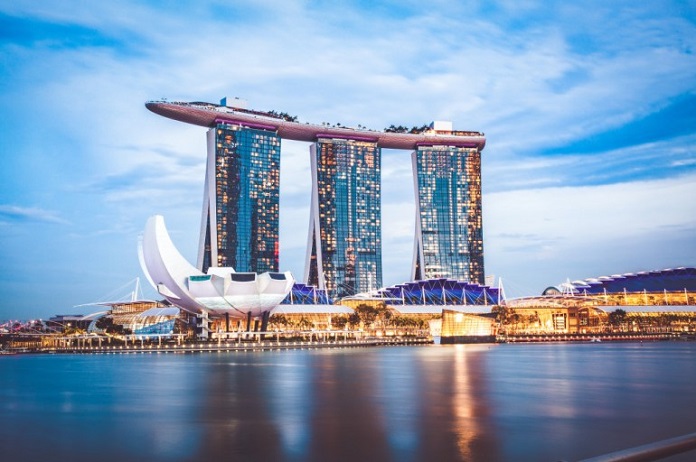 Construction Cost: $8 billion
Location: Marina Bay, Singapore
Address: 10 Bayfront Avenue, Singapore 018956
Opening date: 27 April 2010; (soft opening) 23 June 2010; (official opening)
17 February 2011; 10 years ago (grand opening)
No. of rooms: 2,561
Total gaming space: 15,000 sqm
Marina Bay Sands is one of Singapore's integrated resorts. There are many features in this magnificent building designed by Moshe Safdie. But the most astonishing is the cantilevered platform spread across its three towers, which is the largest in the world. The platform transformed into a Sky park is 340 meters long with the capacity to carry 3900 people, its 490 feet infinity swimming pool is a wonder to behold. Other attractions of the resort include The Sands Expo and convention center, Marina Bay Club, and Bay Floral. Its The Shoppes Mall measures 800,000 sq. ft. and expectedly has top luxury brand boutiques. Its atrium casino with 500 tables and 1,600 slot machines is the biggest in the world, while celebrity chefs run the restaurants. The resort, owned by Las Vegas Sands, boasts a total of 2561 hotel rooms.
2. Abraj Al Bait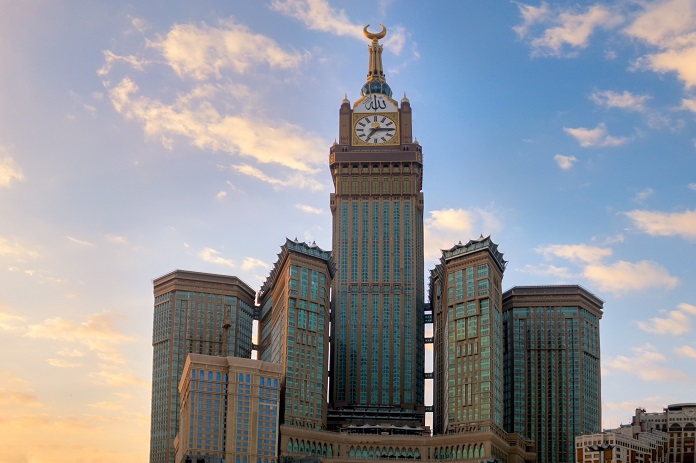 Construction Cost: $15 billion
Location: Mecca, Saudi Arabia
Address: Al Malawi, Al Haram, Mecca 24231, Saudi Arabia
Top floor: 494 m (1,621 ft)
Floor count: 120 (Clock Tower)
Cost: 15 billion USD
The second most expensive building in the world is the property of the Saudi Arabia government. Located in the country's holy city of Mecca, it was constructed to modernize the city and to cater for its annual influx of pilgrims. The central and tallest tower has a four-faced clock, which is the largest in the whole world. Some of the features of the building include a five-star hotel, a massive 10,000 capacity prayer room, two heliports, an over 1000 parking garage, a 5-story shopping mall, and a conference center. The entire complex is capable of occupying 100,000 people. Dar Al-Handasah designed the structure, and Saudi's largest construction company, Saudi Binladin Group, carried out the construction.
See Also: These Are The 10 Most Expensive Places to Live In 2020
1. Masjid al-Haram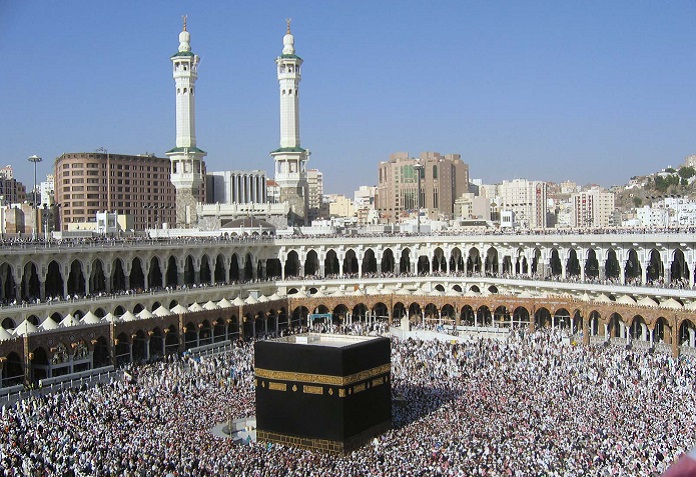 Construction Cost: $100 billion
Location: Mecca, Saudi Arabia
Address: Al Haram, Mecca 24231, Saudi Arabia
Capacity: 4 million worshippers
Minaret height: 89 m (292 ft)
Minaret(s): 9
Administration: Saudi Arabian government
And finally, the most expensive building in the world is a religious building. The Sacred Mosque or the Great Mosque of Mecca can accommodate up to four million people and surrounds a cuboid black building, referred to as the holiest place in Islam known as the Ka'aba. It covers 400,800 square meters, with about 99 acres of indoor and outdoor praying space. The religious building at the heart of Saudi Arabia's pilgrimage is the largest mosque in the world, and non-Muslims are not permitted to enter.
Recap
Here's a summary of the most expensive buildings in the world:
20. Antilia – Construction Cost: $2.3 billion
19. 200 West Street, New York – Construction Cost: $2.4 billion
18. Bellagio – Construction Cost: $2.4 billion
17. Princess Tower – Construction Cost: $2.4 billion
16. Shanghai Tower – Construction Cost: $2.5 billion
15. Yankee Stadium, New York – Construction Cost: $2.6 billion
14. The Shard, London – Construction Cost: $2.6 billion
13. City of Dreams – Construction Cost: $2.7 billion
12. Venetian Macau – Construction Cost: $3 billion
11. Istana Nurul Iman Palace – Construction Cost: $3.3 billion
10. Wynn Resort – Construction Cost: $3.4 billion
9. Emirates Palace – Construction Cost: $4.5 billion
8. Palace of the Parliament, Bucharest – Construction Cost: $3.9 billion
7. One World Trade Centre – Construction Cost: $4.1 billion
6. The Cosmopolitan – Construction Cost: $4.4 billion
5. Resorts World Sentosa – Construction Cost: $4.93 billion
4. Apple Park, Cupertino – Construction Cost: $5 billion
3. Marina Bay Sands – Construction Cost: $8 billion
2. Abraj Al Bait – Construction Cost: $15 billion
1. Masjid al-Haram – Construction Cost: $100 billion