Some of the big cities of the world boasts tall and magnificent buildings, with architectural designs that can make just anyone stare in awe. The construction cost such buildings usually amount to billions of dollars. While all these buildings are skyscrapers, the entire costs of construction isn't directly proportional to its height, instead the cost is escalated by the ultra modern amenities made available, and the exterior/interior uber luxurious designs which serve as key attractions. Year in year out, magnificent buildings are erected somewhere in the world, but there are some that are so incredible that they are considered landmarks, some of them even contribute to its country's GDP as they keep attracting tourists. The most expensive buildings in the world include; One World Trade Centre ($3.9 B), The Cosmopolitan ($4.16B), Emirate Palace ($4.5 B), and the Marina Bay Sands ($8 B). Here's a more detailed look at the top expensive buildings in the world.
15. The Palazzo
Construction Cost: $2.05 billion
Location: Las Vegas, USA
This Italian themed luxury hotel and casino is located on the famous Las Vegas strip, which is also home to two world's most expensive buildings- Bellagio and Wynn. The all-suite hotel was apparently not built for the middle class. With its suite rooms measuring 720 sq ft, Palazzo offers the largest accommodation on the strip and currently holds the Guinness record for the largest hotel in the world. Its high-end customers can purchase a ride from its Lamborghini dealership and luxury brand goodies from Michael Kors to Ralph Lauren at its "The Shoppes" Mall. Owned by Las Vegas Sands Corp, Palazzo was designed by HKN Inc.
14. Bank of China Tower
Construction Cost: $2.09 billion
Location: Hong Kong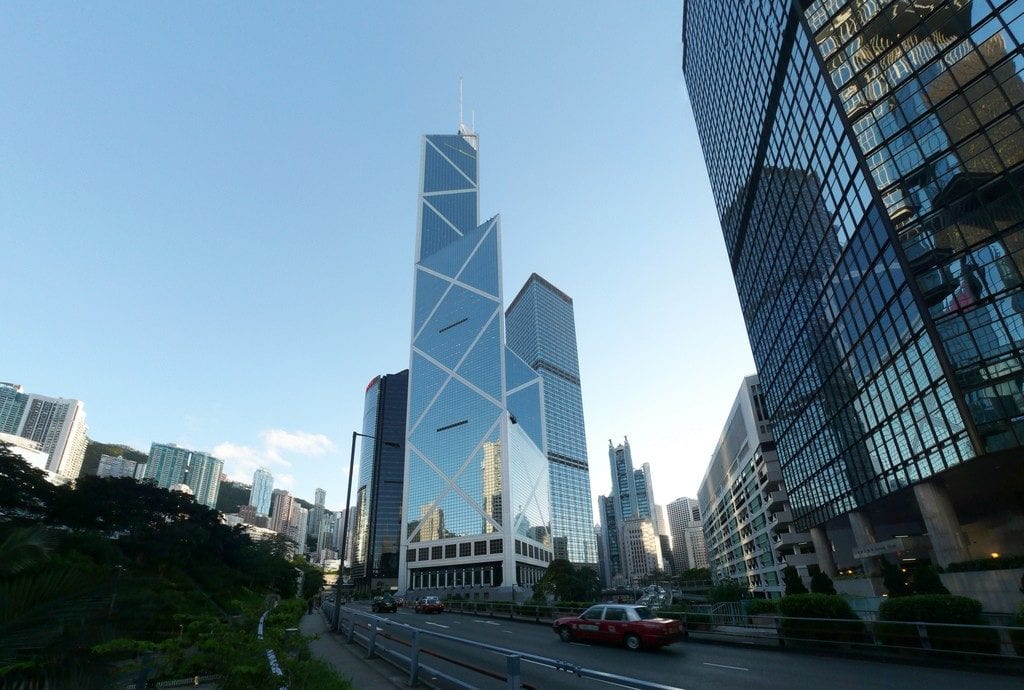 The tower's unique cross x shape framework differentiates it from its neighbours. The 315 m high building is the headquarters of the Bank of China which is Hong Kong's second largest bank in terms of assets and customer deposits. The 72-floor tower completed in 1990 was designed by I. M. Pei & Partners. It has featured in Hollywood movies including Battleship and Transformers: Age of Extinction.
13. Princess Tower
Construction Cost: $2.17 billion
Location: Dubai, UAE
Amazingly, this 101 story, 413.4 m tower is not a hotel but a residential "only" building which took six years to construct (2006-2012). It is currently the second-tallest building in Dubai after Burj Khalifa which is the tallest building in the world (828m). Some of its features include 8 retail outlets, 763 units, and a 6-floor underground parking lot with the capacity to carry almost 1000 cars. Its design was done by Adnan Saffarini Office and developed by Tameer Holding Investment LLC.
12. Bellagio
Construction Cost: $2.29 billion
Location: Las Vegas, USA
Bellagio luxury hotel and Casino has two towers with 36 and 33 floors measuring 151 m and 119 m respectively. The tallest is the main tower which houses over 3000 hotel rooms/suites while the shorter tower- the spa tower has over 900 rooms. Its exclusive The Bellagio fountain and dancing water is what differentiates it from other luxury casinos on the Vegas strip. Bellagio is one of the many properties of MGM Resorts Intl.
11. Antillia
Construction Cost: $2.53 billion
Location: Mumbai, India

Belonging to India's richest man Mukesh Ambani, Antillia is the only privately owned residential property on this list. After the Buckingham palace, Antillia is the second world's most expensive residential building, and the most expensive privately-owned residential building in the world.Though it may be just a residential building, the 27-story skyscraper employs 600 in-house staff to look after its over the top amenities. In addition to the breathtaking purview it offers to the billionaire and his family, Antillia features 3 helipads, 9 elevators, 6 parking lots,with 168 car capacity, pools, spa, gym, snow room, cinema, and all else that should be in a billionaires mansion.
See Also: Top 22 Most Expensive Houses And Their Owners
Other Topics: katt williams net worth, daniel tosh net worth, kobe bryant net worth, steve harvey net worth, suge knight net worth, chris tucker net worth, wiz khalifa net worth, martha stewart net worth, scott disick net worth, amber rose net worth, tamar braxton net worth, lindsay lohan net worth, charles barkley net worth, soulja boy net worth, jordan belfort net worth, bam margera net worth, john travolta net worth, lebron james net worth, kevin hart net worth
10. City of Dreams
Construction Cost: $2.75 billion
Location: Macau, China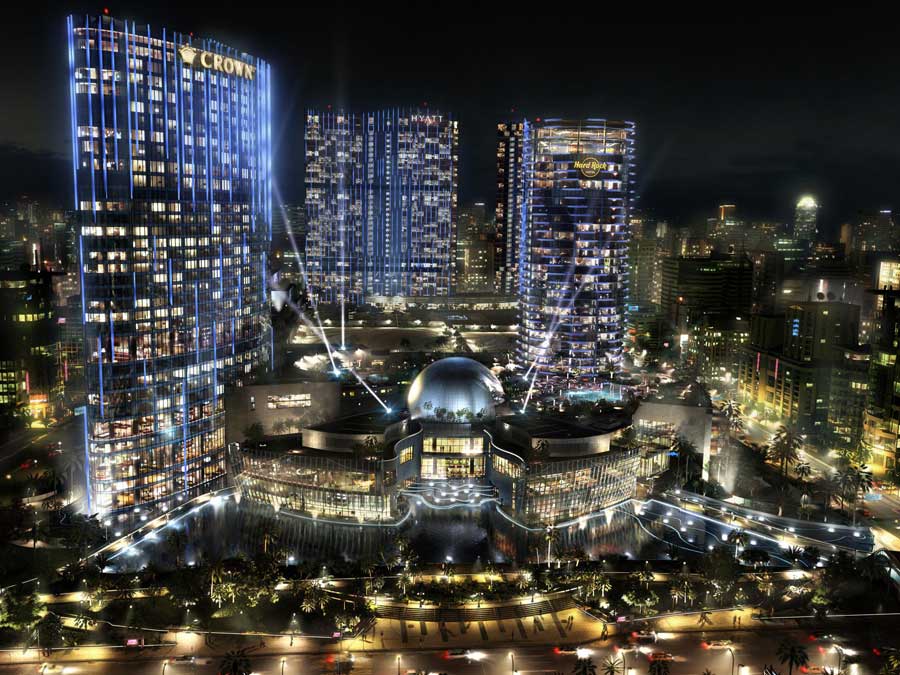 Dubbed "COD Macau in the industry", this podium style property designed by Miami's Arquitectonica is owned and managed by Melco Crown Entertainment. The entire property boasts four buildings- The Hard rock Hotel, Crown Tower Hotel, and two towers of the Grand Hyatt Macau. All three  hotels have 1400 rooms/suites, a large 420,000 sq ft casino with 450 gaming tables, and 1514 gaming machines more than 20 bars and restaurants and an exclusive 175,000 sq ft Boulevard retail space which spans across two floors. The entertainment in COD includes Vquarium, the bubble fountain theatre and the dancing water theatre. COD began services to the public in 2009.
9. Venetian Macau
Construction Cost: $3 billion
Location: Macau, China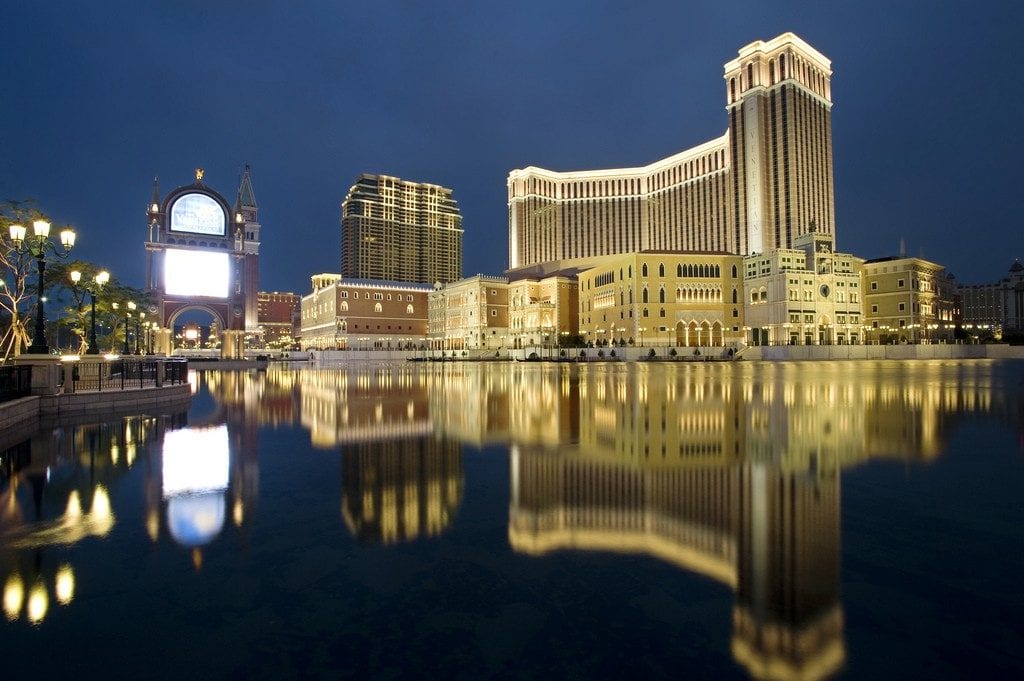 Property of Las Vegas Sands, The Venetian Macau is a 39-story luxury hotel and casino resort. Its 550,000 sq ft casino is the largest in the world having 800 gambling tables and 3400 slot machines. The structure is the largest single structure in Asia having 3000 suites and 1.6 million sq ft of retail space. Its CotaiArena, that seats up to 15,000 hosts sport events, award shows and concerts. The design of Venetian Macau which is the same as The Venetian LA was done by Aedas & HKS Inc.
8. Wynn Resort
Construction Cost: $3.26 billion
Location: Las Vegas, Nevada USA
Wynn resort is described as one of the world's most exclusive luxury hotel/casino with excellent international ratings including AAA five diamond rating, Forbes five-star rating, to name a few. Wynn's 49 floors boast 2,716 rooms, a 111,000 sq ft casino, a convention centre and a retail space for luxury brands. Together with its sister hotel, Encore which has 2034 rooms, the entire complex is the 6th largest in the world and currently boasts the most Forbes five-star awards than any other hotel/casino in the world.
Some of the exceptional features of the Wynn includes its Ferrari-Maserati car dealership, golf course, and the presence of a lake. There are about 5 night clubs and several Michelin-starred restaurants. Wynn resort is the flagship property of Wynn Resorts Limited which has billionaire hotel mogul Steve Wynn as its CEO.
7. One World Trade Centre
Construction Cost: $3.9 billion
Location: Manhattan, New York
Colloquially known as Freedom Tower, the 104 standard story building with 94 actual floors was built to replace the original world trade centre that was destroyed by terrorists in the 9/11 attacks. Beating the Empire State building by height, 1 WTC became the tallest building in New York and in the western hemisphere and the fifth tallest in the world after its construction was completed. The structure was designed by Davis Childs of SkidMore, Owings & Merrill.
6. The Cosmopolitan
Construction Cost: $4.16 billion
Location: Los Angeles, Nevada, USA
Cosmo, like its popularly called is considered as one of the top luxury hotel and casino in the world. Its two towers houses 2995 rooms, a casino space measuring 300,000 sq ft, extensive fitness facility, a theatre that seats 1,800, convention space, retail space and restaurants including famous ones like China Poblano, and Holsteins. Some of the exclusive attractions of the resort includes Marque Nigtclub & Dayclub, The Chandelier and The Boulevard pool. The property of The Blackstone Group was opened to customers in 2010 and is located near another expensive building "Bellagio Hotel & Resort" which cost $2.29 billion to build.
5. Australian Parliament Building
Construction Cost: $4.21 billion
Location: Canberra, Australia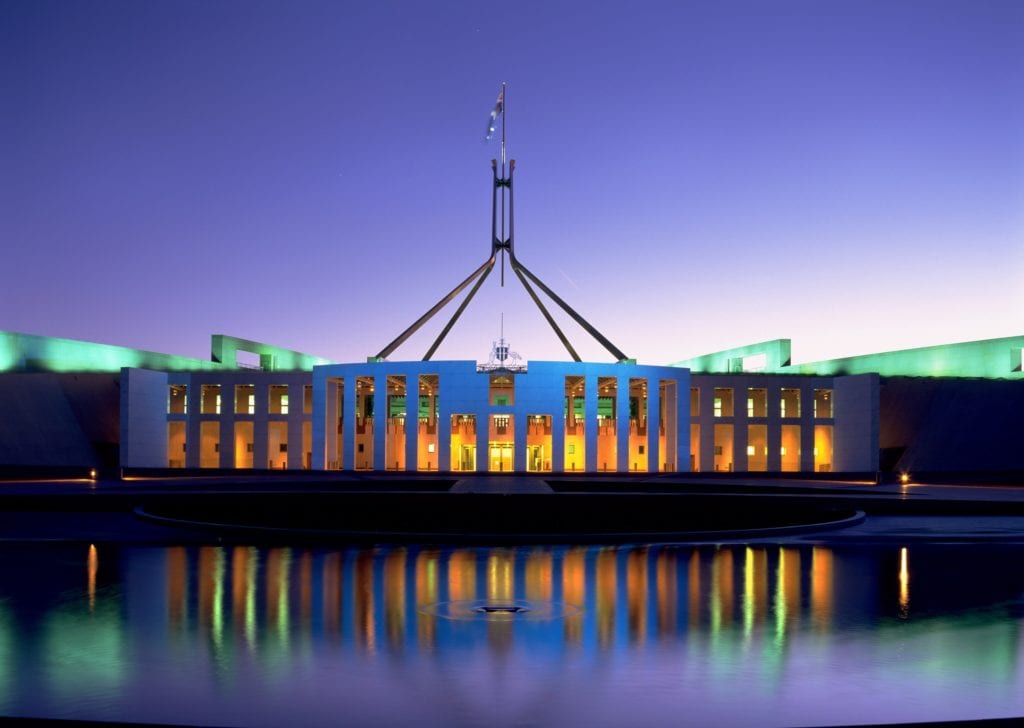 The meeting-house of the Australian parliament is quite an old building, it was commission by Queen Elizabeth II in 1988. At the time of building, it cost 1 billion Australian dollar but present day inflation adjustments escalates the cost to $4.21 billion. The design is the brainchild of Mitchell/Giurgola & Thorp Architects.
4. Emirates Palace
Construction Cost: $4.5 billion
Location: Abu Dhabi, UAE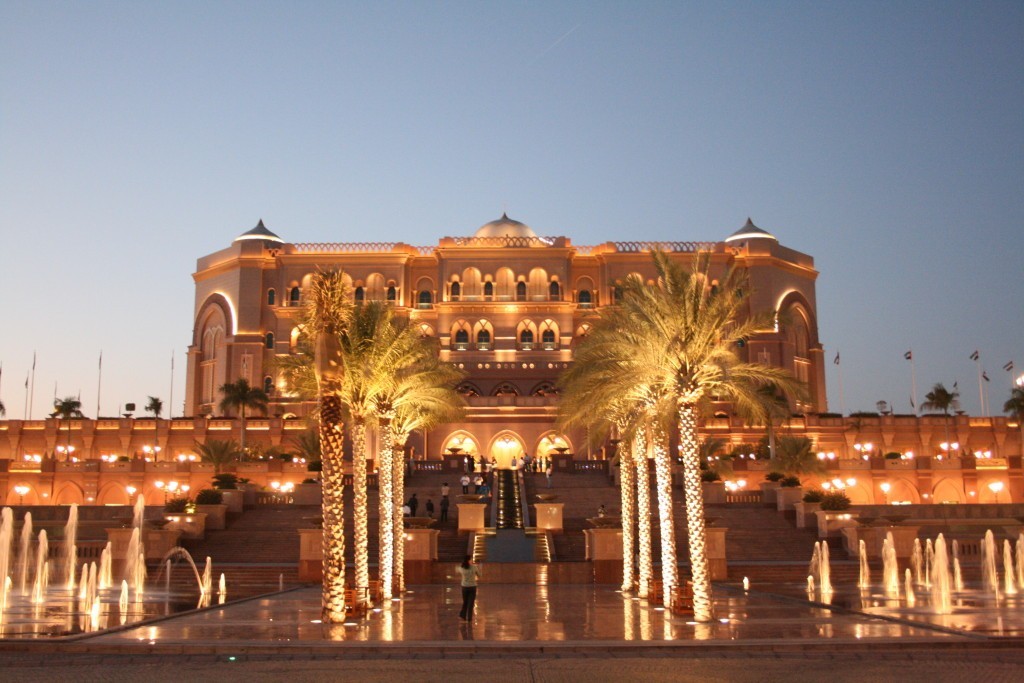 The Emirate palace luxury hotel is the perfect depiction of the Arabian opulence. Located few metres away from a private beach with natural green surroundings, the hotel has 95 suites and 302 rooms. The number of rooms may not be up to the thousands found in the others but none of them comes close to being described as a seven star hotel, that reveals the level of luxury hospitality offered at the Emirates. Most of the suites in the palace are adorned with gold furnishings. Its Beach Club offers watersports, rugby, cricket pitch, soccer facilities and tennis courts. British Architect John Elliot was the mastermind behind its design. The property is owned by the government of Abu Dhabi.
See Also: 20 Insanely Expensive Hotel Suites From Around The World
3. Resorts World Sentosa
Construction Cost: $5.4 billion
Location: Sentosa Singapore
This is one of Singapore's major resort properties designed by Michael Graves and owned by Genting Group. It is home to one of the two major casinos in Singapore. Top features include The Maritime experimental Museum, a Marine Life Park, Universal studio park, Adventure Cove water park and the world's largest oceanarium. Six hotels with 1800 rooms/suites inhabit the resort which also offers fine and casual dining. Its Resorts World Galleria luxury fashion includes Versace, Jimmy Choo, Bulgari and Asia's first Victoria Secret boutique. The entire property covers 121 acres of land.
2. Marina Bay Sands
Construction Cost: $8 billion
Location: Marina Bay, Singapore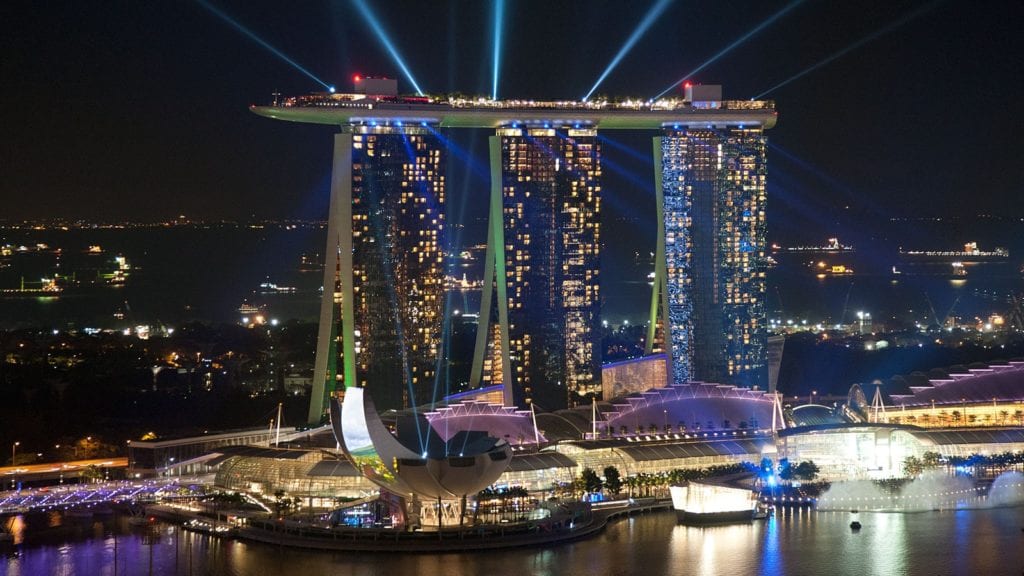 Marina Bay Sands is one of Singapore's integrated resort. There are many features in this magnificent building designed by Moshe Safdie but perhaps the most astonishing is the cantilevered platform spread across its three towers which is the largest in the world, the platform transformed into a Sky park is 340 metres long with the capacity to carry 3900 people, its 490 ft infinity swimming pool is a wonder to behold. Other attractions of the resort include The Sands Expo and convention centre, Marina Bay Club and Bay Floral. Its "The Shoppes Mall" measures 800,000 sq ft and includes top luxury brand boutiques. Its atrium casino with 500 tables and 1,600 slot machines is the biggest in the world, while the restaurants are run by celebrity chefs. The resort owned by Las Vegas Sands boast a total of 2561 hotel rooms.
1. Abraj Al Bait
Construction Cost: $15 billion
Location: Mecca, Saudi Arabia
The most expensive building in the world is the property of Saudi Arabia government and is located in the country's holy city of Mecca. It was constructed in a bid to modernize the city and also to cater for its annual influx of pilgrims. The central and tallest tower has a four-faced clock which is the largest in the whole world. Some of the features of the building include a five-star hotel, a large 10,000 capacity prayer room, two heliports, an over 1000 parking garage, a 5-story shopping mall and a conference centre. The entire complex is capable of occupying 100,000 people. The structure was designed by  Dar Al-Handasah and constructed by Saudi's largest construction company, Saudi Binladin Group.