Bond girls are often known for their willingness to mingle with 007 in bed. They are also known for behaving in a thoughtless manner which is why Bond had success with them because he always comes in to fix the situation.
He knows how to descend a mountain without using skis, and how to jump on top of the girl at the right time to save her in a very brief moment before the bomb goes off. He knows how to drive very fast without crashing  and the particular time a bullet is about to penetrate through a wall. He just knows how to fix all the mess! And the women are simply vacuous.
But if there's one thing the females in the action hero's life merit credit for, it's their smart dress sense and spectacularly arresting looks. You could tell they were nothing dowdy in the movie. Check these hot Bond girls who dated the fixer (Bond) in the movie.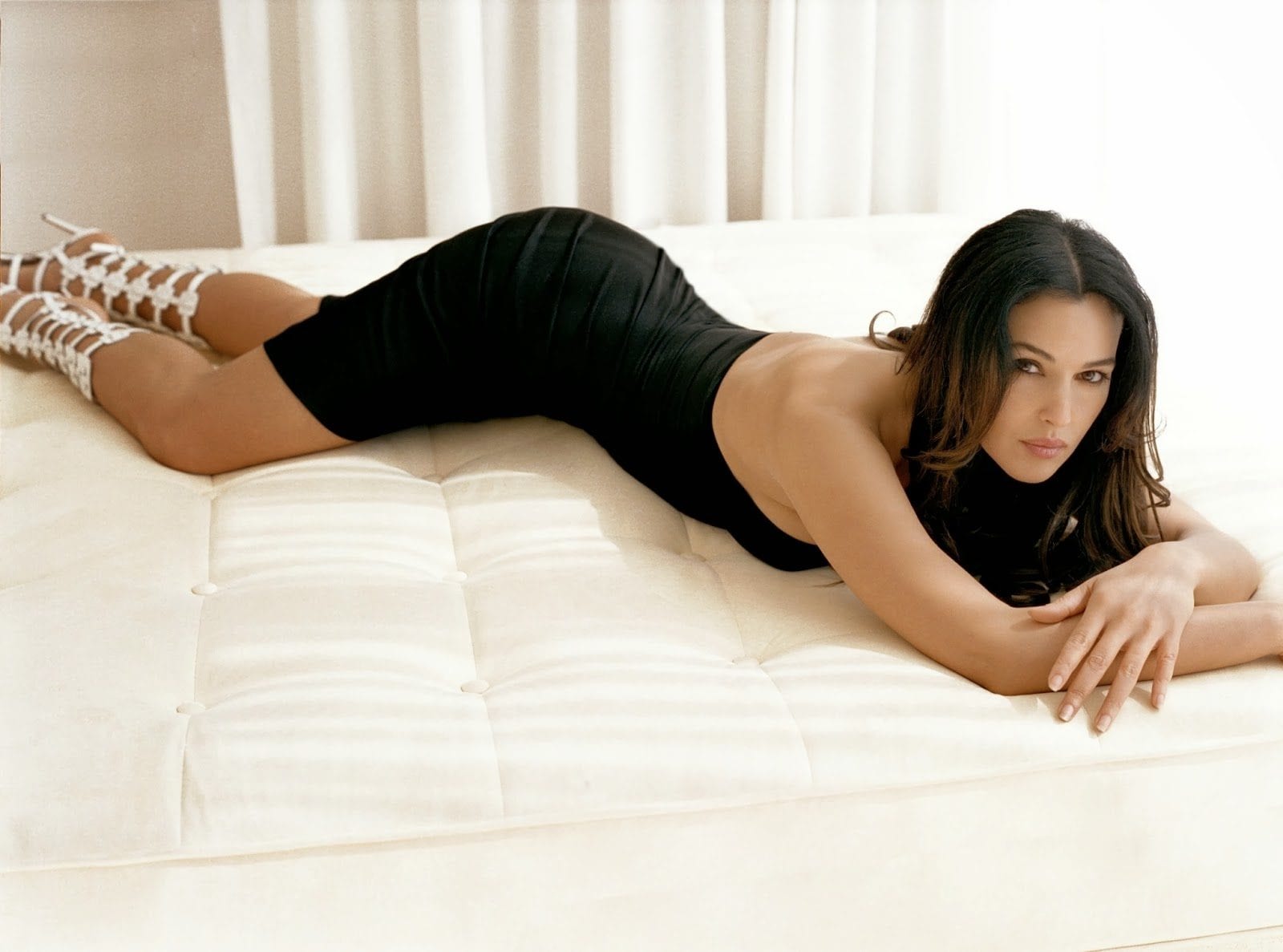 Monica Anna Maria Bellucci starred as Lucia Sciarra in "Spectre" and this means she is the oldest bond girl. That's some awesome title!  The Monica who is also an Italian model, besides posing for pictures, has featured in good films such as "The Passion of the Christ", "The Matrix Reloaded", "Brotherhood of the Wolf", and so many others. She even got hitched with Vincent Cassel in 1997 after they met on the set of the 1996 feature film "The Apartment".
Teri Hatcher – Paris Carver: Tomorrow Never Dies 1997
Teri  Hatcher played in Tomorrow Never Dies which is the eighteenth spy film in the James Bond series. In the 1997 movie, she played as Paris Caver,  bond's girlfriend. She has since been keeping herself busy on the career front featuring in many other echo-making movies like Louis Lane on "Lois & Clark: The New Adventures of Superman" and as Susan Mayer on the hit series "Desperate Housewives".
She has also starred in the comedy flick Sundown which was released in summer, alongside Camilla Belle and Sara Paxton. Also, she bagged a Golden Globe Award for Best Actress for her performance as Susan. Did anyone mention that the veteran has also remained as hot as ever though now 53-year-old?
Izabella Scorupco – Natalya Simonova: GoldenEye 1995
Izabella Scorupco is a Polish-Swedish actress who propelled to international fame after playing Natalya Simonova in the 1995 James Bond film "GoldenEye". besides being a Bond babe, she has starred in notable movies like "Exorcist: The Beginning", "Cougar Club" and "Vertical Limit" among others. Also, she featured in episodes of the TV series "Alias" as well as in Sleepwalker.
Naomie Melanie Harris – Eve Moneypenny: Spectre 2015 & Skyfall 2012
Naomie Melanie Harris has also contributed in the life-changing Bond franchise as she was nominated as Eve Moneypenny in 2015's "Spectre" and 2012's "Skyfall". Naomie has also starred in magic witch Tia Dalma in the second and third incarnation of the "Pirates of the Caribbean" series. Other famous roles include playing Selena in "28 Days Later" and Winnie Mandela in "Mandela: Long Walk to Freedom".
Bérénice Marlohe as Sévérine: Skyfall 2012
Bérénice Marlohe  became very popular after her role as a Bond girl Sévérine who was against heroine in the twenty-third James Bond "Skyfall". She is a believer of fate  and said in an interview that six months before the audition for the 2012's Bond flick, she saw herself acting alongside Javier Bardem in the dream. She has since grown and is now triple as skilled in acting. She will be starring in the upcoming film "Weightless" in 2016 with Ryan Gosling, Natalie Portman and Rooney Mara.
Olga Kostyantynivna Kurylenko –  Camille Montes: Quantum of Solace 2008
Olga Kostantinovna Kurylenko is another French actress who graced Bond movies. The 36-year-old French actress and model played a sizzling role of Camille Montes in 2008's "Quantum of Solace". She being a cover girl of magazines such as Elle and Vogue, also starred in numerous other movies and  in a TV series "Magic City". She also featured in the feature film "The Water Diviner" alongside Russell Crowe.
Gemma Christina Arterton – Strawberry Fields: Quantum of Solace 2008
Gemma Christina Arterton was cast as Strawberry Fields in 2008's "Quantum of Solace". Her career has been going from strength to strength after the legendary  role.  The stunning Quantum Of Solace star has featured in "St Trinians",  "Clash of the Titans", "Prince of Persia: The Sands of Time", "Byzantium" and as "Gretel in Hansel and Gretel: Witch Hunters". The star who has just finished making two films back-to-back won plaudits for her starring role in the West End show Nell Gwynn earlier this year.
Denise Richards – Dr. Christmas Jones: The World Is Not Enough 1999
Another spicy hot bond girl is Denise Richards. She was cast as Dr. Christmas Jones in 1999's "The World Is Not Enough". She has appeared in quite a lot of films, including Starship Troopers (1997), Wild Things (1998), Drop Dead Gorgeous (1999), and in Valentine (2001).  She acted as Monica and Ross Geller's cousin on Friends (2001). From 2008 to 2009, she starred on the E! reality show Denise Richards: It's Complicated. Between 2010 and 2011, she became a series regular on the comedy Blue Mountain State. In fact, she has really been shining in her career.
Eva Green –  Vesper Lynd: Casino Royale 2006
Eva Green was assigned the role of Vesper Lynd in Bond film "Casino Royale". The movie was released in 2006. The star has also starred in the sequel to "Sin City", "Sin City: A Dame to Kill". She was nominated for Best Actress in a Television Series – Drama, at the 73rd Golden Globe Awards for her role in "Penny Dreadful" as Vanessa Ives.
Caterina Murino – Solange Dimitrios: Casino Royale 2006
Caterina Murino is an Italian actress who was picked as Solange Dimitrios in the 2006 Bond film, "Casino Royale". The stunner has upped her career since being a Bond girl featuring in movies like "The Garden of Eden", "XIII", "Zen", "Odysseus" and "The Squad" in 2015.
Halle Berry – Giacinta 'Jinx' Johnson: Die Another Day 2002
Actress Halle Berry is among Hollywood celebrities who have scored a great success in performing arts, film production, and in fashion. The star who has inspired many ladies with her power hairstyles through the ages played Giacinta 'Jinx' Johnson in the 2002 film "Die Another Day". She has produced and featured in many movies. The stunning star won an Academy Award for Best Actress in 2002,  for her role in the 2001 movie "Monster Ball".
Sophie Marceau – Elektra King: The World Is Not Enough 1999
Sophie Marceau was among the hot ladies who bewitched Bond with their beauty playing as Elektra King in "The World Is Not Enough", the 1999 Bond hit film. She earned her striking reputation for her performances in "Braveheart, "Firelight" and of course "The World Is Not Enough". Sophie was also selected to play as a jury member at the 2015 Cannes Film Festival.
Rosamund Pike – Miranda Frost: Die Another Day 2002
Absolutely fabulous star, Rosamund Mary Ellen Pike is featured as Miranda Frost in 2002's "Die Another Day". She has further taken enviable roles in "Pride and Prejudice", "Doom", "Gone Girl" and "Jack Reacher" to mention a few. Also, she could be remembered as Queen Andromeda for her role in "Wrath of the Titans".
Michelle Yeoh – Colonel Wai Lin: Tomorrow Never Dies 1997
Completing Bond's babies on the list is Michelle Yeoh. Michelle played Colonel Wai Lin in "Tomorrow Never Dies" in 1997. Following the movie, she was rated by a critic website Rotten Tomatoes as the  biggest action heroine of all time. She also played a part  in "Kung Fu Panda 2"as the voice of the Soothsayer. Despite not predominately appealing in films, which are not for the western market, she has appeared in classics such as "Crouching Tiger Hidden Dragon".