Making it to the professional level is the dream of every young athlete. For those who have already made it there, their extravagant lifestyle often showcased on social media sites and TV programs only makes the amateur anticipate the highest level even more. Pro athletes are paid millions for what they enjoy doing, and like every typical millionaire, one of the ways they spend their millions is by acquiring a plethora of cars, because for a pro super rich athlete, having a car or two isn't just enough or is just plain boring. These guys have cars collectively worth more than many people will make in their entire lifetime. From stars in the NBA, Soccer, and the NFL. Here are the top 14 athletes with the most amazing car collections.
14. LeBron James
Basketball, NBA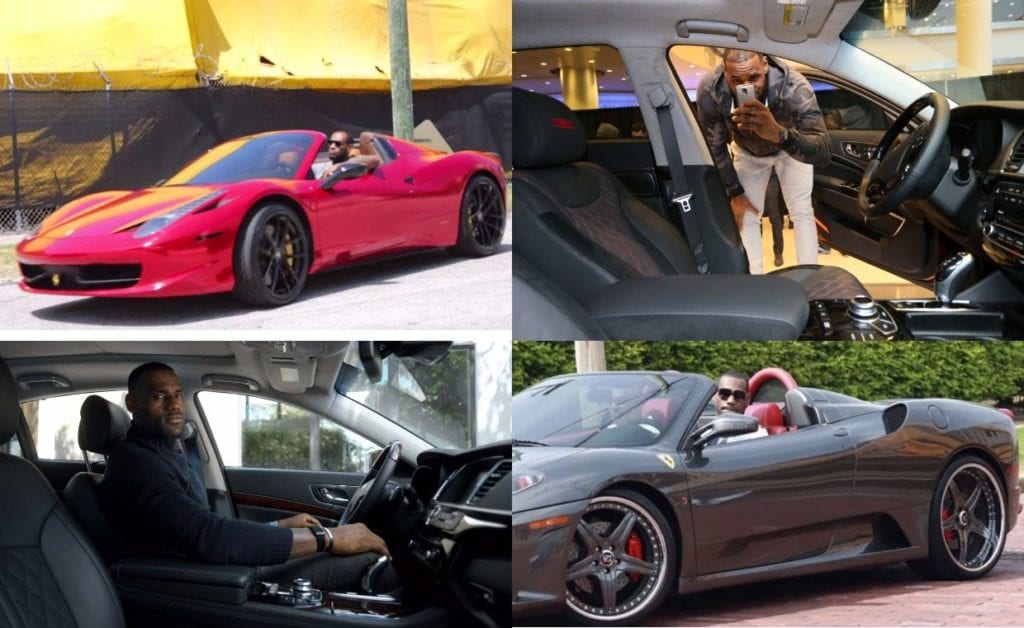 Steph Curry's name might be ringing loudest in the NBA this season but King James is the only person ever to land a lifetime deal with Nike, making him the NBA player with the biggest endorsement. With his net worth of over $300 million set to increase thanks to his numerous business ventures, the Cleveland small forward has all it takes to live like a King. His car collection currently include a Porsche, Maybach 57, Chevy Camaro SS, Lamborghini Aventador Roadster, a Rolls Royce Phantom with TV's on the seats and more than one Ferrari. Click here to see other ways King LeBron James spends his millions.
13. Mario Balotelli
Soccer
The Controversial Super Mario is known for his egotistical character. He has no problems showing off his wealth via his vast car collections how ever and whenever he wants. Among them include a Range Rover Evogue, Audi R8 V10, Ferrari 458 Spider, Maserati GT, Lamborghini Gallardo and a Bentley Continental GT with a camouflaged paint job that screams his enigmatic character.
12. Robin Van Persie
Soccer
RVP's heydays seem to be over since his disappointing move to Fernabache, however, he will be remembered as one of the greatest strikers of his time. In addition to football, the other thing the Dutchman loves is cars. Among his collection includes 2 Porches, Audi S5 Sportsback, BMW X5, retro Nissan Figaro, Chevrolet and a Range Rover Sport.
11. Justin Verlander
Baseball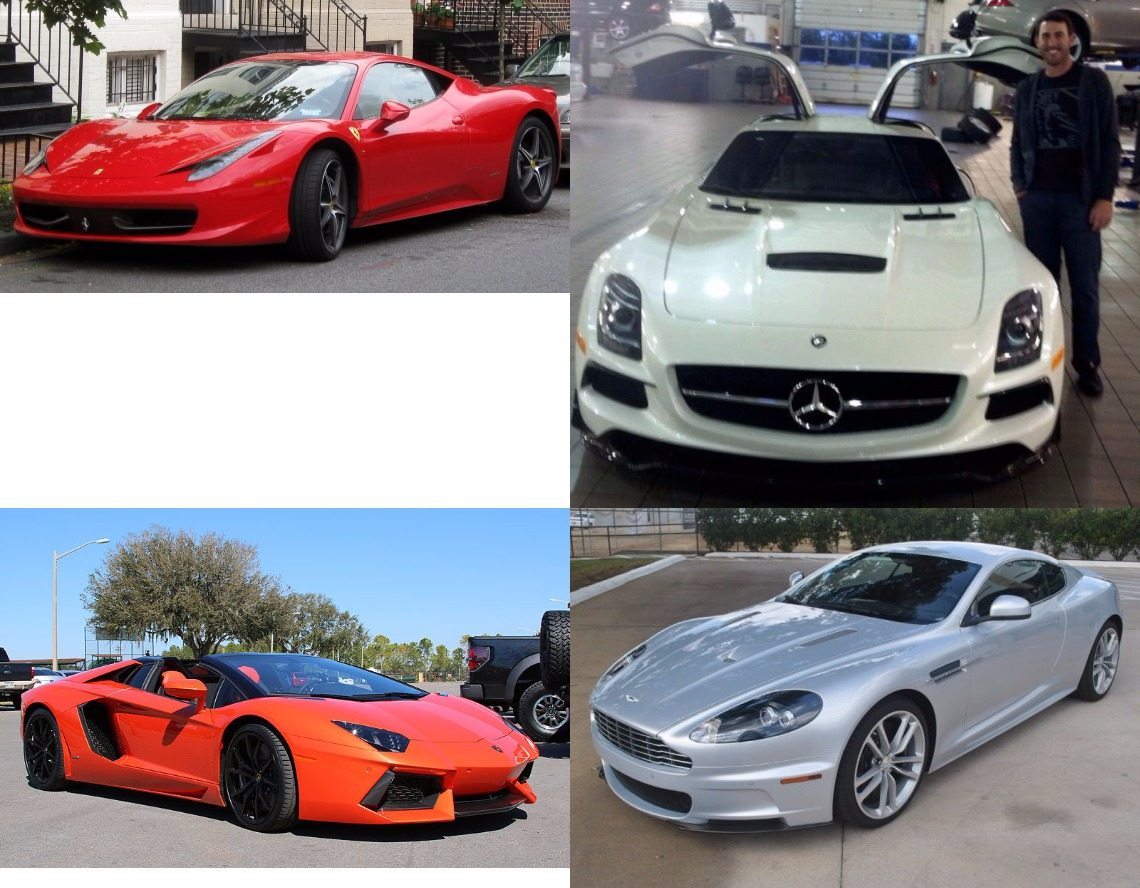 The Detroit Tigers starting Pitcher is a well-known car enthusiast. Kate Upton's longtime boyfriend has a total of 9 cars, one more than his 8-car garage can contain. The latest to his addition is the orange Lamborghini Aventador Roadster. Others include 2 Mercedes-Benz (SLS AMG Black series and SL55), Aston Martin DBS, multiple Ferraris, SL55, Maserati GranTurismo, and a Range Rover.
10. Samuel Eto'o
Soccer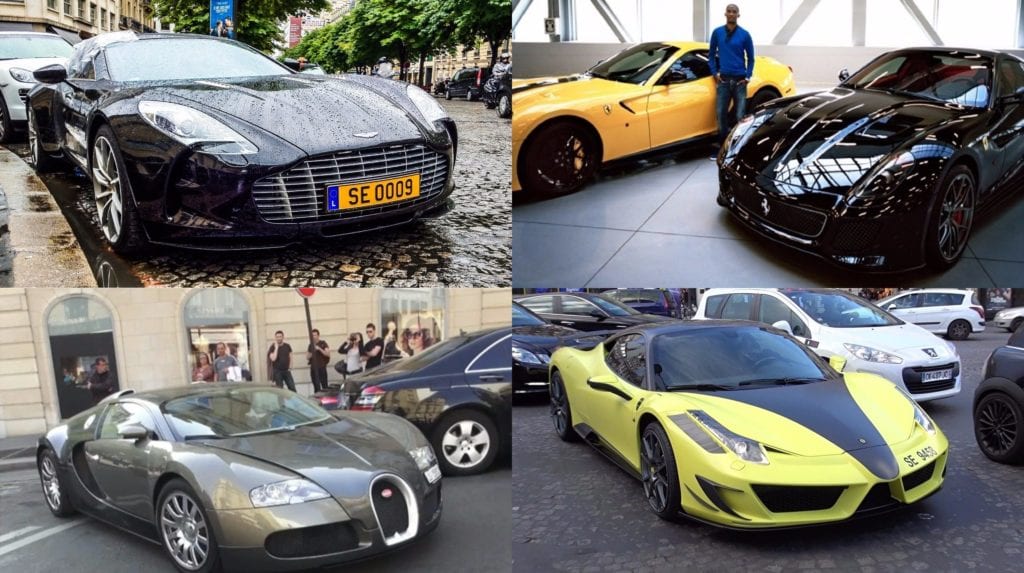 Samuel Eto'o holds the record of 4 African Player of the Year awards, making him the most decorated African Player of all time. With all that achievement comes a lot of money. Eto'o is reportedly worth around $100 million and he spends quite a fair amount of that purchasing luxury fast cars, according to him having a number of cars to chose from doesn't hurt anybody. Eto'o's expensive fleet said to be worth around $6 million include; the flagship $2.35 million Bugatti Veyron, $2 million Aston Martin One-77, Aston Martin V12 Zagato ($700,000), Porsche Gambella Mirage, Maybach Xenatec ($900,000). Eto'o really loves cars and won't mind buying you one, well that is if you're one of the people he looks up to like the retired Cameroonian striker Roger Milla who received a Porsche from Eto'o in 2010 as a Christmas gift.
See Also: Top 20 Richest Footballers In The World
9. David Beckham
Soccer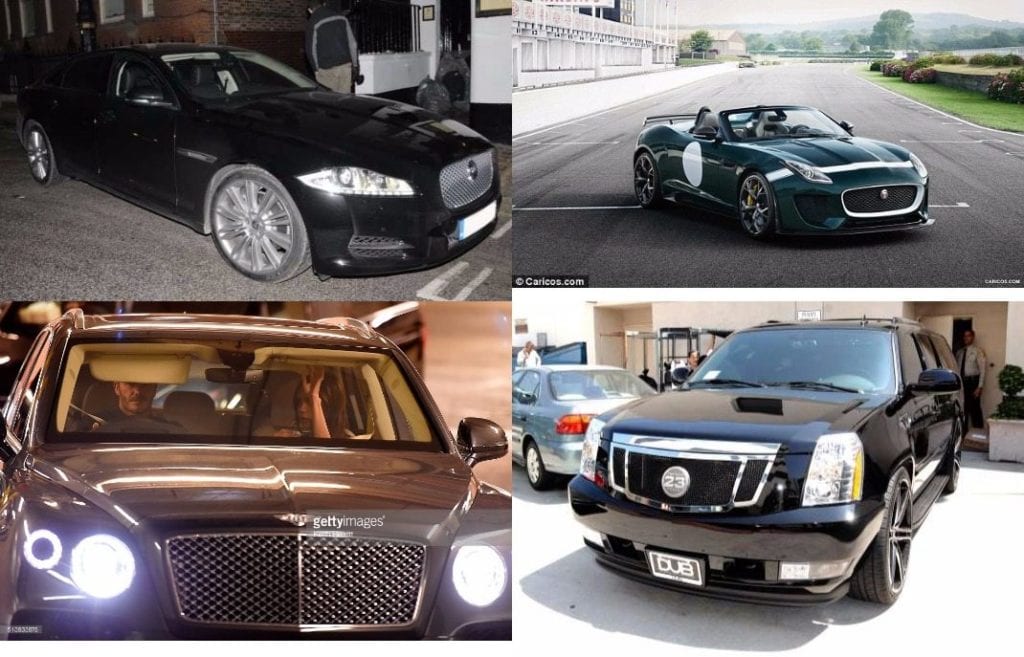 David Beckham might be retired but he is still recognized as one of the greatest stars to ever grace the football pitch and sometimes it feels like it was yesterday. Now a style icon, Beckham still earns millions from endorsement deals, his own underwear line not to mention the Beckham brand which we hear is more valuable than the UK's royal family. Together with his wife, the Beckhams are worth around $730 million with a little above half of that coming from the man. Over the years Beckham has been seen with over a dozen vehicles, the most recent of them include a Cadillac Escalade, Porsche 911 Turbo, Bentley Continental SuperSport, multiple Rolls Royce (Phantom, Ghost), Audi S8, Hummer H2 and the £140,000 Jaguar which he purchased in the Christmas of 2015 as well as a collection of motorcycles.
See Also: 12 Most Extravagant Houses Of Footballers
8. Jenson Button
Formula One
When you drive race cars for a living it's only normal you have your own private collection of fast cars right? 2009 Formula One champ JB has a variety of other cars to move around town when he's not on the race tracks, they include a Ferrari 355, and other Ferraris, McLaren P1, Mercedes C63 AMG, 1956 Volkswagen Campervan, Honda S600 and his 2009 Championship winning car Brawn BGP 001. He once owned a 1973 Porsche 911, Bugatti Veyron, a Honda NSX Type R and a Ferrari Enzo which was sold off at an auction. This season might be the McLaren driver's last in the F1.
7. John Cena
WWE
John Cena is a man with impressive muscles not only on his body but in his garage, he is an ardent collector of muscle cars numbering up to 20. Some of Cena's cars date as far back as 1960's making it a bit difficult to believe. They include a 1966 Dodge Hemi Charger, 1969 COPO Chevrolet Camaro, 1971 AMC Hornet SC/360, 1970 Mercury Cougar Eliminator, 2006 Ford GT, a 2009 Chevrolet Corvette ZR1 and the showstopping InCENArator.
6. Kobe Bryant (deceased)
Basketball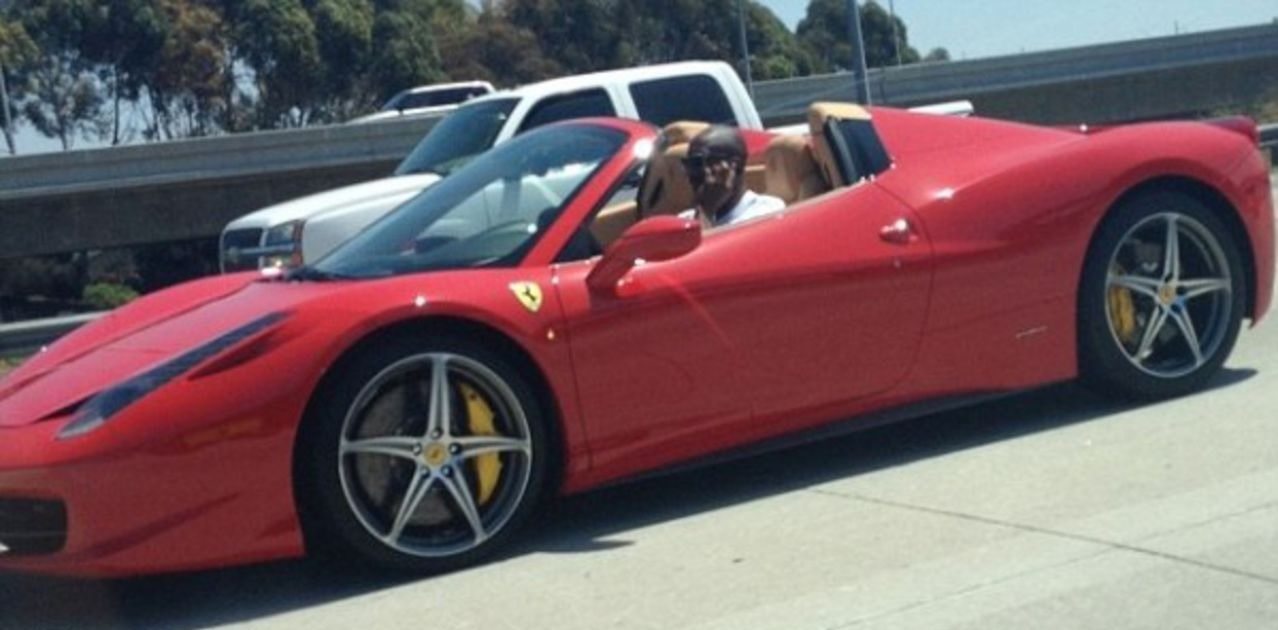 The iconic Kobe Bryant has earned almost $300 million in league contracts alone during the course of his two-decade NBA career, so be less surprised to know that his car collection is worth a whopping $10 million. Kobe spent part of his life in Italy, which explains his love for Italian luxury car brands. Among his fleet includes two Ferraris (F43 and 458 Italia), two Lamborghinis including the Aventador which appears to be a favorite among star athletes, two Bentley's including another star conventional Continental GT and Azure Mulliner. Others include a Jeep, Range Rover, Chevrolet, and a Cadillac. When Kobe doesn't feel like making road trips, he splurges in the air via his private helicopter. Though Kobe retires at the end of the 2015/2016 season, he will still be raking in millions if not billions thanks to his Kobe Inc business venture which he established in 2013.
5. Zlatan Ibrahimovic
Soccer
The ever brash speaking Zlatan Ibrahimovic, has a way of adding a touch of humor to his arrogance and you just don't know when you fall in love with him. Zlatan has an impressive car collection that exudes his i-don't-give- a-damn-about-your-opinion attitude. Among them include a Porsche 918 Spyder, Ferrari Enzo, Audi S8, Masarati Gran Tourismo, Lamborghini Gallardo and Volvo C30 T5.
4. Yoenis Cespedes
Baseball, MLB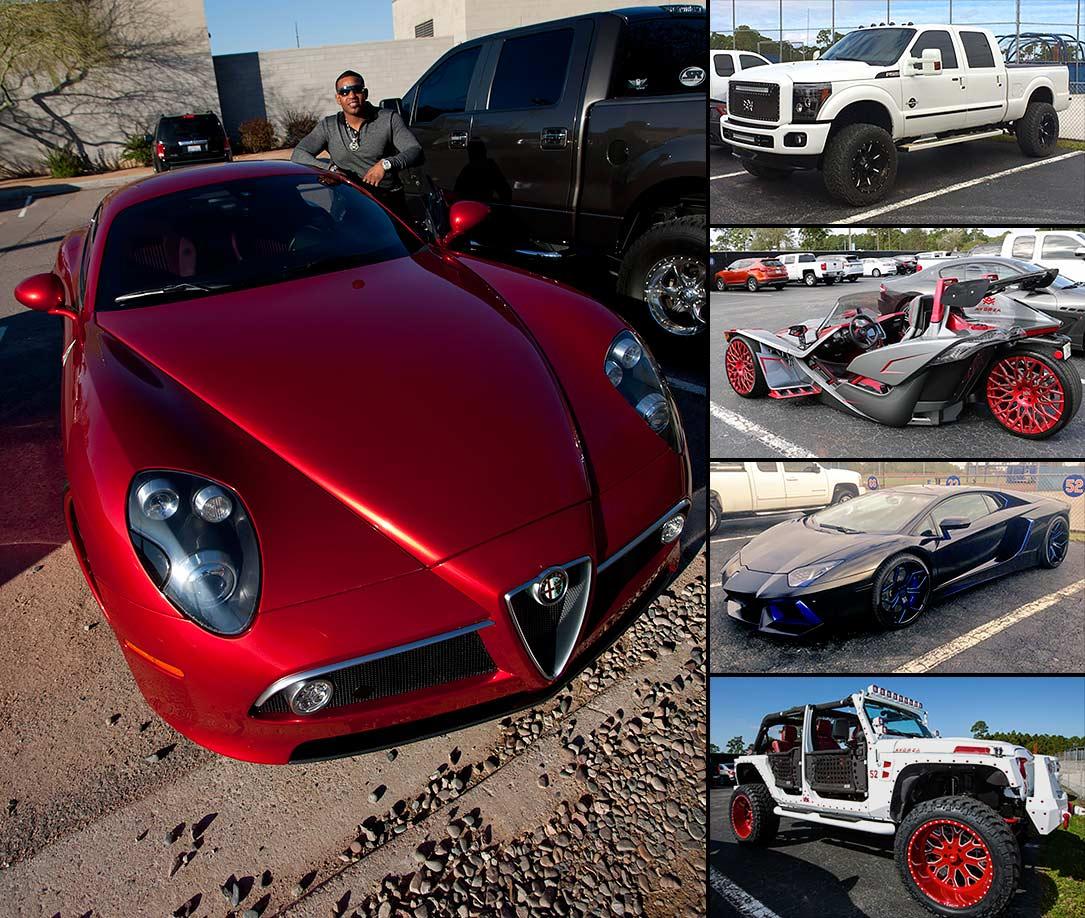 Currently playing for the New York Mets, the outfielder extended his stay with the MLS side in 2016 after signing a 3-year $75 million contract. Cespedes spends part of his millions collecting cars. He proudly showed them off during the 2016 Mets Spring preseason Training sessions, splurging on a different one each day. The collection includes a custom 2016 Ford F-250, ($60,000) 2 custom Polaris Slingshot ($61,000 each), Lamborghini Aventador (over $400,000), an Alpha Romeo 8C Competizione ($250,000), a custom Jeep Wrangler and a horse which he bought for $7,000. In total La Potnecia's car collection is worth approximately $1 million.
3. Cristiano Ronaldo
Soccer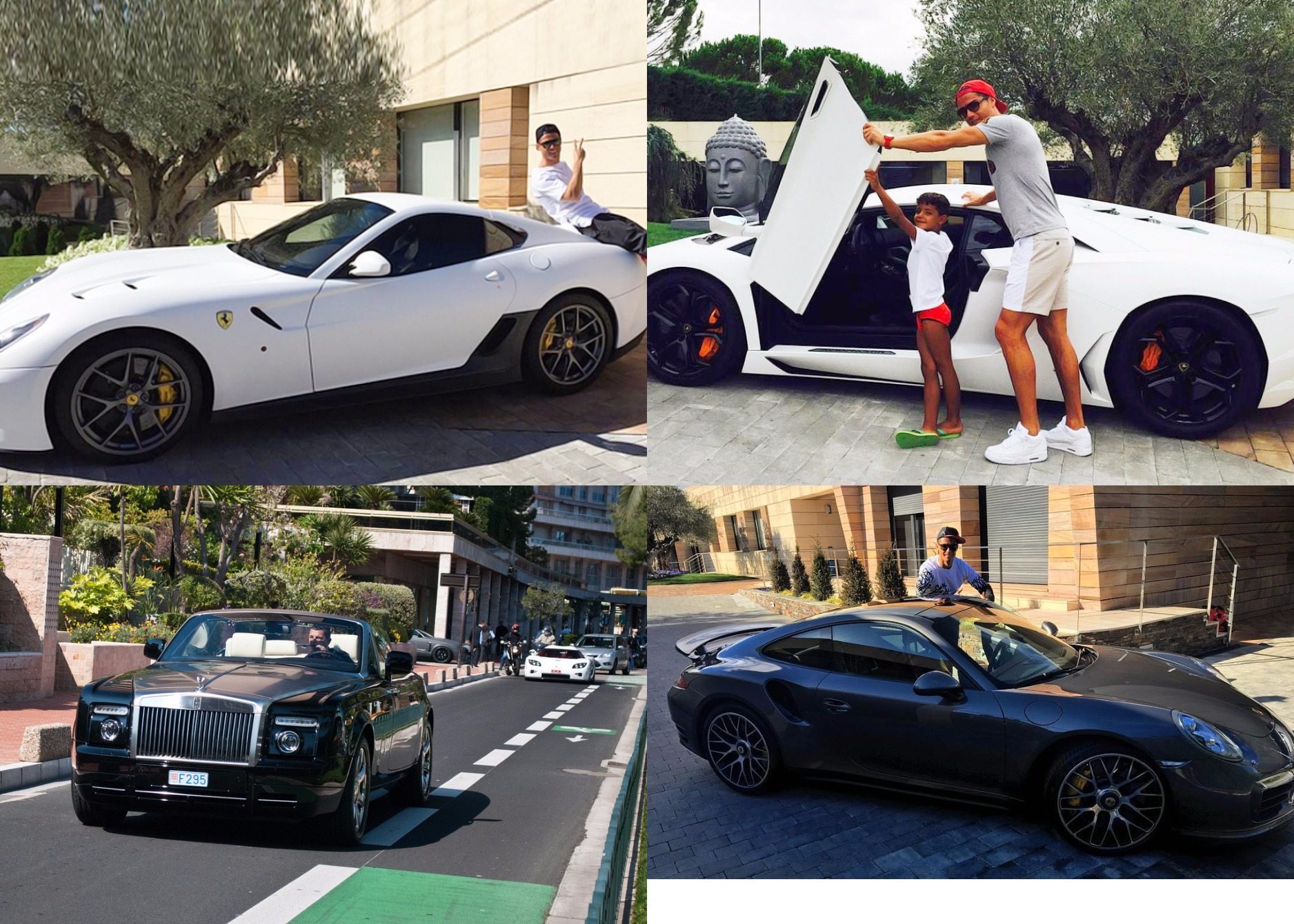 In the constant who's-better battle between Messi and Ronaldo, Messi seems to win the hearts of many as shown in his record 5 FIFA Ballon d'Or accolades, but when it comes to collecting luxurious cars, Ronlado gives Messi the run for his money. The three-time Ballon d'Or winner and world's most popular athlete has about 20 luxury cars to his name with a collective value of $5 million. Full details of CR7's fleet would require a separate article, so we'll just mention the most outstanding among them, they include a Bugatti Veyron, Lamborghini Aventador, Ferrari 599 GTB Fiorano and other Ferraris, a Rolls Royce Phantom and a Porsche 911 Turbo S (pictured bottom right) which he bought in January 2016, just after losing out to Messi in the 2016 FIFA Ballon d'Or Award.
2. Lewis Hamilton
Formula One
The three-time Formula One champion with a serious need for speed also owns an impressive collection of private super-cars. With a net worth of £88 million, Lewis insist on driving like a champion even off the racetracks, and spends quite a substantial amount of money acquiring luxury cars such as two Mercedes a SL65 AMG and an SLS AMG Blackseries, Eleanor Shelby GT500, purple Pagani Zonda and his favorites which are two unrestored 1967 AC Cobras (one black the other red). Early in 2015, Hamilton added a red $1.5 million Ferrari LaFerrari to his growing fleet. He also owns a private jet for air travel.
1. Floyd Mayweather
Boxing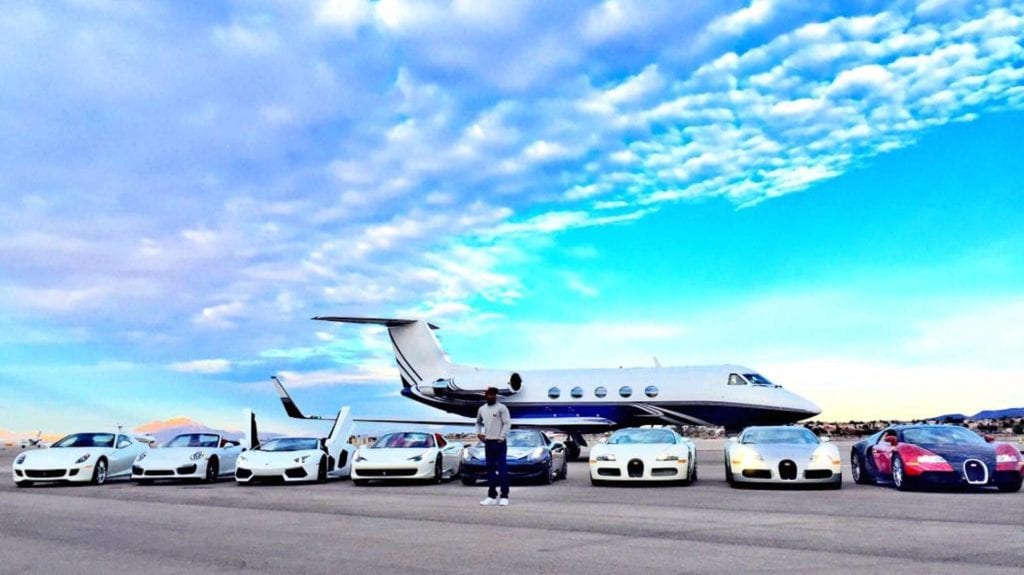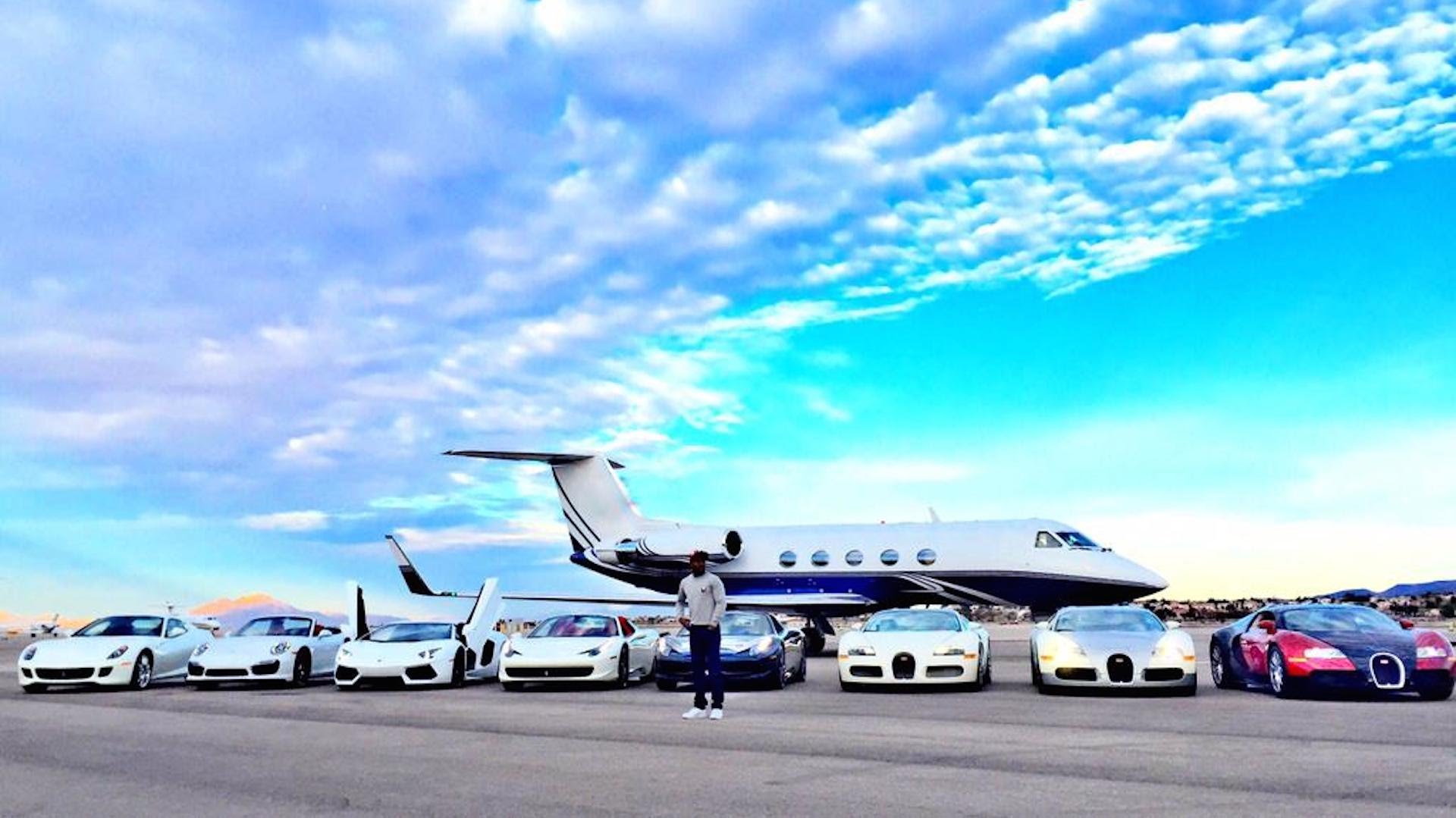 If it isn't the world's highest-paid athlete, though now former. When it comes to collecting luxury cars, no one does it better than the controversial Floyd Mayweather. Money currently has 10 supercars all of which are collectively worth $20 million. He isn't done collecting luxury cars yet, Mayweather plans to have a car collection worth $30 million, so apparently, he has $10 million more to go. His supercars include 3 Bugatti Veyrons including the Guinness record holder for fastest convertible Bugatti Veyron Grand Sport Vitesse  which he bought for $3.5 million, the 2017 Bugatti Chiron which he pre-ordered for $3.5 million, an incredibly rare Koenigsegg CCXR Trevita Hypercar which he bought for $4.8 million, 3 Ferraris and 2 Lamborghinis. Others include 3 Rolls Royce, 3 Mercedes Benz, and numerous Bentleys. Mayweather plans to add an Aston Martin One-77 and a Pagani Huayra to is fleet. He makes air trips via the $47 million Gulfstream V private jet pictured above.
Recap
Here is a quick look at the world's athletes with the biggest car collection in descending order.
Floyd Mayweather
Lewis Hamilton
Cristiano Ronaldo
Yoenis Cespedes
Zlatan Ibrahimovic
Kobe Bryant
John Cena
Jenson Button
David Beckham
Samuel Eto'o
Justin Verlander
Robin Van Persie
Mario Balotelli
LeBron James