Respect, they say is the bond that holds relationships together. From the Latin word "respectus" meaning attention, regard or consideration, respect is how you evaluate someone based on many factors. Simply put, it is that sense of worth or personal positive value that you attach to someone. It is a very important component of any personal and interpersonal relationships, without it, interpersonal relationships are ruined, hence, respect quotes have been a part of life since time immemorial.
You probably have heard about different types of respect there is but the common and most important of them are: self-respect, for others, for social norms, for nature, for values, for laws and norms, for culture and for the family. Those who treat others miserably are often the source of unhappiness for those. Respect should be given if you expect to receive it in return. Showing consideration for others goes a long way to strengthen the bond you share with your friends, colleague and loved ones. Below you'll find a collection of wise and inspirational respect quotes, sayings, and proverbs that will help you build a strong relationship.
Quotes About Respect
1. Nothing is more despicable than respect based on fear. — Albert Camus
2. Let's get this cleared up! God loves you & cares about you. — Rev Run
3. Everyone should be respected as an individual, but no one idolized. — Albert Einstein
4. Respect is an invention of people who want to cover up the empty place where love should be. — Leo Tolstoy
5. I firmly believe that respect is a lot more important, and a lot greater, than popularity.— Julius Erving
6. If we can respect the divine within us, if we can treat it with dignity, then we can respect others around us. — Vishwas Chavan
7. Men are respectable only as they respect. — Ralph Waldo Emerson
8. A man can stand a lot as long as he can stand himself. — Axel Munthe
9. Tolerance only for those who agree with you is no tolerance at all. — Ray Davis
10. No one can make you feel inferior without your consent. — Eleanor Roosevelt
11. There is no respect for others without humility in one's self. — Enri Frederic Amiel
12. Most good relationships are built on mutual trust and respect. — Mona Sutphen
13. If we lose love and self-respect for each other, this is how we finally die. — Maya Angelou
14. A man who pays respect to the great paves the way for his own greatness. — African proverb
15. I must respect the opinions of others even if I disagree with them. — Herbert H. Lehman
16. If you live what you believe, you will always have the respect of others. — Dale Murphy
17. Be beautiful if you can, wise if you want to, but be respected – that is essential. — Anna Gould
18. One of the most sincere forms of respect is actually listening to what another has to say. — Bryant H. McGill
19. Respect for ourselves guides our morals, respect for others guides our manners. — Laurence Sterne
20. I don't wait for people to give me respect. I always give them respect. — Mariano Rivera
21. Life is too short to waste your time on people who don't respect, appreciate, and value you. — Roy T. Bennett
22. I'm not concerned with your liking or disliking me… All I ask is that you respect me as a human being. — Jackie Robinson
23. I speak to everyone in the same way, whether he is the garbage man or the president of the university. — Albert Einstein
24. Treat people the way you want to be treated. Talk to people the way you want to be talked to. Respect is earned, not given. — Hussein Nishah
25. Never respect men merely for their riches, but rather for their philanthropy; we do not value the sun for its height, but for its use. — Gamaliel Bailey
26. To retain your self-respect, it is better to displease the people by doing what you know is right, than to temporarily please them by doing what you know is wrong. — William J. H. Boetcker
27. I don't care if you're black, white, straight, bisexual, gay, lesbian, short, tall, fat, skinny, rich or poor. If you're nice to me, I'll be nice to you. Simple as that. — Robert Michaels
28. If you have some respect for people as they are, you can be more effective in helping them to become better than they are. — John W. Gardner
29. When we treat people merely as they are, they will remain as they are. When we treat them as if they were what they should be, they will become what they should be. — Thomas S. Monson
30. As all human beings are, in my view, creatures of God's design, we must respect all other human beings. That does not mean I have to agree with their choices or agree with their opinions, but indeed I respect them as human beings.— Stockwell Day, Jr.
Self Respect Quotes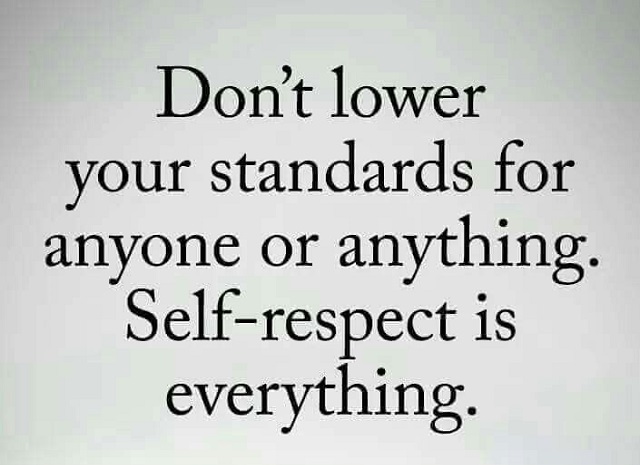 31. Respect yourself and others will respect you. — Confucius
32. Self-respect permeates every aspect of your life. — Joe Clark
33. Not respecting yourself, is the same as committing suicide at a slow rate. — Anonymous
34. Self-respect is the cornerstone of all virtue. — John Herschel
35. To fall in love with yourself is the first secret to happiness. – Robert Morley
36. If we lose love and self-respect for each other, this is how we finally die. — Maya Angelou
37. Attack another's rights and you destroy your own. — John Jay Chapman
38. Low self-esteem is like driving through life with your hand-break on. — Maxwell Maltz
39. Respect yourself if you would have others respect you.— Baltasar Gracian
40. If we lose love and self-respect for each other, this is how we finally die. — Maya Angelou
41. When I look at a person, I see a person – not a rank, not a class, not a title — Criss Jami
42. Without feelings of respect, what is there to distinguish men from beasts?— Confucius
43. They cannot take away our self-respect if we do not give it to them.— Mahatma Gandhi
44. The deepest principle in human nature is the craving to be appreciated. — William James
45. Until you value yourself, you won't value your time. Until you value your time, you will not do anything with it. — M. Scott Peck
46. When you are content to be simply yourself and don't compare or compete, everybody will respect you.— Lao Tzu
47. Self-care is never a selfish act—it is simply good stewardship of the only gift I have, the gift I was put on earth to offer to others. — Parker Palmer
48. What lies behind us and what lies before us are tiny matters compared to what lies within us. — Ralph Waldo Emerson
49. Love yourself first and everything else falls into line. You really have to love yourself to get anything done in this world. — Lucille Ball
50. When you recover or discover something that nourishes your soul and brings joy, care enough about yourself to make room for it in your life. —Jean Shinoda Bolen
51. Remember always that you not only have the right to be an individual, you have an obligation to be one.– Eleanor Roosevelt
52. One of the greatest regrets in life is being what others would want you to be, rather than being yourself. — Shannon L. Alder
53. Never be bullied into silence. Never allow yourself to be made a victim. Accept no one's definition of your life, but define yourself.— Harvey Fierstein
54. To establish true self-esteem we must concentrate on our successes and forget about the failures and the negatives in our lives. — Denis Waitley
55. Our self-respect tracks our choices. Every time we act in harmony with our authentic self and our heart, we earn our respect. It is that simple. Every choice matters. — Dan Coppersmith
Respect Quotes For Kids
56. Leave everything a bit better then you found it. — Unknown
57. Differences were meant not to divide but to enrich. — J. H. Oldham
58. Honest differences are often a healthy sign of progress. —  Mahatma Ghandi
59. Leave everything a bit better then you found it. — Unknown
60. Who am I to judge what I don't understand — Unkown
61. Give to every other human being every right that you claim for yourself. — Thomas Paine
62. A fruit salad is delicious precisely because each fruit maintains its own flavor. — Sean Covey
63. The earth does not belong to us. We belong to the earth. —  Chief Seattle
64. Respect is a two-way street, if you want to get it, you've got to give it. — R.G. Risch
65. How you treat others is really how you feel inside — Unknown
66. Make improvements, not excuses. Seek respect, not attention. — Roy T. Bennett
67. Being brilliant is no great feat if you respect nothing. — Johann Wolfgang von Goethe
68. You can't force someone to respect you but you can refuse to be disrespected
69. Any child who is allowed to be disrespectful to his parents will not have true respect for anyone.— Billy Graham
70. To be one, to be united is a great thing. But to respect the right to be different is maybe even greater. — Bono
71. Every human being, of whatever origin, of whatever station, deserves respect. We must each respect others even as we respect ourselves. — U. Thant
72. Show respect even to people who don't deserve it, not as a reflection of their character but as a reflection of yours  Anonymous
73. We are all equal in the fact that we are all different. We are all the same in the fact that we will never be the same. — C. JoyBell C.
74. He who loves others is constantly loved by them. He who respects others is constantly respected by them. — Mencius
75. Never judge someone by the way he looks or a book, by the way, it's covered; for inside those tattered pages, there's a lot to be discovered. — Stephen Cosgrove
See Also: 130 Positive Thinking Quotes To Create A Great Attitude and Energy
Respect is Earned Quotes
76. You can demand courtesy but you have to earn respect. —Lawrence Goldstone
77. Respect is a two-way street, if you want to get it, you've got to give it. — R.G. Risch
78. I am not a product of my circumstance. Am a product of my decision. — Anonymous
79. Respect is like a paycheck, if you don't earn it, you don't deserve it. — Anonymous
80. Respect is for those who deserve not for those who demand it. — Paulo Coelho
81. Respect commands itself and it can neither be given nor withheld when it is due. — Eldridge Cleaver
82. Respect is for those who deserve it, not for those who demand it. — Anonymous
83. This is the final test of a gentleman: his respect for those who can be of no possible value to him. — William Lyon Phelps
84. Respect is taught at home. If your kid is a disrespectful bastard, its your fault, not the society or a video game's fault. — Anonymous
85. It is not grey hair that makes one respectable but character. — Rana Junaid Mustafa Gohar
86. If you have ten thousand regulations you destroy all respect for the law. — Winston Churchill
87. Only those who respect the personality of others can be of real use to them. — Albert Schweitzer
88. The more you know and respect yourself, the more impact you will have on people around you. – Maxime Lagacé
89. If you are wrong, own up to what you didn't do right. That's how you learn and earn respect. — Anonymous
90. He that respects himself is safe from others; he wears a coat of mail that none can pierce.— Henry Wadsworth Longfellow
91. No man who is occupied in doing a very difficult thing, and doing it very well, ever loses his self-respect. — George Bernard Shaw
92. There can be no failure to a man who has not lost his courage, his character, his self-respect, or his self-confidence. He is still a King. — Orison Swett Marden
93. If you want to be respected by others, the great thing is to respect yourself. Only by that, only by self-respect will you compel others to respect you. — Fyodor Dostoyevsky
96. If I despised myself, it would be no compensation if everyone saluted me, and if I respect myself, it does not trouble me if others hold me lightly— Anonymous
97. Just because you're older doesnt mean you deserve respect. Respect is earned, not given — Anonymous
98. An individual who breaks a law that conscience tells him is unjust, and who willingly accepts the penalty of imprisonment in order to arouse the conscience of the community over its injustice, is in reality expressing the highest respect for the law.— Martin Luther King Jr
99. I have no right, by anything I do or say, to demean a human being in his own eyes. What matters is not what I think of him; it is what he thinks of himself. To undermine a man's self-respect is a sin. — Antoine de Saint-Exupery
100. If you once forfeit the confidence of your fellow citizens, you can never regain their respect and esteem. It is true that you may fool all of the people some of the time; you can even fool some of the people all of the time; but you can't fool all of the people all of the time. — Abraham Lincoln